Thailand is planning on casino legalization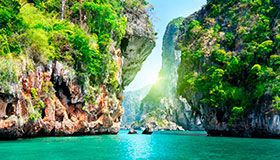 It has been recently discovered that authorities of Thailand are preparing law about casino legalization. The decision about gaming zones is a little surprising as the power in Thailand is now in the hands of the military party who care most about agriculture and saving the order.
It is likely, this way the authorities try to make the financial state of the country better: the number of tourists has drastically decreased, in result of that locals started to ask the government of help.
Pattaya and Chiang May will be the first cities with the gaming zones. It is expected that after the law would come to force, the stream of tourists will become bigger and that will positively affect all the other industries. In result, the country will have investment money and the tourists will have another way to spend their time having fun.
The law is planned to come in force in the October of 2015.
---