Daily VIP-bonuses of €1,200 from 888 Casino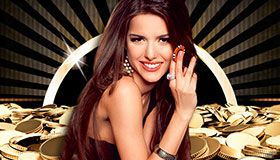 By visiting special blackjack tables with live dealers at 888 Casino called 888VIP, users can not only enjoy an exciting game, but also to get part of the daily prizes with the total amount of €1,200. All that the user needs is to sit at a special VIP-table and play hand after hand waiting for the lucky card.
How to receive the bonus?
In order to win the part of €1,200, the users have to play Live-blackjack at 888 Private Room from 12:00 to 0:00 GMT. Each day, 12 prize cards will be put into the deck, with nominal value from €50 to €150 worth. If the dealer deals one of them to the box of the user, he will get a bonus to his account within 12 hours.
There are the following cards in blackjack decks of 888 Private Room:
4 cards of €150 each
4 cards of €100 each
4 cards of €50 each
It is worth noting that the bonus is valid for 90 days during which you have to wager it. To wager the bonus, place the bets in the amount of the entire bonus at least 30 times, and then you'll be able to keep the bonus and withdraw the money you won with its help.
The best games for wagering the bonus are video slots, Keno, Race, Dice, scratch games and others. The thing is that playing these games you will have 100% of the bets made counted towards wagering requirements. While playing roulette and all the kinds of poker only 20% of the bets placed will be counted, and blackjack, live games, baccarat and video poker - 10%.
Let us also notice that each player is able to win no more than 10 bonus cards and the total amount of winnings can't exceed €500.
And if you are from Austria, Canada, Germany, United Kingdom, Netherlands or Sweden do not forget to claim 888 Casino free play bonus no deposit required up to $888 simply for creation of an account.
---