Unibet Casino Gold Cards promotion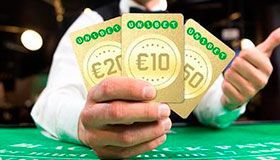 You can become the owner of one of 200 Gold Cards by Unibet Casino with total worth of €3750. To do this, you have to play at special Unibet Blackjack tables (in Live dealer casino) any (or every) weekend in the period from 15:00 to 01:00 CET. The designated gap of time defines lucky winners, and if the dealer gives Gold Cards to you, you will be able to get additional real money prize.
The value of each of the Gold Cards varies from €10 to €50. 200 cards are dealt every weekend: 25 Gold Cards worth €50, 50 Gold Cards worth €20, and also 100 Gold Cards worth €10. In case the Gold Card is dealt to the dealer, it will go back to the deck. All the players of Unibet Casino automatically participate in the promotion with no confirmation and registrations needed. Note, that one player can get not more than 15 Gold Cards during the week.
The prizes for the players on this promotion will be credited to your account within 72 hours since the moment you got the Gold Card at special Live Blackjack tables at Unibet Casino.
---