Available on
Features of the game
| | | |
| --- | --- | --- |
| | Free spins | Yes |
| | Re-spin feature | No |
| | Bonus game | No |
| | Risk game | No |
| | Scatter symbol | Yes |
| | Wild symbol | Yes |
| | Progressive jackpot | No |
| | Autoplay option | Yes |
| | Cascading reels feature | No |
Drive: Multiplier Mayhem video slot by NetEnt - review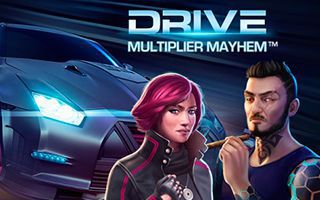 Through years and generations the passion for aggressive driving and racing cars worldwide stays unquenchable. Some years ago, people used to admire Formula-1 race cars, whereas now, providing that you have enough money on your bank account, you can buy your own sports car, customize it to your own taste and even take part in street-racing. It's very easy to find the origin of such penchant for sport cars: the street racing theme was dedicated many movies, some of them, "Fast and Furious" movie or Need for Speed game series, for instance, can be rightly considered iconic. And of course, everyone remembers the adrenaline rush from playing racing games on your computer or console. Such emotions and drive, need for speed and competitiveness, make our lives colorful and versatile. There are many adrenaline and speed fans among online casinos devotees and therefore NetEnt developers decided to complement their video slot portfolio with another product dedicated to this topic. The official release and presentation of Drive: Multiplier Mayhem video slot took place under the framework of ICE Totally Gaming 2016 (from February 2 to February 4, 2016). Starting from February 25, 2016, the following video slot became officially available in all NetEnt casinos for real money and free play.
It took Drive: Multiplier Mayhem only several days to conquer the leading positions in online gambling charts and get many positive reviews. The title of the game itself, which is very closely connected to the storyline behind the game, will definitely make you interested in the game. You'll have an encounter with Jette - professional female racer - who is very excited about riding the city streets at night in her sport car and compete against other racers for huge wins.
Those players, who are fond of races, speed and customized sport cars, and those, who love racing computer games like "Need For Speed", will duly appreciate new NetEnt powered slot machine. To satisfy gamblers to the maximum extent possible, the team standing behind the game skillfully combined whatever is required: top-drawer graphic effects, entertaining bonus features, and, what's more important - need for speed, which make you hit the gas and rush to the whopping wins.
The official NetEnt trailer about of Drive: Multiplier Mayhem video slot
The visitors of our web site can feel the extreme and adrenaline rush by playing this slot machine at one of the reliable online casinos from the list below.
Drive: Multiplier Mayhem - general features
The following video slot incorporates a set of classic characteristics: 5 (five) reels, 3 (three) symbols rows and 15 (fifteen) fixed paylines. The game also provides players with a Free Spin bonus round along with Wild and Nitro symbols.
Users can adjust their bet with the help of two parameters Bet Level (from 1 to 10 coins per line) and Coin Value (from 0,01 to 0,05 per coin). Your total bet will be shared among equally all the fixed bet lines equally.
Wins in Drive: Multiplier Mayhem video slot are paid only when winning combinations from symbols on adjacent reels are formed from leftmost to rightmost direction. The size of your win will be calculated according to paytable. Simultaneous wins on different paylines are added.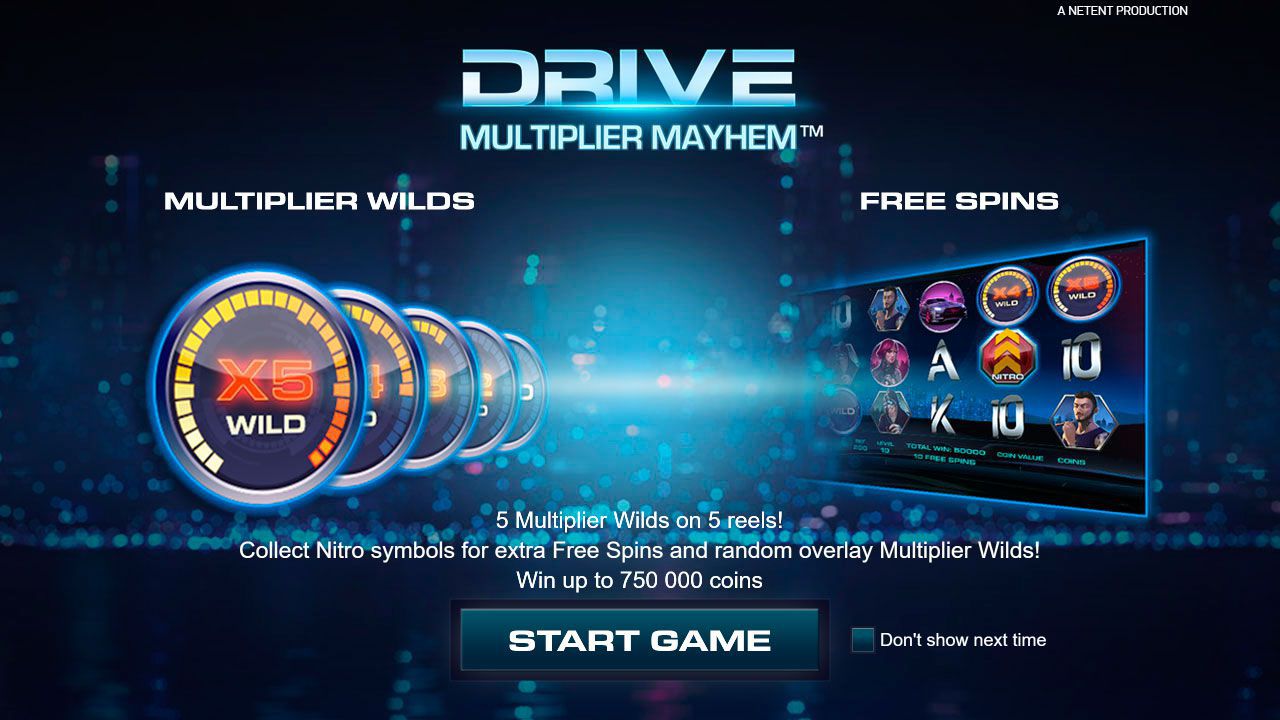 High theoretical Return-To-Player rate of 96,7% guarantees quite high chances to get whopping wins up to 750 000 coins
Drive: Multiplier Mayhem video slot: play for free
Before you actually decide to take part in races, you'd better check your new sports car for velocity and comfortable driving. The same applies to the gambling games - it would be quite reckless to start playing unknown slot machine for real money at once. It's highly recommended you first duly appreciated pleasing visual effects and generous bonus features before making real money bets. Moreover, you can launch game demo-version with no need to register or download software on your desktops/applications on your mobile devices. As soon as you launch it, you'll get abundant coins (with no real money value) supplies to study the video slot thoroughly. Moreover, free demo version of Drive: Multiplier is basically in no way different from real money game.
And those, who are ready to start the real money game, but can't afford making deposits yet, can benefit from no deposit bonus offers by the leading online casinos (including sign-up free spins and free casino cash).
Drive: Multiplier Mayhem video slot - design
Once you start playing Drive: Multiplier Mayhem video slot, you'll get the feeling of immersing into the world of street-racing with its own rules and laws. The reputation in this world can be build-up only by competing against the most hardened racers. No one is going to make concessions - the honor code of street racers says, that only the strongest survives. The game developers managed to recreate the atmosphere from the famous computer game like Need for Speed to the fullest. In addition, as far as visual and graphic effects are concerned, this game can compete with modern racing games for PS4 or Xbox One.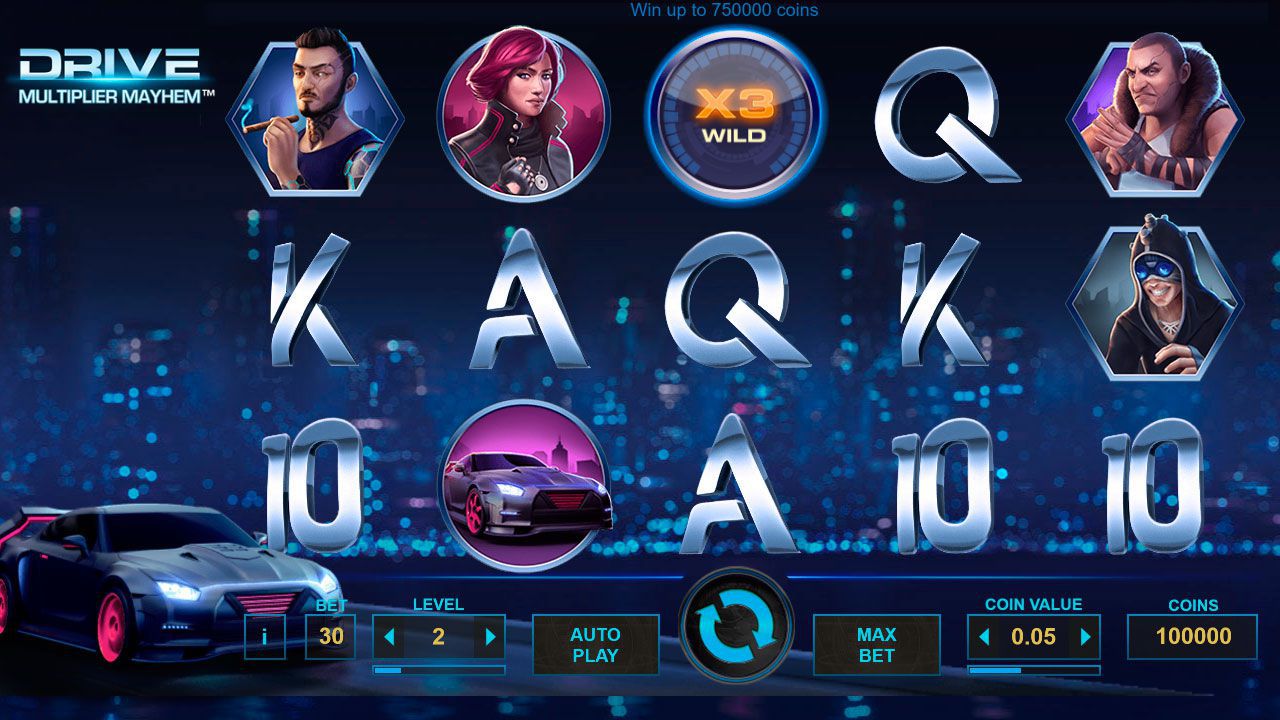 With the best technologies borrowed from their previous creations, NetEnt developers added another top-notch video slot in their game portfolio. Quality graphics and animation effects will take you to the drivers' seat of your sports car blazing through the night streets. Feel free to enjoy the magnificent background music and find yourself in the midst of spectacular events. 3D graphic effects will make the gaming process most charming and entertaining by giving the most detailed information of what's going on the screen.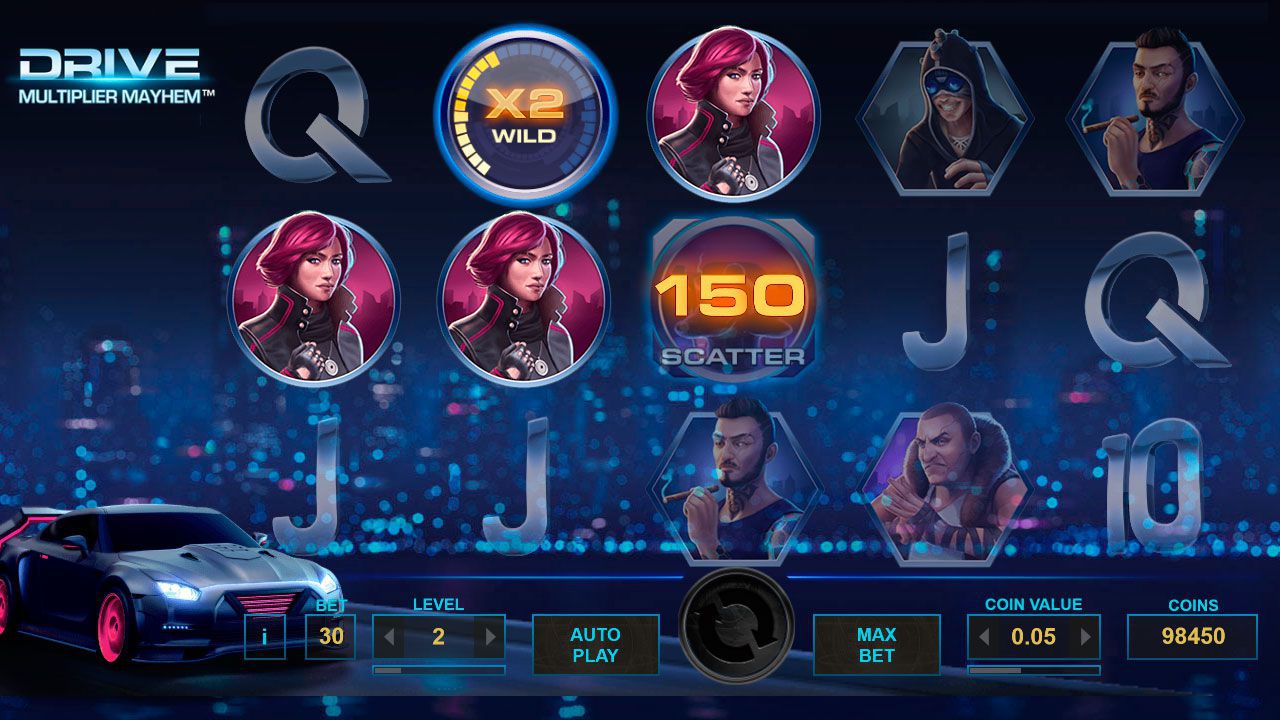 Drive: Multiplier Mayhem video slot: control panel
The design of the Drive: Multiplier Mayhem control panel embodies the whole unique design elaborated by the developers. All the tools under the neon lightening give players a chance to adjust the coin value and bet level to their taste; play max bet or initiate Auto Play round and rely upon your luck.
Now, let's take a closer look at the control tools, starting from leftmost direction. In the bottom of the video slot you'll see the control panel bar. Square button with an "i" inside contains background information about the game. Once you open it, you'll get access to the detailed information about bonuses and symbols' value.
The next box entitled "Bet" displays your current total bet value in coins, which can be calculated by multiplying the number of lines by the bet level.
The number of coins per each line can be set in the "Level" box. Players can choose from 1 to 10 coins per line. After you choose the suitable bet level, you can start your adventures together with Jette the racer.

Auto Play button will activate Auto Play mode. Before launching it, you first have to choose the number of Auto spins and also set additional parameters for Auto game. For example, you can make each Auto Spin stop each time you win anything or get Free Spins.
The round "Spin" button is a sort of an accelerator pedal: once it's activated, the reels will start spinning and take you forward to your wins.
Max Bet button will set the maximum bet level for each round.
The "Coin Value" box can set the coin value range from 0,01-0,50.
Your current coin balance is displayed in the rightmost box in the bottom of the game field.
Mobile version of Drive: Multiplier Mayhem video slot
Swedish developers from Net Entertainment could not ignore those players, who enjoy spinning the reels of their favorite video slots on mobile devices, powered by iOS, Android and other platforms. Drive: Multiplier Mayhem video slot had pride of place among NetEnt Touch Mobile Games. So now, mobile games fans can enjoy this risky and extreme game on the touch-screen devices and even try to scoop a large profit on their way to work, for example.
In the video slot mobile version developers tried to focus on the gaming process and therefore all the tools were reduced to a minimum. Thus, Drive: Multiplier Mayhem mobile version contains only one single button on the game field - Spin button to spins the reels and decide on the number of Auto spins. All the other setting like sound settings, spins and bet settings as well as paytable along with the game rules can be found in the same single menu, which can be accessed by pressing the 3 horizontal lines button on the right side in the bottom of the screen.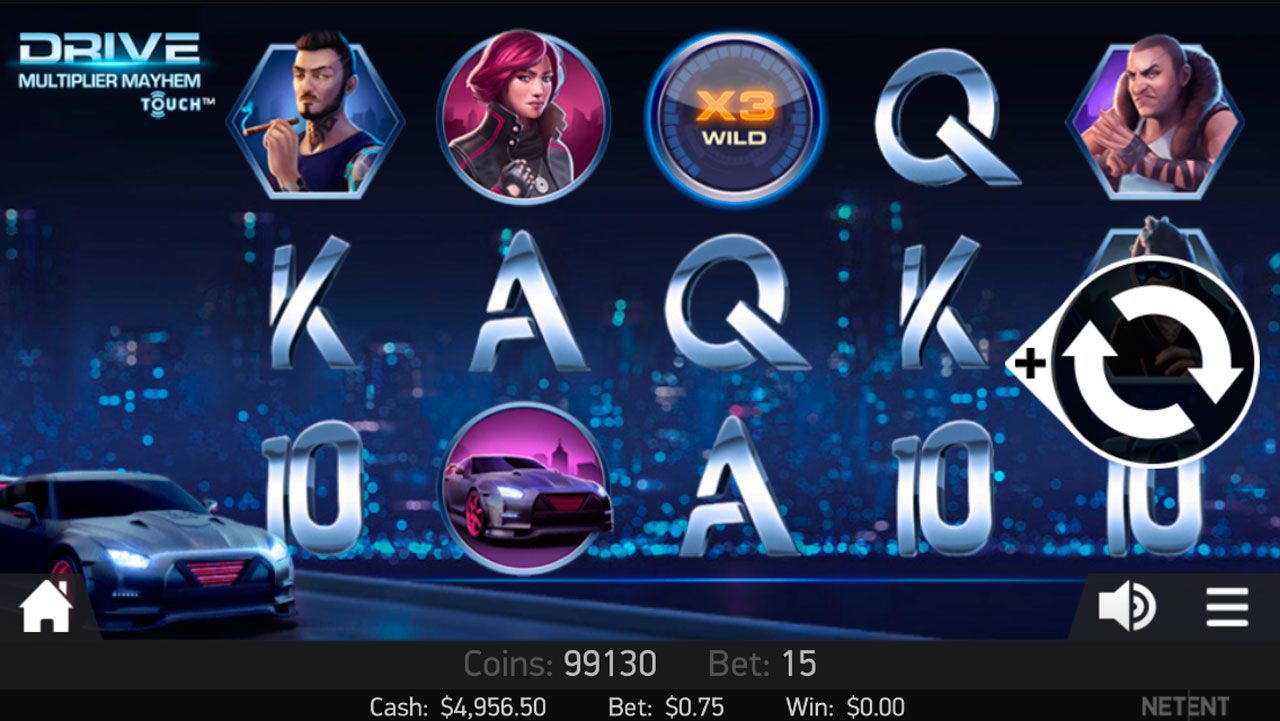 To adjust spins in Drive: Multiplier Mayhem mobile version, players can choose Left Hand Mode. Whenever this feature is activated, Spin button will be transferred to the left side of the screen, so that it would be easier for left-handed players to enjoy the gaming process.
Moreover, in the central bottom part of the screen you'll see your current bet level, win and coin balance/bankroll.
The gaming process in mobile version of Drive: Multiplier Mayhem video slot
Drive: Multiplier Mayhem video slot - the collection of symbols
The eventful storyline in the game is complemented by the collection of unique symbols divided into two categories. The base symbols are made up of the main game characters: mysterious Jetta and her sports car, her rivals - Hamaki, Bruiser, Twitch, and also card symbols from Tens to Aces.
The following category is composed of special symbols - Multiplier Wilds, Scatter and Nitro. All these symbols have their own special features, each of them - an individual set.
Wild - this is a traditional NetEnt Wild symbol, which can substitute for any missing symbols in order to complete potentially winning combination.
Multiplier Wild - this a symbol featuring speed counter and multiplier (certain number). These symbols can appear anywhere on all 5 reels. Having a nature of Wild symbols, Multiplier Wilds will also substitute for any symbol, except for Scatter and Nitro symbols. Each of the Multiplier Wild symbols has the same multiplier as the reel (1-5) it has landed on. In case two or more Multiplier Wild symbols appear on the reels, the corresponding multipliers are multiplied.
Scatter - this symbols features images of street racers. Scatter symbols can appear on reels 2, 3 or 4 only. 3 Scatter symbols appearing anywhere on the reels in the main game, award bonus game with 10 Free Spins. In Free Spins only, 3 Nitro symbols appearing anywhere on reels 2, 3 and 4, award additional Free Spins and overlay Multiplier Wilds.
Nitro - this symbol is designed in the form of 3 upward arrows with Nitro sign. Nitro symbols appear during the bonus game only, during the free spins round on reels 2, 3 or 4 only. Land this symbol on the reels, players will be rewarded with free spins.
Drive: Multiplier Mayhem videos slot - bonus games and random features
You might have already noticed that those video slots, most appreciated by online casino fans, usually contain unique bonus games. In comparison to the main game, these bonus features usually offer the most whopping wins. The bonus game of Drive: Multiplier Mayhem video slot incorporates unique Nitro Collect Meter feature. With the help of this feature you gain new levels, go up the reputation ladder and also get huge wins.
Bonus Free Spins within Nitro Collect Meter feature
The bonus round in this video slot will remind you of the legendary «Need For Speed» game: each mission will give you a chance to upgrade your sports car. The same principle works for the following video slot, however, instead of automotive parts, players get cash rewards.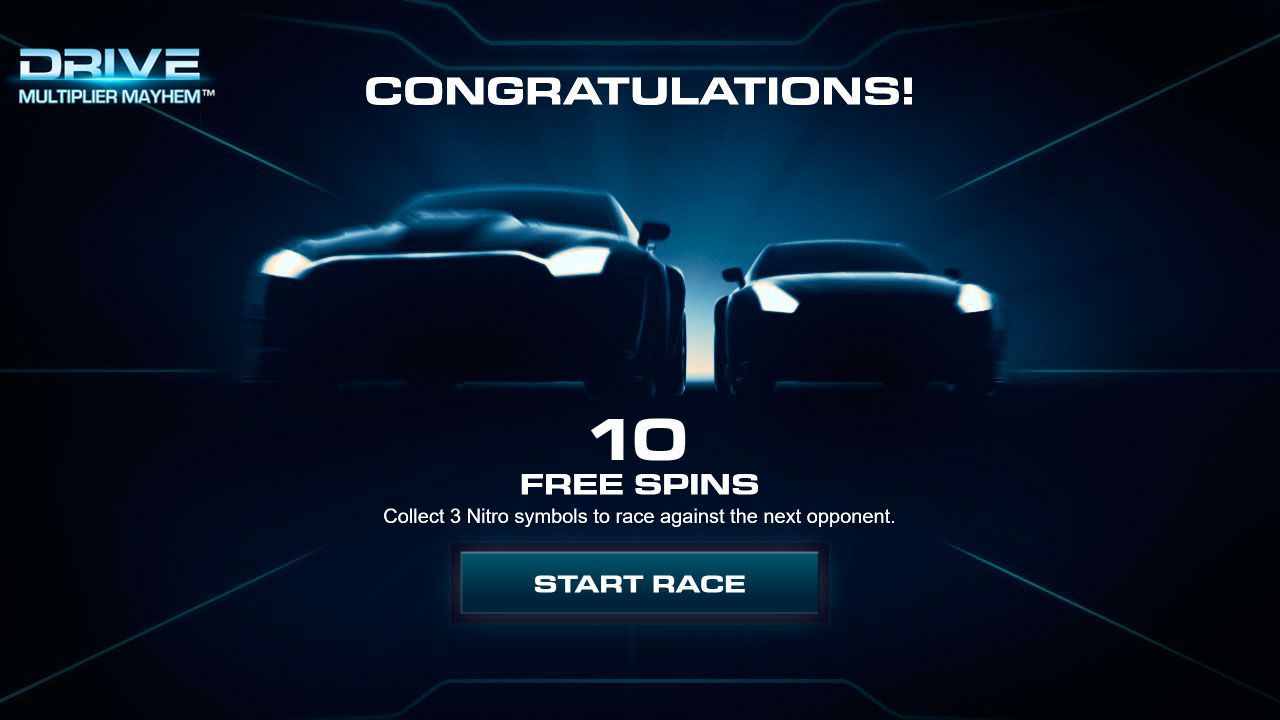 Complex bonus package, which consists of several stages, guarantees Free Spins at the same bet level and coin value as the round, which activated them.
When the bonus game is activated, Nitro symbols landed on the reels are automatically stacked in the Nitro Collect Meter. In case Nitro symbol appears above an overlay Multiplier Wild symbol, it will count as both Nitro and Multiplier Wild symbol. Each new Free Spins round ride starts with an empty Nitro Collect Meter.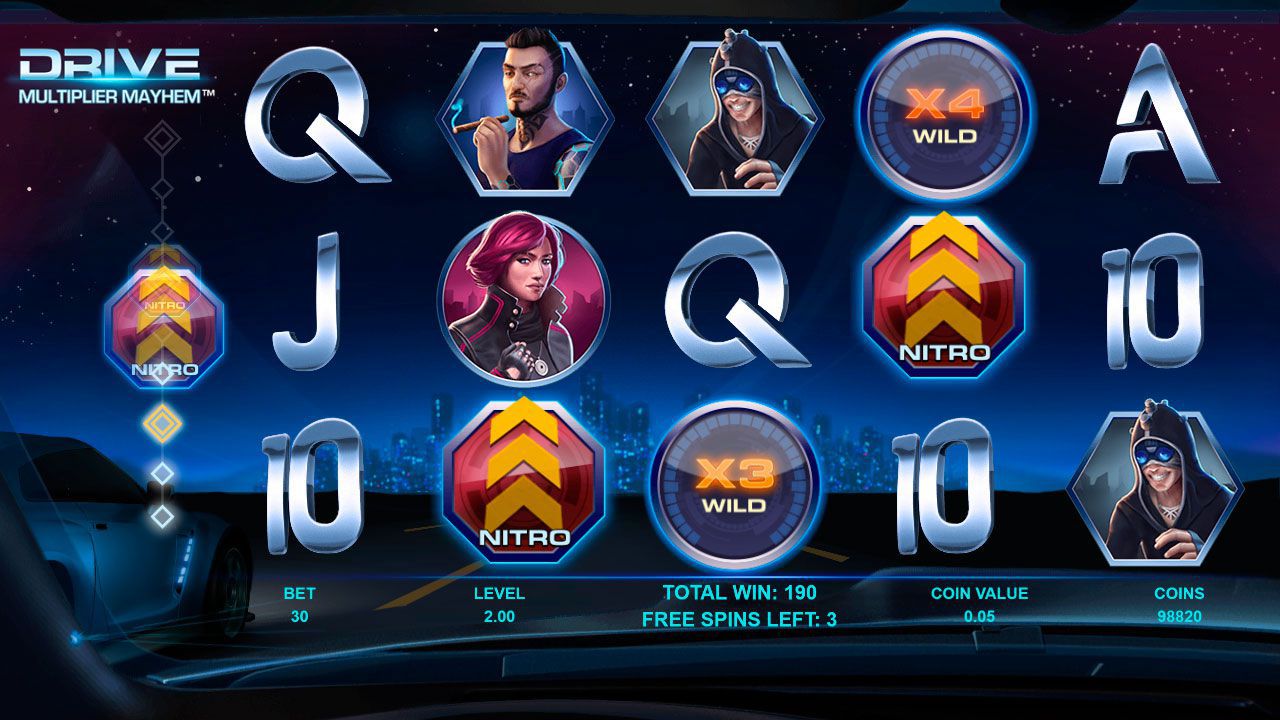 Bonus levels:
Jette vs Twitch
Twitch will be your first racing opponent in the Free Spins bonus game. In this level, you'll get 10 Free Spins. Once you collect at least 3 Nitro symbols during Free Spins round, you'll be taken to the next level of the race. If you win this race, you'll be awarded another 4 additional Free Spins and 1 overlay Multiplier Wild symbol.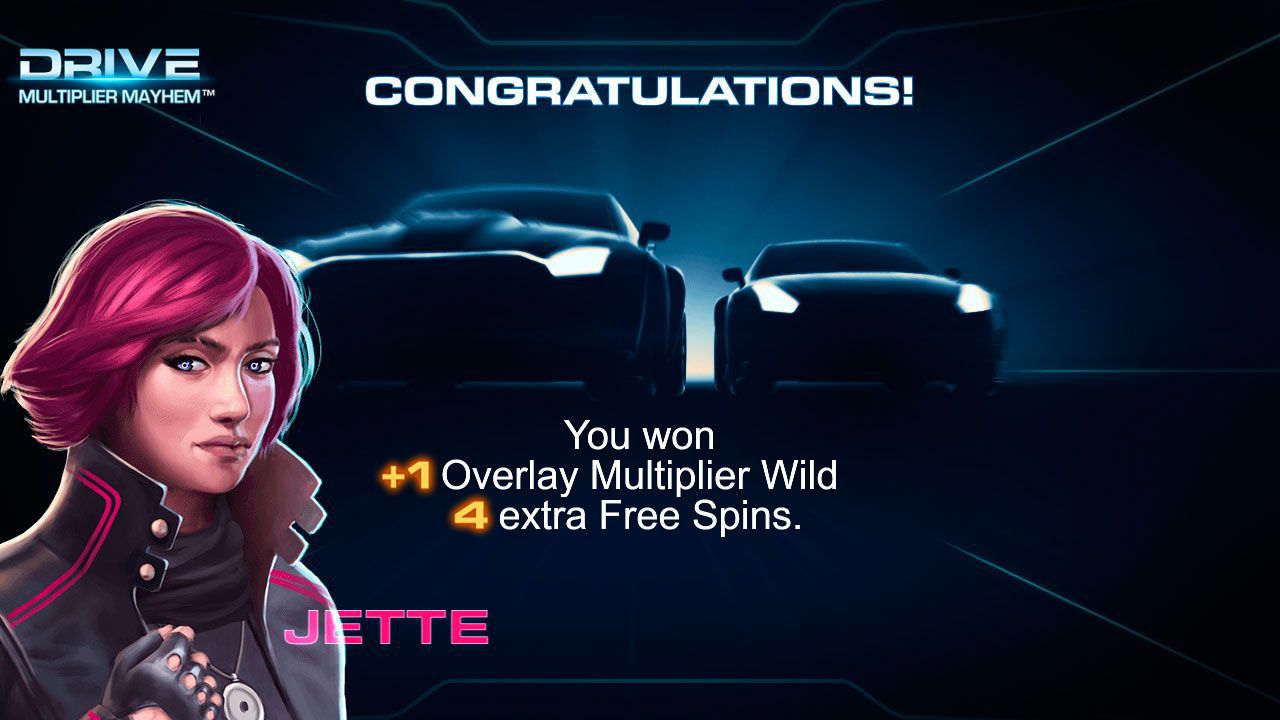 Jette vs Hamaki
In this level, you'll be given another 4 additional Free Spins added to your remaining Spins. Each round will give you another Multiplier Wild. The access to the next race level will be opened once 3 Nitro symbols appear on the reels.
Jette vs Bruiser
The number of the remaining Free Spins will be increased by 3. Starting from this level, each race will guarantee you two Multiplier Wilds. Once the Nitro Collect Meter is completed, 3 more Nitro Symbols will open access for the final race.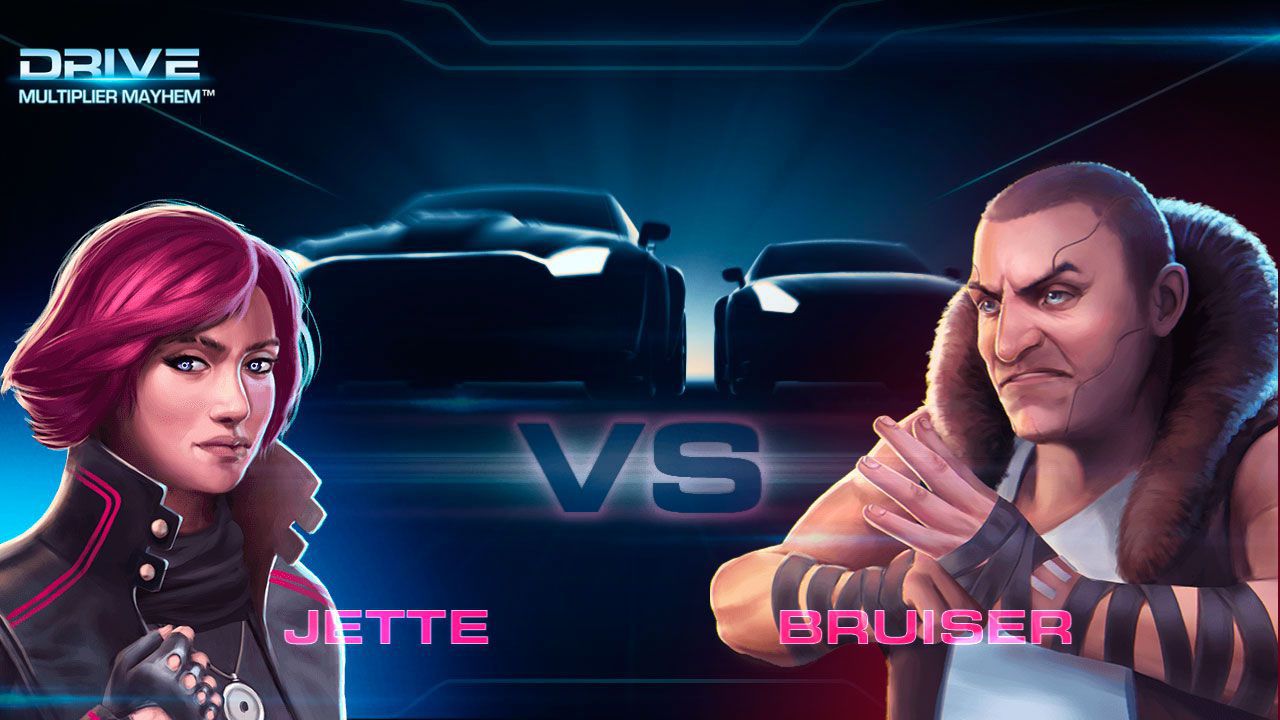 Jette vs Bruiser Revenge
The last race will give you another two additional Free Spins along with 3 Multiplier Wilds for each round. Nitro symbols do not appear during this level. At the end of Free Spins, the game returns to the main round, which activated Free Spins.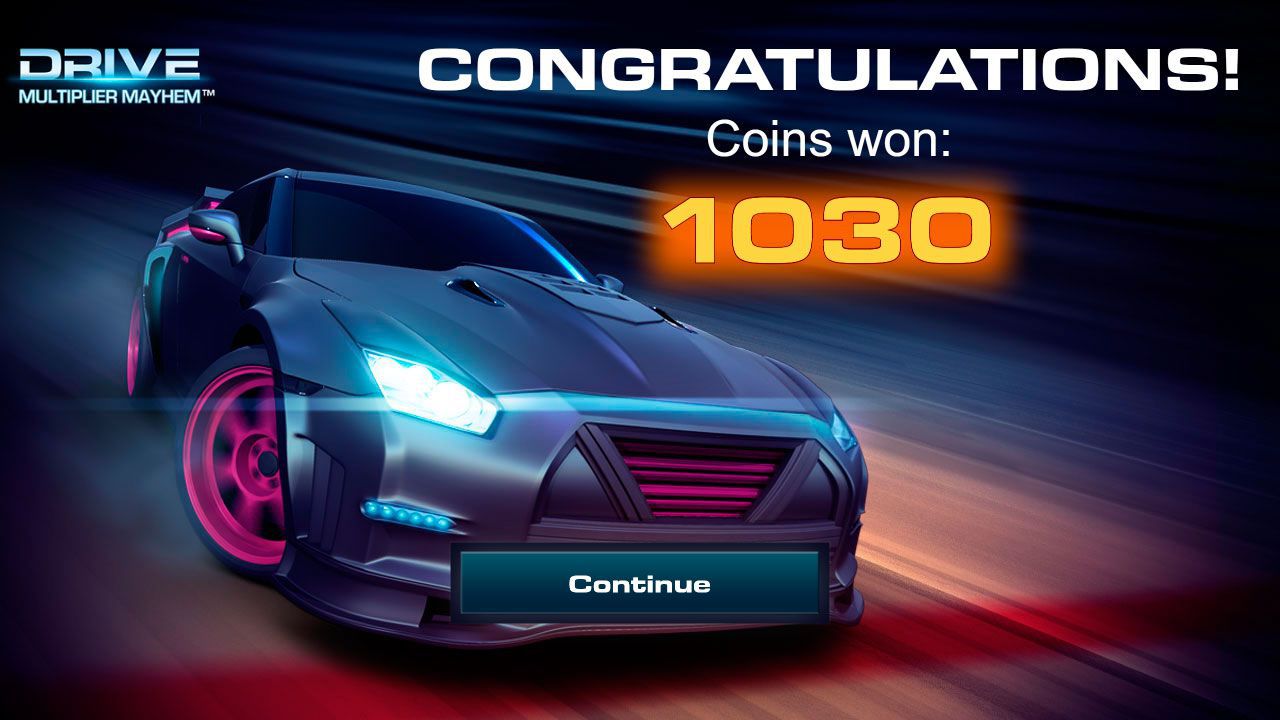 Conclusion
Street racers and gamblers have many things in common, first, it's their desire for adrenaline rush, which are so rare in our everyday lives. NetEnt company decided to combine street races and gambling into one very entertaining activity. You can both have a ride at a rapid-fire pace and win a huge money sum with the help of Drive: Multiplier Mayhem - it's more than likely.
And of course, the brand new video slot from Swedish developer will create a strong desire to get behind the wheel even for those, who have never done this before. A fascinating storyline together with Multiplier Wilds and multi-level bonus package will give you high chances to win the race and get up to 750 000 points/ coins.
The visitors of our web site can easily feel the adrenaline rush and risk by playing the following video slot for real money or for free in one of the casinos listed below.