Available on
Features of the game
| | | |
| --- | --- | --- |
| | Free spins | Yes |
| | Re-spin feature | Yes |
| | Bonus game | Yes |
| | Risk game | No |
| | Scatter symbol | Yes |
| | Wild symbol | Yes |
| | Progressive jackpot | No |
| | Autoplay option | Yes |
| | Cascading reels feature | No |
Jimi Hendrix video slot by NetEnt - review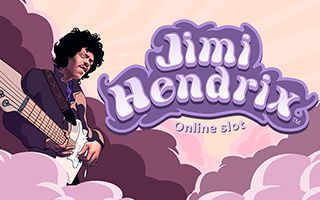 The 1960s were the most game-changing revolution in the music industry have occurred - it was during this period, when iconic bands and musicians appeared to leave their mark in the history of such popular music genre as rock'n'roll. Apart from such world-famous bands as Beatles, The Doors, Led Zeppelin, Pink Floyd, The Rolling Stones, the list of the musicians, who changed music industry once and for all, can be complemented with the name of the great virtuoso guitarist and singer - Jimi Hendrix and his famous band The Jimi Hendrix Experience. Unfortunately, Jimi Hendrix passed away in his early years (he was only 27), the iconic rock guitarist, singer, and songwriter managed to make a mash on millions of listeners all over the world. At those times, songs by Jimi Hendrix were considered to step over the bounds of what rock'n'roll music traditionally meant to people. Things he could do with his electro guitar left his multimillion followers a wide room for creativity. Today, such music genre as "psychogenic rock" is inextricably linked with the name of Jimi Hendrix and his talent; and his songs can still be found in the music collections of genuine music addicts. With an ulterior motive "Time" magazine considered Jimi Hendrix the best rock guitarist of all time.
Such cutting-edge and innovative software developer as NetEnt could not dismiss an opportunity to commemorate such iconic music character, who composed songs for the whole generation. The release of video slot, dedicated to Jimi Hendrix became a true delight for many online casino enthusiasts.
Jimi Hendrix is follow-up to the famous NetEnt video slot series - "Rocks", launched on April 22, 2016. The first video slot from the following series was dedicated to the prominent glam-rock band Guns N' Roses. Several months later, iGambling industry beheld the release of another video slot from the series - Motörhead, dedicated to Lemmy and his legendary rock band.
Jimi Hendrix video slot - trailer
Those players, who appreciate the talent of famous rock musician, will rejoice with the sound of favorite songs and with generous wins thanks to several bonus features. In addition, we cannot but mention top-notch visual effects and background sound represented by the selection of the best tracks by virtuoso guitarist.
This funkydelic video slot will be a sort of a time machine to take players to those times, when Jimi made core changes in the guitar music and attitude to this musical instrument in general. His exuberant strive for freedom, flexibility and negligence together with a strong desire to conquer the whole world - this is the mood that pervades Jimi Hendrix video slot powered by NetEnt.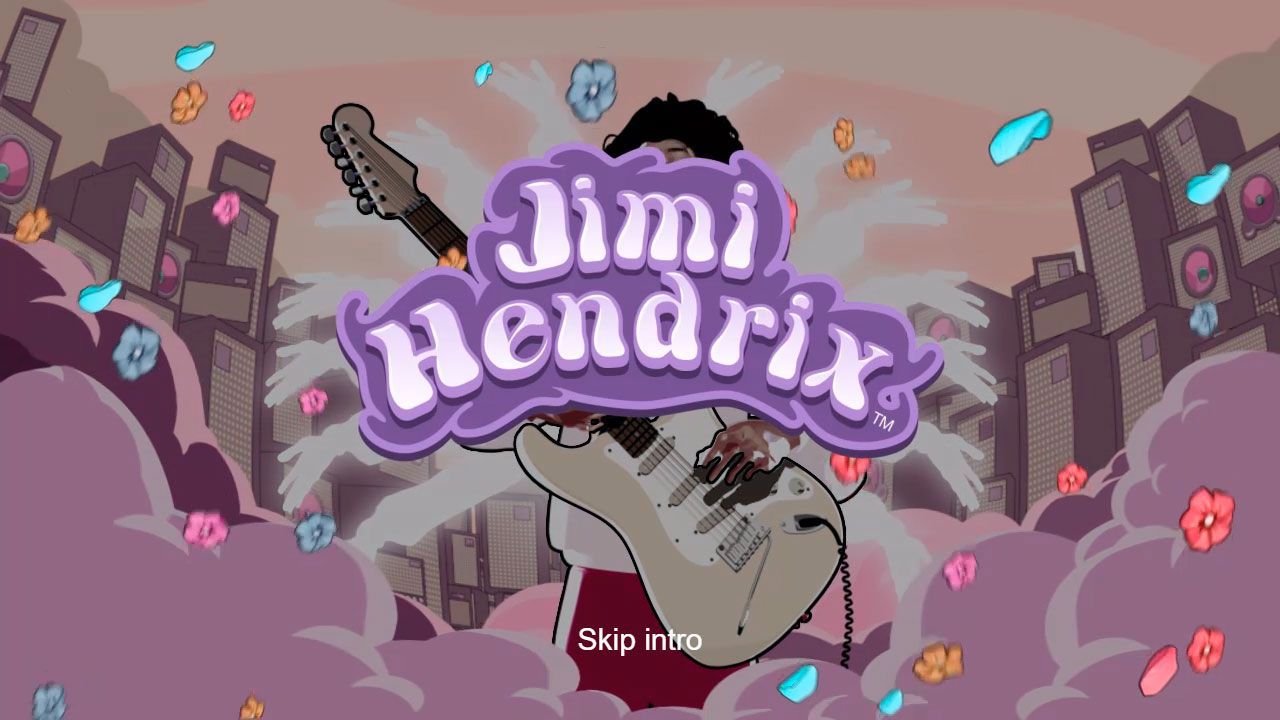 General features
The play area of Jimi Hendrix video slot by Net Entertainment takes the form of a 5 reel, 3 row game with 20 fixed paylines.
Swedish software developers also included Re-Spins, Wild substitution symbols, Scatter symbols and Pick and Click feature, which can trigger big wins or free spins.
Users can make bets ranging from Level 1-10. The value of each coin can vary from 0,01 to 1 currency unit. The total bet per spin is equally divided among all the active lines. At the beginning of each new round, users can adjust their current bet at their own taste.
If winning combination made of minimum 3 (or 2 for the Wild symbols) adjacent symbols occurs on the reels from leftmost to right direction, players will be awarded wins. All wins are calculated depending on the bet with maximum multiplier x 400. Thus, the total win per a single round/spin can reach 80000 coins.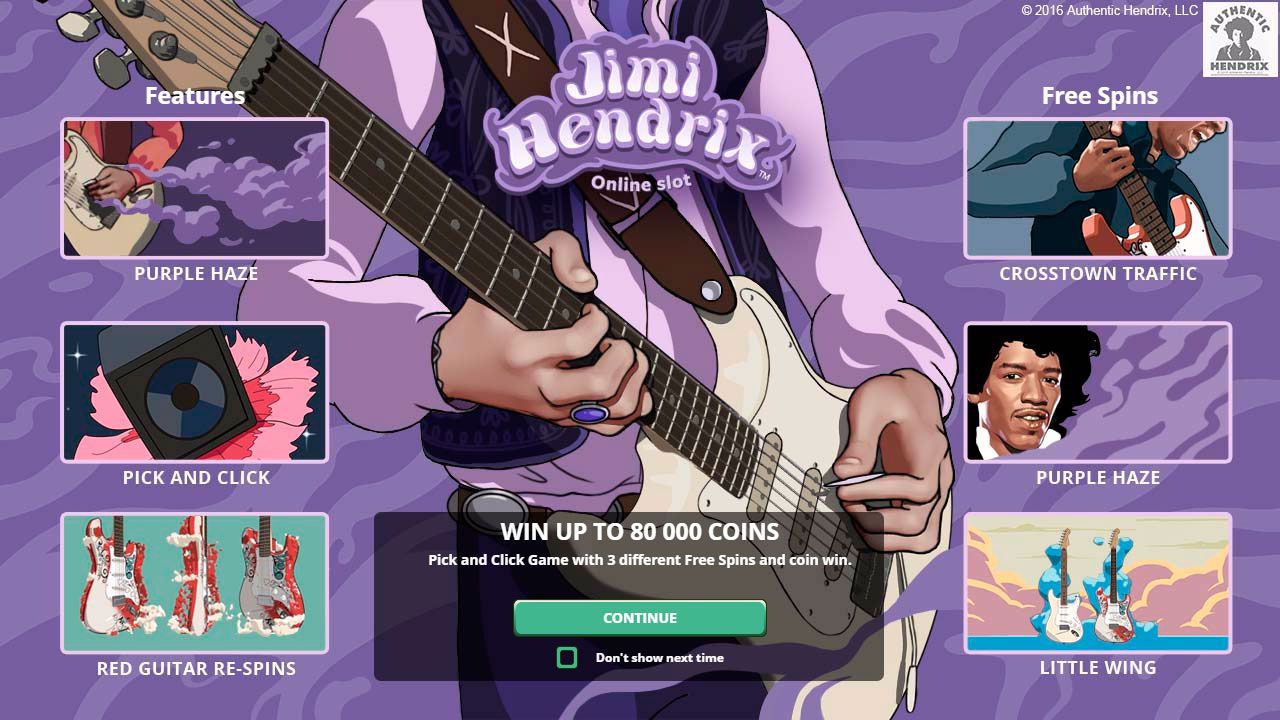 Theoretical Return-To-Player rate in Jimi Hendrix video slot powered by NetEnt is set at 96,9% rate, which very good
Jimi Hendrix video slot - play for free
Fortunately, you don't necessarily have to risk your own money, if you wish to experience the mind-blowing atmosphere of Jimi Hendrix's great music and enjoy the imperishable masterpieces of the great musician. Playing Jimi Hendrix demo-version is like killing two birds with one brick: first, you can commemorate the talent of the legendary rock-musician, and, second, you can have a good time enjoying the gaming process. All you need is Internet connection on your computer or mobile device. Demo-versions are and excellent way to elaborate your own betting strategy and test all the bonus features on your own. And believe us, there're many features to try.
But what if the free game (for play money) is no more morally satisfying and the game for real money is not yet affordable? Rejoice, because online casinos have prepared special no deposit bonuses for such cases. Anyone, who registers in one of the online casinos, that issue such bonus offers, will have a chance to get some free cash or gratis spins on his account, that can be played on video slots.
Jimi Hendrix video slot - design
NetEnt developers decided to stick to the unique style, typical for the latest products by the Swedish company: the game was "equipped" with superb animation effects, which make the whole gaming process more dynamic and thrilling. However, unlike many other video slots, Jimi Hendrix puts stress on the cartoonish and somewhat psychedelic design, rather than on realistic visual effects.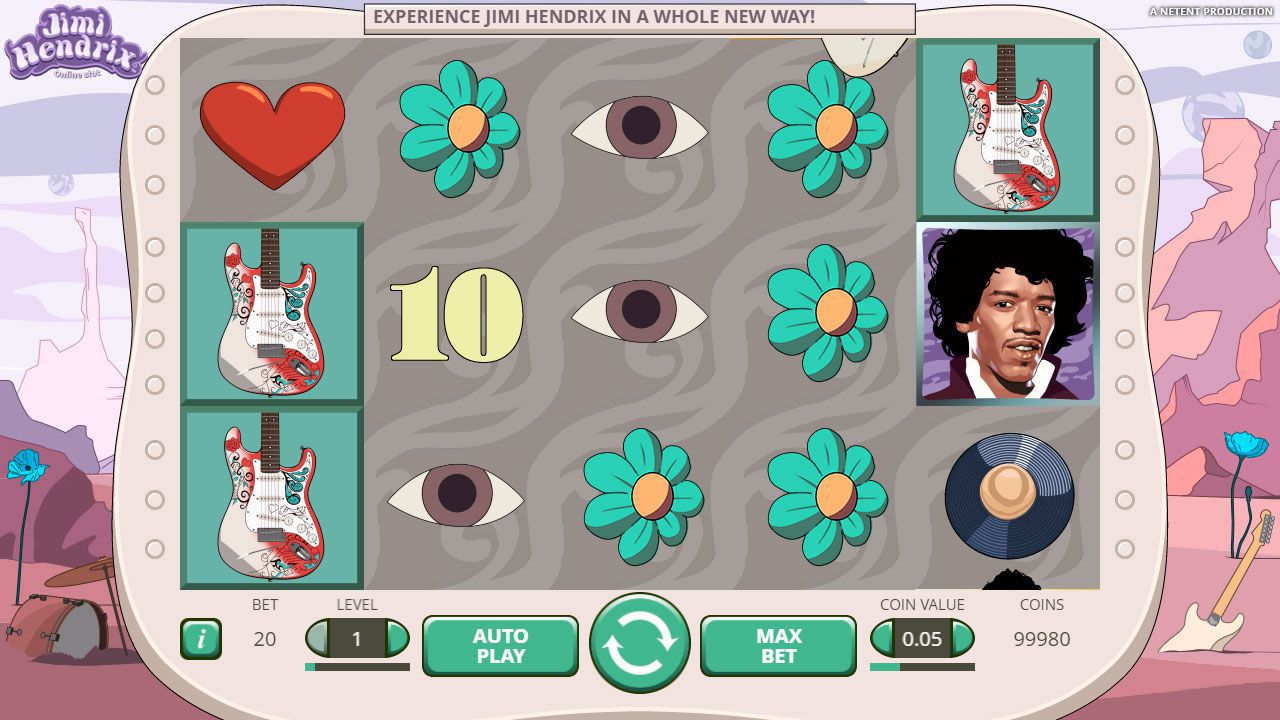 The video slot looks like a fantasy valley with scattered musical instruments like drums and electro guitars in the middle of pink sands - the main weapon for Jimi Hendrix to win the hearts of his fans. This psychedelic landscape is complemented by mauve sand, blue flowers and oddly shaped mountains illustrated in purple-pink tones. Probably, this was developers' fantasy to illustrate afterworld, where Jimi Hendrix was 'transferred' after his death. In this odd world Jimi takes his guitar from time to time and try to "jam" in the search of a new flow.
Of course, the scene can't be generally considered realistic, but one can be said for sure: it looks very extraordinary yet fitting thanks to the color range, which makes the picture very smooth, scenic and visually pleasing. Apart from that you'll notice flashing symbols of vinyl records and weirdly decorated guitars, which will definitely awake nostalgic feelings in the hearts of good old rock'n'roll fans. Colorful illuminations and animated effects along the game will make the scene ambient and dynamic. Thus, for example, each winning combination will be followed by the epic Jimi Hendrix solo together a fascinating animation of poppies instantly popping up on around the game field and winning symbols.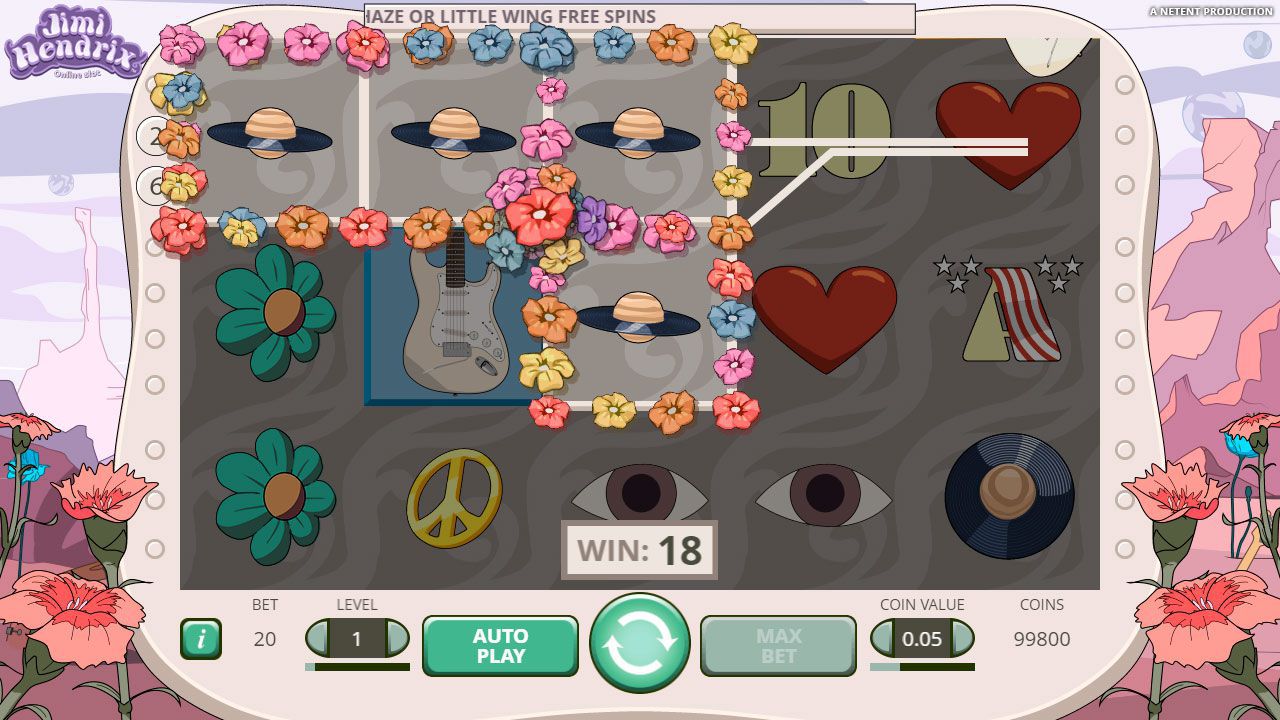 And of course, a video slot dedicated to Jimi Hendrix, couldn't go without his greatest hits. We bet, you'll instantly feel energetic and cheer up, when you hear popular songs by Jimi Hendrix; and the gaming process, accompanied by the most virtuoso guitarist of the XXth century, will become more energetic and exciting.
Control panel
To help players get the sense of the gaming process quickly, NetEnt elaborated a multifunctional control panel, which will adjust the whole gaming process along with the game itself to your preferences.
In the following video slot, you can independently choose the Bet Level (1-10) with the help of the Level selector to the left of the "Auto Play" button.
You can also set your own coin value ranging from 0,01 to 1 currency unit/coin.
Of course, a typical NetEnt video slot couldn't go without standard buttons: Auto Play button to activate game auto-mode; Spin button to trigger a single spin (a round button in the center with two arrows) and the Max Bet button for the maximum bet possible. Once you press Max Bet button to choose the maximum bet, your next spin will cover maximum active paylines at the current coin value.
By pressing "I" button, you'll be able to get acquainted with the rules of Jimi Hendrix video slot without even leaving the game field.
The following video slot is available in many languages: apart from English, you'll find the official Russian, German, Norwegian and some other versions.
Jimi Hendrix video slot - game on mobile devices
The team standing behind Jimi Hendrix video slot couldn't leave mobile entertainment fans unaddressed. Thus, the game was released both for desktops and mobile devices (powered by NetEnt Touch platform). Mobile version of Jimi Hendrix slot machine has special interface with a separate control panel adjusted for mobile devices with touch screens. The mobile version of the Jimi Hendrix video slot deserves no complaints in terms of functionality and performance. All the visual and graphic effects are of top-notch quality no matter how big or small your sensor screen is - all the visual elements will completely be adapted for it.
With an iOS or Android powered mobile device you can easily test the following video slot in the demo-version or start it in the real money mode at once. As you can see, the mobile version of your favorite video slot will give you access to your favorite game anywhere/anytime providing that you have 3/4/5G or Wi-Fi connection.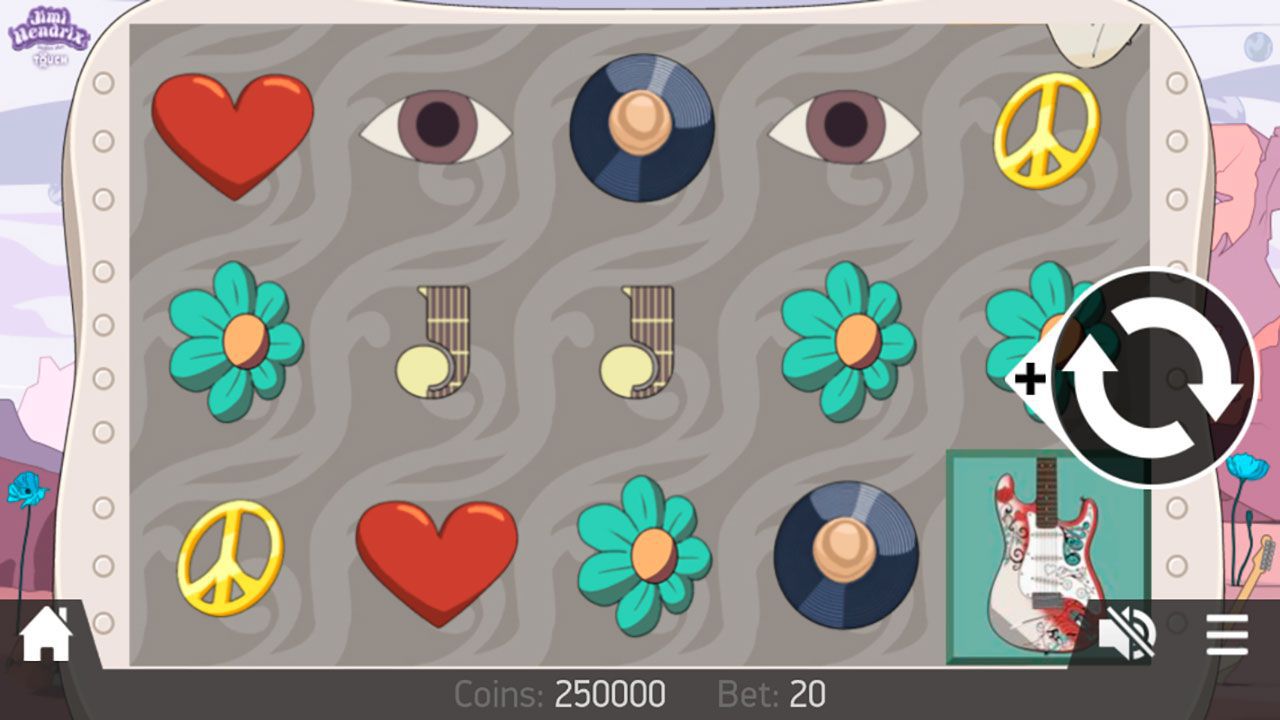 Jimi Hendrix video slot - the collection of symbols
Once the game has loaded, you'll immediately notice, that stylistically all the symbols in it are fitting the main theme of the game perfectly with images of the main character, musical instruments and fashion-attributes of 1960s. All the symbols from the collection can be divided according to their features and purpose.
Basic symbols
Base symbols are designed in the form of playing cards and themed symbols. These symbols can form winning combinations within active paylines.
The set of playing cards' symbols is the lowest-paid group of symbols in the game. These cards vary from Ten to Aces, decorated with different elements. Combination made of minimum 3 base symbols from this category with active paylines will award you 5 coins win; combinations made of 5 symbols will result in 50-75 coins win.
Themed base symbols are designed in the form of unrelated images, such as eyes, blue flowers, vinyl records, red heart and a well-known hippie sign. Combination made of these symbols, can reward you with 7 to 150 coins.
Detailed information about payouts for each combination can be found in the paytable or on our web site below the following review.
Special symbols
Special symbols in the game should be paid some extra attention, as, apart from traditional Wild and Scatter symbols, you'll find some exclusive items. Let's run through each symbol in particular: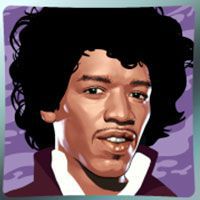 Wild - symbol featuring Jimi Hendrix, that can substitute for any symbol on the reeland except for Scatter symbol. Wild symbols landed on the reels increase the number of winning lines and your total win. When the bonus mode is on, Wild symbols features are extended by Random Wild feature (can be activated randomly without the intervention of player), Sticky Wild (Wild symbols hold their positions during the round), Extra Wild (an extra Wild will substitute for one of the base symbols) and Stacked Wild (covers several cells on the reels).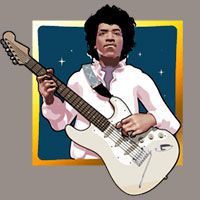 Scatter - land 3 Scatter symbols on the reels with images of Jimi Hendrix holding his white guitar will activate bonus rounds. The following symbol can appear on reels 3, 4 and 5 only. In addition, you don't have to stick to certain active lines when making combinations.
Purple Haze - if you see the symbol with old bean Jimi in his red shirt and white guitar in his hands - be ready for magic transformations. All base card symbols will be transformed into Wild Symbols, which will be almost a 100% guarantee for whopping wins. Purple Haze symbol can appear on no other reels but the first one.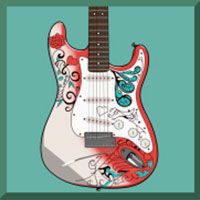 Red Guitar - appearing of 4 or more Red Guitar symbols on the reels simultaneously will activate free re-spins round. During re-spins the guitar symbols hold their positions while new symbols appear on the reels. The reels keep spinning while new guitar keep appearing. No multipliers are applied to wins in this round.
Pick and Click bonus feature
Jimi Hendrix video slot offers its player another incontestable advantage - opportunity to activate multifunctional Pick and Click feature. It can be activated both during the main game and Purple Haze feature, when 3 Scatter Symbols land on reels 3, 4 and 5.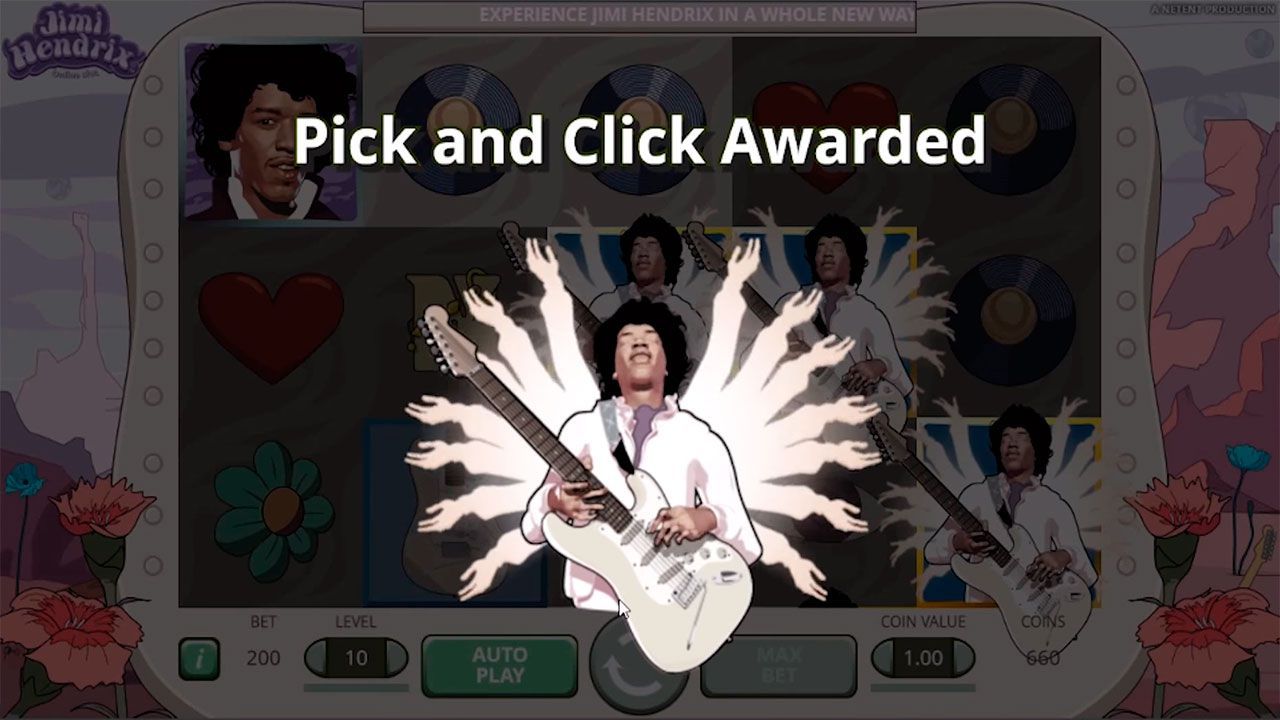 Pick and Click bonus feature includes 4 different prizes: a coin win, Crosstown Traffic Free Spins, Purple Haze Free Spins and Little Wing Free Spins. All these features are hidden in the set of acoustic speakers. Each of them guarantees either an instant win or one of the free spins rounds. Now, let's take a closer look at each prize.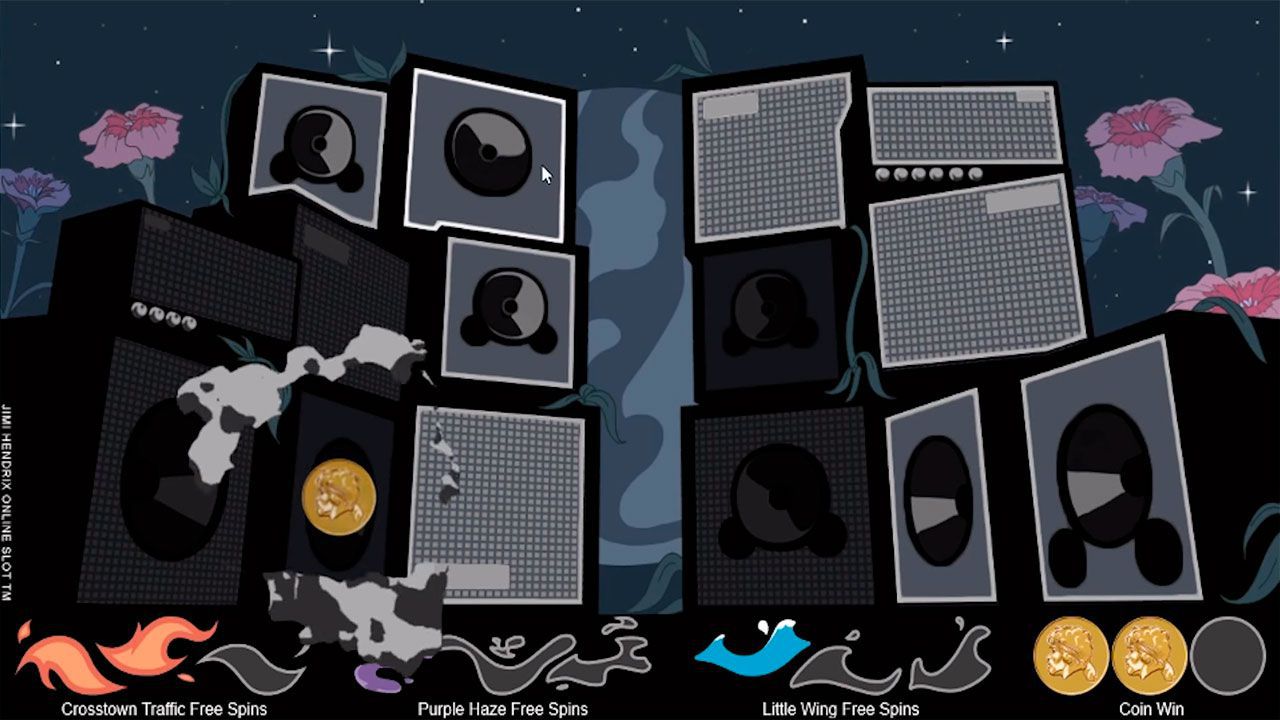 Coin Win
If the player collect 3 coin win symbols, hidden behind acoustic speakers, a coin win is awarded with a random multiplier between x8 and x30 of the initial bet.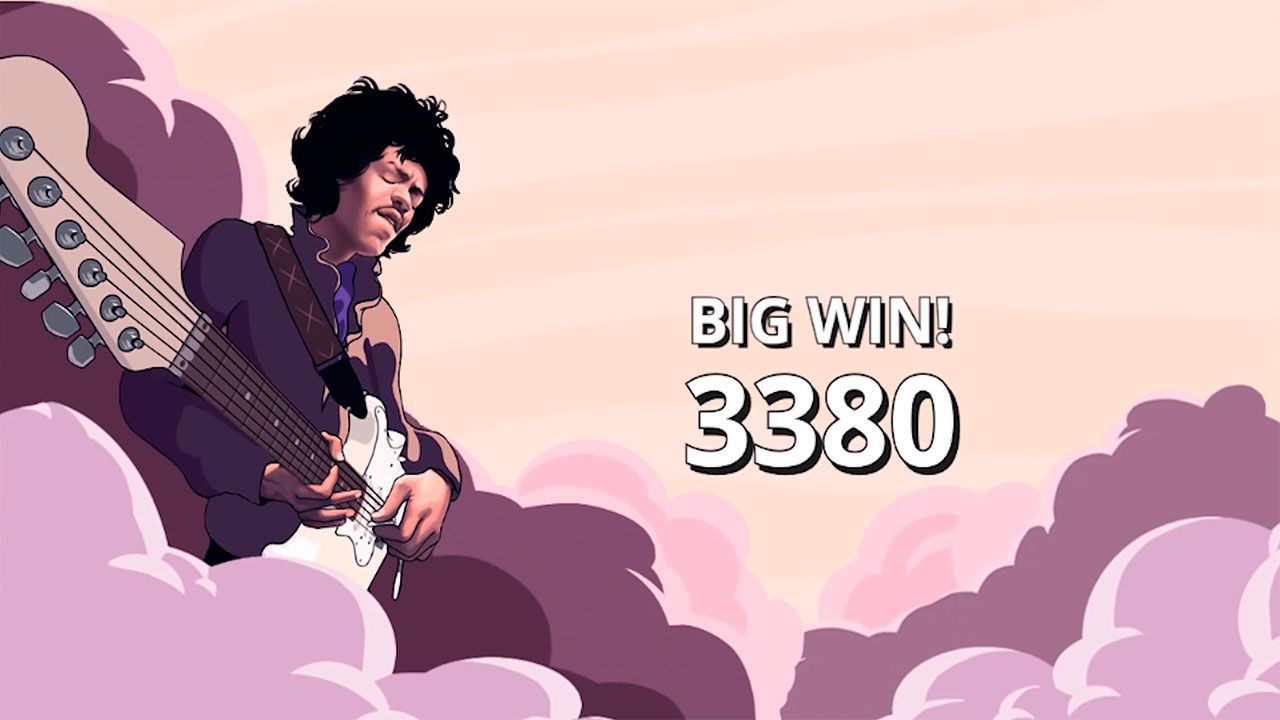 Crosstown Traffic Free Spins
If a player collects 3 Crosstown Traffic Free Spins symbols, 6 Free Spins are awarded with Wild Reels - during each Free Spin round one or two reels will be covered with Wild symbols. According to the rules of the video slot, Stacked Wild symbols will change their positions with each Free Spin. On the first spin the Wild reel appears on reel 5; on the second - on reels 4 and 5; on the third - reels 3 and 4; on the fourth - reels 2 and 3; on the fifth - reels 1 and 2; on the sixth - reel 1.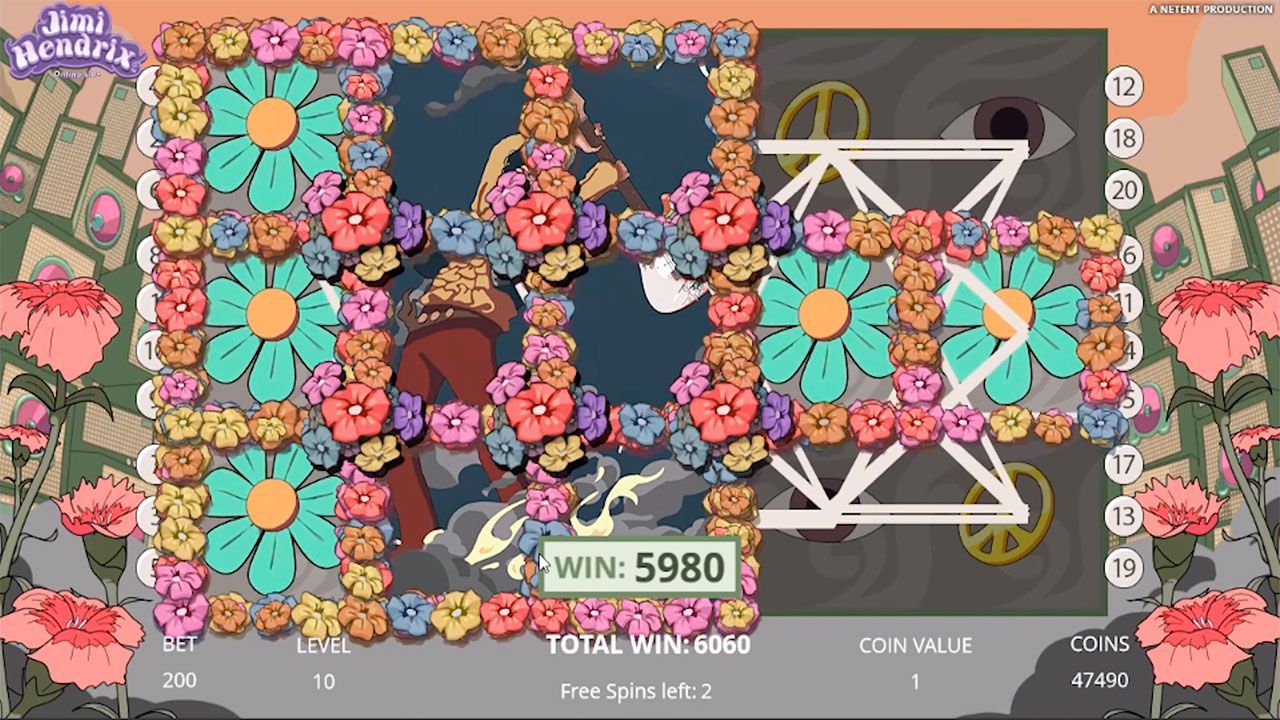 Purple Haze Free Spins
The combination made of these symbols will award you from 6 to 12 Free Spins with Extra Wild feature. During this feature, all card symbols will be substituted for "Wild" symbols.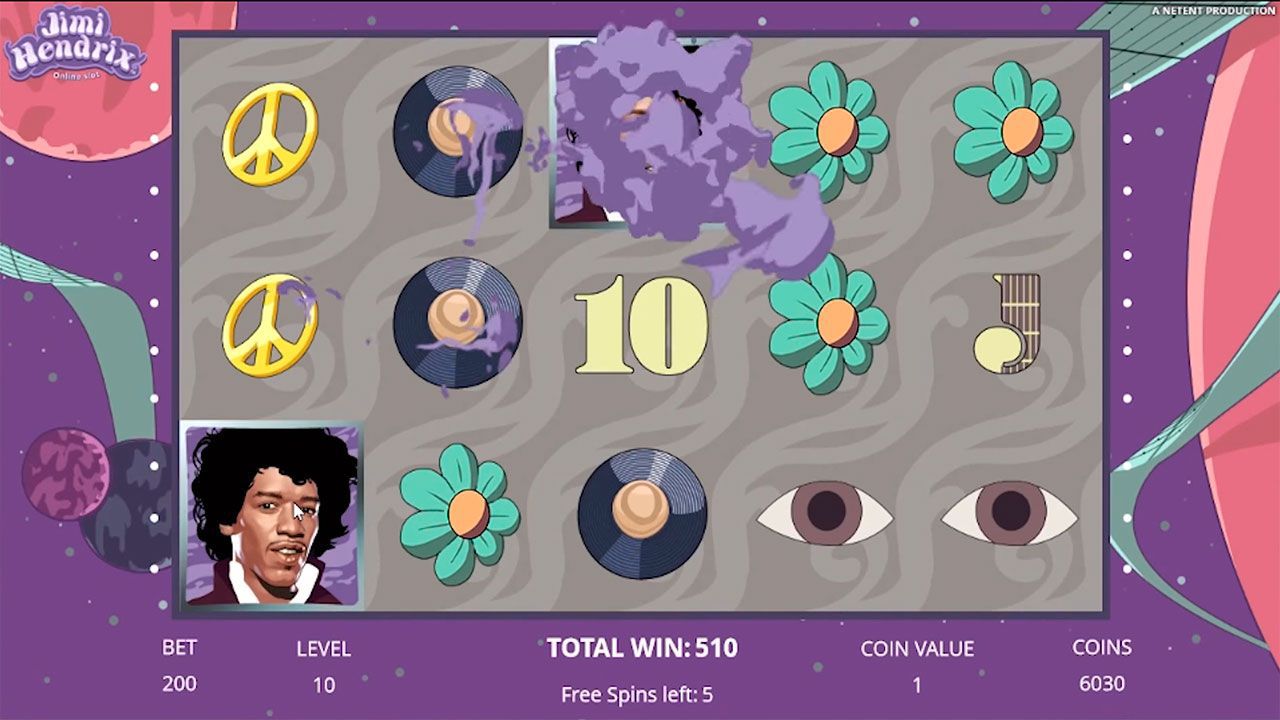 Little Wing Free Spins
Random Wild feature will give players a chance to make from 6 to 12 Free spins: with each spin random Wilds will appear on the reels.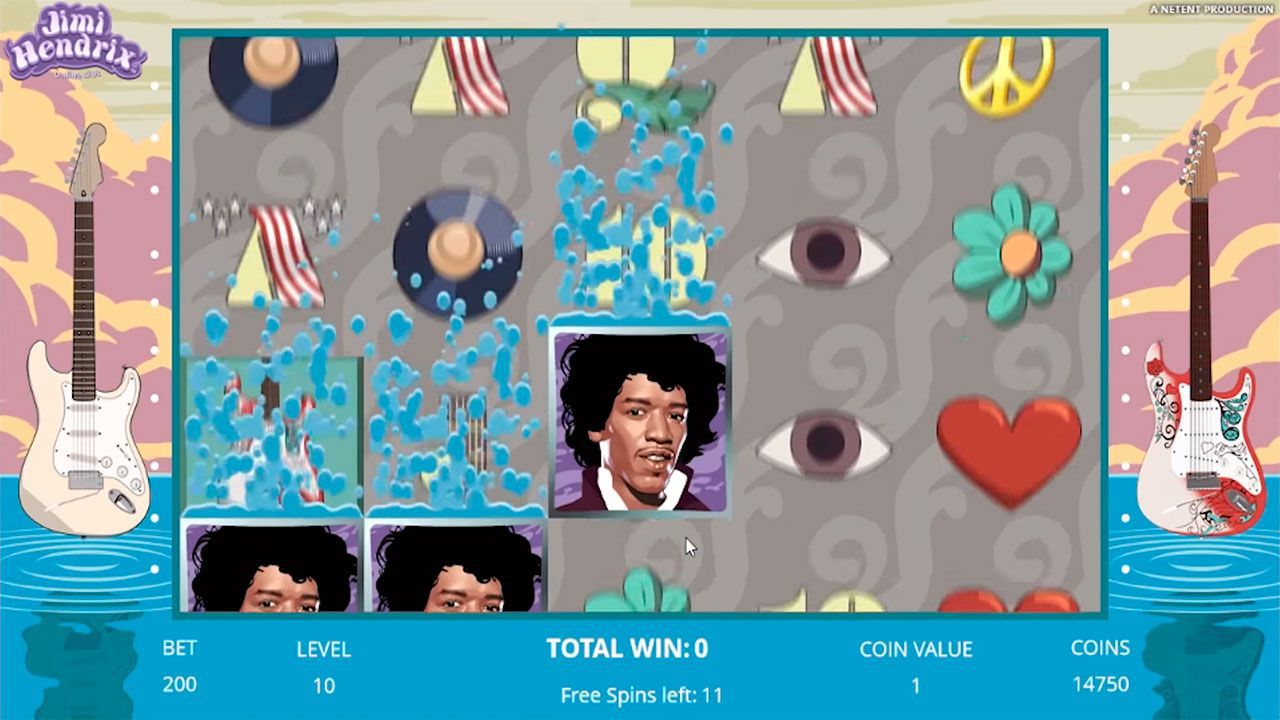 The maximum coin win in the "Pick and Click" Game equals to 6000.
Bonus features
The game developers decided to add two bonus features to make players more fortunate during the game. These features can be activated during the main game only with the help of special symbols.
Purple Haze Feature
Whenever Purple Haze symbols (featuring Jimi Hendrix in a red flannel) appear on the first reel, Purple Haze Feature is activated. This feature will turn all card symbols (10, J, Q, K, A) into "Wild" symbols. Purple Haze symbols will substitute for Wild symbols after this spin. Altogether these transformations will increase your chances to collect winning combinations drastically.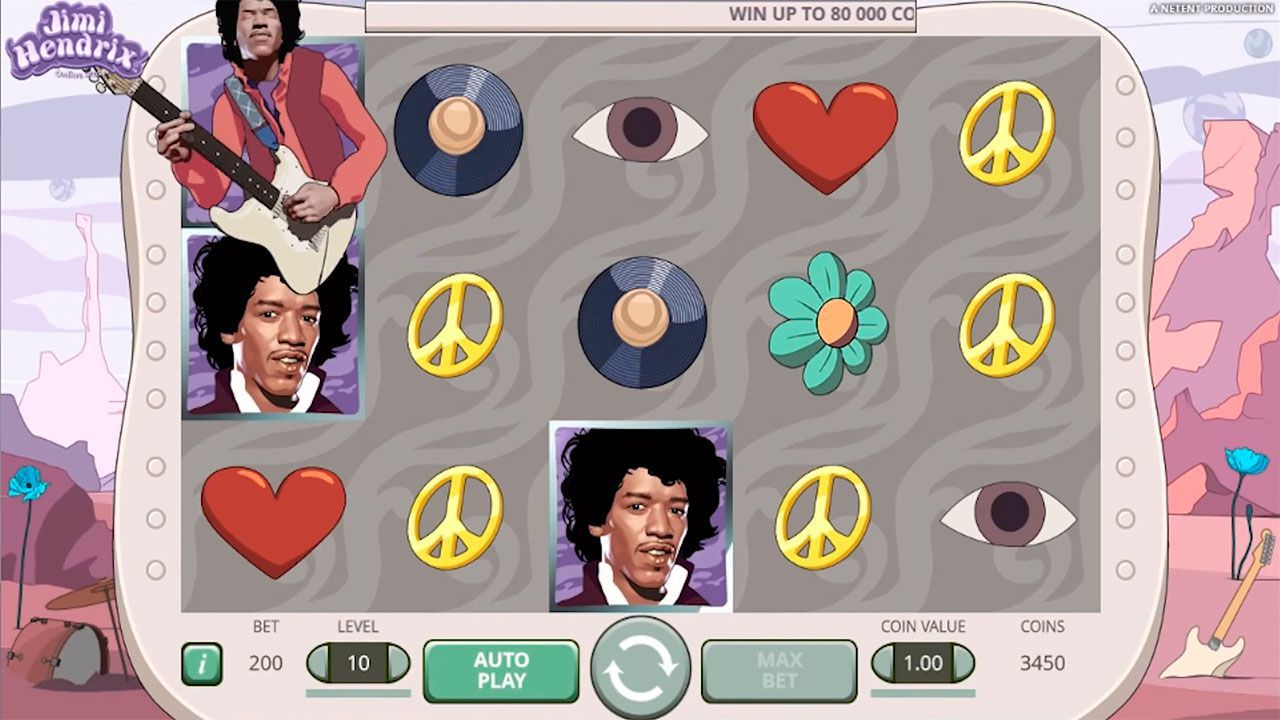 During Purple Haze feature, Red Guitar-Re-spin and Pick and Click features can be activated.
Red Guitar Re-Spin
This feature will be triggered if 4 or more Red Guitar Symbols land on the reels during the main game.
Before Red Guitar Re-Spin mode is on, players will be paid wins for preceding spins in the main game. All Red Guitar symbols, which triggered the following function, will remain on the reeland during the whole bonus game and will substitute for Stacked Symbols.
Each new spin can bring another Red Guitar symbol on the reels, which trigger another Re-Spin. The Red Guitar Re-Spin feature is on while new Red Guitar symbols keep appearing on the reels. The feature will end, when there're no more new Red Guitar symbols after the round. The whole play area covered with the following symbols will award players with whopping wins and incredible success.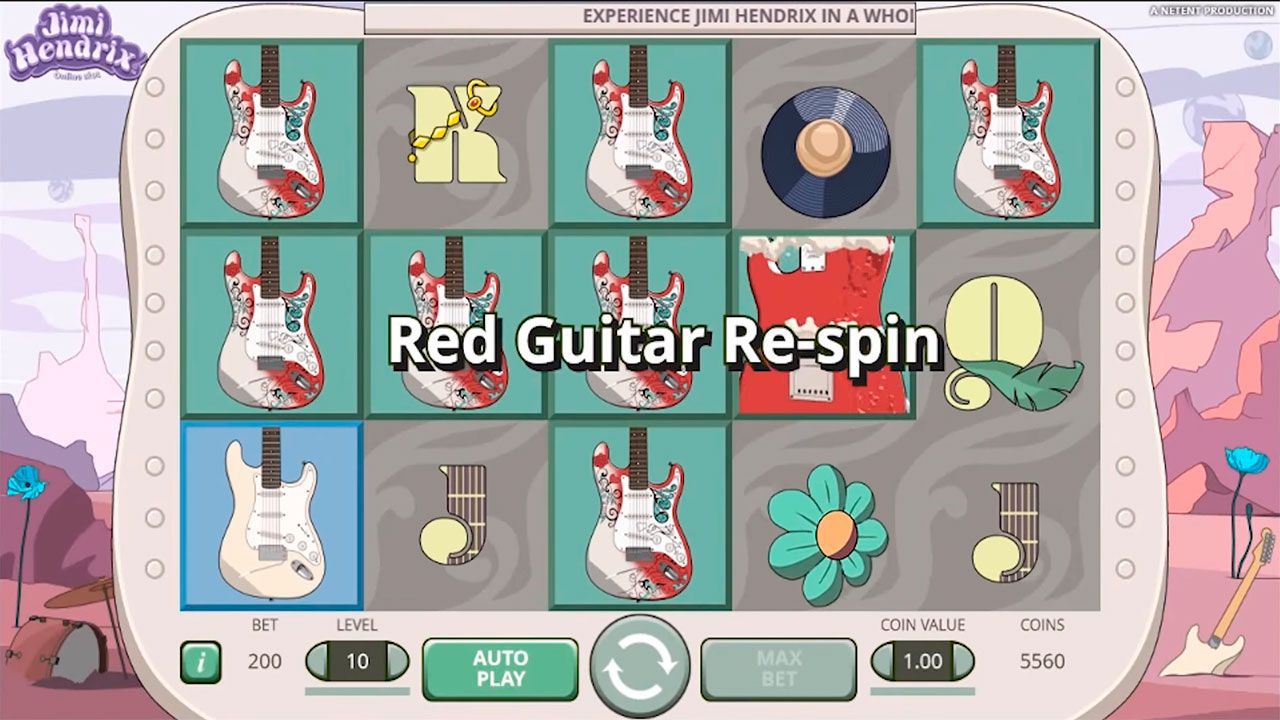 Conclusion
The success of the themed "Rocks" series powered by "NetEnt developer is rightly considered well deserved. High ratings obtained by "Guns'N'Roses" video slot in the i-Gambling industry gave NetEnt a push to continue their favored music theme. Some time after, Swedish developer decided to release an entertaining Jimi Hendrix video slot.
The opportunity to feel the atmosphere of a real rock-concert of the legendary guitar player cannot leave true Jimi Hendrix fans ignorant. And the alluring RTP rate has made the leading positions of the game in gambling charts quite predictable.
Jimi Hendrix video slot is available in one of the online casinos, listed below, both for coins and real money.