Available on
Features of the game
| | | |
| --- | --- | --- |
| | Free spins | No |
| | Re-spin feature | Yes |
| | Bonus game | No |
| | Risk game | No |
| | Scatter symbol | No |
| | Wild symbol | Yes |
| | Progressive jackpot | No |
| | Autoplay option | Yes |
| | Cascading reels feature | No |
Starburst video slot by NetEnt - review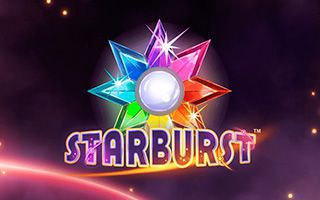 Since the dawn of time people have been breaking heads over the riddles of the universe. Even ancient Greek scientist put forward a hypothesis, that we were all somehow connected to the starts shining in the night sky and illuminating our life journey. With the development of astronomy and invention of telescopes, the opportunity to watch celestial bodies and make suppositions became possible. Shortly afterwards people started finding out facts about the origin of our planet - The Earth. Scientist calculated, that the number of stars in space is estimated at hundreds of billions. Today the lifetime and the cycles of any star can be found even in a child's cognitive book about outer space.
But let's go back to the ancient scientist and philosophers. Today we can state with complete certainty that they were right about our connection with starts. The reason for that is the following statement: The Earth, like every single atom of it, is in fact mere star dust, which appeared as the result of stars' explosion. All the foregoing can be well applied to Starburst video slot (which means a burst = explosion of a star) developed by Net Entertainment Company. The slot machine will take you several billion years back, right to the moment, when there was no Earth, not Solar system even...
Starburst video slot can be rightly called one of the most popular and successful creations of NetEnt. The game was released on January 15, 2012. One of the first online casinos, that allowed its customers to spin the reels of the new title, were Betsafe Casino and Betsson Casino. Throughout its existence Starburst has gained sustainable popularity among video slot fans. Such success can be attributed not least to top notch graphic and animation, background sound, high RTP rate (Return To Player), which on average equals to 96,1%, and also minimalistic design.
The official Starburst trailer by NetEnt
Before you actually launch Starburst by NetEnt, we strongly recommend you to switch on sound effects on your computer or mobile gadget in order to enjoy the gaming process together with subtle music, which could well fit any space movie. Indeed, the video slot is very simple yet perfect, without any flash: only dark-purple background and symbols designed in the form of gem-stones sparkling with different colors. All things mentioned above together with simple rules make this slots machine one of the best games for those, who want to relax and enjoy the gaming process.
Creators from NetEnt managed to create a maximally simplified game, especially for those who prefer devoting all the time to sheer experience of spinning the reels and getting winning combinations. No odd things, just the game. All in all, if you feel bored of day-to-dayness and wish to tempt your fortune - Starburst video slot is a perfect choice for you. The game combines both all the necessary things and simplicity, which makes it user-friendly and convenient.
Starburst video slot: key features
Starburst slot machine is designed with 5 (five) reels, 3 (three) rows and 10 (ten) fixed paylines, Starburst™ stacked symbols with re-spins and wins both from leftmost to right and from rightmost to left directions. Therefore, the actual number of paylines is 20. The winning combination will be credited only if one of its symbols appears on the first or the last reel. Such scheme is called "Win Both Ways", which results is more frequent wins if comparing to other slot machines.
Players have the option to bet from 1 up to 10 coins, with amounts ranging from $0,01 to $2. So, your win in cash equals to the win in coins multiplied by the coin value. Thus, the maximum bet for a single spin is $200.
The maximum win on Starburst slot machine can reach 50000 coins. Such huge prize is only available if you play on maximum bets and have 5 "BAR" symbols on 5 reels in succession.
As we've already mentioned before, the return-to-player percentage for Starburst slot machine is 96,1%. One of the most distinguishing features of this game is the fact, that the RTP rate accounts completely on standard spins (the game lacks bonus games or jackpots). Therefore, winning combinations appear much more frequently if comparing to other video slots.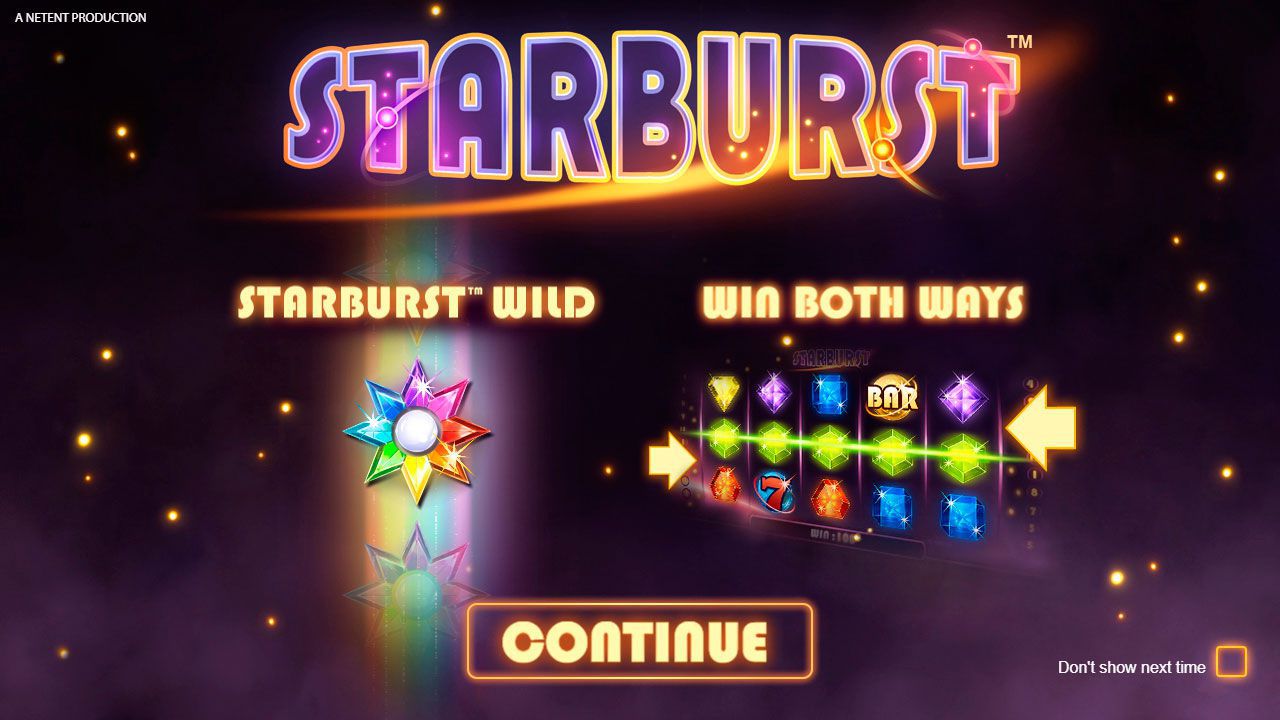 Starburst slot machine: play for free
Like the majority of other creations by NetEnt, you can play Starburst video slot absolutely for free with no registration/download required. Free game is possible thanks to demo-versions. You can find them not only in the majority of popular internet casinos, but also on our web site. In order to start playing "for free/for interest", you simply need to press "PLAY FOR FUN" button.
But if you're feeling like trying your luck and winning some real money, you can try playing Starburst slot machine with real money bets, but at the same time absolutely for free. You just need to get one of the no deposit casino bonuses at those gambling facilities, which allow using gratis reels spins for this video slot in particular. The list of acute bonuses can be found in the following section of our web site on the right of the demo version of the game.
Starburst video slot: design
During the gaming process players may feel like they're in the interior of the galaxy and completely immersed in the mysterious cosmic space. Of course, such atmosphere is maintained by slot machine's superb graphic and animation. The team standing behind the game has paid attention to every wrinkle to make players feel like the main character of some sci-fi movie or book.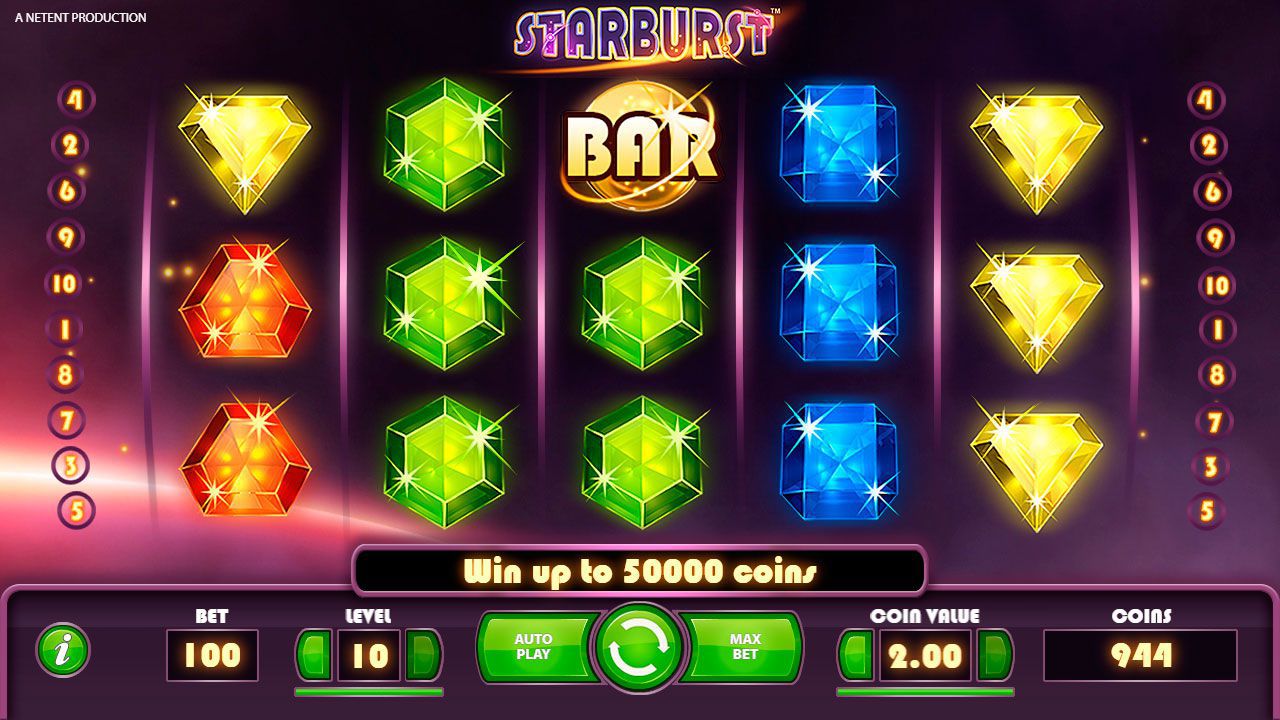 Starburst slot machine is basically designed very simply, you can even liken its style to the video slots of 1st generation. However, it's still featuring amazing graphic effects and accompanying sound effects. Yet very simply, the slot machine theme completely corresponds the space idea of the game. When it comes to the color range, we cannot dismiss the starry heaven and fascinating shimmering crystals. Indeed, absolutely each symbol in the game is literally alluring with its sparkle and overwhelms player's minds.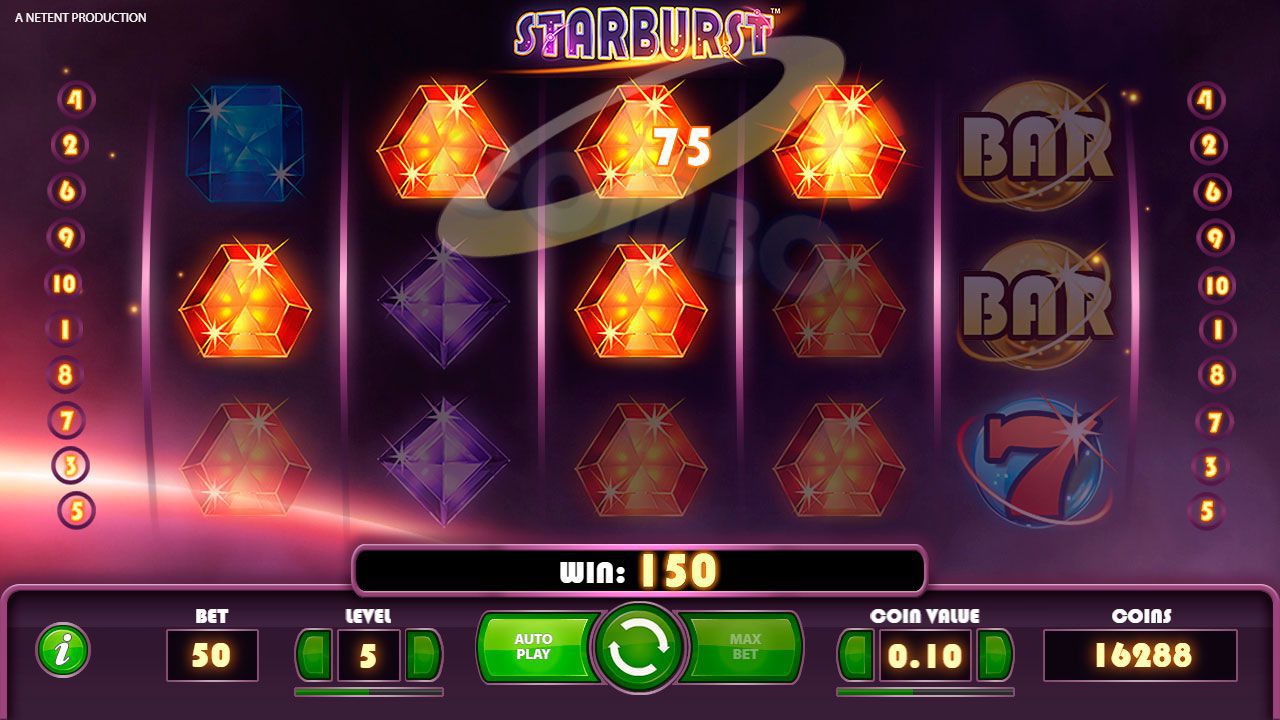 The reeland is set against the background of infinite cosmic space. Gentle purple light comes from one of the remoted and hitherto unknown planets. Beside the planet, in the background you'll see erratic stars ready to burst at any time and reward players with cosmic wins!
Apart from graphics animation, a separate notice should be also given to sound effects of the video slot. Calming background sound, which take you way into infinity, perfectly accompanies the graphics. However, the soundtrack somewhat alters, when you win, to make your experience more vivid and memorable. In case big wins, the glow gets brighter and features the signs "Combo", "Super Combo" or "Mega Combo".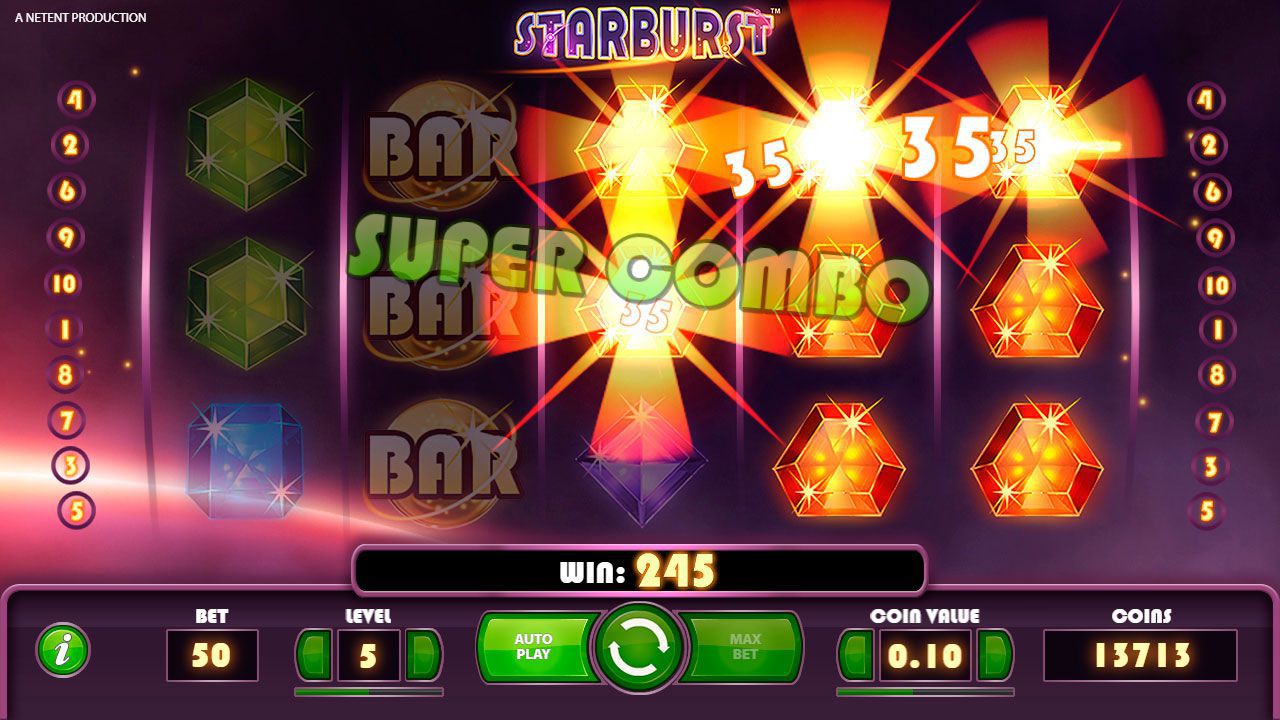 Starburst slot machine: control panel
If you press the "Game Settings button", designed as a screw key, you'll be able to change some parameters of the game. For example, you can activate "Quick Spin" mode if you want, so that the reels stop faster with each spin, accelerating the gaming process. You can also activate/deactivate "Spacebar to Spin" or switch on/off the "Intro Screen". Close to the settings panel you'll find sound effects: this is how you can activate/deactivate sound effects during the gameplay.
If you are bored with pressing the "Spin" button each time, you can use the "Auto Play" function. Just press the corresponding button, choose the number of spins and enjoy spins launching automatically without your involvement. In the auto game mode, you can also enjoy expanded settings: for instance, you can stop your game on any win or once your win exceeds a certain money sum. In general, the game settings are very flexible.
As we've already mentioned before, Starburst slot machine is very minimalistic and has quite a humble number of control elements:
A round button with two arrow keys - new spin
Autoplay - activate auto spin mode
Bet Max - spin on maximum bet
Lines - choice of active lines
Level - the bet amount on one payline
Coin Value - amount of money for one coin
Starburst slot machine mobile version
Today many things that previously could have sound impossible are taken for granted and compose our reality. This can be also applied to the first mechanic slot machines, created in the late 1800s. In the mid 1970s you could already enjoy the first prototypes of video slots, controlled by a special computer program. Then in 1990s, the new era of online slot machines began. These machines are still popular today, but have already integrated out day-to-day life. With the development of mobile gadgets (smartphones and tablets), we've got a feeling of freedom, as anything we need can be found in these small pocket gadgets. The rapid development of mobile apps opens a new milestone in the history of online slot machines.
Even now, mobile versions of slots are extremely popular among users, so software developers try to provide their players with more sophisticated technologies. NetEnt company has created the whole range of mobile slot machines, branded as "NetEnt Touch". No wonder that Starburst became one of the first video slots transferred to the mobile version. As the result, the game enjoyed plenty of positive reviews from the online casino users. Starburst mobile version is available for the game on any smartphones/tablets (iPhone/iPad, Android) thank to HTML5 technology, which enables direct browser game.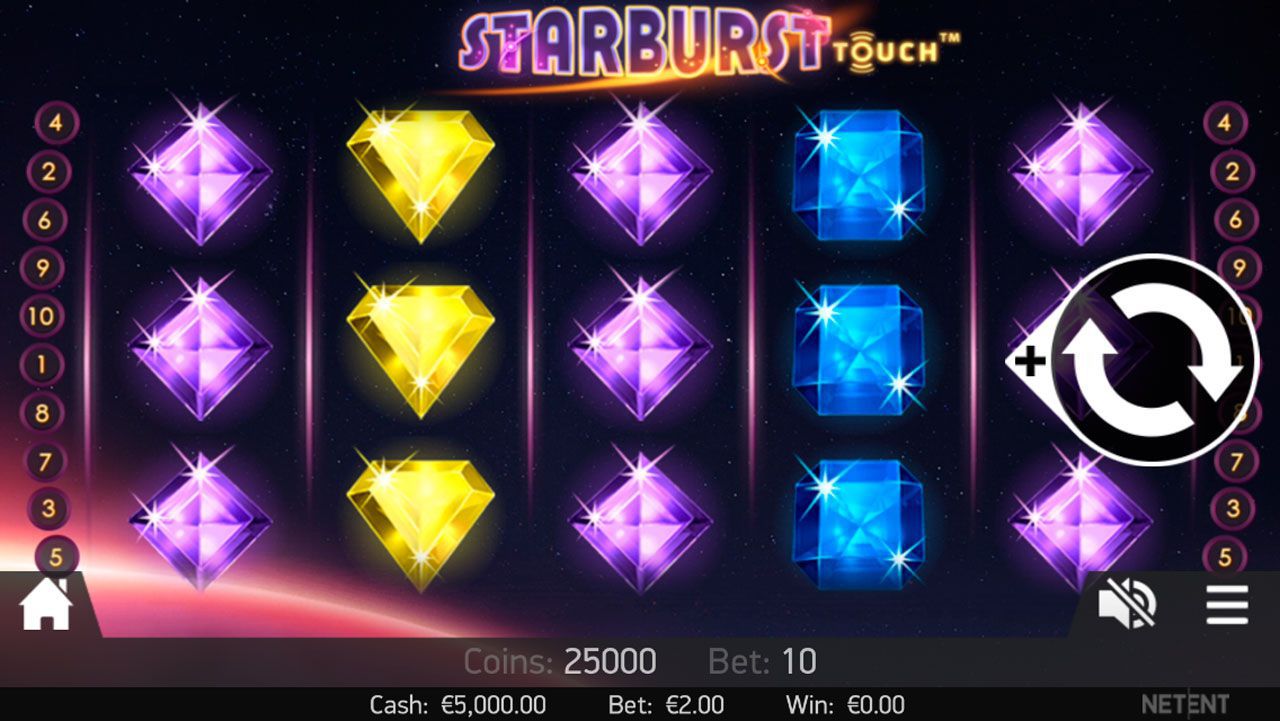 In general, Starburst mobile version resemble its desktop version a lot. Well, probably, the only difference can be found in the control panel - the developers adapted it for touchscreens: the "Spin" button and "AutoPlay" mode buttons were moved to the right central part and the Paytable, Settings (Spins/Bets/Sound effects) and also game history were moved to the separate menu. By the way, in the mobile version of the slot machine you can activate the left game mode (for left-handed players). Game in mobile version is available both in horizontal and vertical positions (it's not the same with everybody).
With the help of Starburst Touch version, everybody will have an opportunity to reach the stars not just from a window of your house, but on your way to work/studies or simply from your bed before going to sleep.
Starburst slot machine: symbols
Altogether there're 8 (eight) different symbols featuring Starburst slot machine reels.
The least paying symbols of the video slot might resemble the major elements of one-time hot computer and mobile game Bejeweled - gem stones of different shapes and colors. Symbols sparkle on the screen and start to shine once a winning combination is landed, which makes the whole game process really fascinating.
Combinations, which include gems of purple, blue, red, green and yellow colors guarantee wins equal to 5-60 coins on each of the bet lines. The winning combinations can appear, once 3, 4 or 5 identical symbols appear on one of the active bet lines according to the Paytable. If you see many similar symbols and combos with Starburst Wild on the layout, you can hope for the Big Win, which is accompanied by glare and triumphant music.
Apart from these 5 symbols, you'll also see two classic slot symbols "Bar" and "Red Seven", which were extremely popular in 1980s. With the help of these two traditional symbols, NetEnt suppliers paid a so-called tribute to retro-theme and the history of slot machines. To be honest, these symbols blend seamlessly on the playing field.
A combination, which consists of 5 "Bar" symbols on the same payline will reward you with 250 coins and 5 "Seven" in succession will guarantee 120 coins. Each combination guarantees its own individual payment; these payments can be found right below the review or in the slot's lobby (to access it you need to press the "info" button on the control panel).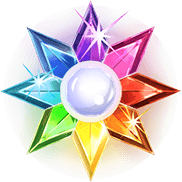 Wild Symbol
Starburst slot machine contains a special bonus symbol - Wild, which is designed in the form of a colored eight pointed star (Starburst™ Wild). It acts like a substitute for any symbol to combine a winning combination. Starburst™Wild symbols can appear on 2,3 and 4 reels only. Land this symbol on the reels, it automatically expands to cover the entire reel and launches the mini-game, which will be described later in the review.
Starburst video slot: bonus features
The developers of the game decided not to dream up complicated and complex games, but decided to "keep it simple". As the result, the only bonus and prize features Starburst video slot offers are Starburst™ Wild symbols with re-spins.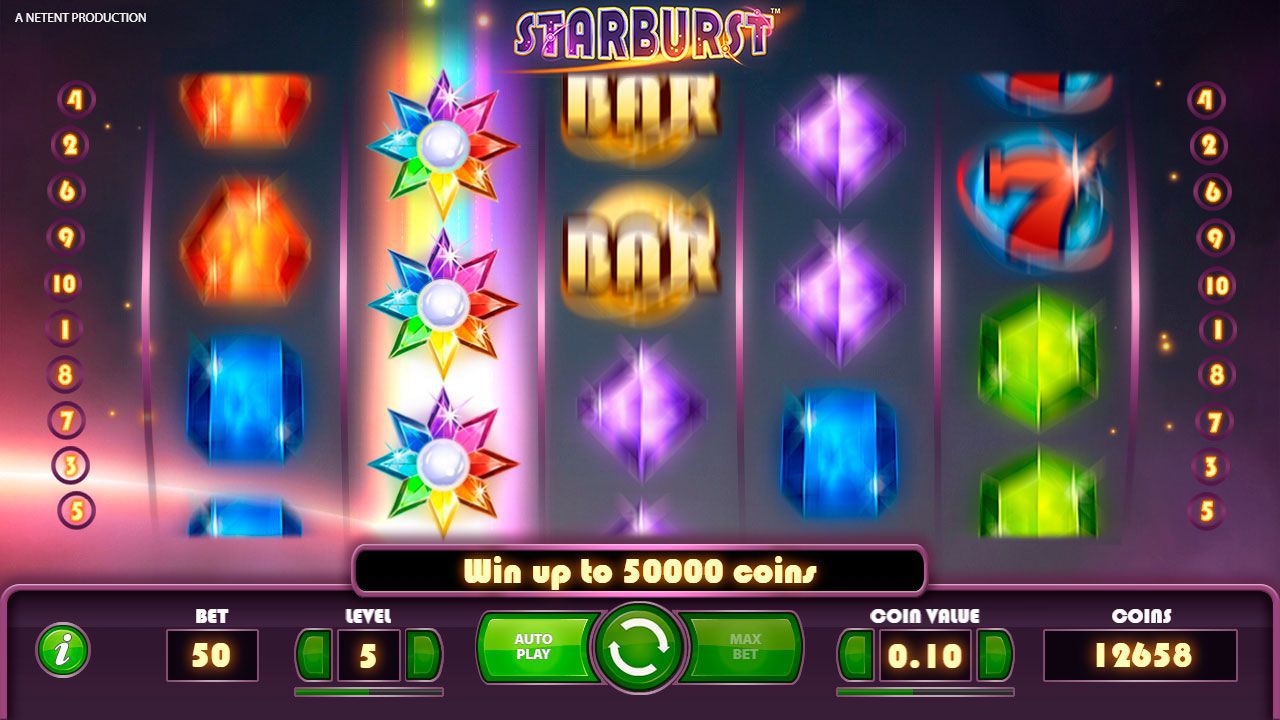 Once a Starburst™ Wild symbols lands on one or several reels at the same time, the same-named prize function is activated. While the Starburst™ Wild mode is on, the spinning star sign expands to the whole reel and hold still. The other reels start spinning again. If you're lucky to get another Starburst™ Wild symbol during such a re-spin on the other reel, it will also expand to the whole reel area. Next, you'll get another re-spin and it will include all those Starburst™ Wild symbols, which would have appeared before. Each new Starburst™ Wild symbol increases your chances to hit the big win. These re-spins are absolutely free for players.
The following mini-game will be finished once no new Starburst™ Wild symbols appear on the reels after another re-spin. Re-spins are played at the same bet as during the round, which activated them.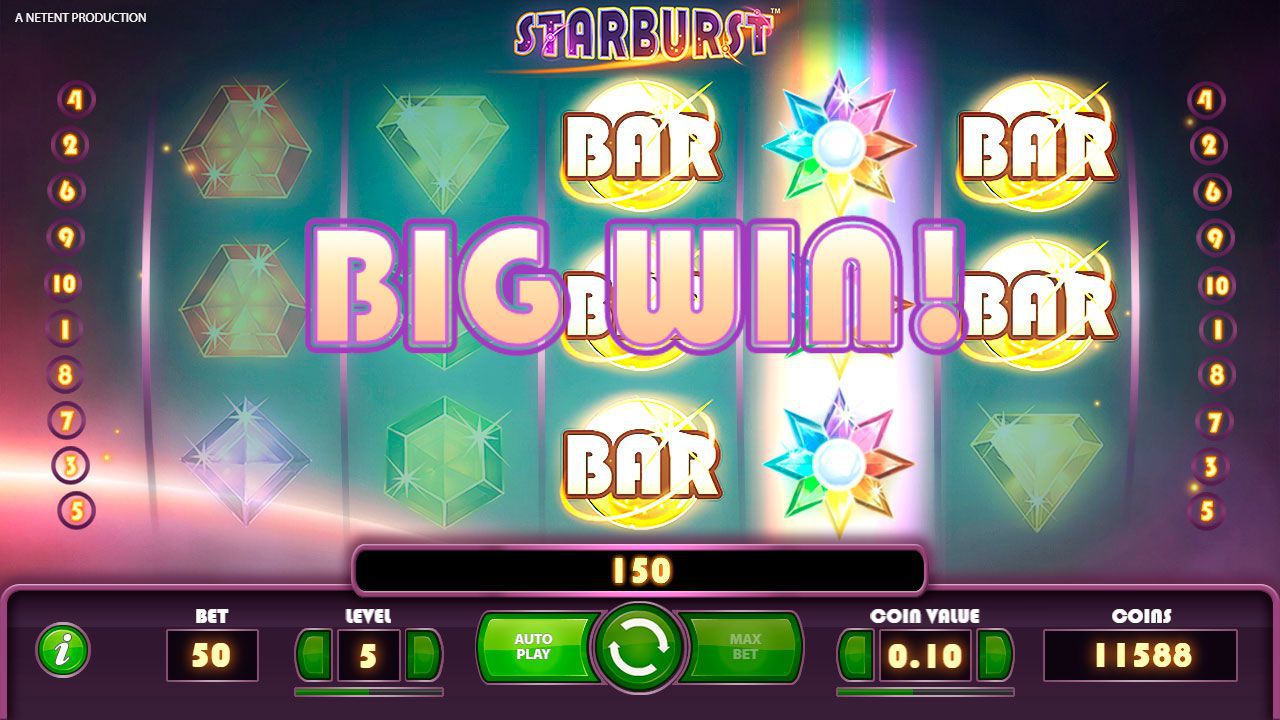 Summary
The theme of space and remoted galaxies is firing imagination of people for hundreds of years, however, not many of us will manage to get to the cosmic space actually. And though Starburst slot machine is definitely not the one, which rebounds with bonus features, bonus games and mind-blowing cut-scenes, it seems to take us to the middle of nowhere, where only infinity exists. This makes the whole gaming process extremely thrilling and fascinating.
Besides that, we cannot dismiss the bonus features of the slot machine. Apart from the aesthetic value, users have a great chance to hit the jackpot. And mainly thanks to the win-both-ways function. You can endlessly name all the advantages of Starburst video slot, but you'd better check it yourself and try all the games in real time.
Below you will also find a list of reliable online casinos where you can play Starburst slot machine by NetEnt for real money or for free.