Available on
Features of the game
| | | |
| --- | --- | --- |
| | Free spins | Yes |
| | Re-spin feature | Yes |
| | Bonus game | No |
| | Risk game | No |
| | Scatter symbol | Yes |
| | Wild symbol | Yes |
| | Progressive jackpot | No |
| | Autoplay option | Yes |
| | Cascading reels feature | No |
Warlords: Crystal of Power video slot by NetEnt - review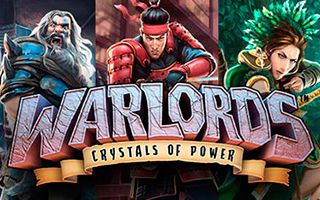 Today's video slots choose quite traditional vector of continual added complexity: visual effects and graphics become more sophisticated, storylines get more meaningfulness and the rules turn more intricate. Swedish online casino software developer - NetEntertainment - is one of the most cutting-edge companies in terms of gambling technologies. The company is known to the leading pace-maker in the evolution of video slots. With its progressive ideas and innovations, NetEnt gives a spur to the whole industry to development.
Considering how popular such genre as fantasy is, NetEnt decided to release fantasy-themed video slot Warlords: Crystal of Power to give users a chance to take part in the creation of a fantasy universe. You can be 100% sure: breathtaking adventures promised by the following video slot will be more than enough for you to spin the reels for hours and hours.
After the loading of the video slot, the game starts with an animated 3D-video, which acquaints players with the main characters: cruel Barbarian, gorgeous Priestess, brave Samurai and their "companions in arms" - wolf, panther and boar. Each character has complete mastery over his exclusive combat system, weapon and unique Crystal of Power. Can you image, what the outcome of the battle will be, if these three warriors lock horns?
Players will be offered to take part in tough fights. Apart from adrenaline rush and risk, these fights can award you big wins. The following fights will get especially fierce during bonus round with different bonus features.
The official Warlords: Crystal of Power video slot trailer
Experienced players might have already drawn a parallel between Warlords: Crystal of Power and legendary Misty Forest video slot by Casino Technology. In fairness, it is worth noting that the creation of developers from NetEnt is every bit as good as the brainchild of Casino Technology; some players even consider Warlords: Crystal of Power surpasses its fellowship game by a number of parameters.
Warlords: Crystal of Power video slot: main features
Sanguinary battles will take place on 5 (five) reels divided by 3 rows each. The success in the battle can be guaranteed by combination of symbols formed within 30 active bet lines. The number of paylines stays fixed during the whole gaming process. Nevertheless, players have the right to alter the cost of each single round in the range from 0.15 to 150 monetary units (15 coins fixed bet size with 1-10 bet levels).
Video slot features Wild substitutions, stacked symbols, Scatter symbols, Re-Spins, Free Spins and a Random Wild.
Each round can result in wins, providing that a winning combination made from at least 3 similar symbols will appear on the reels. Bet line wins pay if in succession from the leftmost reel to the rightmost reel. Your wins will only depend on the number and the value of each symbol from the combination.
The maximum win in coins is said to reach 1 000 000.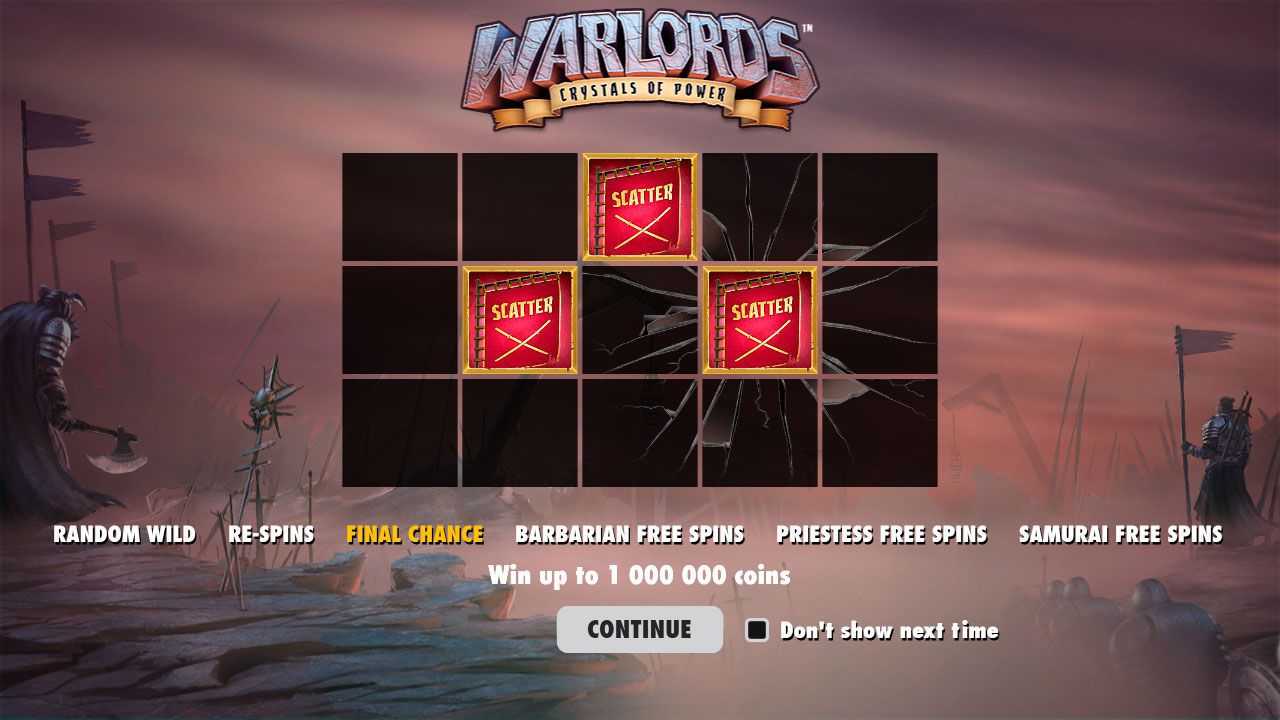 Those players, who prefer long gaming sessions to short-term ones will be delighted to hear, that the RTP ratio in the long run is measured at 96,89%
Warlords: Crystal of Power video slot - play for free with no registration/download required
Beginner players can try the following video slot in practice with the help of special demo-version, which provides with no risks for your bankroll. After you get some experience and skills through the free version of slot machine, you can get down to the real money game and, providing you're lucky enough, start getting real money wins.
On the following review page, you'll find the list of online casinos, which offer the following video slot for real or play money. Moreover, we've also made up the list of those gambling facilities, where you can play Warlords: Crystal of Power slot machine for real money with no deposit required. This became possible due to special no deposit casino bonuses, that can be issued either in the form of free spins for registration or free money.
Style and design
The gaming content developed by NetEnt is famous for its quality 3D-graphics and sound effects, which make the gaming process very realistic and fascinating. In case of this particular Warlords: Crystal of Power slot machine Swedish game developers decided not to change established traditions: the game retained stunning visual effects, amazing 3D graphics and animation.
As we've already mentioned before, you'll be exposed to the acquaintance with the main characters through the intro trailer.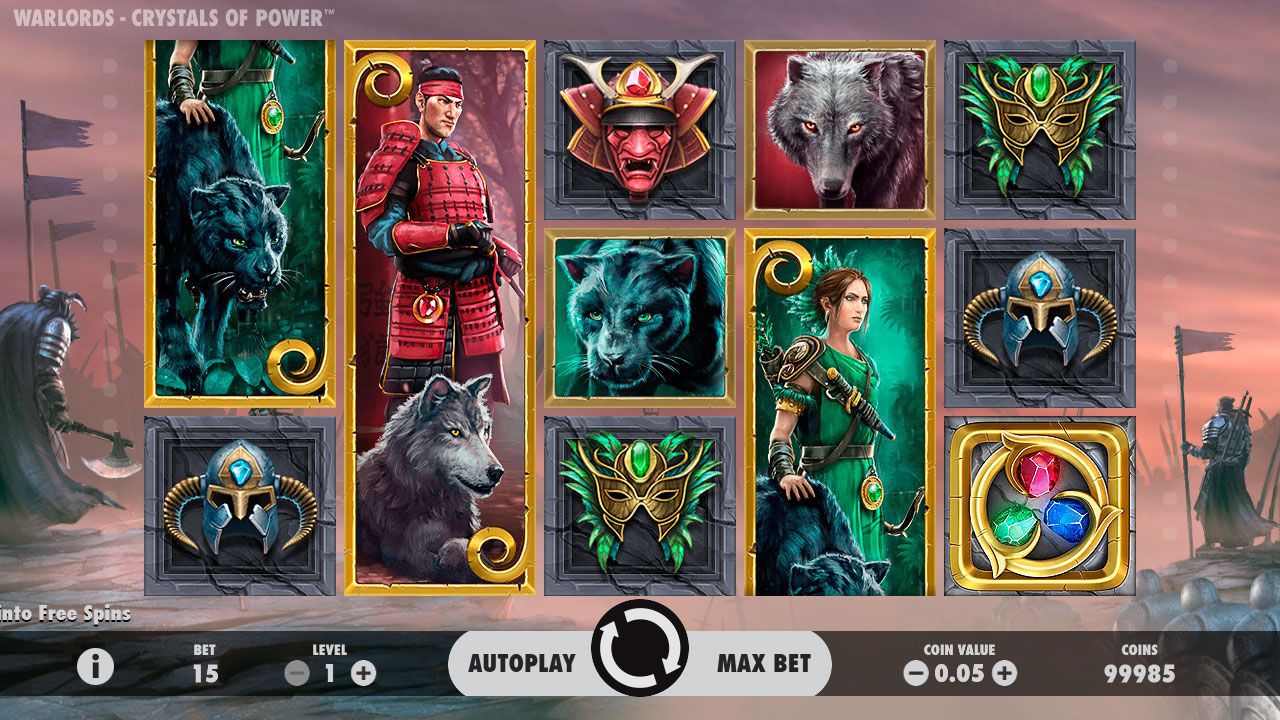 After the loading of the slot is finished, users will find themselves in the unreal world. Fighting are set against the 5 spinning reels; flag-bearers are carrying oriflamme, ranks of fierce armed warriors are ready to rush into battle. Top-notch animation will create the sense of complete presence on the battlefield, just as if you were one of the warriors in the row, side by side with warlords. Separate credits should be definitely given to graphic designers, who managed to create such distinct gaming process.
The background music accounts for the whole atmosphere and can well keep up with the whole scene - warning bells, clangor of swords and falling coins - the main reason why all these wars and fights take place.
User-friendly control panel tools will help you to adjust the game parameters to your taste and make the gaming process most comfortable.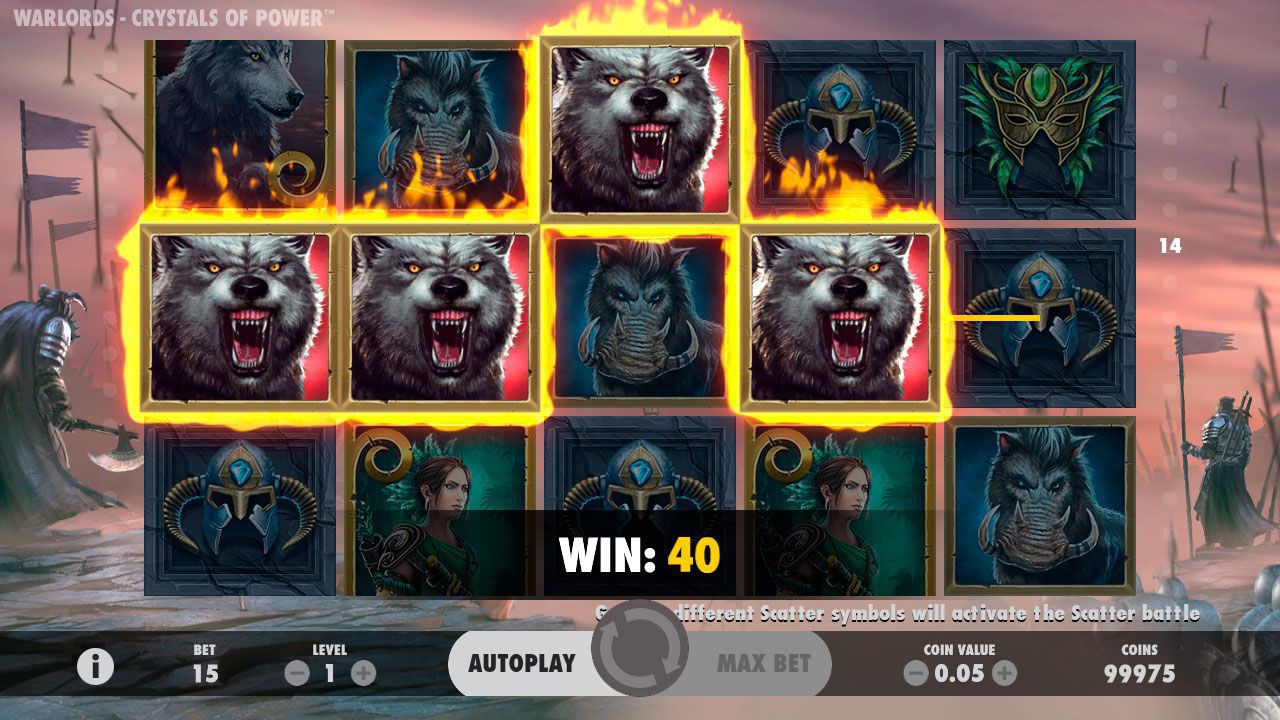 Warlords: Crystal of Power video slot - mobile version
To cater to the needs of the modern iGambling industry, the team standing behind the game decided to adjust Warlords: Crystal of Power video slot for mobile devices (based on iOS, Android and any other OS). The mobile version runs on a specially developed NetEnt Touch platform.
The game adapted for mobile devices is barely distinguishable from desktop version. The only difference is the control panel with tools increased in size and arranged according to the peculiarities of the game on sensor screens. This link will take you to the list of online casinos, which give players a chance to try the game on their mobile devices.
Warlords: Crystal of Power video slot - the collection of symbols
The set of themed symbols is roughly divided in to two categories according to their functions, purposes and individual value.
Base symbols include 9 (nine) items. Among the base symbols you'll find: 3 vertical columns featuring images of the main characters, three animal images and three elements of military equipment. These symbols are aimed to form winning combinations on 30 fixed paylines in the main game and bonus rounds. Symbols featuring main characters images full length can cover the whole reel and have the highest value. The fact, that these are Stacked symbols, can sufficiently increase your win chances.
In addition to standard symbols, the collection also includes special symbols with special features:
Wild symbols account for substitution. These symbols can replace any standard symbols to complete the potential winning combination (apart from Scatter Symbols). Additionally, Wild Symbols have special features within bonus feature and some bonus rounds.
Scatter. This is a special symbol, which has 3 (three) separate variations within the game. Each type of scatter symbols is designed as an individual banner of each main character. These three Scatter types can be distinguished by their color and triggered bonus round (Free Spins bonus games will be described in detail further in the at Bonus game section. Blue-, green- and red-colored banners can appear anywhere on the reels 2, 3 and 4, but Scatter Symbols can appear on all 5 reels during the Battle bonus feature.
Symbols collection - snapshot:
Symbols featuring combat gear units in the form of headgears will not only protect you from rivals, but also reward with 3 - 60 coins.
Comrades-in-arms of the Lords: Boar, Panther and Wolf will reward you with 5 - 120 coins in the battle.
The Barbarian, Samurai and Priestess cover three cells, once they appear on the field, and trigger wins from 10 to 300 coins.
Scatter symbols in the form of personal banners of each of the three Lords can trigger bonus rounds with Free Spins.
Detailed information about the value of each symbol in Warlords: Crystal of Power slot machine can be found right beneath the game review.
Free bonus features
Before we actually get down to the description of bonus rounds, let's pay attention to the associated free bonus features, which can trigger these rounds along with wins on the paylines.
Random Overlay Wild
Each spin in the main game can activate Random Wild Overlay feature. This feature uses a different reel set to the main game with no Scatters on the reels and there are 3 different types of Random Overlay Wilds:
The Barbarian Hammer
Four Wild symbols will appear on random cells of reels 1, 2, 3 and 4, forming 2x2 structure.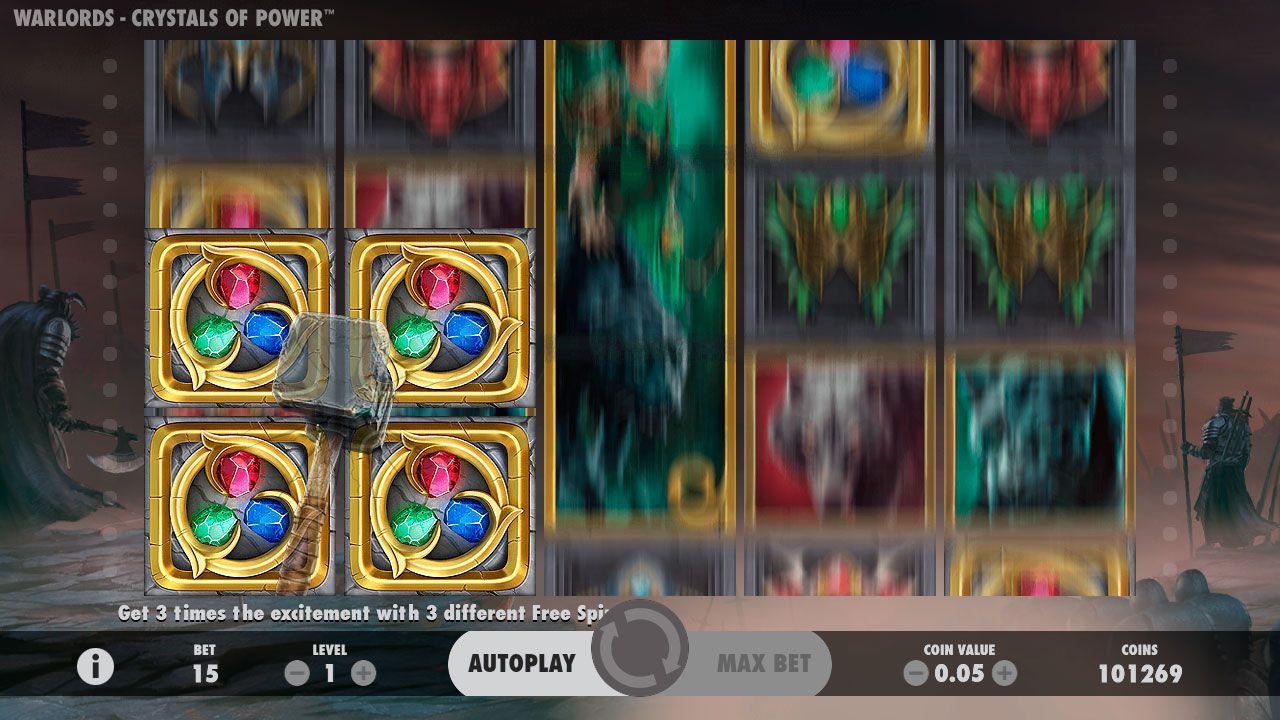 The Priestess Arrow
2 (two) - 5 (five) additional Wild symbols can appear anywhere on the reels.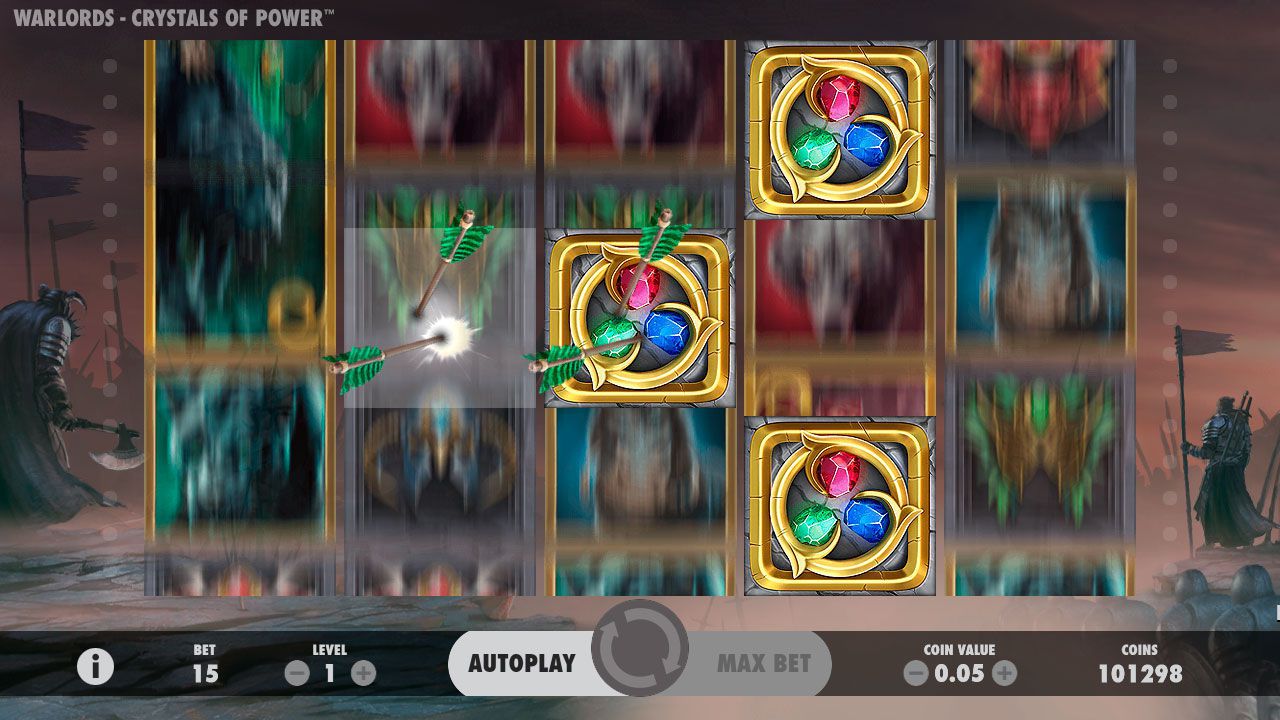 The Samurai Sword
This feature will give you a chain of 2 (two) - 5 (five) Wild symbols on reels 1, 2, 3 and 4.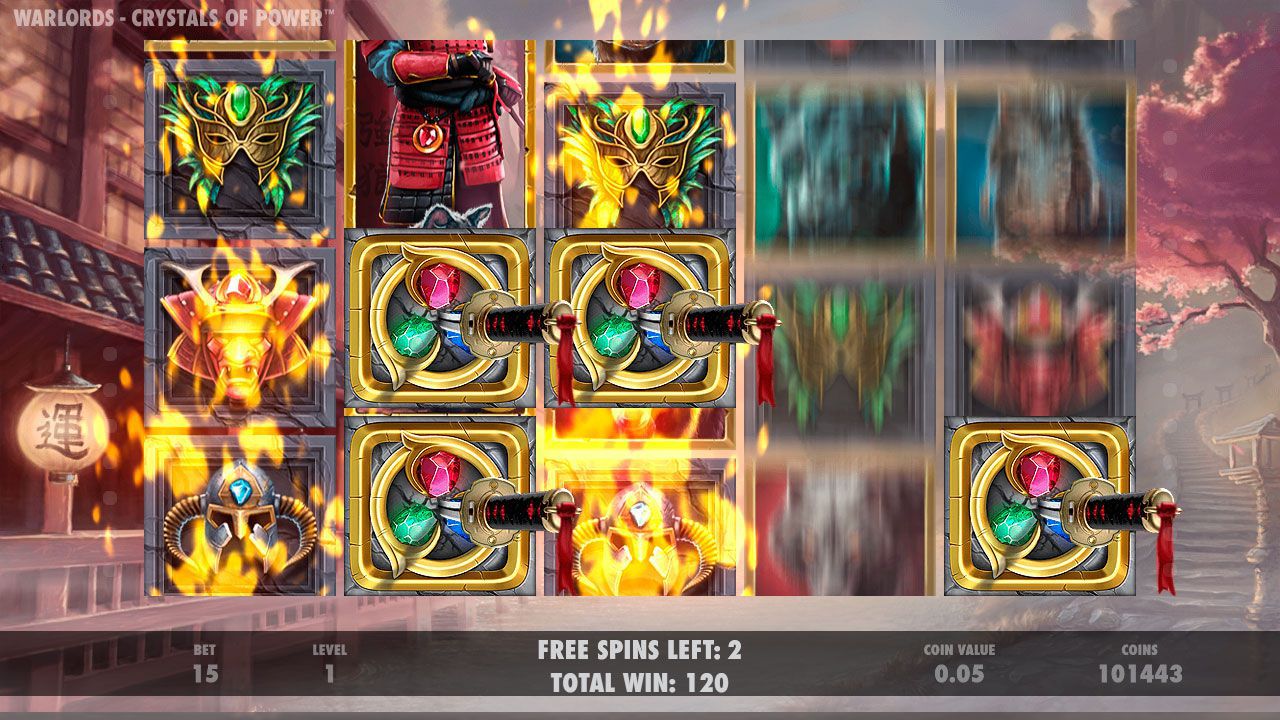 Once this feature is activated, Wild symbols are replaced with Overlay Wild symbols.
Battle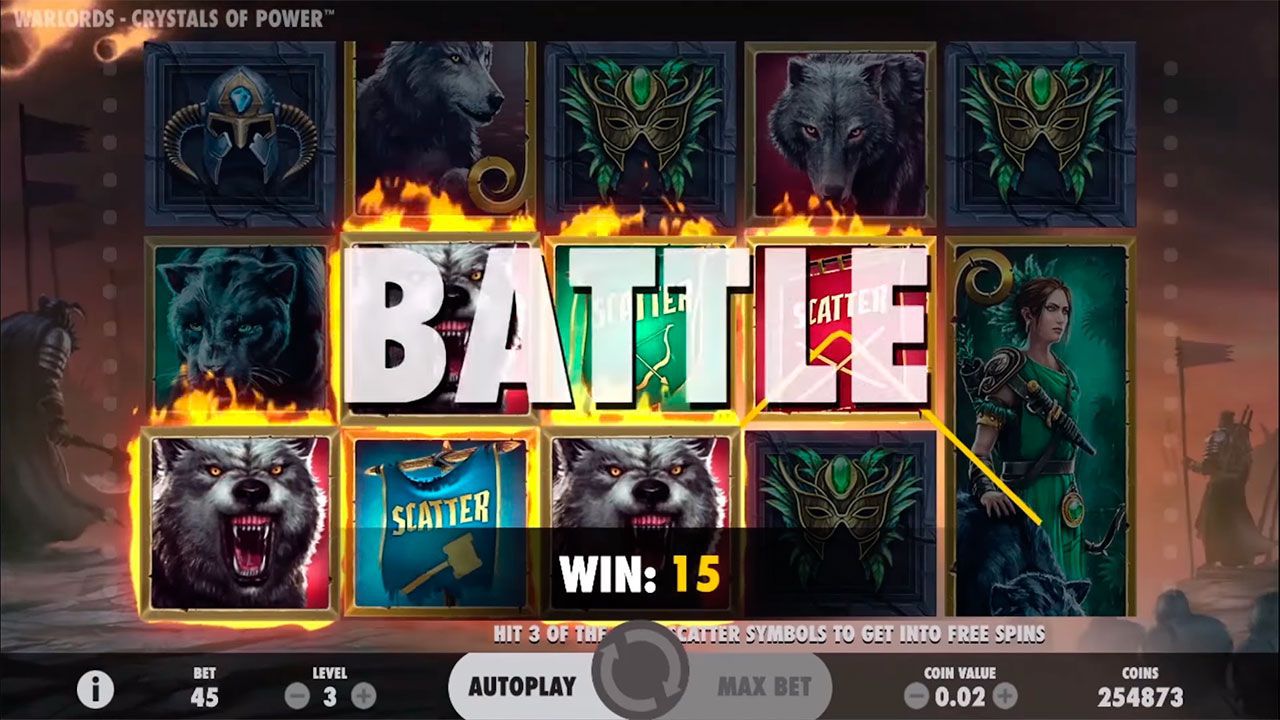 This bonus feature will be activated whenever 2 or more different Scatter symbols appear on the game field simultaneously. This feature has several stages; each of these stages has its own peculiarities:
If 2 different Scatter symbols land on the reels, only 1 of them Scatter Symbol will randomly determine the battlefield and the further sequence of events. The 'defeated' symbol will transform into another "winning" Scatter to trigger Re-Spins round. There's a 50/50 chance for each Scatter symbol to be chosen as activate the Battle.
If 2 (two) Scatter of the same type with 1 Scatter of different type appear on the reels, all Scatter symbols will, after a battle, transform into the same type before Re-Spins start. In this situation, there's a 75% chance that the symbol with 2 Scatter symbols will activate Re-Spins.
If 3 (three) different Scatter symbols appear on the battle field, they will also be transformed into the same type before Re-Spins start. In this situation, each Scatter symbol has an equal chance to activate Re-spins round (33,3%).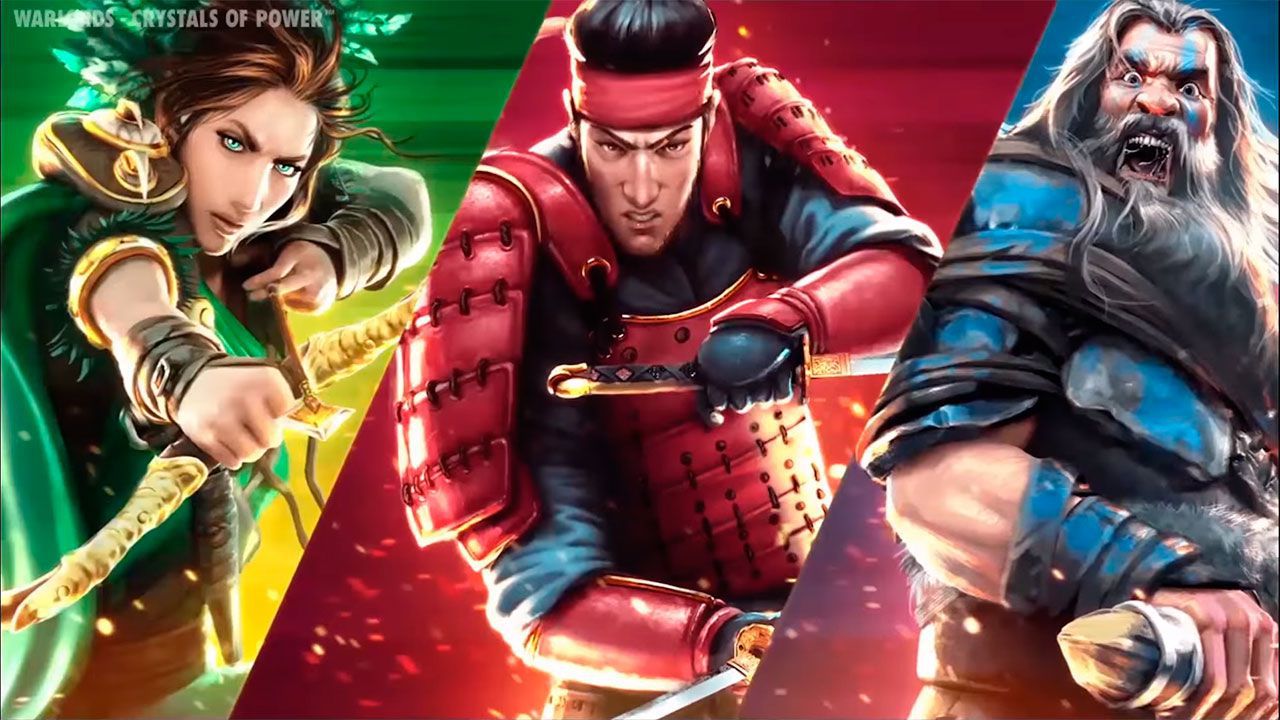 Re-Spins
In the main game, Re-Spins can be triggered in case two or more Scatter symbols appear on the reels. During the Re-spins round, Scatter symbols can appear on reels 2, 3, 4 and 5. In the situation, when Scatter symbols are of the same type, the Re-Spins round starts immediately. Otherwise, Scatter symbols will start random transformation, before they turn into one single type.
During the Re-Spins round, active Scatter symbols will hold their positions, while all the other symbols can be replaced with other symbols. Additional Re-spins can be activated if a new Scatter symbol, identical to the active ones, appears on the reals.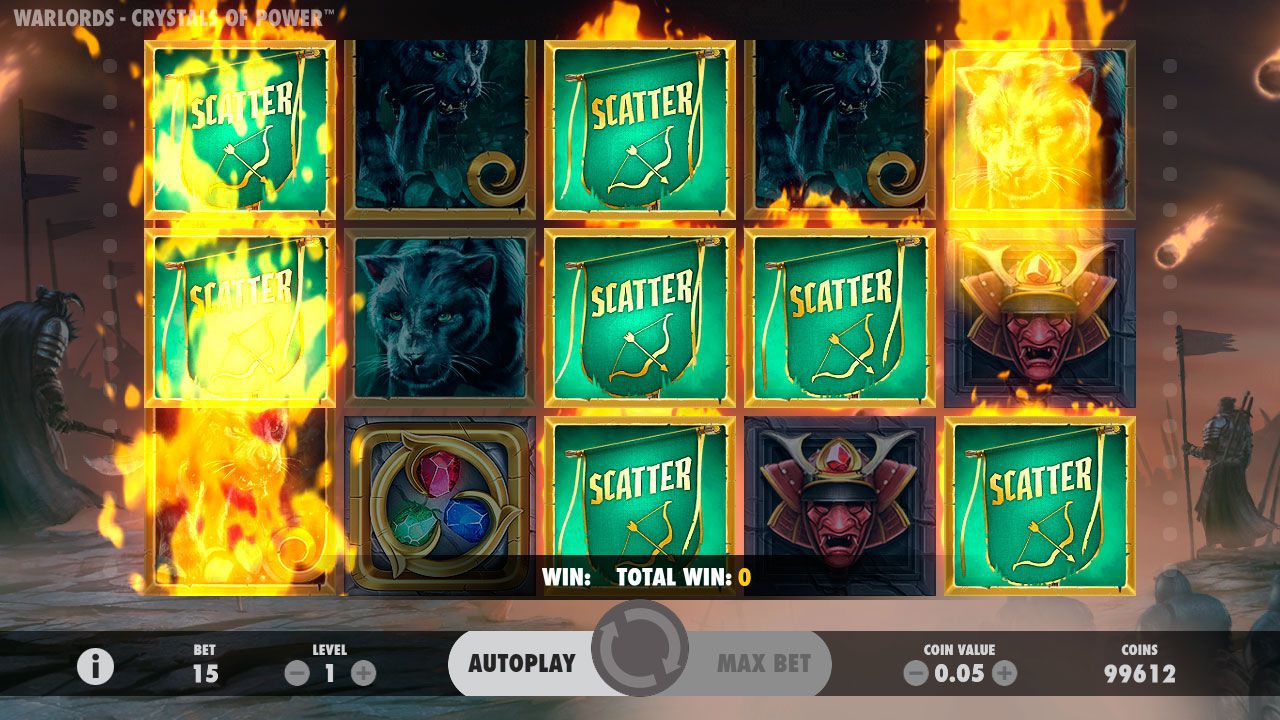 3 or more Scatter symbols on the reels will activate Free Spins feature.
Final Chance
If the Re-Spins round didn't trigger any Free Spins, players will be given a final chance to do it and get a fixed win. In this situation, players will be awarded random feature, which will either reveal a coin win from x3 - x100 the bet or additional Scatter symbol at a random position on the reels.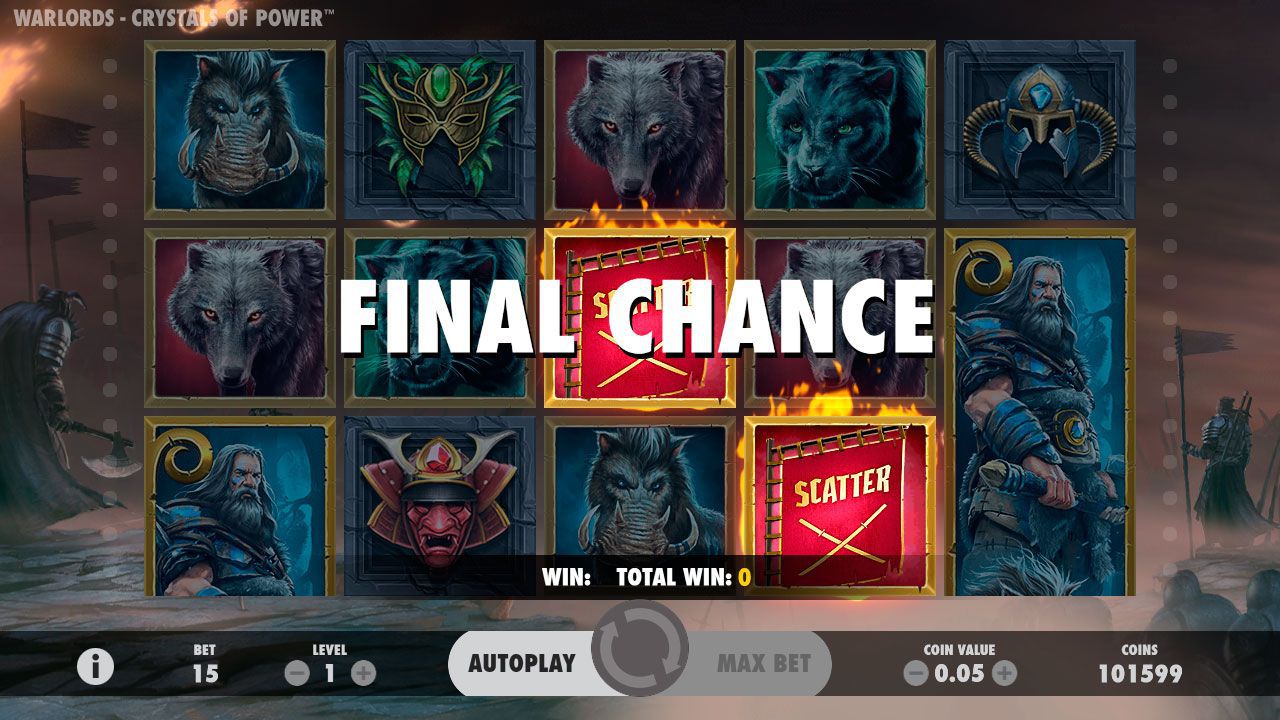 Bonus rounds
The main advantage of the video slot is the selection of bonus rounds with different win chances. Each of the three main characters accounts for one Scatter Symbol in the game in the form of personal banner. The very fact, that there're 3 different Scatter symbols is very intriguing, apart from the fact, that they all have different features. Different Scatter symbols activate different bonus games; each of these games has its own peculiarities:
The blue Scatter symbol will activate Barbarian Free Spins;
The green Scatter symbol will activate Priestess Free Spins;
The red Scatter symbols will activate Samurai Free Spins.
Detailed information about each of the bonus games can be found below in the text.
Barbarian Free Spins
Players will get access to 9 Free Spins. During this bonus game, only animal and high-value warlord symbols appear on the reels. Each new Scatter symbol on the reels will give you extra 3 free spins. This bonus can open great prospects for wins and therefore should be paid additional attention. Due to the fact, that you can always win additional free spins during this feature, the total number of free rounds can equal to 40 during one bonus game. This will be a true delight for your eyes, so you can just sit and watch your balance/bankroll increasing.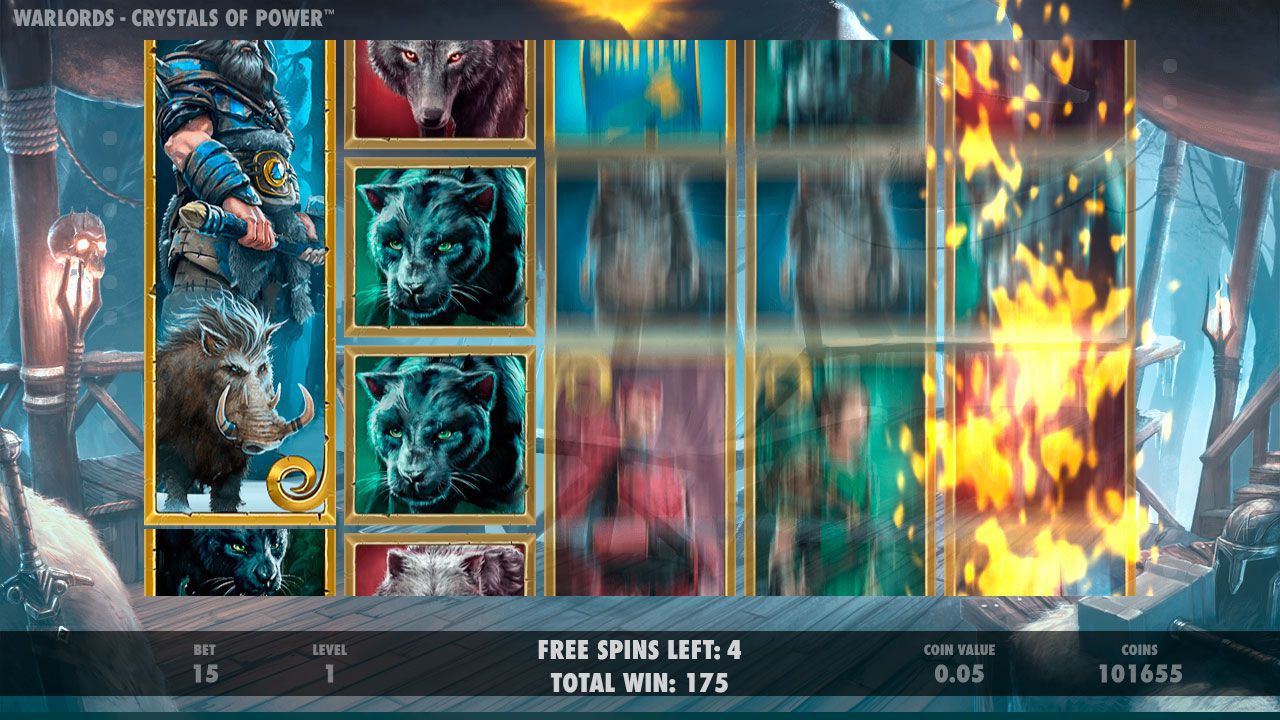 Priestess Free Spins
This bonus game will reward you with a package of 7 Free Spins; additional Scatter symbols appeared on the reels will increase a multiplier x1 for each new Scatter.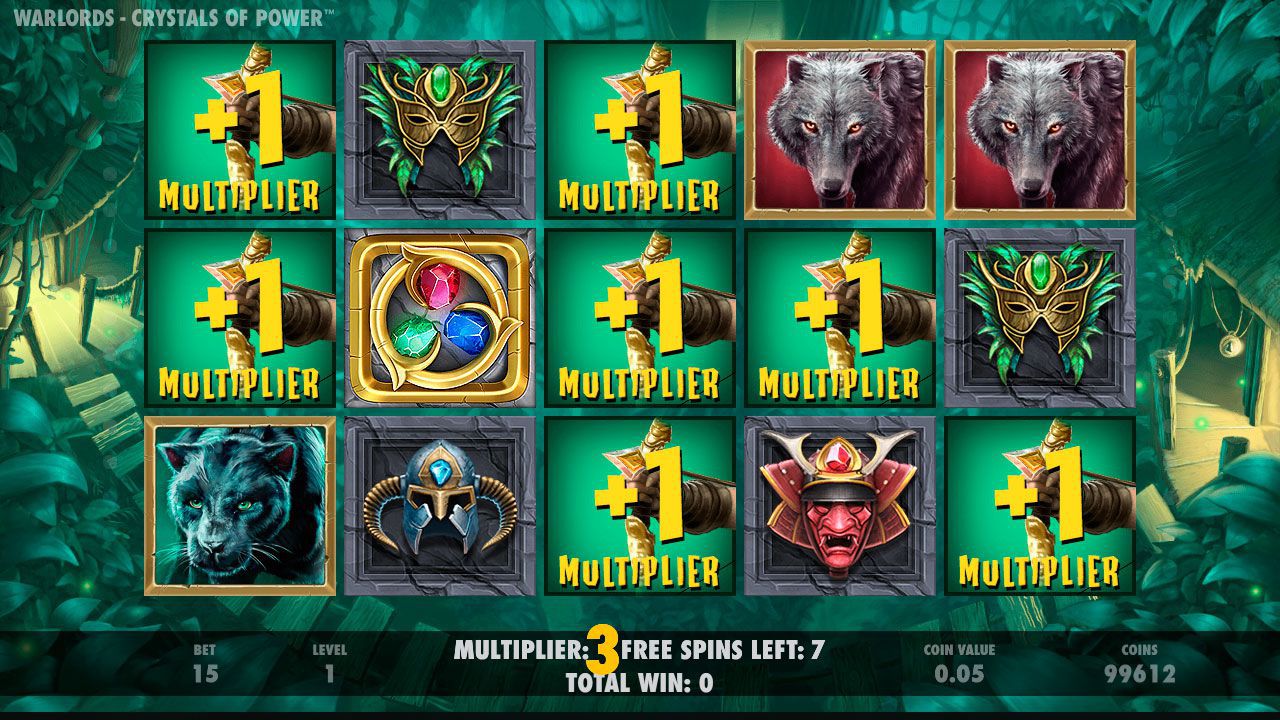 Samurai Free Spins
This bonus will give you 5 Free Spins. During this round, Scatter symbols turn into Sticky Wild.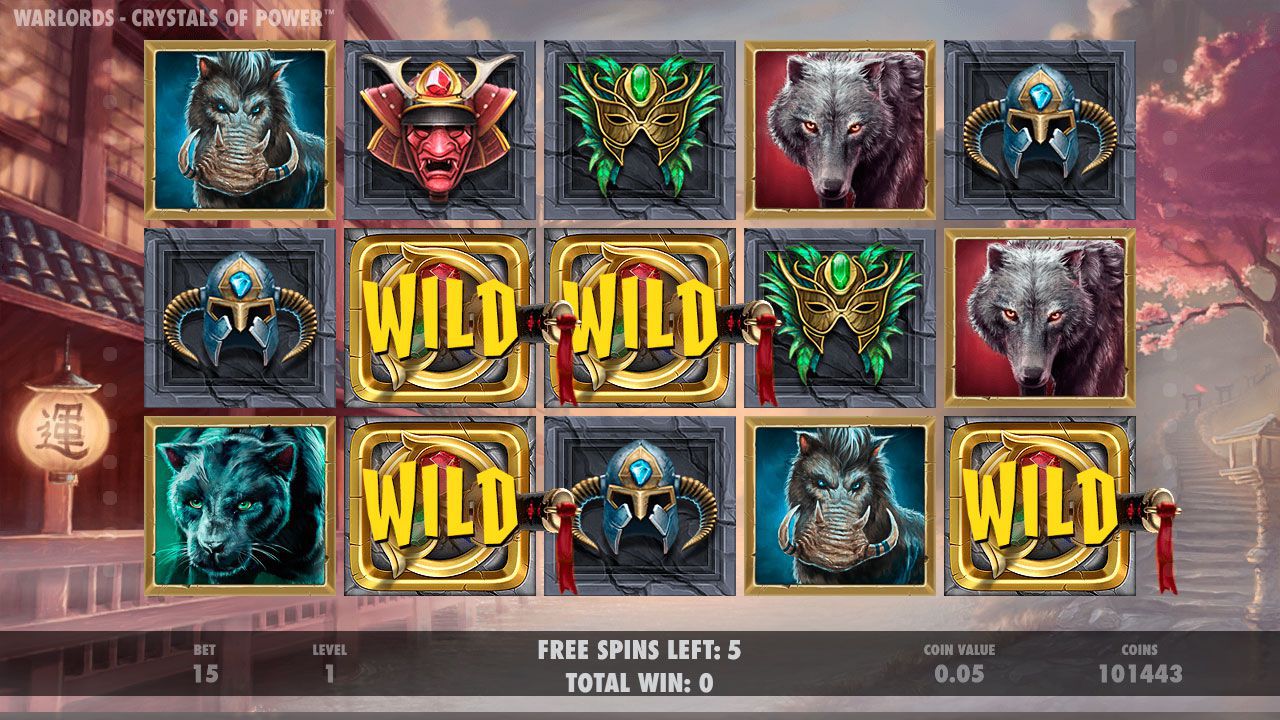 All Free Spins are played at the same bet level and coin value, as the round, that activated Free Spins.
No Free Spin will go past!
Somewhat surprisingly, the game developer introduced 3 types of Scatter symbols within the game, which can trigger bonus rounds with different random features. Moreover, Scatter symbols appear quite frequently on the reels! Therefore, you can get an impression, that the video slot is ready to reveal all its secret Free Spins features, thanks to Re-Spins function. In the situation of Warlords: Crystal of Power video slot, Re-Spins are not meant as additional spins for a fee, but as automatic Re-Spins, which can give you missing Scatter symbols. The chance for Scatter symbols to appear on the reels equal to 75%, which is a guarantee you're going to take part in fierce fights. If this is your off day and the third missing Scatter symbols doesn't appear on the reels to activate Free Spins, Final Chance feature will be activated to multiply your bet by 3 to 100.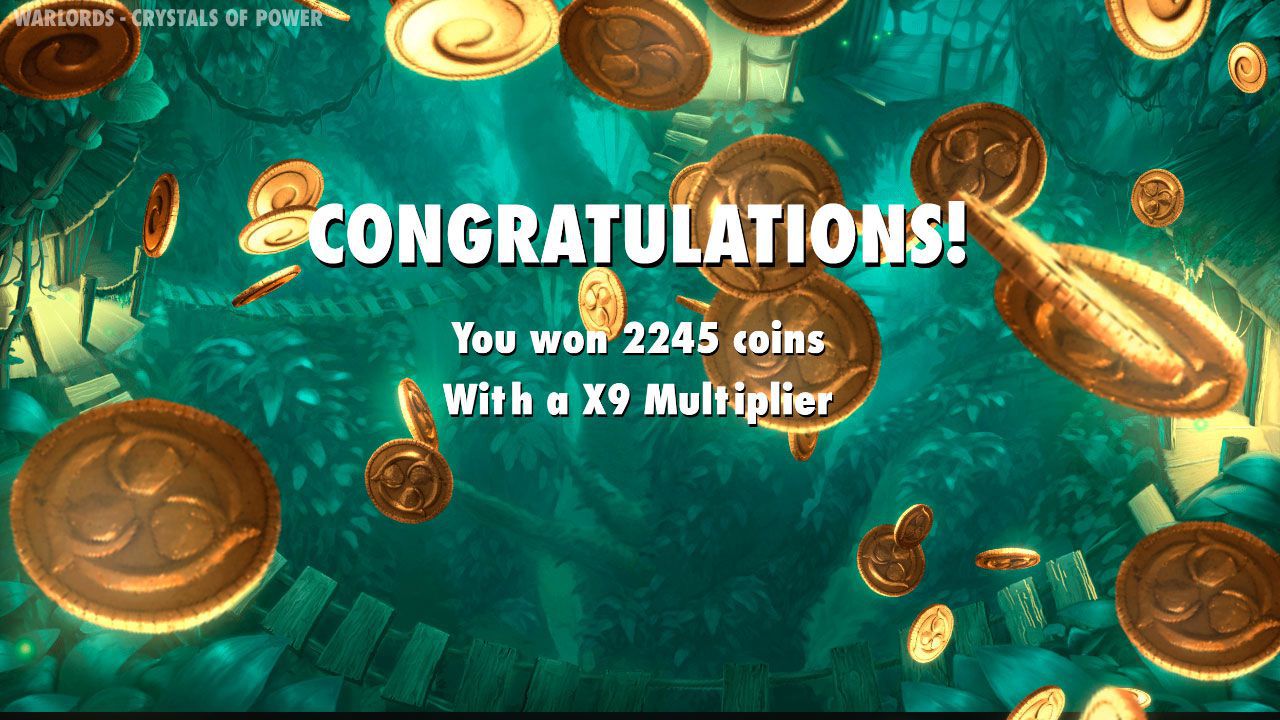 Conclusion
The release of the long-awaited video slot has drawn attention of the whole iGambling industry and managed to surpass the expectations of gambling games fans. Amazing storyline, superb graphic effects and great selection of bonus features equate Warlords: Crystal of Power video slot to a full-scale computer strategy, which also guarantees whopping wins.
Users can take part in fierce fights, where your combat merits will be rewarded with wins in free credits of in real money. The list of the casino web sites, which offer possibility to start playing Warlords: Crystal of Power video slot for the real money, can be found below the review.