Available on
Features of the game
| | | |
| --- | --- | --- |
| | Free spins | Yes |
| | Re-spin feature | No |
| | Bonus game | No |
| | Risk game | No |
| | Scatter symbol | Yes |
| | Wild symbol | Yes |
| | Progressive jackpot | No |
| | Autoplay option | Yes |
| | Cascading reels feature | No |
Wolf Cub video slot by NetEnt - review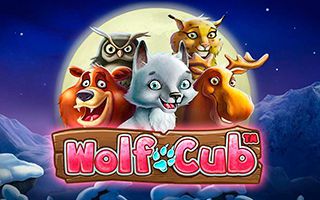 Things turned out that the image of a wolf in fairy-tales and legends is dominantly depicted as an evil-doer. Not only do wolves commit bad things, they're also described as slow-witted and are often fooled by a cunning fox, bear or even young pigs (by the way, Quickspin is known to have released Big Bad Wolf video slot based on the story of "The Three Little Pigs"). There're only a few cartoons and fairy-tales, which maintain a positive image of wolves. To exemplify, here's a famous tale by Alexander Pushkin "Tsarevich Ivan, the Firebird and the Gray Wolf" - this creative product demonstrate wolves as positive characters, which make good impressions by their deeds. If you recall the world-known fables, the first thing, that comes to mind is "The Jungle Book" by Rudyard Kipling (the fans of this amazing book will definitely appreciate Jungle Book video slot by Yggdrasil Gaming). The book tells us a story of a human boy - Mowgli - who got into the wolf pack and was welcomed as an equal member of their society. However, these examples are exceptions mainly: many folk stories from all over the world depict wolves as dangerous creatures and consider that they carry potential threat to human beings. So, all in all, the image of a wolf is maintained to raise fear and mistrust in people from their childhood. Just think about the folk cradle song:
"A grey wolf will come at night and will take of you a bite".
Finally, famous Swedish gambling software supplier - NetEnt company - decided to dispel a myth about all wolves are bloodthirsty and dangerous beasts. Thus, in the middle of February 2017, the company released its brand-new video slot entitled Wolf Cub.
The official Wolf Cub video slot trailer by NetEnt
The main character of the slot machine is an auldfarran wolf cub. The charm and charisma of this forest dweller will blow your mind off. All the tiny wolf needs is a bit of your attention and in gratitude, he will accompany you down the most picturesque paths of the winter forest, introduce you to its friends and also show you the way to teeming treasures. You'll say, that "walking around forest full of wild animals alone" is very dangerous. Of course, it's true. But this time we're talking about the fantasy forest, so from time to time you'll meet friendly bears on your way or welcoming lynxes, positive mooses and jolly owls. You cannot but agree that such walk will only do good for you and bring positive emotions.
The gaming process shared with these magic animals under the leadership of a kind and brave wolf cub will definitely become very entertaining and can result in really huge wins. This video slot will definitely appeal to those people, who grew up with good fairy-tales and always dreamed about fascinating adventures.
General features of Wolf Cub slot machine
The major storyline about the brave wolf cub is set on the traditional reeled game field: it incorporates 5 (five) reels and 3 (three) rows. Winning combinations are formed within 20 fixed bet lines.
The following video slot also includes special features like Free Spins round powered with a Blizzard feature. Special symbols include Scatters and Wilds.
Players can feel very comfortable when choosing their suitable bet size, as there're two parameters to adjust it: Bet level and Coin Value. The "Bet Level" scale will show the number of credits/coins per each bet line, whereas the "Coin Value" scale will control the value of each coin/credit. Thus, the bet range available for players per each spin is 0,20 - 200 points.
Bet line wins pay if at least 3 adjacent symbols come together on the reels. Winning combinations are formed starting from the leftmost to the rightmost direction (reel). Please note, that only the highest win per bet line are paid, in case there're several. The maximum possible win in the video slot is a 2000 multiplier, which results in 400 000 credits/coins/etc. There're no jackpots within the game, neither in the main game, nor in bonus rounds.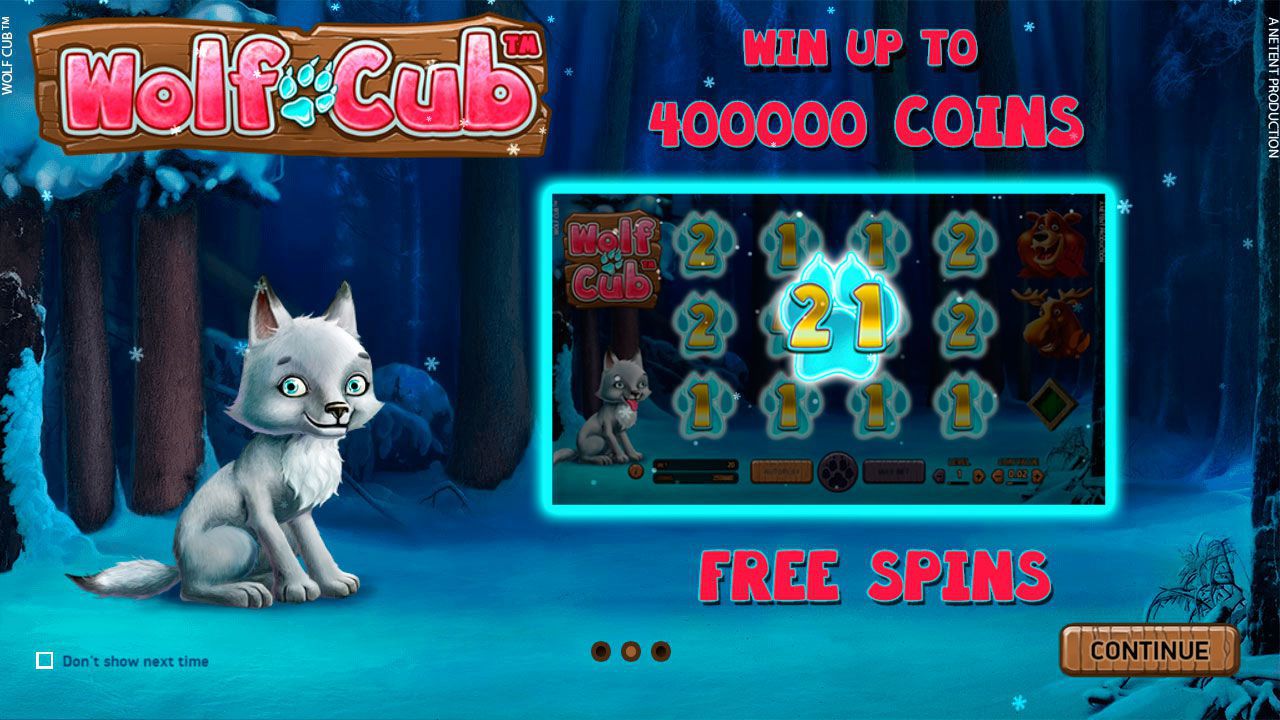 Total Return-To-Player rate in Wolf Cub video slot is stated at 96.34%
Wolf Cub video slot by NetEnt - play for free
If you still hesitate, whether to play Wolf Cub video slot for real money or not, it would be quite wise to launch its demo-version first. If you start with Wolf Cub demo-version, you'll be able to test all the features and mechanics along with bonus features even with no need to register or download software/applications. Right after you launch the demo-version, you'll find a certain number of coins on your balance, which is more than enough to take a closer look at the major bonus features and fully realize the top-quality graphics and slot animation.
In addition to that, some online casinos are ready to offer their new clients an opportunity to try Wolf Cub video slot for real money but for free. To provide such opportunities, gambling facilities issue special no deposit bonuses in their arsenal.
Wolf Cub video slot - graphics and design
It's the design, that catches your eye from the very beginning once you start playing video slots. You don't necessarily need to get to the bottom of the gaming process and main features to understand, whether the gameplay suitable and pleasant or not. Keeping that in mind, NetEnt developers always pay attention to the design of their titles and thus create more and more top-notch graphic slot machines each year. To exemplify, you can safely try Wolf Cub video slot powered by the most advanced 3D technologies; the game will strike you with its deep image and saturated picture.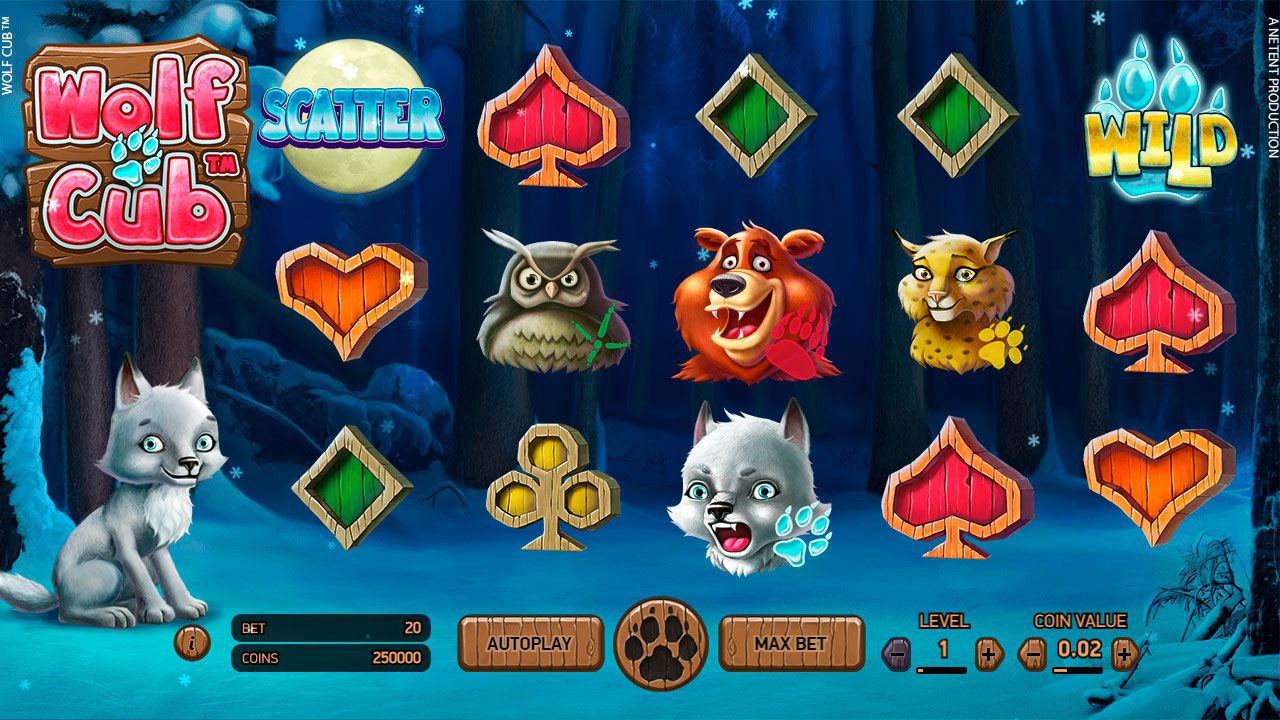 As we've already mentioned earlier, the scene is set in the magic forest; on a cold winter evening a wolf cub assembles his friends to set out on the search of adventures. Apart from nice and kind appearance, the wolf cub is very sociable; as you remember, the list of his friends is very diverse - a bear, an elk, a lynx and even an owl. Such ragtag bunch will keep you busy for all the gaming session and you will feel like a small child again, who believes in miracles with all his heart.
The video slot design and reeland in particular are dominated by dark-blue colors mainly. The atmosphere of a dark magic forest is so enchanting, that you cannot help but trample the driven snow on this pretty lane surrounded by tall trees. On your left, you'll see "Wolf Cub" logo designed as a pink label on the wooden tablet with a wolf cub paw. The little grey wolf itself will watch all your actions carefully, amuse you with it tricks and rejoice with your victories. The illustrators managed to create a positive and very friendly image of a wolf, so that such character could easily fit in the cartoon, because all kids would love the cub with all their hearts. During the game, the blue-eyed romp just can't stop running around; from time to time it will make weird faces, wag its tail, catch snowflakes with its tongue, howl at the moon and breathe freezing winter air and then breathe it out like steam. Never a dull moment!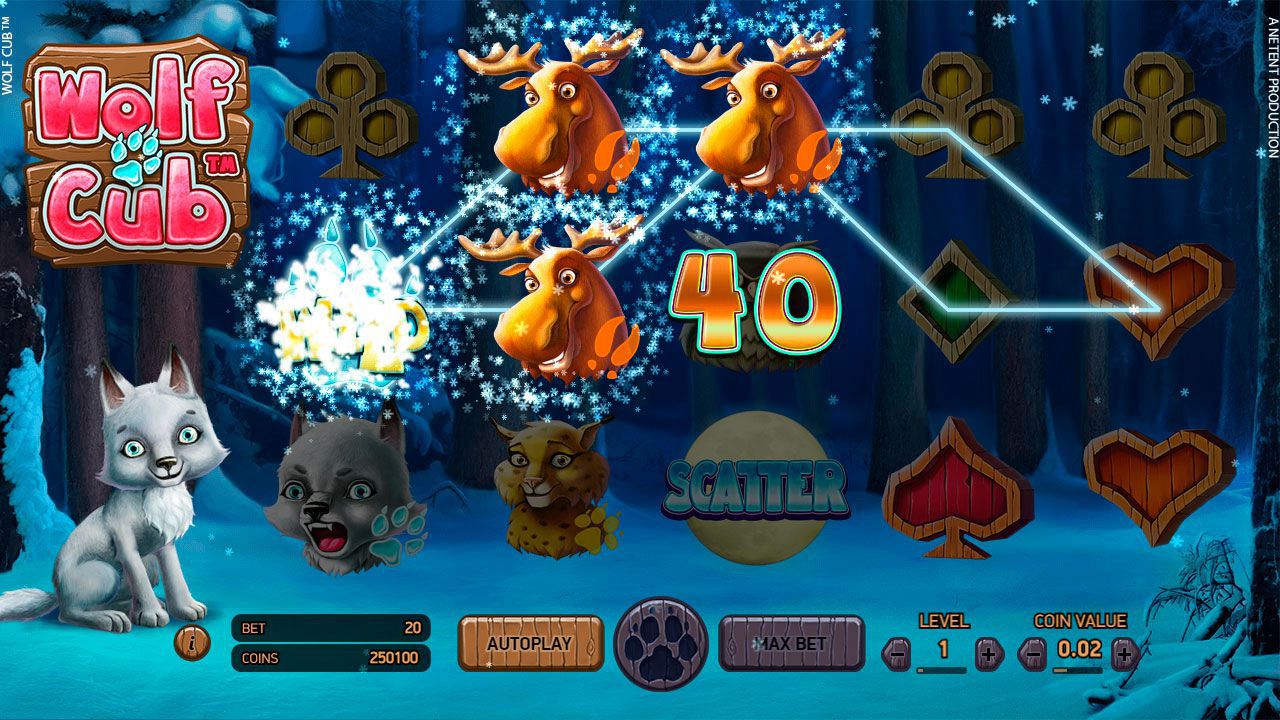 Animation is often considered a separate form of art. Animation is something, what turns a fairy-tale into a complete story instead of a simple set of scenes. Characters seem to become animated and come to life in the minute. The following video slot just couldn't go without the latest 3D-technolgies: all the animation effects, starting from the snowflakes drifting gently on the ground and to finish with wolf cub moving, will seem quite natural and will immerse players in the fairy-tale atmosphere even deeper.
The background music is just a perfect instrument to highlight the scenes on the screen. Your gaming process will be accompanied by subtle music, borrowed from a good fairy-tale about jolly adventures. The other sound effects also fit the general atmosphere perfectly.
NetEnt developers also paid attention to the background sound for the winning combinations formed on the reels. For example, once all bear symbols come together, you'll hear its fierce roar. Or if the combination is made of wolf cub symbols, the game will be filled with its teasing howl.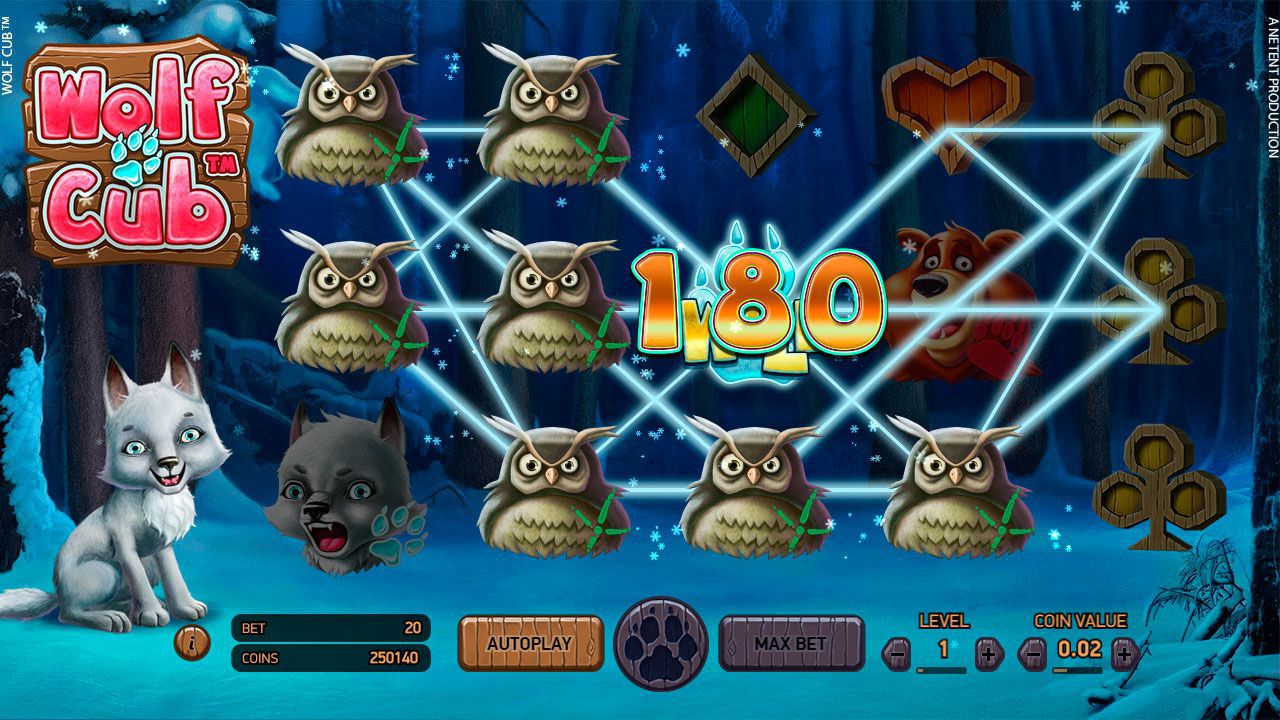 Wolf Cub mobile version
Those players, who have ever tried gambling on their tablets or mobile phones will not be astonished with the fact, that mobile versions of the video slots are on par with habitual desktop versions in terms of functionality and graphics as well as all the rest. Particularly with respect to mobile versions of NetEnt video slots, released under the NetEnt Touch brand name.
As far as Wolf Cub video slot mobile version is concerned, you'll be guided by the same wolf cub, which will rejoice emotionally with your wins, the same set of functions and visual effects. So, you can be 100% sure, that this mobile video slot powered by NetEnt is no hint of disappointment. The game on mobile devices is available both in portrait and landscape modes, but the first position is somewhat more comfortable. The only thing that is different in mobile version of Wolf Cub slot machine from the desktop version is the control panel. It was subjected to change to fit the dimensions of the screens. So, now, if you decide to change your bet or other settings, you'll need to access the main menu. The game demo or real money version on mobile devices can be launched in browser of your smartphone or tablet.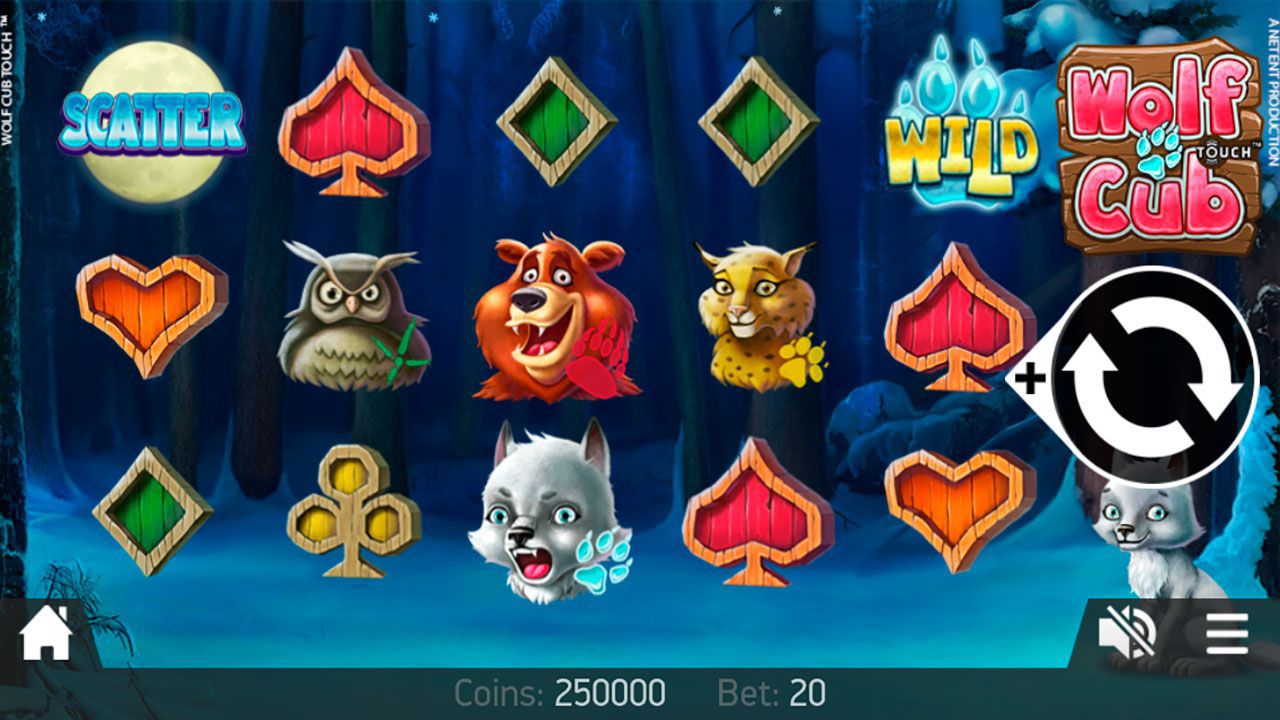 Wolf Cub video slot - the collection of symbols
Wolf Cub video slot simply cannot be discussed without reference to its splendid collection of symbols featuring forest animal (all in all there're 11 symbols in it).
Base symbols
Along your way through the forest together with a small wolf cub you'll come across tracks and paws of other magical forest dwellers. The bear paw prints (the very bear, which seems so harmless and won't ever hurt a fly) in a combination will award you 25 - 300 coins/points. Combinations made of the paw prints owned by the magic moose and friendly lynx, which will offer you a game of tag, will award you 15 to 250 credits.
Apart from these animal symbols, there's a funny owl symbol among cub's friends. The owl is a true goldmine of entertaining stories about forest dwellers. Combinations made of 5 owl symbols on one of the bet lines will guarantee wins of 150 coins. And of course, we cannot but mention the highest paying symbols - symbols of the cub itself alongside with a blue-colored paw. The "kid" will be trying to look like a fierce growling wolf, however, instead he can come up with only a funny grimace, in no way similar to a scary mow. Combinations made of wolf cub symbols on active paylines will bring wins from 50 to 600 coins.
Another group of lower paying symbols (in comparison to animal symbols) is designed in the form of wooden figures of card suits: hearts, spades, clubs and diamonds. Combinations made of 3,4 or 5 card symbols will award you wins equal to 5, 20 and 80 credits, respectively. The frequency of card combinations more than offsets their low value. All the wins are calculated from the initial Bet Level=1. The value of each symbol combination from the game in particular can be found in the bottom of the page.
Special symbols
There're two extra bonus symbols - Wilds and Scatters. Each of these symbols will be described below.
Wild symbol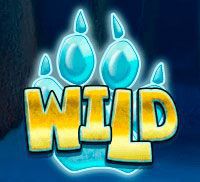 The traditional Wild symbol in Wolf Cub video slot is a blue-colored wolf paw behind the large "WILD" sign. Just as in many other video slots, Wild symbols will substitute for missing elements of potentially winning combinations. Wild symbols can appear anywhere on the reels both in the main game and during Free Spins.
The following symbol can also form combinations. For example, 5 Wolf Cub symbols on the same payline will bring a 2000-coin win.
Scatter symbol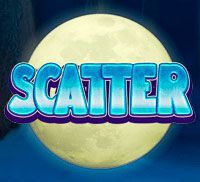 The following symbol in the form of a full moon and "Scatter" sign against it is another special symbol in the game. Unlike Wilds, Scatter symbols cannot form combinations and don't have their own value. However, 3 or more Scatter symbols on the reels can trigger Free Spins bonus round.
Free Spins bonus round in Wolf Cub video slot
At once we'll notice, that this is the only bonus game in the video slot. On the plus side, the bonus round looks really vibrant and is also equipped with a unique bonus feature, which can help you get even bigger howling wins. Once 2 Scatters land on the reels, the wolf cub lights up and starts to call upon the 3d missing Moon symbol with its bouncy howling. Sometimes the cub manages to do it and so this is where the bonus round begins.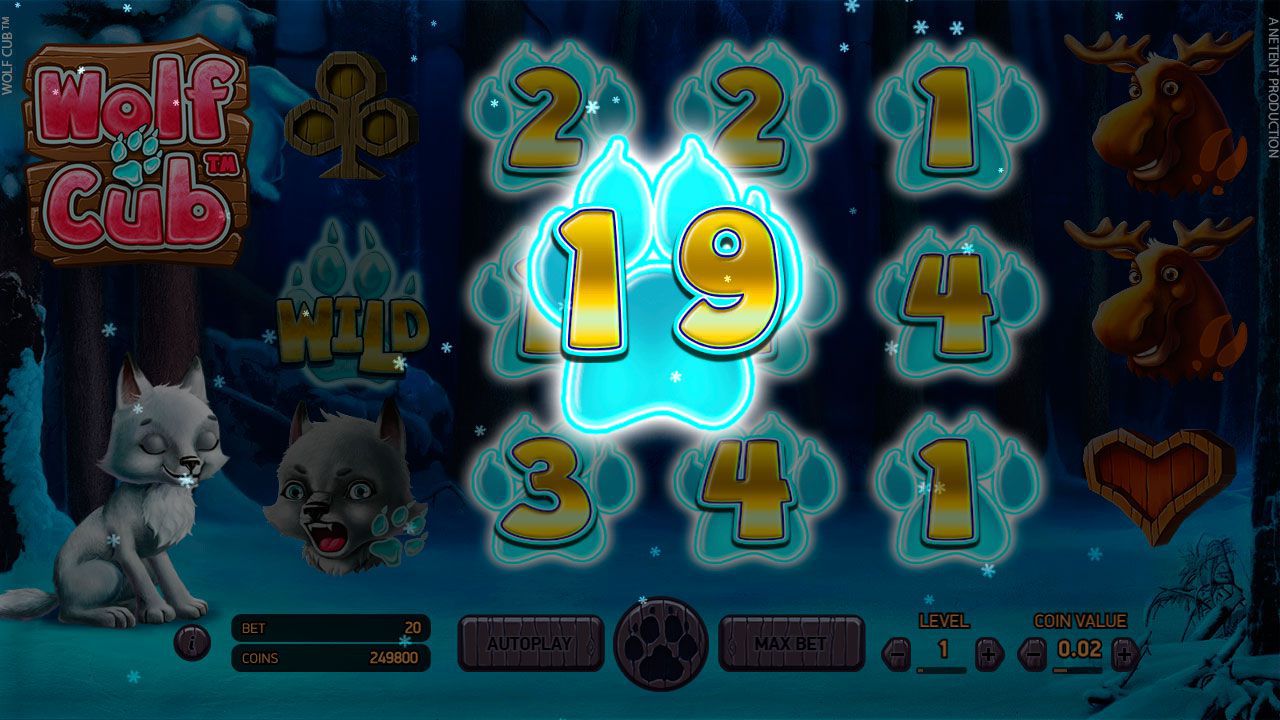 After 3 Scatter symbols land on the reels, all reels containing a scatter symbol spin again with numbers replacing the symbols on those reels. As the result, the total sum of numbers of these re-spin reels will define the number of Free Spins in the bonus round. As you see, every time the actual number of Free Spins will be some kind of intrigue for you. Remember, that the maximum possible number of free spins is equal to 115. If today is your lucky day, don't forget to stock up with a box of popcorn, relax and watch money incessantly pouring into your pockets nonstop in the course of several minutes.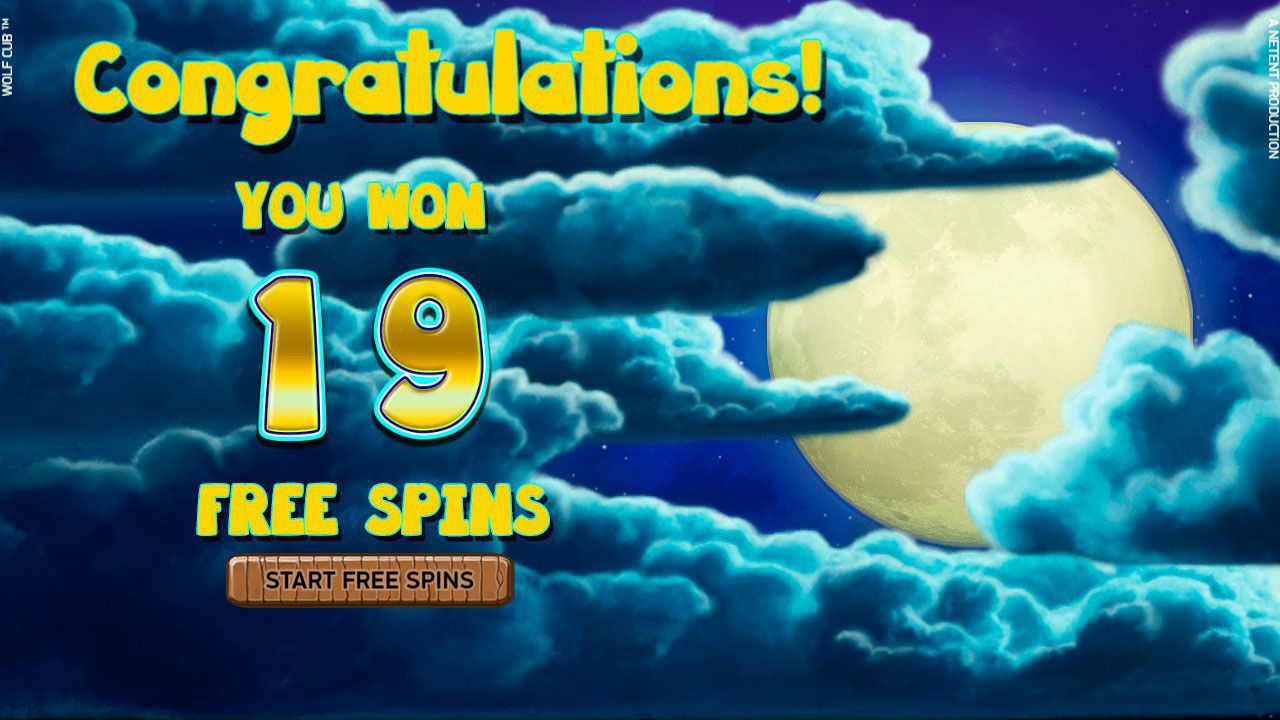 Blizzard bonus feature
The following bonus feature is meant to increase your Free Spins wins. The feature is activated once all 3 cells of the leftmost reel are covered with the same symbol. Similar symbols on other reels will spread towards the 1st reel and to all the cells across.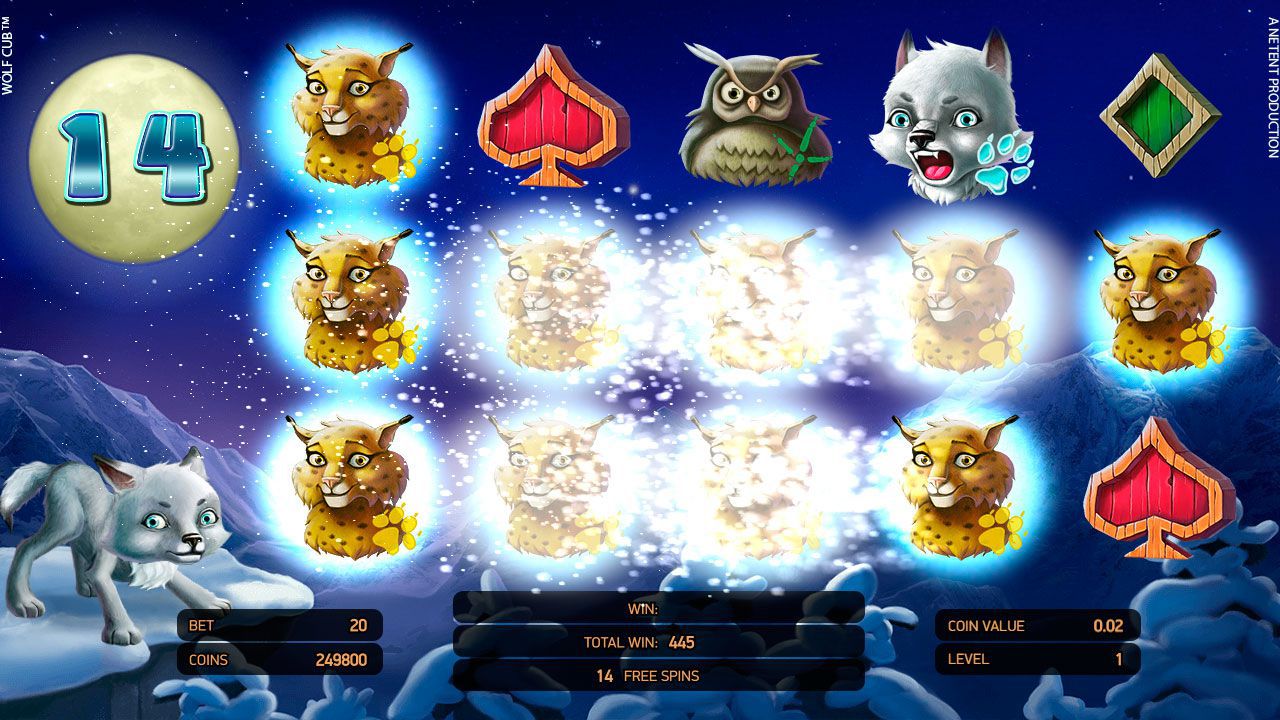 Wild symbols can also appear during Blizzard bonus feature and appear fully stacked on the 1st reel. There can be no additional Scatter symbols during the Bonus Game, so no additional Free Spins can be won during the round.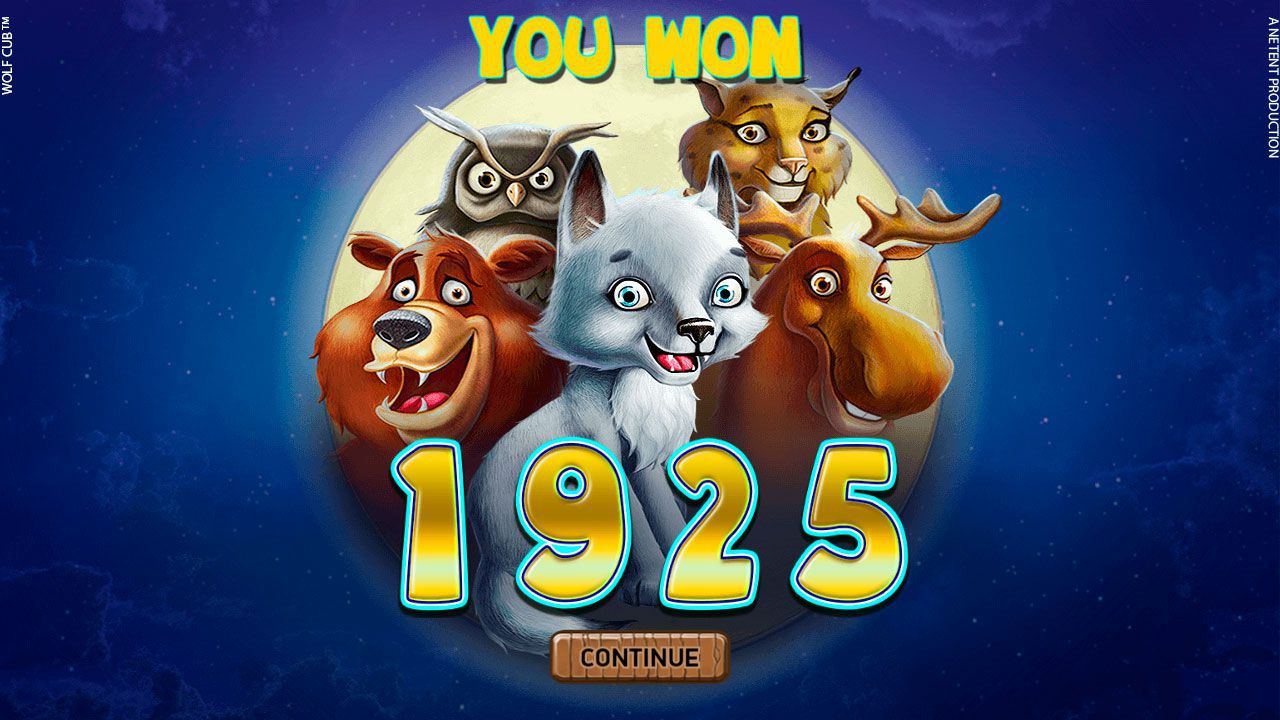 Verdict
Sometimes, our stark reality lacks simple magic after all. Sometimes, you wish to get into a fairy tale at least for short while. Wolf Cub video slot will definitely appeal to those players, who feels nostalgic about good old cartoons based on the adventures of funny forest dwellers. The grey Wolf Cub will push boundaries of mistrust and all the stories of "evil and scary" wolves. Sometimes, wolves can be very nice and friendly.
NetEnt is especially good at cartoonish video slots, which gain in popularity among online casino users very quickly. To exemplify, here's a Wolf Cub video slot, which incorporates the latest 3D-modelling technologies, graphic effects and animation; sometimes you cannot distinguish these video slot from lately released cartoon. In addition to the unparalleled aesthetic pleasure, you'll be amazed with quite high hit frequency in the video slot. The video slot features only one bonus feature - Blizzard - but even this single bonus function can bring you howling wins at the end of the round.
If you decided to play Wolf Cub video slot for real money, we strongly recommend you to check one of the reliable casinos from the list below, so that could easily withdraw your wins.