Europa Casino for Android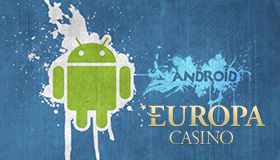 Online casino Europa Casino is one of the most famous and reliable gambling facilities online. This is confirmed by positive reviews from the players around the world, fast cash outs and availability to play on mobile devices (Android and iOS). In this article we'll tell you about Android version of Europa Casino.
Any owner of the device based on Android OS may play Europa Casino real money gambling games.
Europa Casino on Android
Europa Casino on Android doesn't require any additional software downloading for playing from mobile devices. So if you have an account at this casino to play for real money, just browse Europa Casino official web site from your mobile device. You will be automatically redirected on the mobile version of the web site. In the upper right corner press on the 'Key' button and enter your entry data to enjoy the play at Europa Casino from your Android device.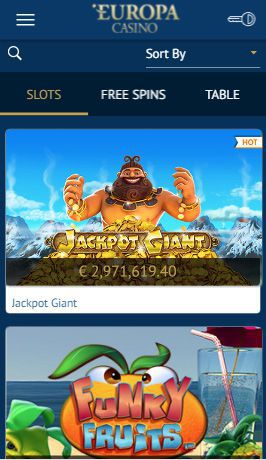 Europa Casino on Android for new players
If you don't have an account in the gambling facility and you want to play at Europa Casino for real money from your mobile device on Android OS, you have to create an account first. You can do it in several ways:
1. Europa Casino registration from the mobile device.
You can find a little instruction about registering at Europa Casino from mobile device below. To start registration, go to Europa Casino official web site. Then press a button with a 'Key' image. Skroll to the botom of the modal window and you will see 'Not registered yet' phrase and the button 'Join now' below it. Press it to start registration process at Europa Casino with the help of your mobile device.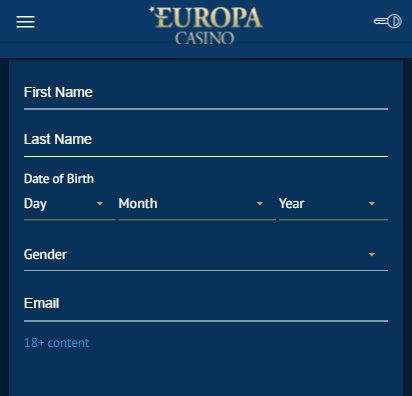 If you will see a window with warning about unprotected connection, press 'Show more' and then open the link 'go to mobile.evroonline.com site' (unsafe). This message is here because you're using mobile phone.
After this step, Europa Casino registration form will be opened from mobile phone. It is a three-step instruction. On the first step we open registration form of Europa Casino on the mobile phone. There are three steps to it. On the first step you must choose sex, write your name and Surname and give the date of birth. Put only correct data as it will be checked before you'll be able to withdraw funds.
On the second step you should write your residence address, mobile number phone.
At the last step, you choose your log in, password, put your e-mail in and give your currency. Bonus code field need to be left blank.
That's it - your Europa Casino account for mobile phone (Android/iOS) is ready to work.
2. Register at Europa Casino at the desktop/laptop and play at with the help of mobile phone. To do that, turn to our article how to register at Europa Casino.
---