Australia proves its status of the most gambling country in the world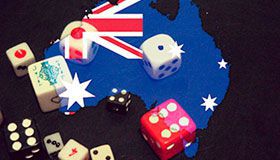 Last year Australians were the most gambling nation in the world. In the third quarter of 2014 they are reported to have spent more than AU $6 billion on gambling games. A year later the situation hasn't only remained unchanged: the sum of money spent during the same period of time at casinos and poker clubs has increased by 6,1%.
According to experts, the Australians spent more than AU $6,5 billion on gambling games in the third quarter of 2015. This implies that each Australian shares around AU$1000. By the way, in the US or even UK this sum is twice or even three times less.
However there's some cheering news. The poll has revealed that less than 64% of the whole population is fascinated by gambling games. To compare: at the beginning of 2000-s this number was 80%.
"Mid 90s were marked with a sharp increase of those who suffered from problem gambling. In 2000s most of them realized that gambling games affect them negatively and the number of gambling addicted dropped off. Nevertheless, up until now there're people who have been playing ever since", - comments Doctor Anna Thomas from Center for Gambling Games Studies.
According to the statistics about 400,000 Australians are enthusiastic about gambling games. The main reason for that is a wide spread occurrence of bookmaker offices, totalizers, casinos with their online versions. Experts say that gamblers are reported to loose mainly when playing slot machines: around AU $ 5,9 billion.
High taxes imposed on gambling business either cannot affect the situation, though each year the State's treasury is being added to by AU$5,9 billion
---