Fun facts about gaming in Las Vegas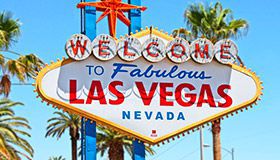 Las Vegas is one of the best places in the world to head to for live gaming, with casinos along the famous Strip offering an array of gaming opportunities for those seeking thrills and excitement. However, while many people will be au fait with the traditional image of the bright lights of Las Vegas, here are a number of fun facts they might not be aware of.
The first Las Vegas casino licence was granted in 1931, sparking the growth of the gaming paradise, while today, more than 1,700 casinos are in operation within the city limits - meaning there is always somewhere new to explore for those keen to get off the Strip.
The proportion of visitors to the city who gamble at least once during their stay in Las Vegas currently stands at around 87 per cent, with the average gambler spending 3.9 hours each day playing at the myriad live gaming tables, including blackjack, poker, baccarat and roulette, as well as the thousands of slot machines in the city.
As a result, 43 per cent of all Nevada's annual state funding comes from gaming-related taxes.
Meanwhile, on average there are 315 Las Vegas weddings that take place each day, with the cost of a Nevada state marriage licence just $35.
The city offers more than 124,000 hotel rooms to meet the needs of the millions of people who travel through the city each year, with the famous MGM Grand washing 15,000 pillowcases each day as a result.
More than 3,000 conventions are held in Las Vegas each year and the average length of stay of a visitor to the city currently stands at 3.7 nights.
Anyone considering opening their own casino in fabulous Las Vegas may have to dig deep though, as one square acre of land on the famous Strip is presently valued at in excess of $11 million.
---