How online casino games influence the future of poker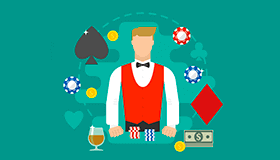 After the massive boom of the early noughties, poker is at a crossroads as the game finds itself in a battle between human players and artificial intelligence. But how can the game stay ahead of the robots and remain relevant for human players - especially in the online world?
Here we'll look at how poker can learn from online casinos, and how this can be applied to adapting and even creating new poker games that are human-centric.
Popularity of Poker
Poker has long been a popular card game, thanks to its perfect blend of gambling, strategy and skill.
The game is believed to have been developed in the United States during the early 19th century with early versions of the game played with just 20 cards. The game grew steadily over the next hundred years, before the legalization of casinos in many countries - which followed the inception of the web - saw the popularity of poker soar rapidly. This was epitomised with the "poker boom'" of the early noughties.
Indeed, the poker boom is widely agreed to have taken place between 2003 and 2006, with Texas Hold'em at its epicenter. In many ways, the surge in popularity of poker at this time was caused by the perfect storm of technology and pop culture, which subsequently saw prizes rise and players flood to the game in search of making their own fortune from the game.
The surge in popularity of poker - and the vast riches that suddenly became available - can be shown by player numbers and prize funds at the annual World Series of Poker (WSOP). In 2002, just 631 players entered the tournament (which had been running since 1970), with a first prize of $2 million. By 2006, player numbers had swollen to an enormous 8,773, with a huge $12 million first prize up for grabs. WSOP entries dropped to around 6,000 a year later, with the first prize slipping to $8.25 million. In the subsequent decade, there has been very little movement in terms of player numbers and prizes available - which are still substantially larger than before the "boom".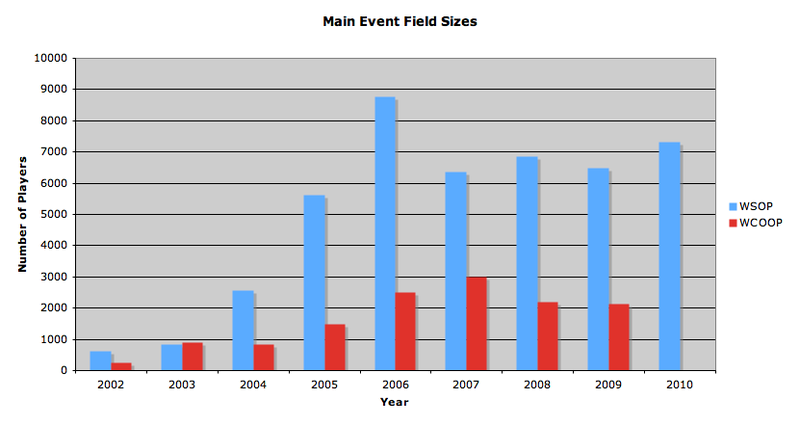 Source: Poker News - Graph showing the number of entrants and prize money at WSOP between 2002 and 2010
The cult hit poker film Rounders - starring Edward Norton and Matt Damon - is widely accredited with causing a spike in interest in the game too. This, combined with the spread of the internet and subsequently a host of online poker sites that allowed players to take part around the clock with the real possibility of making consistent winnings for strong players, were huge reasons for the boom.
However, the boom came to quite an abrupt end in October 2006, as a new law came into play in the US, the Unlawful Internet Gambling Enforcement Act of 2006 (UIGEA), resulting in many leading poker sites upping sticks and leaving the United States.
Nevertheless, poker still remains vastly more popular post-boom than it did previously, with many new variants and innovations constantly being added to keep players interested.
Online Poker Formats
While cash and tournament games remain popular among poker players, there has been an increasing demand for games that are faster and even more exciting to play.
This is where many online poker rooms have adapted and innovated from the original poker games - using their experience from fast-paced online games - such as video slots - that they have been proven to be hugely popular with players.
SNAP poker is one such innovation created by 888poker. In this variant, as soon as a player folds, they will be re-dealt new cards automatically to reduce waiting times. This works by having large pools of players, with players assigned to new tables with each deal - in order to guarantee faster play.
Similarly, BLAST poker by the same brand is another more time-friendly game, designed to keep players intrigued using a Sit & Go format. With BLAST, a timer starts when the game begins and, when the timer comes to an end, all players automatically go all-in - guaranteeing a single winner. Prizes are also very high on BLAST games, often up to 10,000 times the player buy-in amount - as the prizes in the game are pooled together across multiple tables.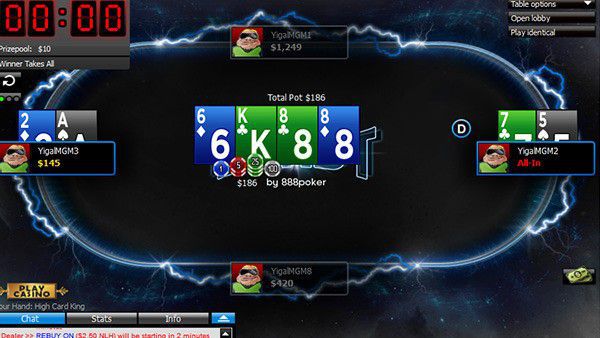 BLAST Poker gameplay at 888poker
Such fast-paced games are designed to focus on the entertainment side of poker for players, as their fast, fun formats appeal greatly to recreational, "casual" players - and providers are keen to ensure a healthy poker landscape for all.
Future Trends
The big question looming over online poker is whether AI (artificial intelligence) could potentially kill the game. Indeed, the Libratus Poker AI, created by Noam Brown et al at Carnegie Mellon University, managed to beat four professional poker players to win $1.76 million at a No-Limit Hold'em tournament in the summer of 2017, becoming major international news in doing so.
This follows similar developments in games such as Chess and Go, where computers are able to outperform humans consistently.
But is this likely to kill poker?
Well, in short: no. Poker AI is likely to cause two divisions in the game: one will be a new game played between computers, with people developing technology that can beat other AI, while the other development in poker will see the game adapted even further online, making it more human.
Another key facet for the future of online poker could come in the form of virtual reality - again drawing inspiration from what online casinos are already doing with other game formats such as roulette. By creating virtual poker rooms, including players with real faces and bodies, this would severely restrict the impact of AI on games. With regards to the future of virtual reality and the game, poker can learn a lot from live streamed roulette and blackjack, which have exploded in popularity over the past couple of years. Indeed, there are already live poker rooms, where players are able to see each other via webcams, allowing for the missing strategy element of reading opponents' body language to enter online play.
Live poker is unlikely to significantly change in the coming years, but you can be sure that you'll be online poker continuing to evolve and gamify, and continue to pit humans against humans, rather than bots against bots
---