Mega win at Bob Casino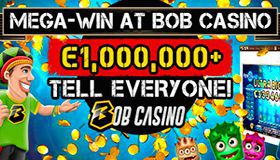 Bob Casino has some exciting news to share. We've had the biggest win in history - a user playing Play'n GO's Reactoonz won €333,460 in a single spin bringing their total win to €1,000,000+. This is the player's screenshot capturing the winning moment.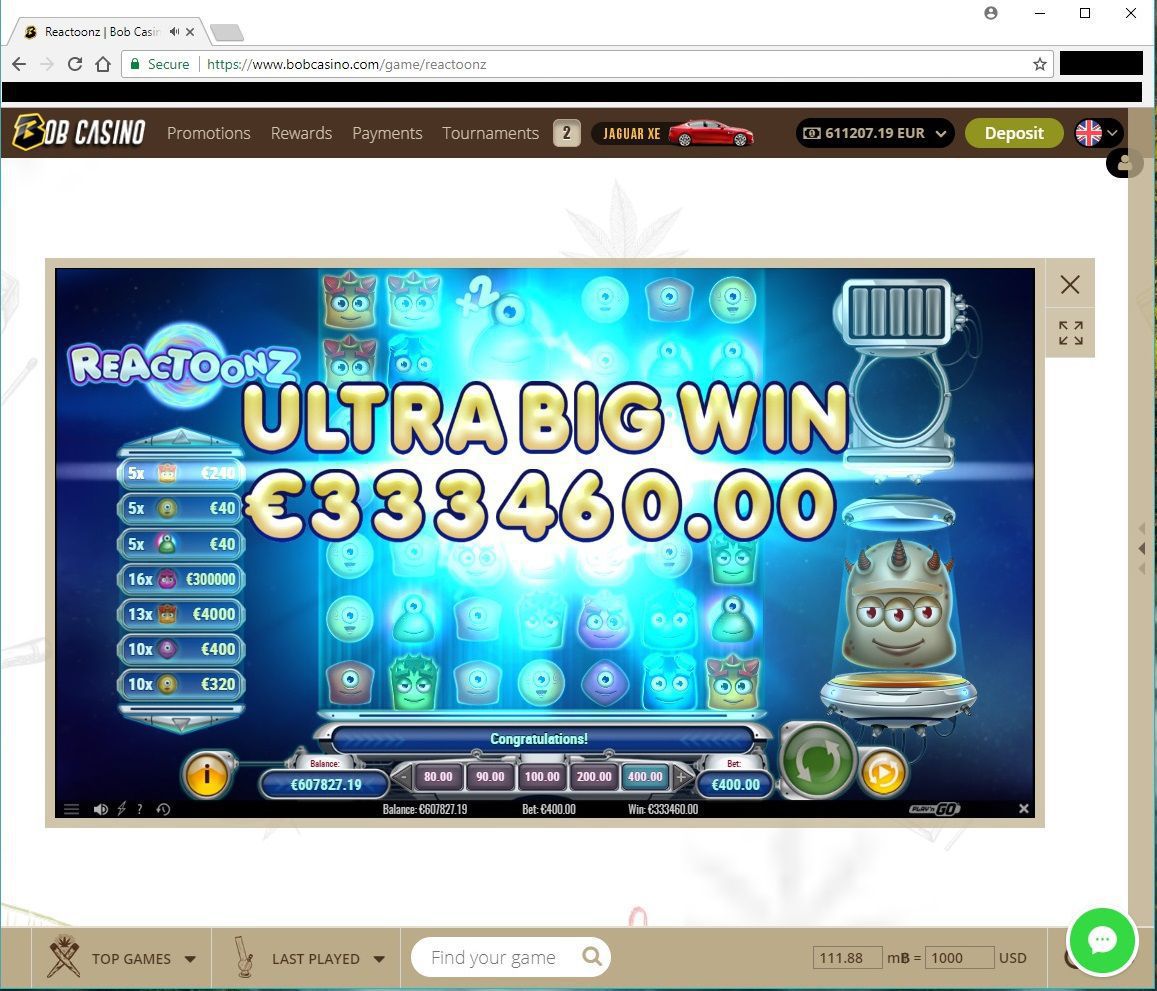 The team standing behind Bob Casino have prepared an exclusive interview with the winner.
1. Could you please tell us in a few words how you managed to turn your initial deposit of $2,750 into a million euro win?
I started playing in a slot which was featured on the home page and I was always increasing my stakes after big wins. I was lucky to hit a few very large prizes when I was playing with the maximum stake.
2. Why did you choose our casino?
I saw a good review about it on AskGamblers and decided to give it a try.
3. What do usually pay attention to when choosing a casino?
Support, withdrawal limits, reliability.
4. How long have you been gambling online?
Maybe 4 or 5 years. I play when I have some free time, but it's not very often. I can be many months without placing a single bet but when I play, I try with large stakes.
5. Apart from this one, what was the largest amount you won?
I don't remember exactly, but something around 100K.
6. What was the biggest multiplication you ever got?
I think it was this time on BobCasino. I remember a particular game when I hit a 1500x combination.
7. Would you say you enjoy playing more at at online or ground based casino?
I prefer online. I went to ground based casinos only a few times in my life, and usually not to play.
8. If it's the online casino, then why so? Which slot providers do you like the most?
I prefer online casinos because it's more private and comfortable. About providers, maybe Microgaming and now Play'n GO, for the obvious reasons.
9. What do you do for a living?
I have my own business, I am a marketing specialist.
10. What made you choose this specific slot?
Nothing special, just the fact that it was featured on the home page of the casino. And once I got a lucky streak, I thought I should keep trying on the same game. I didn't know this slot machine, or at least I don't remember playing on this slot before.
11. How are you planning to spend the money?
I will invest a big part of it on my business and if I have something left, I will buy one or two properties.
---