New restrictions on gambling in the Russian Federation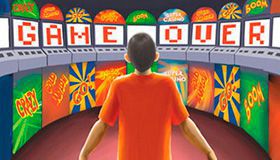 Some days ago some important changes in legislation of the Russian Federation has taken place, which may cause a significant impact on the further development of the already rather volatile gambling market (including iGaming market).
The President of the Russian Federation has endorsed an act about fines upon access to sites restricted
Vladimir Putin, the President of the Russian Federation, has enacted a bill, which introduces fines for those who disregard liabilities of access restrictions to illegal gambling sites.
The President of the Russian Federation has signed a Federal act № 18-ФЗ "Amendments to the Russian Federation Administrative Offence Code" d.d. 22.02.2017.
According to the text of the act, in case communications provider, which provides access to Internet, doesn't stick to obligations upon restrictions and renewals of access to information that should be restricted or available in virtue of details, received from the Federal Executive Authority, which is ought to control communication sphere, IT and mass media, this operator will be imposed an administrative fine.
The law establishes following fines:
Functionaries - 3000-5000 Russian rubles (approximately $50-$85)
Individuals engaged in entrepreneurial activities without legal education - 10000-30000 Russian rubles (approximately $170-$510)
Corporate vehicles - 50000-100000 Russian rubles (approximately $850-$1700)
We would like to remind you that earlier within Plenary meeting of the State Duma (the lower house of the Russian parliament) a law was adopted that obliged legal bookmakers to "donate" a part of their incomes to physical fitness and Olympic sports promotion.
Bookmakers in Russian Federation are obliged to invest a part of their revenue to sports development in the country
The law was adopted on the Plenary Meeting of RF State Duma, which introduced mandatory giveaways from bookmakers for physical fitness and Olympic sports promotion.
There are several legal bookmakers in the Russian Federation at the moment (as of the beginning of 2017): Liga Stavok, 888 ru (not the member of 888Holdings), Winline, 1xbet, Fonbet, Leon.ru.
On February 22, 2017 The State Duma of Russia has passed the law in the second reading on the dismissal of part of the income of legal bookmakers in support of the program of physical education and Olympic sports development program. Contributions should be 5%, but not less than 3 million RUB (approximately $51.000) gained from taking bets on sporting events.
According to this bill, the whole amount of target deductibles paid by the operators (who own legal betting shops or terminals) can't make less than 15 million RUB. Money collected from lotteries will be designated to support socially significant facilities and events, including physical culture and sports improvement.
---