New type of tournaments at Play Fortuna Casino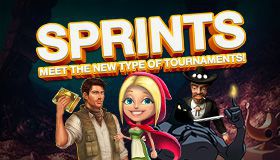 Recently, Play Fortuna Casino has launched a new type of fast tournaments called "Sprints". They are 24h-events within which there are short tournaments on different slot machines with different duration, prize pool, minimum bet and number of spins. Functionally - this is a timeline, where the player can choose the sprint he likes and join it at a convenient time. To get more detailed info about Sprints at Play Fortuna Casino, read the material below.
As we have already mentioned, each Sprint consists of several small tournaments. The more winning combinations you get on the slot during the sprint, the more points you get. Three players with the highest score receive a fixed amount of real money, free spins or points.
In order to join any Sprint, it is enough to register before the start of the chosen Sprint tournament. When the registration is complete, all players receive the same number of spins at a certain minimum bet. After completing the sprint, a table of three finalists is published slightly below the registration banner or in the game window on the right.
If you still don't have an account on Play Fortuna Casino, sign up now using the link below.
Register at Play Fortuna Casino →
Having registered, you will receive a no deposit bonus in the form of free spins on one of the most popular video slot. More specific information is available at Play Fortuna Casino no deposit bonus article.
Win every day!
---