No empty talk, only benefits!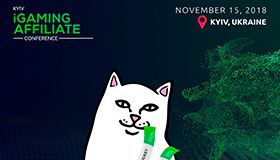 On November 15, Smile-Expo International Company will hold Kyiv iGaming Affiliate Conference, the first conference in the Ukrainian capital dedicated to affiliate marketing and the iGaming industry.
Speakers and key topics of the conference
Experienced marketers and online gaming specialists will make 12 presentations at the conference. Experts will talk about relevant trends in the gambling industry and affiliate marketing in Ukraine and abroad.
Speakers will share information on proper arbitraging on social media and discuss affiliate program operations. Besides, attendees will discover where and how to search for the first traffic and examine features of its analysis.
Specialists will thoroughly review the legal aspect of the industry and reveal existing legal challenges in current affiliate marketing.
Moreover, professionals will share their successful experience in relevant projects and discuss development prospects of affiliate marketing in different countries.
A panel discussion involving representatives of operators and affiliate networks will consider practical issues of cooperation, monetization improvement, and the importance of affiliate networks for both partners and operators.
Only case studies and direct answers to questions. No empty talk, only benefits!
Who will speak?
EVGENIY BONDAR. Head of SEO at Boosta. More than six years of experience in promoting the most competitive niches of the foreign markets. During this time, he has risen in ranks from a link builder to the head of SEO.
MYROSLAV LIASKOVEZ. Founder at LeadMarketing. One of the best Facebook & Instagram specialists in the CIS countries. Makes 2,700 leads per day from FB & Instagram.
VICTOR KARPENKO. CEO at SeoProfy. The experience in Western SEO is 10 years, in general in SEO 12+ years.The peak of search traffic is 2 500 000 visitors per day. The experience in promotion within the most highly competitive niches in the USA and other regions.
DMITRY PETRENKO. Head of SEO at Edu-cash.com. SEO expert in western competitive niches. Develops large white label projects, satellite networks, PBN, and WEB 2.0.
NIK RUDENKO. Chief Marketing Officer at FavBet. 11 years in the industry of sports betting, poker, casinos, and lotteries.
MIKHAIL B. Head of affiliates at Zodiacu. Currently, he is working on a new iGaming project focused on the Nordic markets as the Head of Affiliates. The main idea of the project is involvement and retention of players through gamification.
LEVON NIKOGHOSYAN. CEO at PartnerMatrix. Moderator of the panel discussion 'Affiliates in iGaming'. A gaming industry expert and a specialist in affiliate and agency programs.
VIACHESLAV USTIMENKO. CEO at LAWBOOT. Expert in legal consulting at global IT, fintech, and gambling companies. Since 2012, Viacheslav has been providing legal services to advertising networks, gambling companies, and arbitrage specialists.
VLADIMIR LUCHANINOV. Head of Acquisitions at Firelink Media. Has been engaged in online marketing for iGaming and other highly competitive niches for more than 10 years. Loves to calculate and optimize everything.
ROMAN MANUYLOV. Chief Marketing Officer and PR at Alfaleads.net. Engaged in e-marketing for about 8 years, arbitrage - since 2014. Started with apps and installs, worked with product offerings on foreign segment. Currently, his team is focused on gambling and dating.
ROMAN BOUT. CEO/Founder at Quintessence. Roman has over 10 years of experience in the online gambling industry.
TATYANA NASONOVA. CEO at Gambling.pro. Arbitrage Expert, Founder at the public page 'Tough Arbitrage of St. Petersburg' and Black Inc. CEO, Brand Ideologist, Product Manager, PR, Marketer and Traffic Manager at a new affiliate program Gambling.pro.
KOSTIANTYN NOVOFASTOVSKYI. Head of advertising traffic audit at ClickFrog.ru.
Specialist in online advertising automation. Has been working in Internet marketing sector since 2005, in CPA sector - since 2013.
Who will be interested in the conference?
The event will bring together:
affiliate managers;
arbitrage specialists;
advertisers;
developers;
gaming operators and providers;
betting shops;
affiliate network representatives;
webmasters;
SЕО specialists;
freelancers;
online marketers;
PR managers.
The event will allow to expand the network of business contacts and find new partners to grow your business.
After the event, invited guests will attend the party to continue business communication in informal surroundings.
Organizer
The conference will be held by Smile-Expo, an international company that has been organizing major business events for 12 years.
Would you like to find out more?
Event details and registration are available on the official website
Use promo code PR20 and get discount 20%.
---