US Dollar isn't the most popular currency in online casinos any more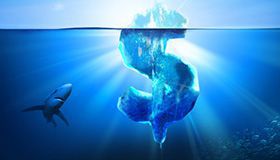 According to the research recently made by the KeyToCasino.com analytics, Euro got ahead of US Dollar in the most popular online casino currency race. About 78% of gambling facilities online offer opening of accounts in European Euro.
This research group made the research of such kind earlier and even published several reports on the topic. Currency options research in most online casinos may give an opportunity to look at the market and target audience of these gambling facilities from the other angle and also make tendencies for changes in the future.
Until 2006 the US dollar was an undisputed leader as every online casino offered an opportunity to have an account in this currency. However, that year US congress banned online casinos and poker sites on the territory of the country by approving the UIGEA (law about responsibility for illegal Internet activity).
After the acceptance of the law, some casinos stopped accepting US players, however dollar was used as one of the currencies for other users. At the same time, those facilities which opened after 2006 haven't offered dollar accounts.
By 2014, only 90% of all online casinos offered to open an account in dollars, now the number is only 75%, that's why Euro is the leader now. The popularity of the currency is also explained by the fact that many gambling enthusiasts live in European countries.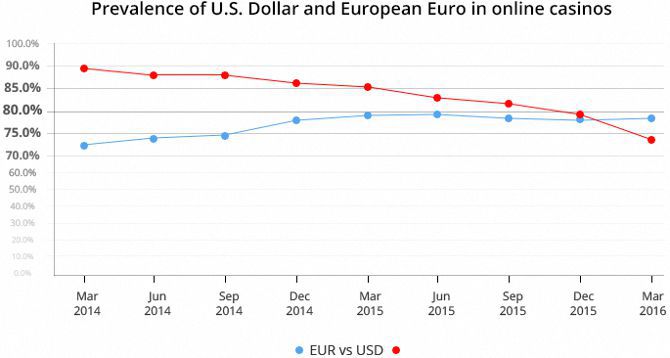 Speaking of other currencies, there is also growth of popularity of Russian Ruble. According to the words of Garreth Walker, one of KeyToCasino researchers, the growth of the Russian Ruble popularity may be broken.
'According to our research, the popularity of Russian Ruble increased by 4.3% in comparison with 2014. But considering the economical situation in the country, this tendency might be broken. The thing is the casinos react to economical events slower than stock markets'.
The growth of popularity is also noticed from Norwegian Krone, South African Rand and South Korean Won. The most popular currencies in online casinos at the moment are euro, US dollar, pound, Canadian and Australian dollars.
---