BitStarz is unleashing a World Cup free spins bonanza!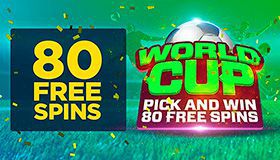 Talk about a game of two halves, the World Cup might have started slow, but it's reaching a fever pitch during its final few games. We now know that England, Croatia, France, or Belgium is going to lift the famous trophy, but that's not the only thing to be excited about. BitStarz Casino is picking up the pace and bringing players a World Cup free spins bonanza!
Taking on a sportsbook twist, it's up to you to predict who's winning the upcoming matches. If you have the skills to pay the bills when it comes to reading the beautiful game you can win up to 310 free spins. Yes, you read that number right, to coincide with the final four games of World Cup, BitStarz is putting a whopping 310 free spins up for grabs.
Here's how it's going down, as this new promotion promises to be just as unpredictable as the World Cup itself. From the semi-final to the final, after depositing €20 or more it's down to you to pick the winner of each game. It kicks off with the first semi-final, France versus Belgium on July 10th. From there, it's all about who's going to finish in third place, as the consolation game can be much more than that to you. Across these three games, for each winning prediction you'll earn 80 free spins - 40 free spins if your selection falls short.
When the World Cup final rolls around on July 15th, it won't just be the winning team that's celebrating. Pick the team that goes on to lift the trophy and you'll win a staggering 150 free spins. Once again, you'll have to deposit €20 or more than to make your prediction, but from there you can experience a World Cup glory all of your own. Because BitStarz truly is one of the most generous online casinos around, even if your team falls short, they'll still give you 40 free spins.
The world hasn't been able to take its eyes of the World Cup in Russia, as it's delivered big-time drama and goals aplenty. Trust BitStarz to match the action on the pitch with some mega-fun off it. Deposit €20, make your prediction, and you could experience your own huge World Cup win!
And if you still do not have an account in this licensed online casino, then it's time to create it for a number of reasons:
---