Available on
Features of the game
| | | |
| --- | --- | --- |
| | Free spins | Yes |
| | Re-spin feature | No |
| | Bonus game | Yes |
| | Risk game | No |
| | Scatter symbol | Yes |
| | Wild symbol | Yes |
| | Progressive jackpot | No |
| | Autoplay option | Yes |
| | Cascading reels feature | No |
Blood Suckers video slot by NetEnt - review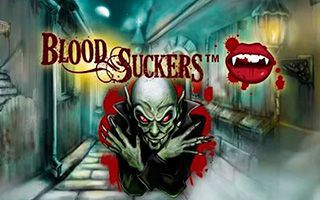 No matter what your actual literature or movie tastes are, the vampire theme would never leave you untouched. Anyone at least once in a life had an experience of reading a book or watching a movies/TV series featuring bloodthirsty prototype of Bram Stocker's "Dracula" hero as the protagonist. Yet, Stocker was not the first to use the image of the Great and Terrible count in his books; but it was his book in particular, which gained iconic status in the gothic literature of all time. Later his famous characters started being involved in different literary writings and films.
To the very present time this theme continues to heat the imagination and poignant many "horror" genre fans: even now a huge number of books, movies and even TV series, promoting the vampire theme, are released on a regular basis. Vampire movies are packing the cinemas worldwide, books about undead are published in hundreds of thousands copies and the same-themed TV serials get the most flattering reviews both from viewers and from critics.
Of course, considering the undying interest towards the hot Vampire topic, slot machine suppliers could not dismiss the opportunity to benefit from it. And it may safely be said, that they came up trumps! Practically all top video slots ratings (according to players reviews) feature games on this theme on the leading positions.
Blood Suckers slot machine, that was released on November 11, 2013 by Net Entertainment company, is one of the prominent representatives of the vampire genre in the iGaming industry. This Sweden-based company has more than 20 years of experience in online gambling industry and along the way has developed an excellent reputation among players all over the world. NetEnt reputability can be attributed largely to the hard work of developers, who are doing their job the bestest. Primarily NetEnt video slots are distinguished by the variety of themes and design patterns, user-friendly interface and, what is most important, generous possible wins.
As you've might already guessed, the main characters of Blood Suckers video slot are vampires, although not exclusively male - those, who cannot resist slaughterous Valkyrias, will also be satisfied with the storyline. And to fight all the 'evil creatures', you'll be given a massive arsenal of different weapons. And, of course, you'll be rewarded head money for each Vampire killed. By the way, fans of NetEnt creations, who are also not indifferent to the theme of vampirism, will definitely fall for another title - Dracula video slot.
If you cannot be easily scared off by vampires and other evil spirits; if you're ready to hammer a stake into the heart of The Count Dracula - Blood Sucker slot by Net Entertainment would be the right choice for you
Well, ladies and gentlemen, get ready for the fascinating experience! The vampire hunt begins!
Blood Sucker slot: main features
Blood Suckers is a NetEnt-powered video slot with 5 (five) reels over 3 (three) symbol rows and 25 (twenty-five) paylines. As any standard slot, the game also includes Scatter and Wild Symbols, Free Spins and a creepy vampire slaying Bonus Games.
Each payline requires bets from as little as 1 (one) cent or as much as 20 (twenty) Euro. Therefore, the maximum bet for each spin can reach 500 (five hundred Euro) and the minimum will be 25 (twenty-five) cents. It should be also separately mentioned, that each online casino, no matter which you choose for the game, puts restrictions on the maximum bet size as it thinks fits right. So, if you got used to playing on maxbets, don't forget to check the restrictions, before making a deposit.
Paying combinations are awarded if they consist of minimum 3 (three) symbols or 2 (two) special symbols. All winning combinations within Blood Suckers video slot are made from left to right only, starting from the leftmost reel. Keep in mind that only the highest win per active bet line is paid, which means that the other wins on the same bet line will be void.
The maximum win in the main game equals to 30 000 coins, during free spin game - 90 000 coins, and during bonus game - 20 320 coins.
The return-to-player rate in Blood Suckers slot is 98%, which is quite a high rate
Blood Suckers powered by NetEnt: play for free
Especially for those, who simply cannot afford playing this amazing video slot for real money (or just don't want to), NetEnt developers' team have released free play version of Blood Suckers, which is available with no need to register or download extra software or applications on mobile devices. The demo mode is second to none to the real money mode: the same design, the very same symbols, control panel, bonus games…
There's, however, another way, how some online casinos enable real money game without any deposits on Blood Suckers or any other slot machine. Of course, we are talking about no deposit bonuses. Normally, they're issued for account registration. The list of no deposit bonuses for the game on Blood Suckers slot is available on the following page, on the right of the game's demo-version.
Blood Suckers slot: theme and graphics
If you're a true thrill-seeker, Blood Suckers is definitely the best way for you to get an adrenaline rush. Throughout the game on Blood Sucker slot machine you'll experience the sense of reality and truthlikeness.
Once the game is launched, you'll find yourself in an ancient creepy burial chamber with vampires. The whole design of the video slot is completed in gloomy grey colors; design of play area is composed of twilight sky, harvest moon, dust and bloodstains on the wall. That view not only gives creepy ideas, but, at the same time, immerse players in the gothic thrilling atmosphere. Will you succeed to escape this eerie burial chamber and take on the evil creatures or will be become another victim of bloodthirsty Dracula? The outcome depends on you and on your luck only.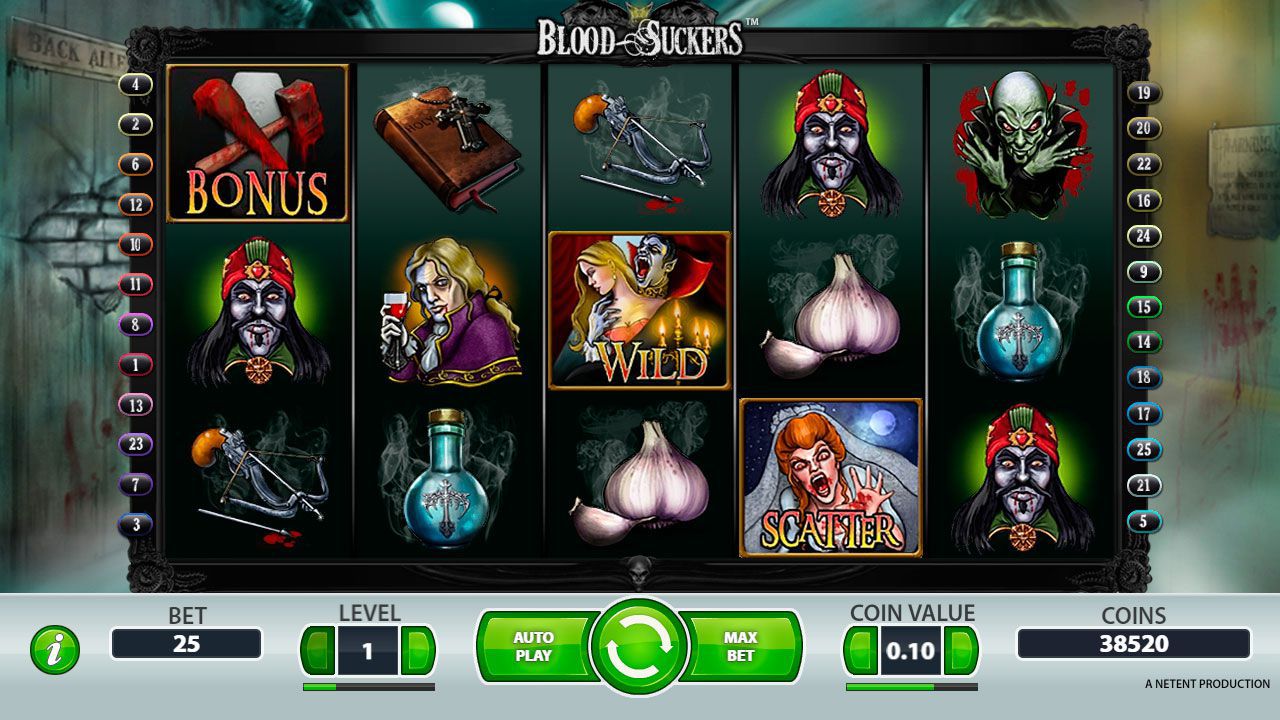 Graphics and animation of Blood Suckers slot machine should also be given a separate credit - their level can be easily compared to the most fascinating action computer games. The game's graphics is beyond wildest imagination: the game's suppliers managed to replicate the dreary and gloomy atmosphere in such a realistic way, that you'll be following every story twist on the screens of your PC/smartphone transfixed.
The background sound and the sound effects in general contribute largely to the chilling atmosphere of the game. During the main game, all the sounds will seem to be coming right from the vampire hiding, which also adds to the game's ambience. And when the bonus game starts, you'll feel shivers and chill caused by the sounds of opening marble coffins and cries of creatures inside them.
Blood Suckers: control panel
The interface of the video slot is extremely user-friendly, simple and yet sound; it resembles other creations powered by NetEnt a lot, which makes it even easier to grasp. However, those, who are new to NetEnt games, might need some explanation of its buttons.
By clicking the green round button in the very Center of the control panel, you'll launch the process of spinning the reels and the this is how the gaming process starts. On the left you'll see Autoplay button and Bet Level (the number of coins you wish to bet per line); on the right, you'll see Maxbet (maximum bet in terms of Bet Level selected) and Coin Value scale. The green "I" button in the left-hand corner will open a paytable for you with information on every combination and schemes of all the win lines. The Control Panel at the very bottom of the screen will let you to control functions like audio, graphics; choose Quick Spin option and also activate Spacebar to Spin. In order to set predetermined auto game settings, click "Auto" button. Clicking the question sign in the bottom will retrieve information on game terms and conditions.

Blood Suckers: mobile version
Whatever you think about games' mobile versions, they're rightly considered to be the future of iGambling industry. With the emergence of mobile versions of slot machines, online gambling sphere has embraced the brand-new era. Plenty of users all over the world put very high value on the idea of unrestricted mobility during the gaming process. Right now, the developers are trying to implement the most cutting-edge technologies for creating mobile versions of slot machines in order to make you feel most comfortable when playing on smartphones/tablets with touch screens.
Blood Suckers Slot by NetEnt mobile version: How To Play
Nowadays a spate of slot machines has their own mobile versions and Blood Suckers is no exception to this rule. This video slot has long been featuring NetEnt Touch slots collection (adjusted for touchscreens). It should be mentioned, that the game mobile version is second to none of the desktop version, which means, that you can immediately immerse into this fantastic and mysterious world no matter where you're (under the conditions that you have Internet connection and charged battery).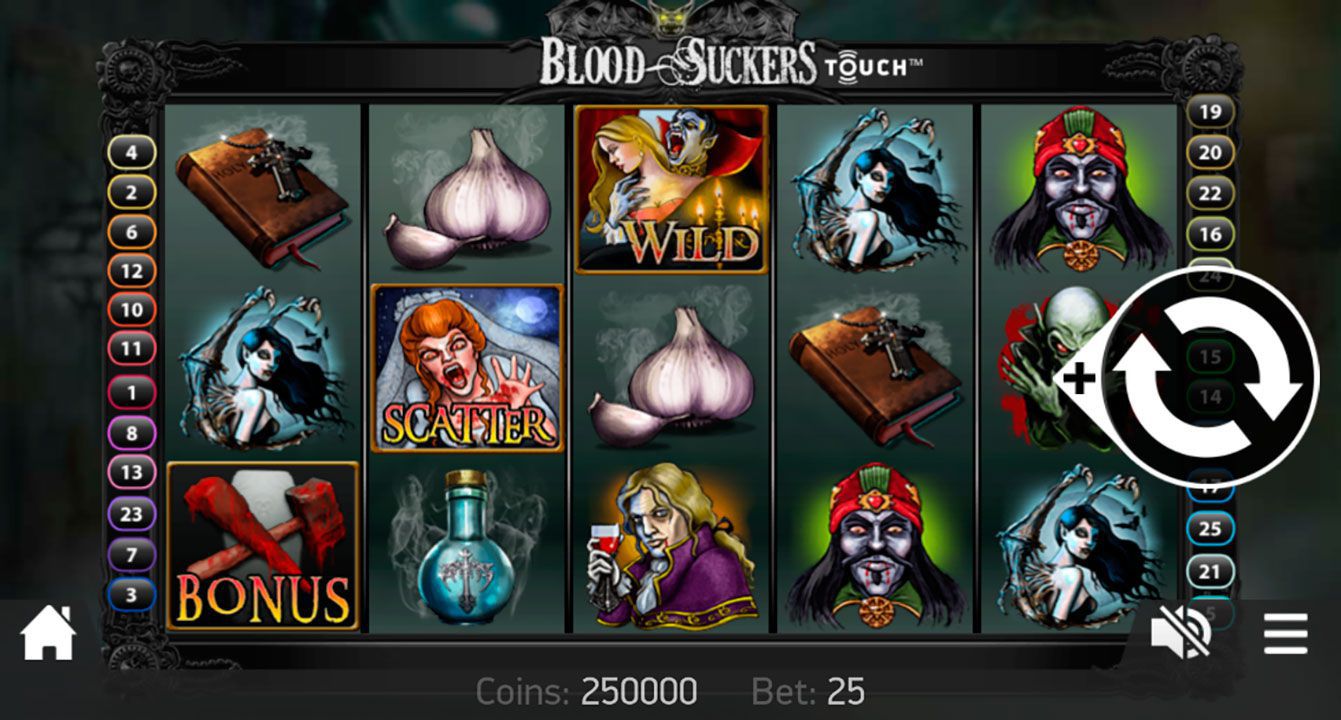 Blood Suckers: symbols' info
The game suppliers were extremely lavish with the symbols' choice: there're 11 (eleven) of them.
Rumors has it, that you should steer clear of Vampires. The only exception are symbols of Blood Suckers video slot - images of red-eyed vampires with lips dripping with blood… these symbols can do bring a lot of pleasant emotions for you in the form of huge wins.
The standard symbol set in Blood Suckers includes not only the iconic Count Dracula, but also symbols featuring portraits of female-vampires, a deadman in the pool of blood, vampire-aristocrat with a glass of blood in his hand - these are the most gainful symbols. At the same time, some symbols contain weapons against these creatures: Bible, Garlic, Holy Water and Crossbow with arrow ready to pierce the scum right in his heart. Weapon symbols are less paying ones.
By the way, paytable and information about each symbol can be found on the control panel, behind the "I" button. Alternatively, you can look it up on our web site below.
There's a separate group of symbols - Bonus, Wild and Scatter symbols. Below we'll give detailed information about them.
Bonus symbol

The Bonus symbols for Blood Sucker slot are bloody wooden stake and hammer against the stone coffin. Individually, they won't give you any wins; however, matching 3 (three) or more Bonus symbols in succession from the leftmost to right direction on the same active bet line will trigger Bonus Game. The details of the Bonus Game can be found below.
Wild Symbol

There's only one Wild Symbol for Blood Suckers video slot - Count Dracula biting his another beautiful female-victim's neck. Wild not only can substitute any other symbols to create winning patterns (apart from Scatter and Bonus symbols), but also create his own combinations. For example, five Wild Symbols landed on each of the reels will reward you with a whopping 7500 coins.
Scatter Symbol

And finally, Scatter Symbol is an image of Vampire bride returned from dead. The symbol of "nice and pretty" maiden in bridal dress can multiply your win by 2, 4, 25 and even 100 times! Combination of 3 (thee), 4 (four) or 5 (five) Scatter symbols will trigger the 10 free spins bonus round. And what's more, during the free spins round all the winnings are tripled.
Scatter symbols are accompanied by musical animation of the vampire-bride trying to attack you. That's really creepy!
Blood Suckers Prizes and Bonuses
The game developers also decided to include bonus games and prize features. All in all, there're two of them: Bonus game and Free Spins. These two features will be highlighted below.
Bonus Game
As we've already mentioned before, 3 (three) or more Bonus Symbols in succession starting from the leftmost reel, trigger bonus game. Tell you straight off, the bonus game is not a fairy tale at all, alas! However, what could you expect from the video slot called "Blood Suckers'?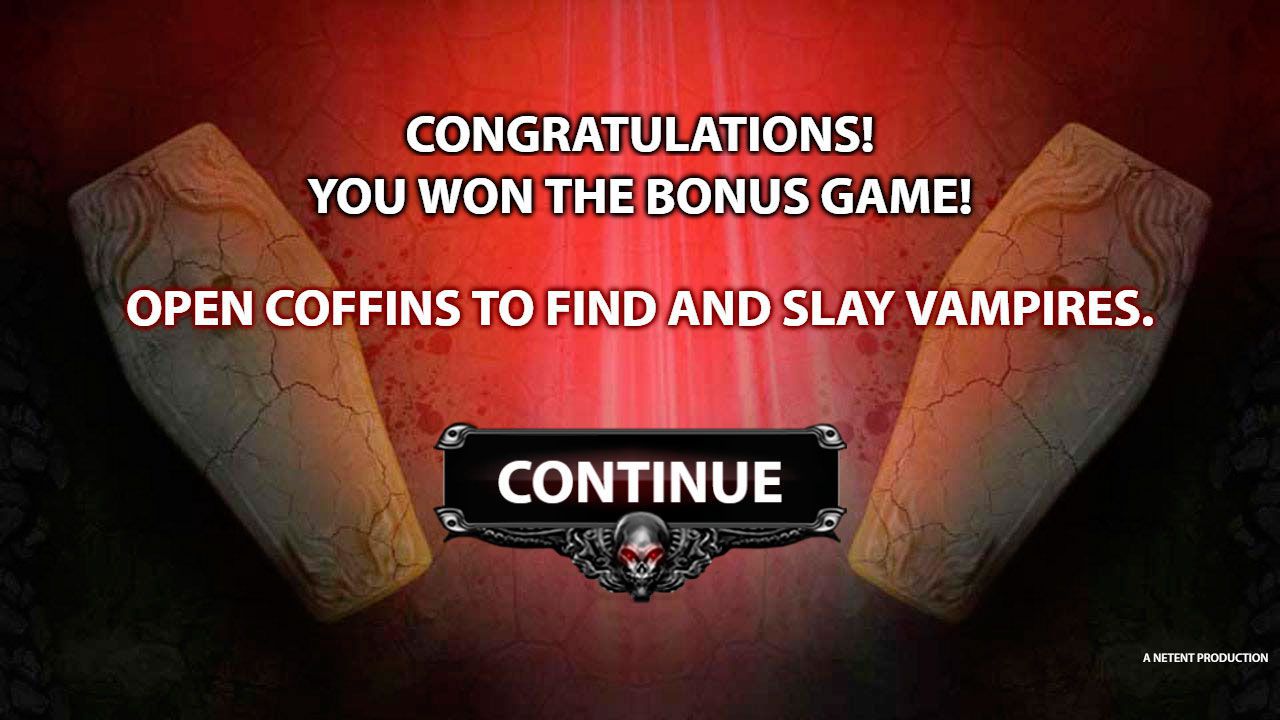 The bonus round will be a sort of a challenging for you, which will definitely tickle your nerves and send shivers up and down. What's more, you can not just become a winner, but a winner with a decent amount of winnings!
The bonus game will take you to the burial chamber of an ancient castle with 12 dreary coffins inside. The ambient sound will correspondingly change and together with other sound effect contribute to the additional adrenalin rush. Your task is to guess, which stone coffins have a sleeping vampire in it, and then pierce his heart with a wooden stake.
Lock and load! It's time to get cash prizes - each vampire slayed will bring you a certain number of coins. The prize for the dead vampire is defined randomly. The game continues until you open all the coffins with vampires or until the coffin you choose contains a flock of bats. Once the Bonus game is over, you'll get back to the main game with all the coins you've earned before.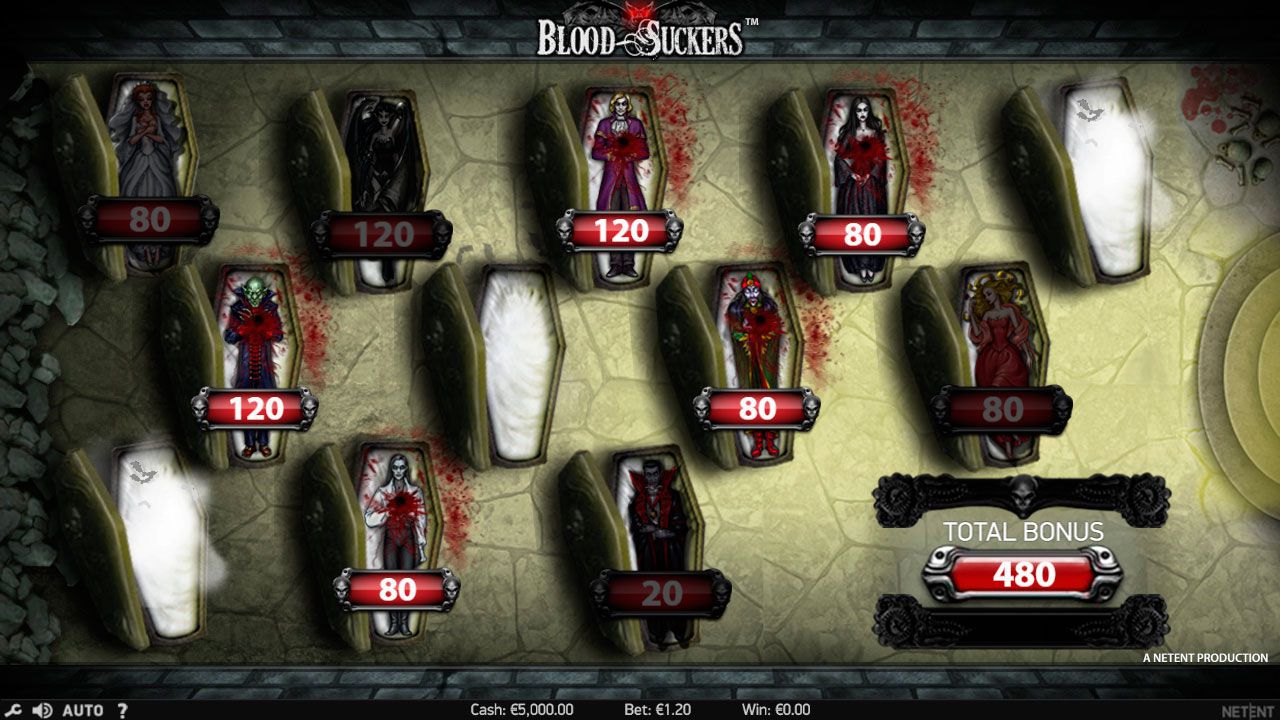 The maximum win in coins for the Bonus Game is 20320.
Free Spins function
Usually, in most video slots by NetEnt Scatter Symbols are committed the major role in the game. Similarly, Scatter Symbols in Blood Sucker video slot - scary blooded brides - can reward players with instant wins plus Free Spins bonus function.
In order to start the 10-free spin bonus round, it needs Scatter Symbols land on any 3 reels out of 5 at the same time.
All the coins, won with the help of Free Spin function are summed and the final winnings triples. The bet value for every bonus spins is similar to the one, you've had in the round that activated Free Spins feature. Moreover, you can win additional bonus spins during the Free Spins round. But please note, that winnings from additional free spins will not be multiplied by an additional multiplier.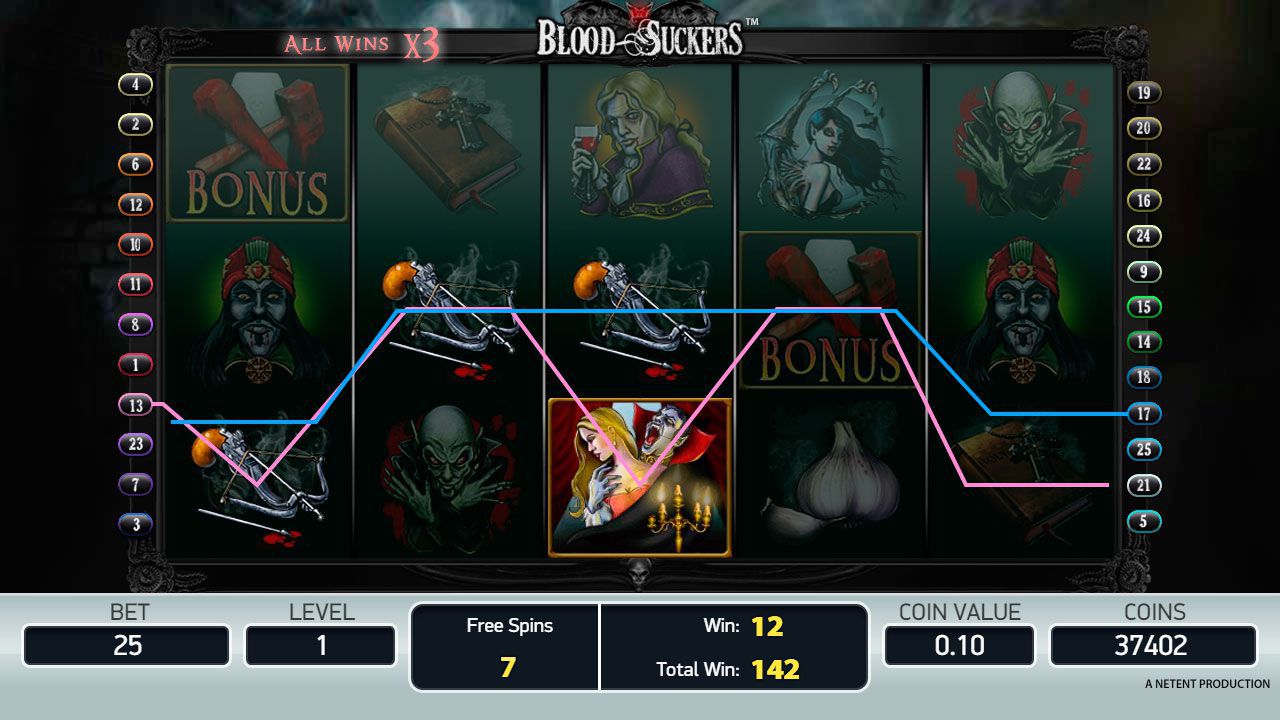 Summary
Horror movie fans and devotees of gothic literature will duly appreciate this amazing slot machine. No doubt, Blood Suckers video slot can be rightly called one of the best games featuring this theme. its gloomy and scary design and interesting idea make the whole game very intriguing and mysterious. You cannot but agree, that escaping your daily routine and immersing into the complete spectrum of emotions, caused by the game itself and by the secretive, weird and bloody Vampire world, - is an excellent idea for "horror" genre fans. If you decide to play Blood Suckers video slot, you'll to destroy the evil, and, what's more, take all its treasures.
Besides colorful and top-quality graphics, the slot machines also has a well-though set of symbols, intriguing bonus game, free spins round and quite high RTP rates. The game interface is also beyond any complaints: everything looks very logical and user-friendly. Moreover, high RTP rate implies on great wins.
By the way, the success of the game resulted in Net Entertainment release of the game sequel on October, 12 2017, - Blood Suckers II.