Available on
Features of the game
| | | |
| --- | --- | --- |
| | Free spins | Yes |
| | Re-spin feature | Yes |
| | Bonus game | Yes |
| | Risk game | No |
| | Scatter symbol | Yes |
| | Wild symbol | Yes |
| | Progressive jackpot | No |
| | Autoplay option | Yes |
| | Cascading reels feature | No |
Butterfly Staxx video slot by NetEnt - review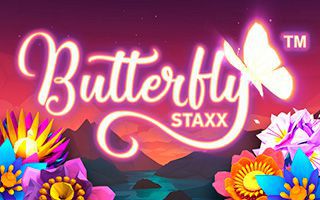 Unfortunately, our world has become full of disappointing and mad-driving incidents. Every single day you get bombarded by news about politics, wars and new diseases. And sometimes you crave to abstract your mind from all this negative and stay in the comforting atmosphere at own with nature and the world around. Mother-nature like nobody else can take us to the totally tranquil state.
It just happened that today many of us don't have a chance to escape into the wild on the first occasion: head for the forest walk or set on a hiking tour. Probably, this is why the very idea of watching dawn against beautiful mountains in the forest meadow sounds very attractive to online casino fans, especially, if they stay in their comfortable armchairs or on their cozy couches. One of the video slots, which gives players such an opportunity, is Butterfly Staxx powered by NetEntertainment. The game was released on June 21, 2017. By the way, this is another Staxx series follow-up by NetEnt. The first video slot of the series, called Neon Staxx, was released on June 21, 2015.
Despite the fact, that online gambling market is a very competitive industry, NetEntertainment company has been dominating this sphere for long. Without a hint of exaggeration, the releases by this Swedish software company are very much anticipated by gambling games fans. First of all, NetEnt games stand out from the multitude of other slot machines online thanks to their innovative and original ideas. Seeming quite ordinary looking, such NetEnt powered video slots like Butterfly Staxx are highly appreciated by players and given highest ratings and comments/feedback. They become big hits thanks to their simplicity and discreetness, not to mention nice graphics and user-friendly gameplay.
The official Butterfly Staxx trailer by NetEnt
The central concept of video slot
As you've might already guessed from the title of the game, the main characters of Butterfly Staxx video slot are beautiful butterflies. These magnificent creatures will not only "hover" through the gaming process, but help users to make winning combination and get solid winnings. Not only butterflies form winning combinations in Butterfly Staxx video slot, but exotic flowers and deck symbols as well. The game field is strewn with flowers and butterflies, so apart from aesthetic pleasure, you'll be guaranteed huge success!
The main idea of the bonus game is the concept of the transformation: humble, unimpressive caterpillars turn into gorgeous butterflies, which are rightly considered one of the most beautiful creatures on the earth. Only mother-nature can master the magic of transformation.
The slot machine is not considered super impressive in terms of bonus games or fascinating visual effects. But is it really necessary for a slot machine full of harmony with mother-nature? Of course, this is all odd for such a game, and NetEnt developers understood that clearly. As the result, we're offered a video slot, which unlike many other games, is a genuine inner peace and tranquility. At the same time, Butterfly Staxx retains the same gambling passion, as other video slots do, despite its calming atmosphere.
The main features of Butterfly Staxx slot machine by NetEnt
If speaking about technical characteristics, Butterfly Staxx is a 5 (five) reel, 4 (four) row, 40 (forty) bet line (fixed) video slot.
Additionally, Butterfly Staxx features Wild substitutions, Re-spins and Butterfly Spins.
Players have a choice of 10 bet levels (each payment line allows bets from 1 to 10 coins) and 7 coin values (from 0,01 to 2). Thanks to a vast range of bets, the video slot will perfectly match the tastes of new players as well as high rollers.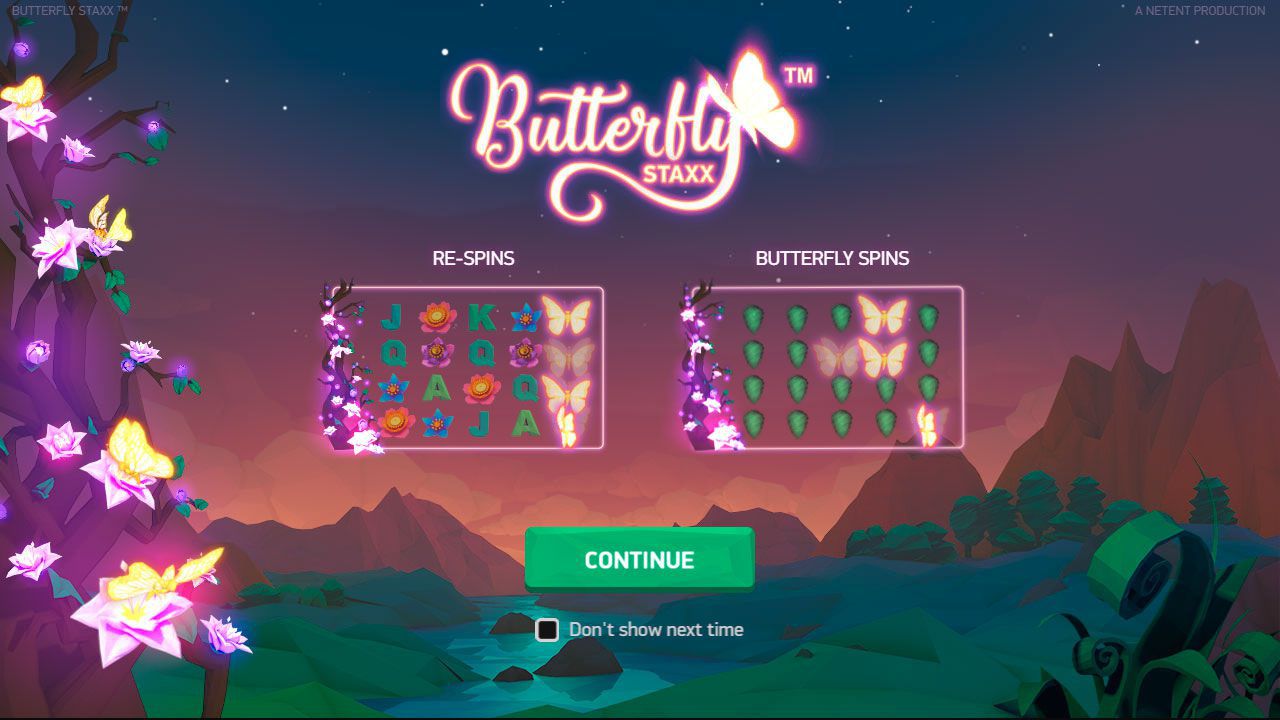 Winning combinations can be formed from 3 adjacent symbols (or 2 symbols with butterflies) on each of 40 payment lines. All the combinations are formed from leftmost to rightmost directions only. Bet line wins pay if in succession from the leftmost reel. Only the highest win per bet line is paid and simultaneous wins on different bet lines are added. The maximum win per one round can exceed the bet 600 times.
Those, who pay attention to RTP rate when choosing suitable video slot online, should remember, that the Return-To-Player rate for this game is 96,8%, which is a little but less than the same series video slot can offer - Neon Staxx with 96,9%.
Butterfly Staxx video slot: play for free
All players are given a unique opportunity to immerse into the sacred landscape and watch beautiful butterflies hovering without making any deposits or need to register an account either on our web site or on the web sites of gambling operators. So-called demo-versions of slot machines will help you in the following cases:
If you aren't yet ready to play for real money, but are very interested in the gaming process;
If you first wish to test the functionality of the game and its bonus features, before actually making a deposit;
If you wish first to elaborate your own strategy of bets before playing for real money.
You don't need to worry about your virtual coins balance; even if you run out of play money, you'll get new once by only refreshing the page (sometimes you also need to clear cache and cookies). Of course, such game won't increase your real money bankroll, but will help you to kill some time admiring the fascinating design and eye-catching animation of slot machine without risking to go into the red.
As you know, online casino industry is a very competitive sphere and thus many gambling facilities on the Internet offer their newly attracted players different bonus offers so that many gambling games fans have a chance to choose something suitable for them. The most popular promotions over the Internet gambling web sites are no deposit casino bonuses of course. Thanks to these rewards players can get no deposit free spins of free real money on their account simply for registration.
The design of Butterfly Staxx slot online
The aesthetic aspect of Butterfly Staxx video slot reminds Fairytale Legends: Red Riding Hood very much along with its sequel Fairytale Legends: Hansel and Gretel. However, as we've already mentioned before, this slot is the successor of Neon Staxx.
The design of Butterfly Staxx video slot gives the feeling that everything on the screen is real. Having launched the game, you'll be amazed with its high quality and magic atmosphere. This is thanks in no small part to animation effects and background.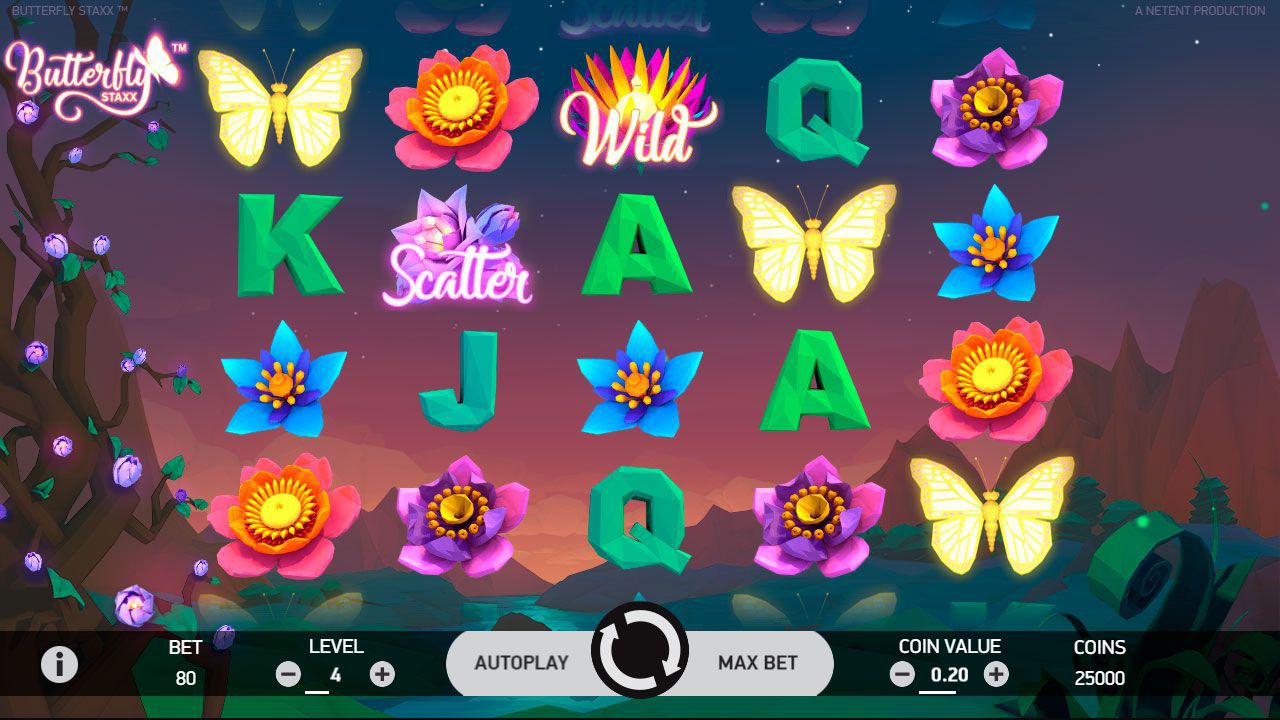 During gameplay, users will be set against the beautiful landscape, which features everything nature enthusiasts will please their eye with. A mountain group in the background, shining under the streams of light of the setting sun; a flashy steam with the crystal-clear emerald water; a grassy glade full of soft green grass and bushes, which have just had first leaves popped out. And the cherry on the top of this green richness are gorgeous flowers. As far as fauna is concerned, the only creatures perceptible to the eye are butterflies - the timeless symbol of freedom and beauty. Flowers and butterflies will be responsible for making the most winning combinations during the whole gaming process. Along the game you'll see a horde of gold butterflies hovering from one reel to another and flowers blossoming on the tree in the left-side of the screen.
If you don't stick to the gaming process solely, you'll notice a number of interesting details: from time to time the screen will highlighted with phantom beam resembling a glowing band of stars. Looks very fascinating.
And of course, we couldn't dismiss the background sound of this aesthetic galore. From the very beginning you'll hear pleasant and meditative music, which ideally fits the gaming process.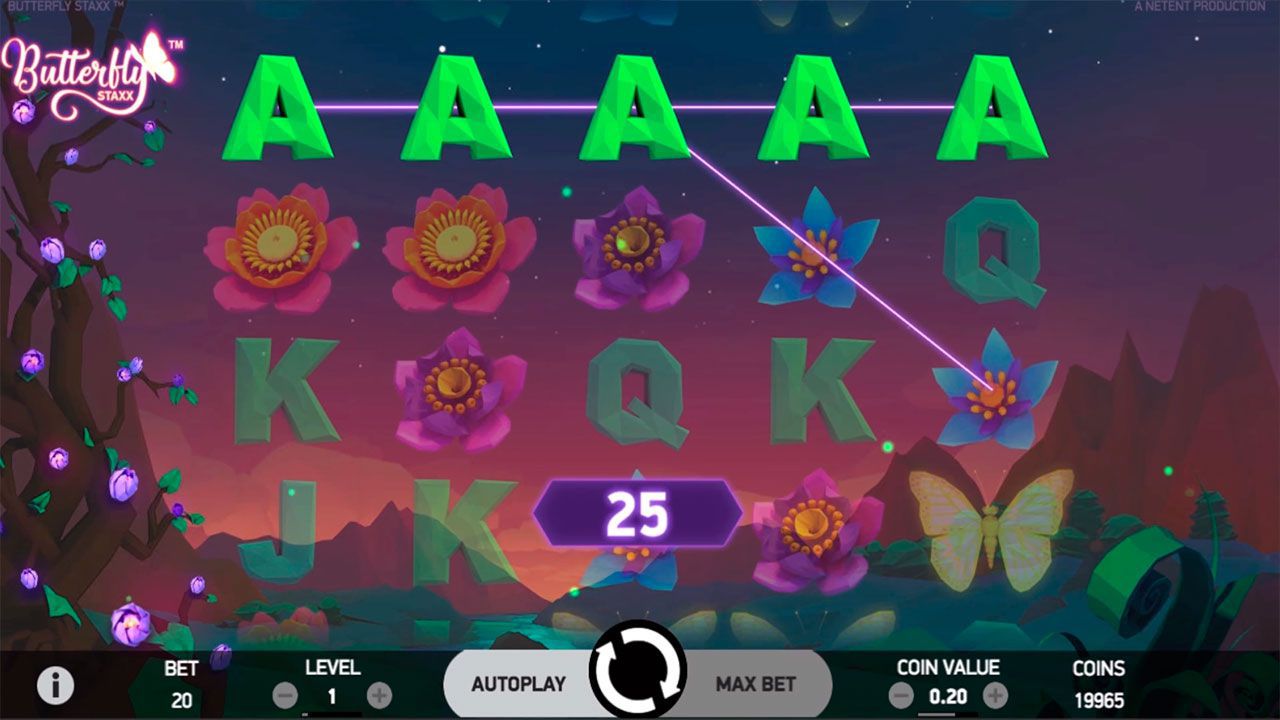 Control panel
The control panel ideally blend into the natural landscape of the slot design. The tool bar is similar to any other video slot by NetEnt. In general, it's very simple, so you'll intuitively find all the functions you need. The standard set of buttons consists of Spin button, Max Bet option, Auto Play, Bet level (the number of coins per line) and Coin Value.
By clicking "I" button, you'll open information panel with prize functions, symbol payout values and winning bet lines.

In the setting panel, you'll be able to activate/disable intro screen, sound effects, "quick spin" to accelerate the game, spacebar to spin function; set Auto Play parameters and study the game rules.
Butterfly Staxx mobile version
If you don't know exactly, what mobile game versions are meant for, then you've probably haven't yet experienced all the advantages of real money or free game on mobile devices. Mobile gadgets have already become an integral part of our lives: with their help, time you spend on your way elsewhere or waiting for something (providing you're not driving a car) becomes much more interesting and entertaining. As far as games adapted for touchscreens (they are available in mobile casinos) are concerned, this industry becomes one of the priority directions for gambling software developers. NetEnt company has done tremendous success with its NetEnt Touch platform. Mobile versions of video slots powered by NetEnt have been highly appreciated by users.
Butterfly Staxx mobile version together with its desktop version is beyond any complaints. Everything is completed at top-level possible. The mobile version users will be amazed by the fact, that it's completely similar to the desktop version, with the only difference: the control panel is slightly adapted for touchscreens with some of buttons moved to the menu and the others to the center of the screen (to make the gaming process on mobile gadgets easier). All the functions along with game peculiarities have been retained to the fullest extent.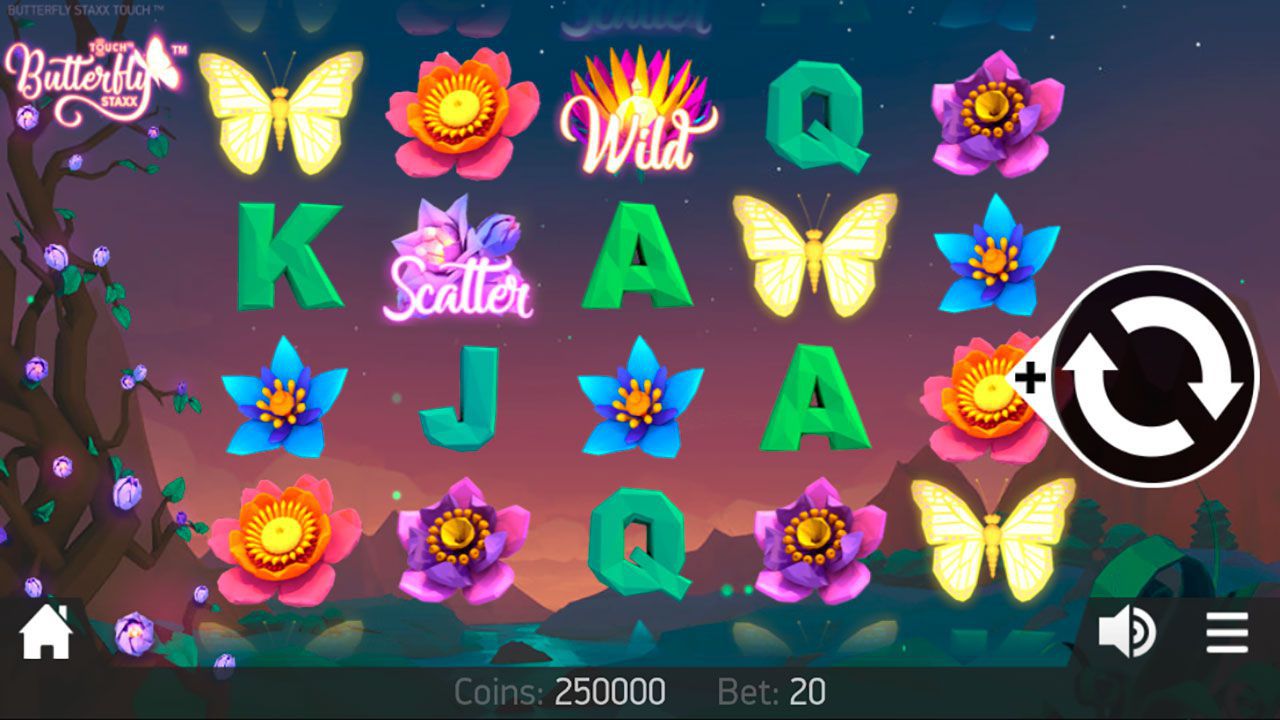 Symbols at Butterfly Staxx online slot
Symbols are something we cannot imagine any video slot without. They form winning bet lines and decide on the frequency and the size of winnings.
Butterfly Staxx video slot features 10 types of symbols, including special ones. They're all animated: once a winning spin lands on the reels, they get hit with exotic illumination.
Main symbols
Let's start from the main (basic) symbols. Like in many other video slots by different software developers, the main symbols are designed in the form of habitual cards from Jack to Ace. Up to 40 coins for one combination on the same reel can bring images of flowers - blue purple or pink. And the most profitable winning bet line can be formed from Butterfly symbols plus this symbols is responsible for triggering of the "Re-spins" function.
By pressing "Info" button in the video slot you can get information about the win sizes for each combination. Alternatively, you can find out this information at the very bottom of this review.
Special symbols
So-called special symbols in the main game are represented by Wild and Scatter symbols. Each of them have their own special features, which will be described below.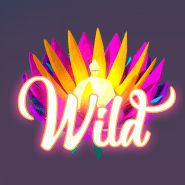 Wild Symbol
Wild Symbols in Butterfly Staxx video slot have standard substitution functions and can substitute for any symbol accept for Scatter symbols to form more potential winning combinations on each bet line. It's very easy to distinguish this symbol from the others: the multi-colored flower with the glowing "Wild" stone hidden within its petals.
Wild symbols can appear on any of 5 reels even during Re-Spins function.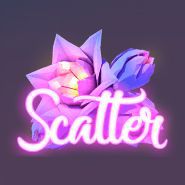 Scatter symbol
Another special symbol in Butterfly Staxx video slot is Scatter symbol. You can distinguish it by its lavender petals and the word "Scatter" in the foreground. Three or more scatter symbols on any of five reels will activate "Butterfly Spins" feature. More details about this function can be found in the next section.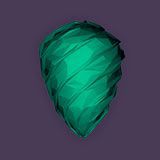 Cocoon symbol
This symbol will appear in Butterfly Spins function only. Cocoon symbols are divided into active and dormant.
Bonus games at Butterfly Staxx slot machine
Such magic atmosphere as Butterfly Staxx creates, just cannot go without really fascinating bonus features. And special credits should be given to game developers: they were generous with vivid special effects and excellent bonus options.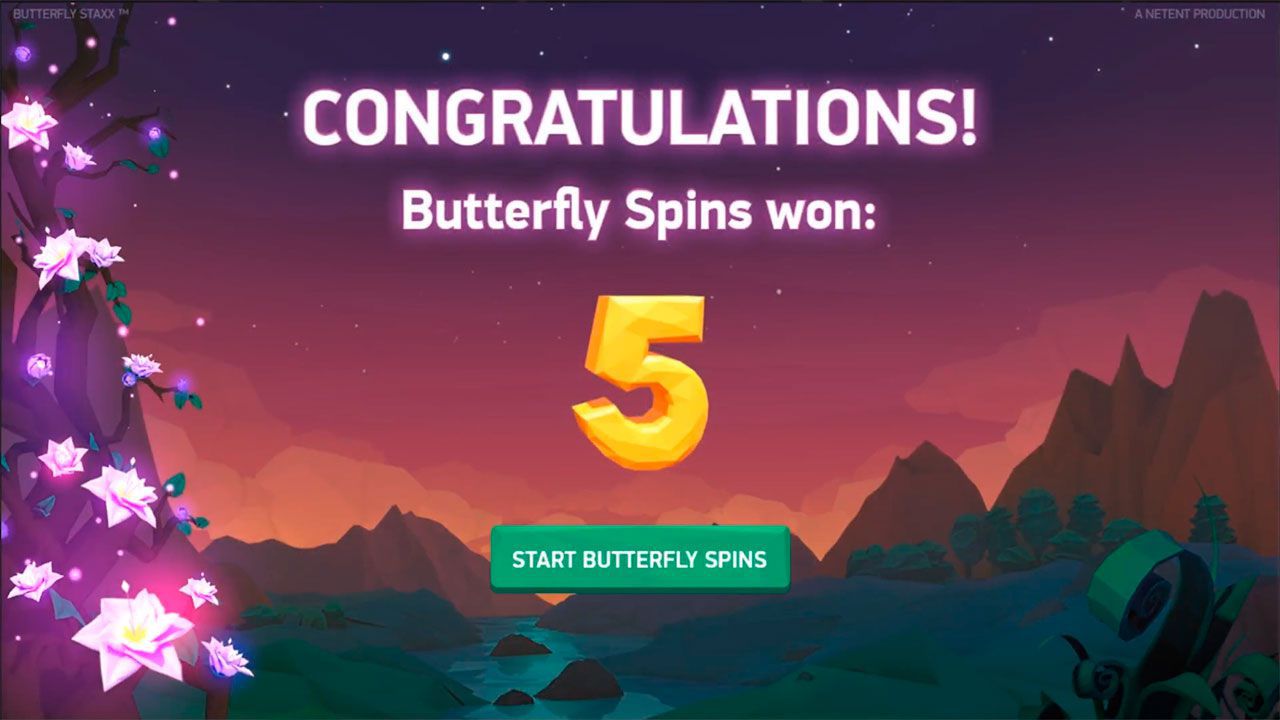 All the magic begins from the moment when two Scatter Symbols land on the reels: the ambient sound changes, which means that you need at least one Scatter symbol to activate bonus round. When the symbol eventually lands on the reel, you'll be taken to the bonus game called Butterfly Spins. You'll be witnessing one of the most eye-catching nature wonders - birth of a butterfly.
3 (three) Scatter symbols on the reels will trigger 5 (five) free spins;
4 (four) Scatter symbols on the reels will trigger 6 (six) free spins;
If each reel will be covered with one Scatter symbols, player will get 7 (seven) free spins.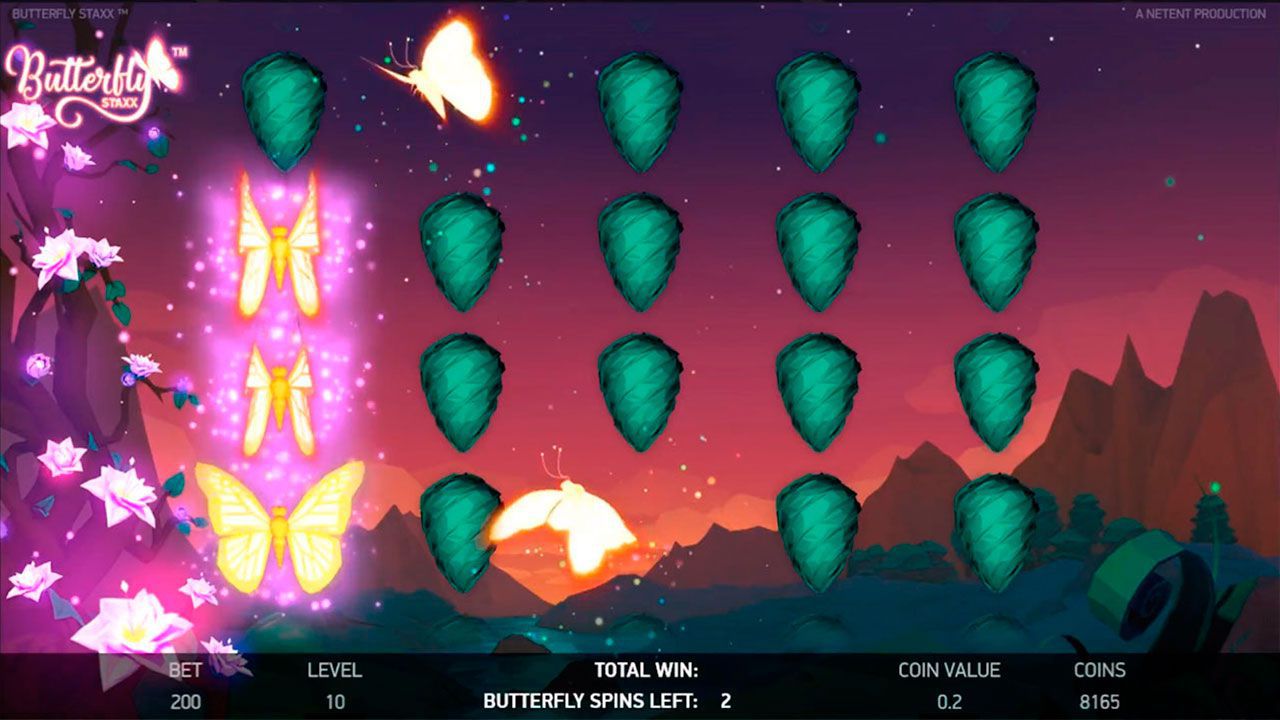 The game field in the bonus round will be covered will cocoons only. Some of them will have distinct illumination - these cocoons are future butterflies, awaiting to reveal their beauty and reward players with huge wins. Those butterflies, which came free from their membranes, will be taken to the leftmost free reel and stay there until the bonus feature is over. Thus, butterflies form winning combinations.
Once the series of free spins round is over, all the winnings are added and the total sum appears on your screen. Butterfly spins are played at the same bet level and coin value as the round that activated bonus feature.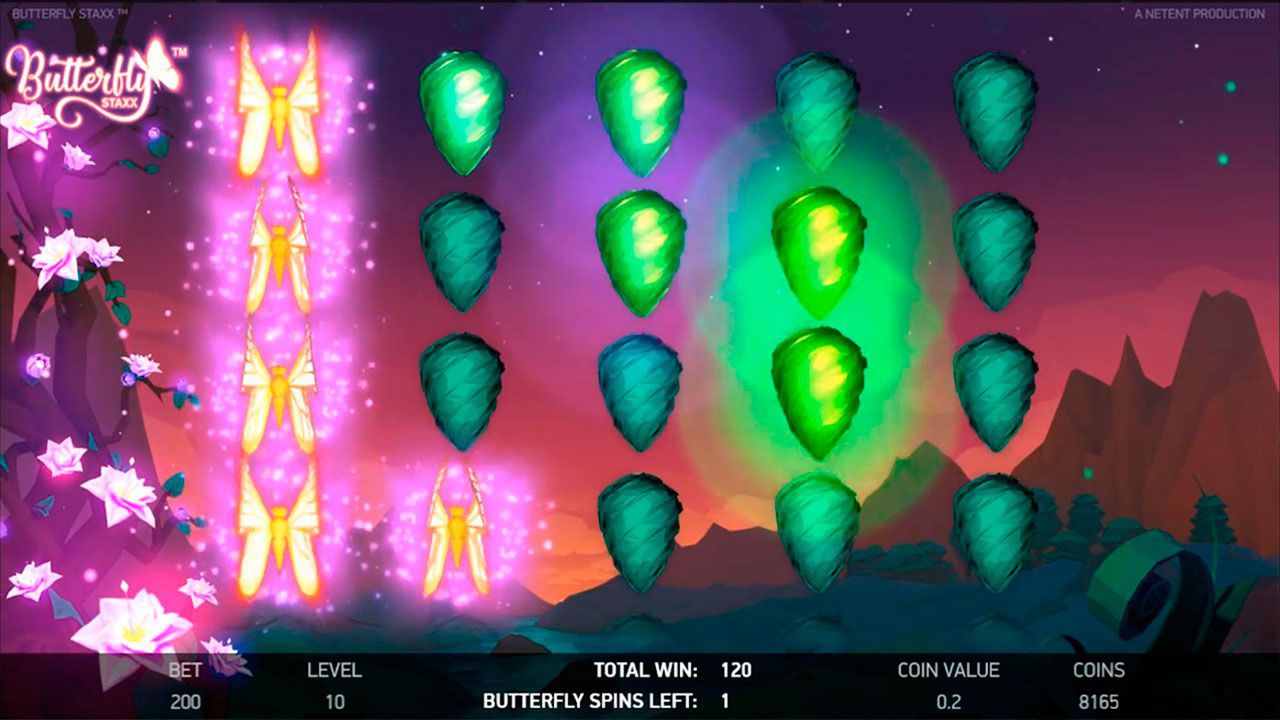 Extra prize features at Butterfly Staxx
Another special feature of Butterfly Staxx video slot is Re-Spins function. It is launched automatically, whenever a stack of butterflies lands covering the entire reel. These butterflies immediately fly to the leftmost position and trigger additional spins. If another butterfly symbol lands on the reels, you'll get a reward, and the symbols flies to the leftmost position not occupied by any symbols. The Re-spin function goes on until there are no new Butterfly symbols or until the game field is completely covered with these symbols.
Note, that Butterfly Spins and Re-Spins cannot be activated simultaneously.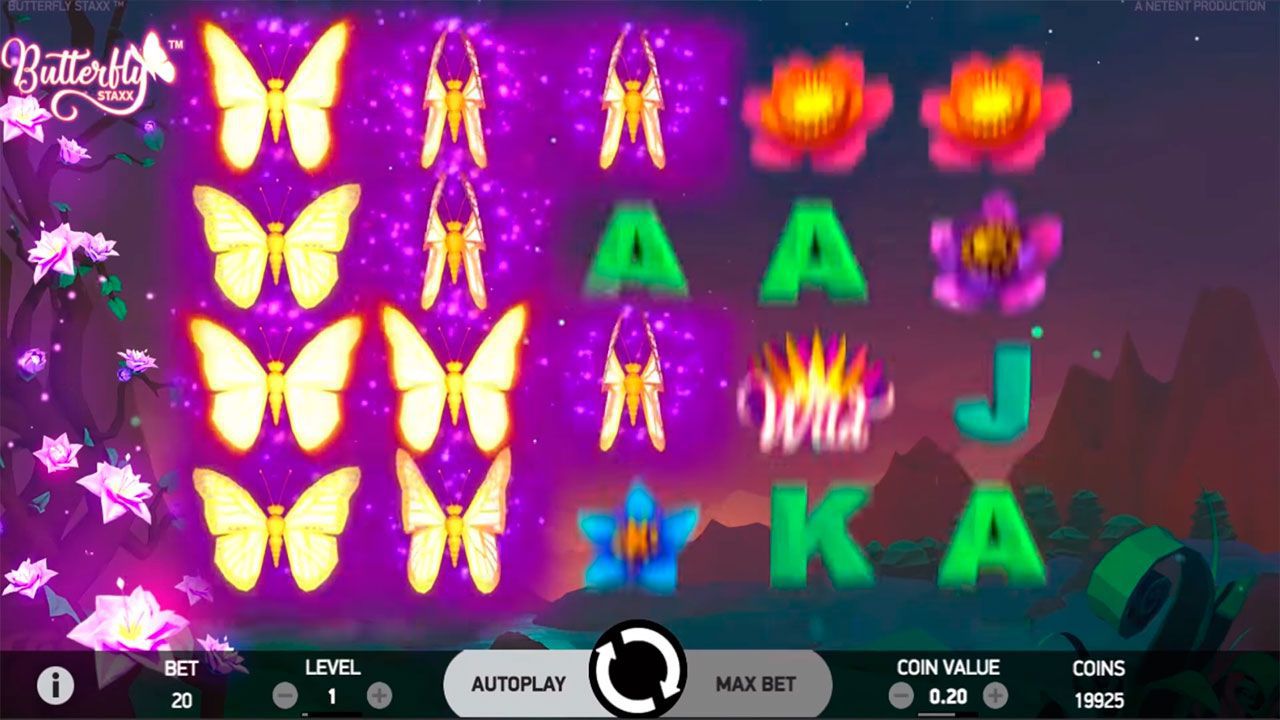 Conclusion
If you're fond of nature, peace and harmony, Buterfly Staxx video slot will definitely give you the feeling of tranquility and catch your fancy. At all times, it used to be said "everything of genius is simple" and this is a great description for this video slot. Humble prize functions are more than outweighed by top-notch graphics, sound effects and magic animation. And bonus features (Re-spins and Butterfly Spins) overwhelm players with prizes and turn the gaming process into an extremely entertaining activity. Thanks to all these features, you'll have the feeling of complete harmony with mother-nature during the whole gaming process.
Butterfly Staxx video slot by NetEnt can be played both for real money or for free right now on one of the proven casino web sites from the list below.