Available on
Features of the game
| | | |
| --- | --- | --- |
| | Free spins | Yes |
| | Re-spin feature | No |
| | Bonus game | No |
| | Risk game | No |
| | Scatter symbol | Yes |
| | Wild symbol | Yes |
| | Progressive jackpot | No |
| | Autoplay option | Yes |
| | Cascading reels feature | No |
Dead or Alive video slot by NetEnt - review
Mid-nineteenth-century - early-twentieth century America embodies the zeitgeist of adventurism multiplied by the greed for grain by any and all means. The term "Wild West" has engrained in people's mind so firmly that the topic of the opening of American West by colonists became dominant in all the conversations. This period of American history will be centuries and centuries associated with unbelievable adventures, brave gold hunters, bloodthirsty Indians, freedom-loving cowboys, rigid sheriffs and, of course, mad-driven bandits. Many adventure books, western blockbusters are dedicated to the "Wild West" theme… It's completely safe to say that each of us is familiar to the "Wild West" theme to a certain extent thanks to books and movies and can imagine the atmosphere prevailing in every small town in Texas of that time. In order to imagine that, you simply need to recall the image of the brave 'bounty hunter' Clinst Eastwood in one of the 60s movies, which has already entered the classic chart of the world moviemaking industry.
Despite the fact, that «western» genre movies overcame their peak of popularity several decades ago - several decades, to be precise, the "Wild West" theme attracts a lot of attention even today. This is confirmed by the latest movie and computer games' releases where the action takes place in the Western States of the time. Of course, NetEntertainment - famous Swedish gambling software developer - could not ignore this thrilling and well-known the spirit of "Wild West", and so the company released a themed video slot entitled Dead or Alive in 2009. At that time this video slot was equipped with the latest features and technologies; however, due to high popularity of the game, developers from NetEnt decided to make some updates, so even today, in 2018, the game has not lost its relevance. Quite the opposite, Dead or Alive video slot has become one of the most popular among high volatility games by NetEnt. Most of the biggest wins, published on gambling forums, are won on the following video slot. If speaking about popularity among gambling games funs, this title can be well compared to such monsters, as Starburst, Victorious, Koi Princess or Space Wars.
Starting from the loading of the video slot, the player is taken to one of the trouble-some Wild West towns. Together with local sheriff, he'll be chasing the most notorious bandits from all over the state. The storyline of Dead or Alive implies, that there're 5 bandits in the game; throughout your journey you'll run into the newspapers articles with the photos entitled "Wanted". Each dangerous bandit, no matter, whether caught dead or alive, will reward lion-hearts with a fair amount of money. The game features everything, which is associated with Wild West: alcohol, guns, sheriff and of course, integral attributes of any cowboy - his hat and texans.
The official Dead or Alive trailer
Of course, all the stories about the cowboys of Wild West are inextricably bound up with risky ventures. These guys often had to risk their own lives (even the title of the video slot drops a board hint about their dangerous adventures). But can a really passionate player like you be scared away by this fact? Of course, not. So be ready to face on of the most challenging and fascinating adventures in your life! So, if you're fond of westerns and appreciate brave and wild cowboys, then slot game with a bold title Dead or Alive will definitely satisfy your needs and reward you with a whole bunch of pleasant impressions, and, what's more, (of course, providing that you're lucky enough) will sufficiently increase your balance/bankroll.
Dead or Alive video slot - main features
You can join reckless cowboys and offend against the Wild West laws with the help of the game field, which consists of 5 (five) reels, 3 (three) rows and 9 (nine) paylines.
Each bet per one spin can be adjusted with the help of two parameters: Bet Level - the number of coins per each spin - and Coin Value. Thus, the bet range per each spin varies from 1 (one) cent to 18 (eighteen) dollars.
Bet line wins pay if in succession from leftmost reel to rightmost reel. You need minimum three base symbols (or two Scatter symbols) to form a winning combination. Only the highest win per active payline is paid in case there're several. The maximum possible win equals to 54 000 coins and can be achieved during free spins round.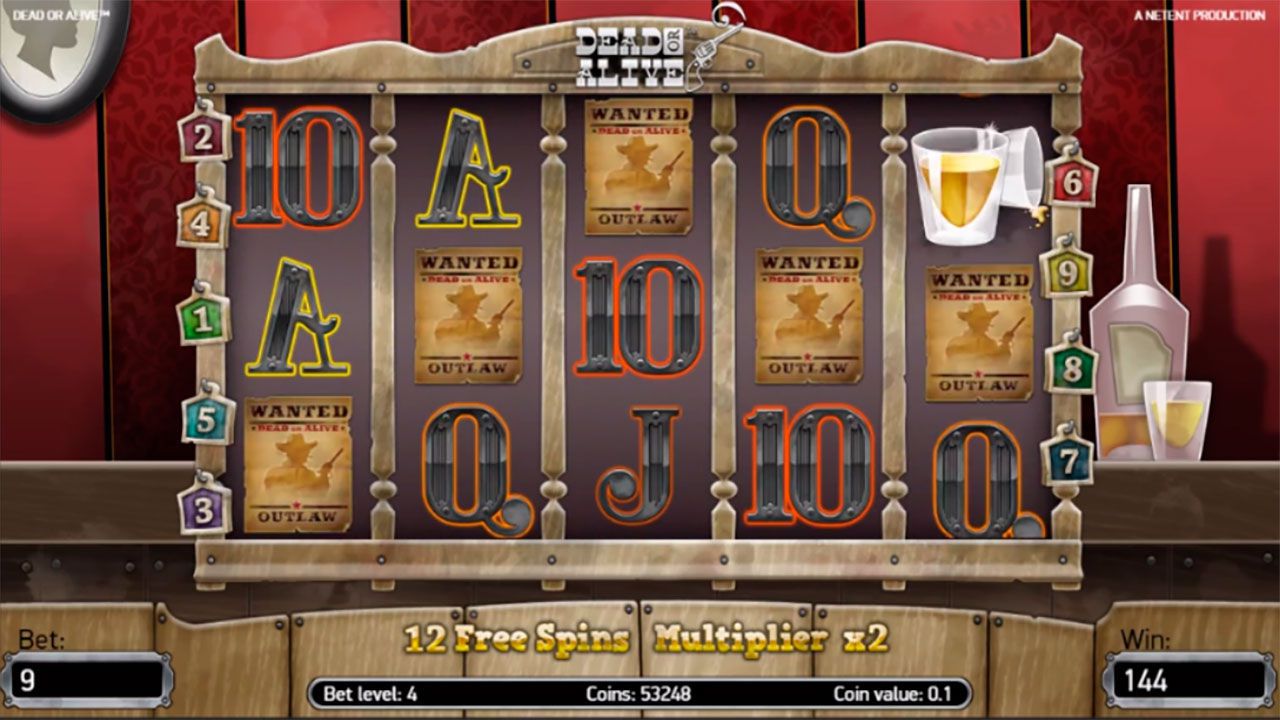 Theoretical Return-To-Player rate, according to official rules of the video slot, is 96,8%. The probability of getting any win after each spin are 30,4%
Dead or Alive video slot - play for free
Western genre fans have a chance to launch Dead or Alive video slot and return 150 years back to one of the Wild West states without even risking their money. You simply need to launch the demo-version of Dead or Alive video slot and play for virtual money (coins) until you get bored. The demo-version can not only introduce you with the graphic and visual effects, but also give some time to elaborate your own most efficient betting strategy.
After the loading of the demo-version, you'll find some play money coins on your balance. Even if you lose them all, you won't definitely regret it, as these are play money solely. At the same time, huge wins won't bring you great joy either. Finding and launching Dead or Alive demo-version is very easy: on the top of the page you'll see the icon "Play for Free". After clicking it, you'll be able to enjoy the gaming process with no need to register or download an application.
Those players, who are "fed up" with the demo mode and wish to try the game for real money, but still have no opportunity to make a deposit, will rejoice: some online casinos are ready to give you a unique chance to benefit from no deposit bonus offers. The following link will give you access to all sort of no deposit offers for Dead or Alive video slot, and thus you can still enjoy the gaming process in real money mode without any worries about your bankroll.
Dead or Alive video slot - the design
NetEnt specialists are the big brain behind the success of Dead or Alive video slot - they did great job to make the whole gaming process very close to reality and graphically superb.
The design of the following game completely fits the spirit and atmosphere of Western America of those times. The scene can be well compared to the Hollywood western movie: the wooden saloon gates will reveal the great outdoors of the West American landscape against the approaching storm and gloomy sky, which seems quite unfriendly because of the dark clouds and flashing lightning. You never know, what's hiding behind the hills a little way away: wealthy gold-mines or violent Indians' tribe waiting for their new prey in ambush to get its scalp. Staggering lanterns and rotating metal watermill will make the game scene even more alive and realistic, so that you could involuntarily feel the wind blowing from the hostile hollow.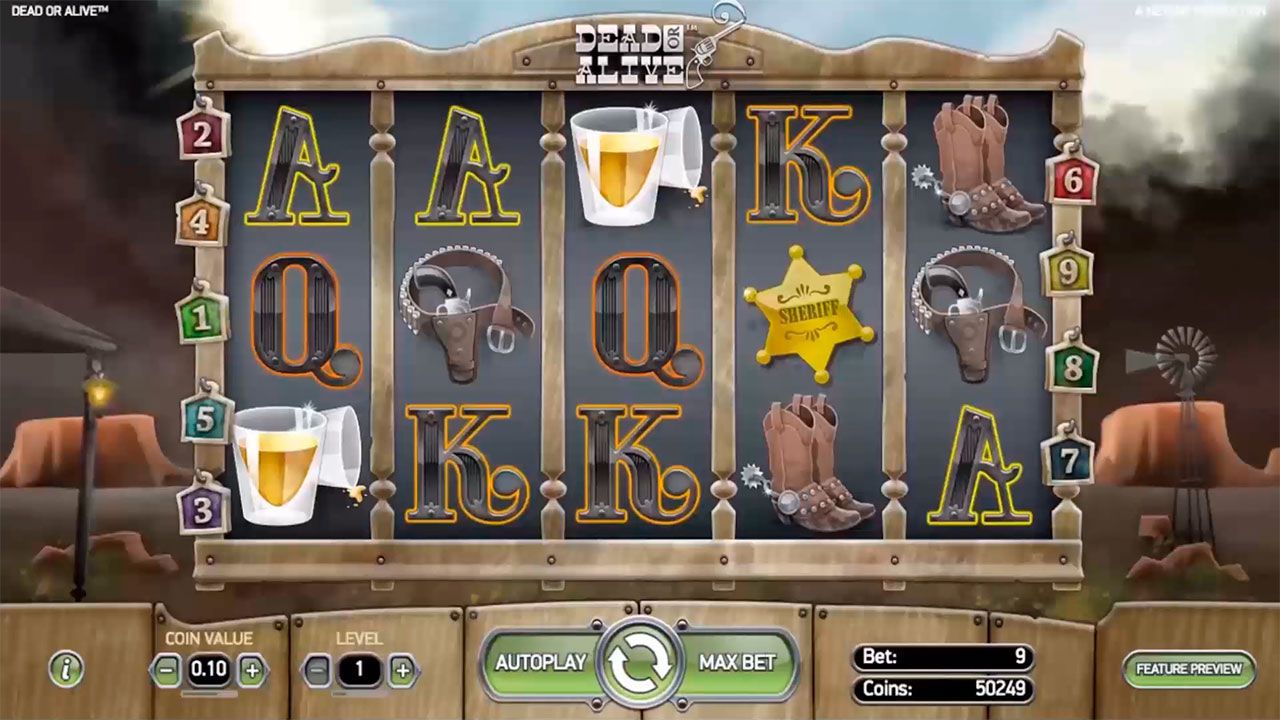 Very special credits should definitely be given to the sound effects of the game. The complete absence of any music makes you keep eyes skinned, heed warning signs and every rustle around… You'll feel strong desire to unholster your gun and load it, just in case - you never know, who is waiting at the entrance to the bar; maybe, you'll run into the bandits, who's photos are spread out round the entire town… As you've already guessed, the sound of the loading gun will coincide with each spin. In the background you'll hear the sounds, which will give you an adrenaline rush and sense of real danger. The creaking of the wooden gate behind you and the baying of dogs will give you a hint: badmen are on their way to you and there's no way you can escape the collision. All these sounds will be accompanied by strong wind blowing, lightning cracking, ravens croaking and vultures shrilly chirping. More to that, each time you press any button, you'll hear a loud blow of the whip. You cannot but agree, that such tense atmosphere can confuse even experienced players. But you're no coward, aren't you?
Control panel
The control panel in Dead or Alive video slot enables players to adjust every parameter or option thanks to the multitude of corresponding buttons. Just as in every NetEnt product, the control panel is very user-friendly, so even new players will easily master all the tools to make their game maximum comfortable.
The control panel in the bottom of the screen will help you to adjust your bet size, Auto Play mode, the number of active paylines and also keep track of your wins. There's another panel in the left-hand bottom corner, to customize the sound, spins and also give you information about the rules of the game.
"Info" button will help you to learn and understand all the cobwebs of the rules, symbols and their features and also provide the paytable. «Feature preview button will show you how the most beneficial winning combinations in the Free Spins round form.

Dead or Alive mobile version
It took the whole gambling industry quite long before gambling software suppliers could provide a worthy alternative to desktop (computer) video slots versions. This was a very uncomfortable time for online gamblers: they basically had to stick to their PCs and laptops, while they were playing their favorite gambling games. NetEnt developer realized the whole problem very clearly and thus they decided to launch mobile versions of their titles. Throughout over the course of many years, NetEnt has been releasing games under the NetEnt Touch brand/platform.
Thanks to the latest and the most cutting-edge technologies, the game on mobile devices has become maximum convenient and user-friendly and sometimes mobile versions of slot machines for smartphones and tablets are in no way inferior to the desktop analogues. So now, providing that you have Internet connection and charged enough battery on mobile device, you can enjoy your favorite games while on business trip/vacation or simply while waiting elsewhere.
Despite the fact, that initially Dead or Alive video slot had been released long before NetEnt Touch platform appeared, the growing population of the game among mobile casinos users made Swedish developers update their product and adjust it for mobile platforms.
Dead or Alive video slot mobile version is functionally identical to its desktop analogue; however, the control panel has been changed a little bit. The Spin Button and Auto Play button have been transferred to the main screen along with the quick spin option. All the other tools like Bet and Auto Play parameters, paytable and game rules can be found in the main menu. In general, the gameplay, graphic effects and animation in the mobile version are beyond any complaints.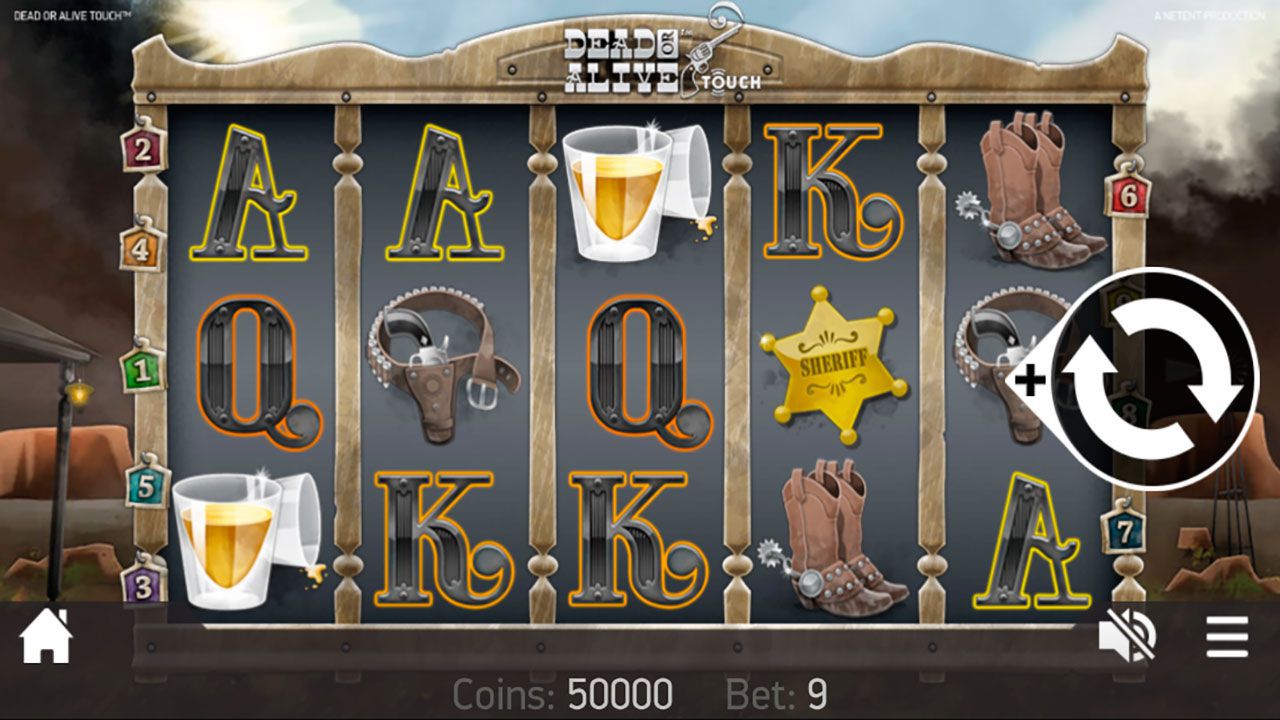 Dead or Alive video slot - the collection of symbols
If you really want to get evil bandits hooked on and get all their stolen money, you'll have to call on the auxiliary attributes of 'bounty hunter', which are presented in the set of symbols of the video slot.
You guessed it, Wild West was full of risky and adventurous people: danger was their secondary name, while playing cards and dice were their usual hobby and leisure activity. These elements have been integrated to NetEnt famous video slot. These are low-paid symbols - thematically and originally designed cards from Ten to Ace. For example, the combination of five Aces on the same line will award you 100 coins per spin.
In addition, there're symbols featuring authentic items of those times: two glasses of whisky, which will help you to start up a conversation with bartender and get some information about bandits; the sheriff's badge, boots with spurs, cowboy hats and gun belt with a revolver and bullets - integral attributes of any cowboy.
The sheriff's badge symbols is the highest paid symbol in the game; the combination made of 5 Sheriff symbols on the same payline will award you 1000 coins.
Apart from base symbols, you can also find Special Symbols in the game, like Wild and Scatter.
Wild Symbols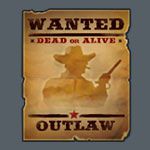 Can you imagine a video slot dedicated to Wild West without any Wild Symbols? Of course, it is impossible. The following symbol is designed as an "outlaw" poster and can substitute for other symbols (if required of course) to complete the potential winning combination on one of the active bet lines. Moreover, Wild symbols can form their own combinations. In this case they will be paid at the highest possible value.
Apart from traditional Wild Symbols, there're so-called Sticky Wilds found in the Free Spins bonus round only. The gist of these Sticky Wilds will hold their positions on the reels to help you form winning combinations, until the bonus round is over. Sticky Wilds look the same like traditional Wild symbols - "outlaw" posters on five dangerous criminals. During Free Spins, one or more Sticky Wild symbols landed on all the reels only activate round with 5 additional re-triggered Free Spins.

Scatter Symbol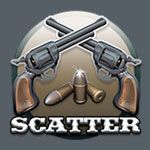 Scatter symbols can be easily recognized by two crossed guns with a "Scatter" sign in front of them. 3 or more Scatter symbols appearing anywhere on the reels will activate the bonus round with 12 Free Spins. 2 or more Scatter Symbols on the game field will multiply your wins according to the paytable. Thus, two Scatter symbols will result in x2 multiplier, 3 Scatter symbols - x4, 4 Scatter Symbols - x25, and if Scatter symbols cover each reel, your bet will be multiplied by x2500.
Bonus features
What is the thing that online casino players love most about the game? Of course, bonus rounds and bonus features, especially if they're quite unique and original. Dead or Alive video slot will become your favorite game, at least because it has quite extraordinary bonus game with free spins.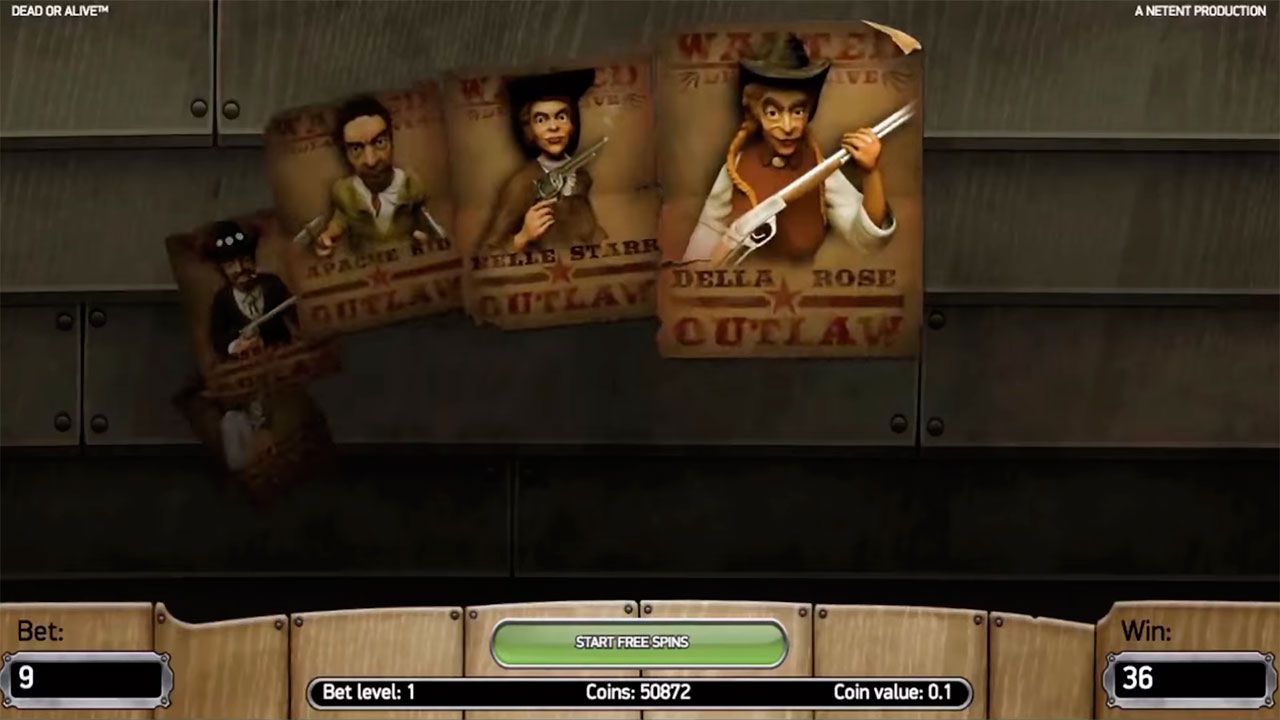 Free Spins bonus game
3 Scatter symbols on the reeland will activate the bonus game, which will reward players with 12 Free Spins. Your main goal in the bonus game is to collect the more Sticky Wild Symbols on each reel. If you manage to get extra Sticky Wilds during Free Spins, you'll get 5 more Free Spins with remaining Sticky Wilds. Re-triggered Free Spins will keep the Sticky Wild symbols on their positions and basically turn them into ordinary Wild Symbols (which substitute for other symbols to create winning combinations).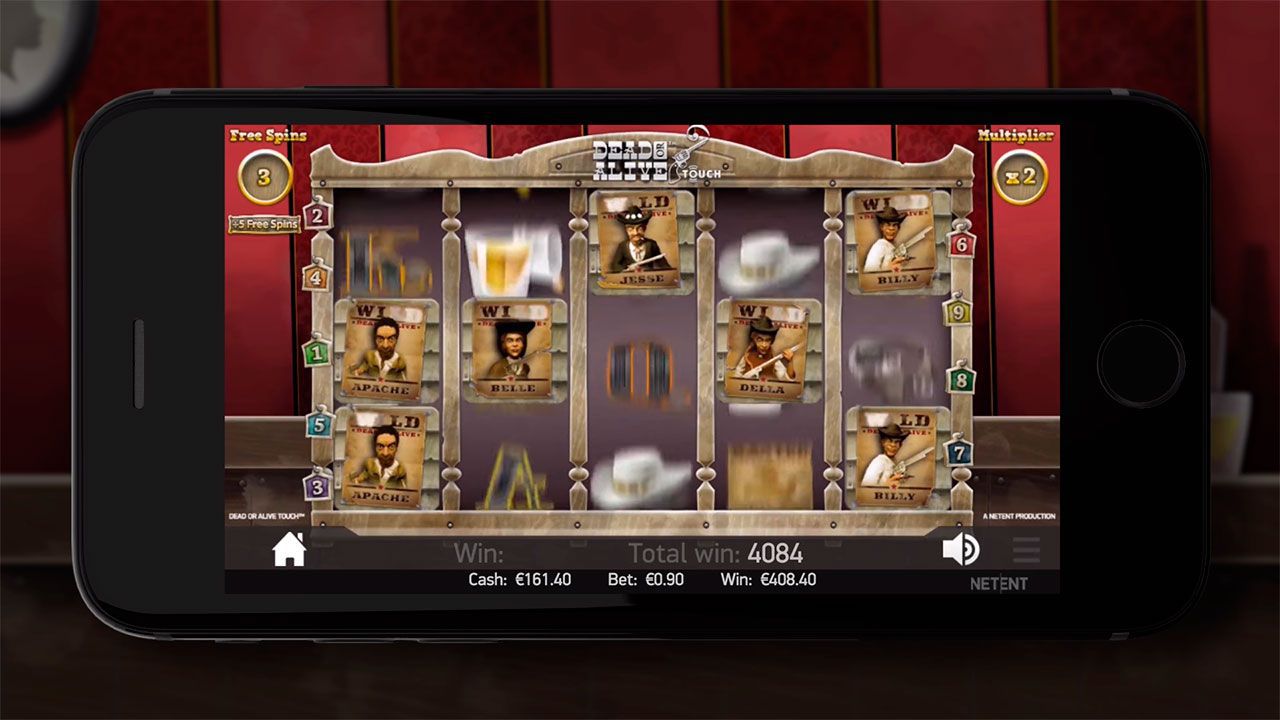 Your bet in the bonus round will be the same as in the previous main game round, which triggered bonus feature.
Free spins can be re-triggered once per Free Spin session. Moreover, all wins from Free Spins and re-triggered Free Spins will be multiplied by 2.
The bonus game can award you a whopping win of 54 000 coins - the biggest potential win in the game.
Conclusion
Dead or Alive video slot will perfectly appeal to those players, who still have passion for adventures, for those, who aren't afraid of uncertainties, like the first American colonists, and those, who cannot survive without taking risks. The video slot will guarantee you an adrenaline rush and its generous bonus functions will blow your socks off. In addition to solid wins over the assembled combinations in the main game, you have an excellent chance to take part in the bonus game, which can literally bombard you with incredible rewards!
The entourage, created with the help of sound effects, graphics and animation, will give you the feeling of being the main character of "western" movie. Are you ready to plunge into the atmosphere of Wild West and cowboy land? So what are you waiting for? Go ahead and launch the video slot to get your desired dose of adrenaline.
Of course, it's a lot better to try your luck in Dead or Alive video slot when playing in real money mode in one of the reliable online casinos from the list below.