Available on
Features of the game
| | | |
| --- | --- | --- |
| | Free spins | Yes |
| | Re-spin feature | No |
| | Bonus game | No |
| | Risk game | No |
| | Scatter symbol | Yes |
| | Wild symbol | No |
| | Progressive jackpot | No |
| | Autoplay option | Yes |
| | Cascading reels feature | No |
Jungle Spirit: Call of the Wild video slot by NetEnt - review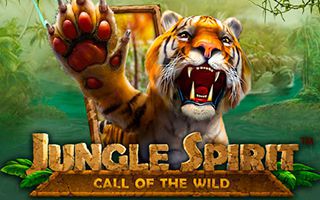 As city and metropolis dwellers, we often forget about our roots and origin and also about our strong connection to wild nature. Remote ancestors of modern humans used to contend with laws of woods and jungles if they really wanted to survive. Today, people don't have to hunt anymore in order to subsist, just as they don't have to control fire in order to warm themselves. Everything we need for a decent existence today can be found in a shop across the street or even ordered to our houses. However, every time we watch movies about wild nature or read books about wildlife, some people may come up with a thought: "what if I found myself in impenetrable jungle? Would I survive in the wilderness?". In the world of wild nature, where, if you can recall the natural selection, only the strongest wins, where even the slightest whisper can be deadly dangerous, there's no place for those, who lack in self-confidence.
Fortunately, you don't necessarily have to fly to another continent and chop your way through the jungle with machete in order to feel yourself like in a real wilderness, surrounded by raptorial animals. In this day and age, Internet connection together with a computer or mobile device can instantly take you to the place, located several thousand km to the south, the place, where each square meter contains so many weird plants and animals, that you cannot even imagine, but can very clearly hear them breathing and moving very well from everywhere. So, Jungle Spirit: Call of the Wild video slot powered by NetEnt is one of those amazing opportunities to immerse into the world of tropical jungle.
The official trailer about Jungle Spirit: Call of the Wild video slot by NetEnt
NetEnetertainment - famous Swedish software developer - is definitely unneedful of introduction thanks to the top quality of their products. It has been over 20 years, since the company has been operating in the online gambling sphere; what's noteworthy, each new year NetEnt manages to implement the most advanced technologies to make the game on their video slots even more entertaining and comfortable. You see it for yourself if you take a look at millions of enthusiastic reviews.
Jungle Spirit: Call of the Wild video slot was released on March 18, 2017. This was the same year, when another video slot named Jungle Books, by another software developer - Yggdrasil Gaming - with the similar theme was produced.
While playing on Jungle Spirit: Call of the Wild video slot, you'll be completely absorbed into the atmosphere of impenetrable jungle. All the visual and sound effects are rendered at the highest level possible, thus, everything you see on the screen will seem not just closest to reality, but leave an impression, that all things happening in the game are for real. During the game process, the storyline will get you face to face with wild animals. Apart from seeming harmless elephants, you'll have to go through a "probation" and fight poisonous cobras, bloodthirsty crocodiles, dreaded tigers and - could you ever imagine! - Himalayan black bear. Many users note generous payouts, offered by the video slot. Almost each spin triggers wins and the bonus features are said to be quite common for the game and very beneficial.
Jungle Spirit: Call of the Wild video slot - general features
The structure of the video slot can be liken to the jungle: there're 5 (five) reels along with 3 (three) rows, which incorporate 243 paylines. In fairness it must be said, that you don't need any special skill to get the insight into their mechanics. When Free Spins feature is active, the reeland will expand by 1 row to increase the number of bet lines to whopping 1024.
Bet per each spin ranges from 0,20 to 100 points.
Winning combinations are formed according to a unique pattern, a little different from the traditional one. Any left-to-right combination of identical symbols will pay out in a win. You can see the scheme for winning combinations in the paytabe. Only the longest matching winning combination per symbol is paid. Sometimes, one single spin can trigger several bet way wins. In this situation, they're all summed up by the end of the round. The maximum win in the following video slot equals to 15 000 coins.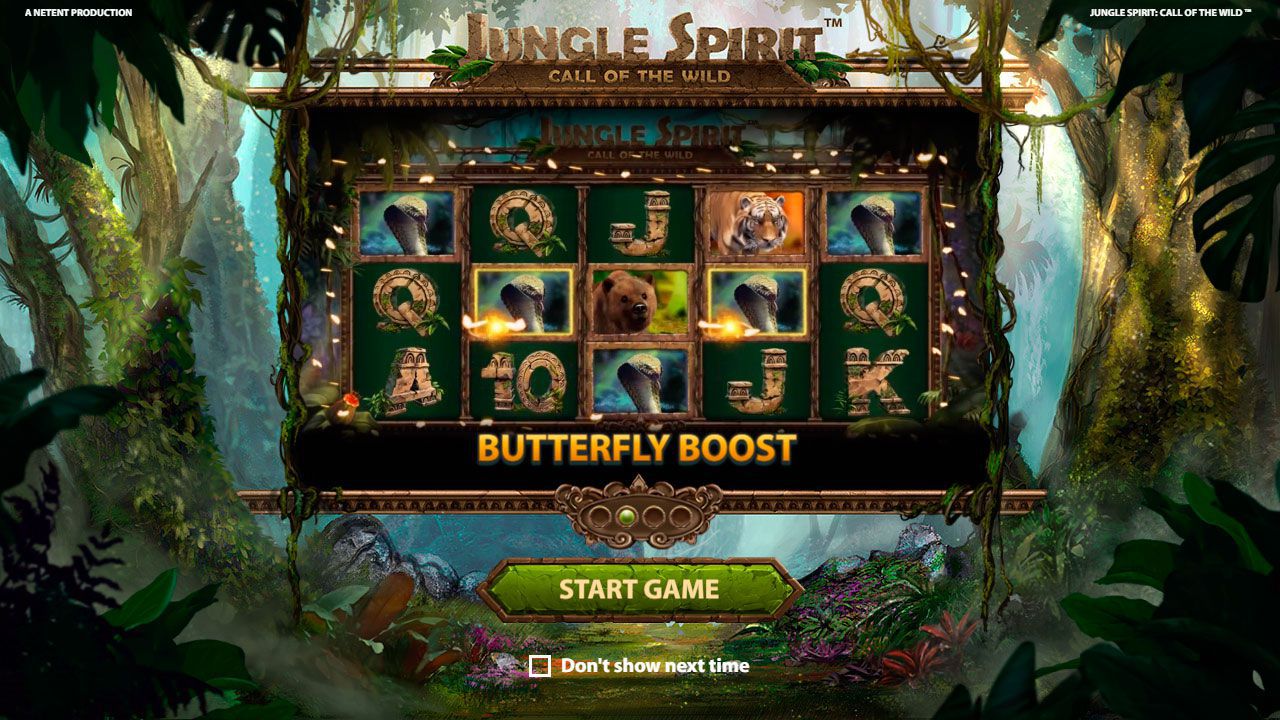 Theoretical return-to-player rate for Jungle Spirit: Call of the Wild video slot equals to 96,47%
Jungle Spirit: Call of the Wild video slot - play for free
There's no need to risk your health and even your personal savings, if you wish to have a walk through tropical jungle. This is all thanks to Jungle Spirit: Call of the Wild video slot demo-version. Any player can launch it to understand all the potential "goodies" of the game for real money. It doesn't really matter, whether your aim is to study all the peculiarities of bonus features or estimate the level of visual and sound effects - all of the above is available during play money game. Once you launch Jungle Spirit: Call of the Wild demo version, you'll get a solid virtual coin balance; even if you run out of it, you'll always get it back by restarting the page.
In case you don't get much satisfaction from the game for play money, but cannot make a deposit yet, you can always use free spins or bonus money for the game. You might come up with a reasonable question: how can it be possible? Don't worry, everything is very simple: many online casinos offer their new clients no deposit bonuses, so basically everyone has an opportunity to win some real money without risking his own.
Jungle Spirit: Call of the Wild video slot - design
When talking about NetEnt powered video slot, we cannot but mention its design and visual effects, since this is the developer, who gives priority to these aspects of the game. Therefore, the visual component of Jungle Spirit: Call of the Wild video slot deserves the highest praise possible. Surely, what else could you expect from a video slot with such title, as not the impenetrable jungle acting as the spotlight of the storyline? The atmosphere of wilderness, transferred through the screen makes us, players, both tremble and stand still with fear and fascination.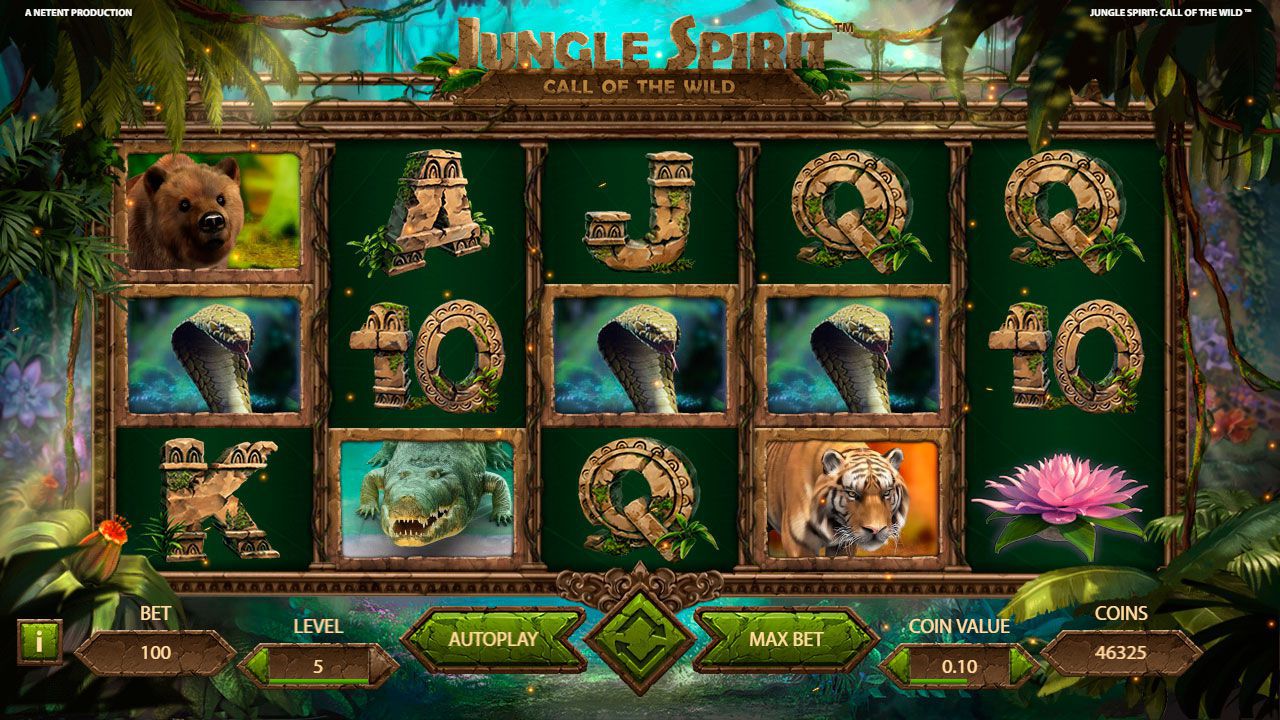 The color range of the video slot consists of different shades of green together with purple represented by beautiful tropical flowers. All this looks very natural against the reeland, which seems to be made by a skilled wood-carving craftsman. The idea of the vast variety of Mother Nature is translated through the lushness of exotic plants. Seems like the illustrators spent hours to draw every single grass-blade and each single leaf for sake each player could experience the atmosphere of the intact nature. And of course, such colorful and picturesque video slot just couldn't go without animation effects: they make the scene so vivid and bright, that sometimes you may think that one of the butterflies hovering round the game field, would leak out of the screen and land on your hand. The control panel also looks very stylish and matches the other components of the game perfectly. It contains all the necessary buttons for comfortable and relaxing game.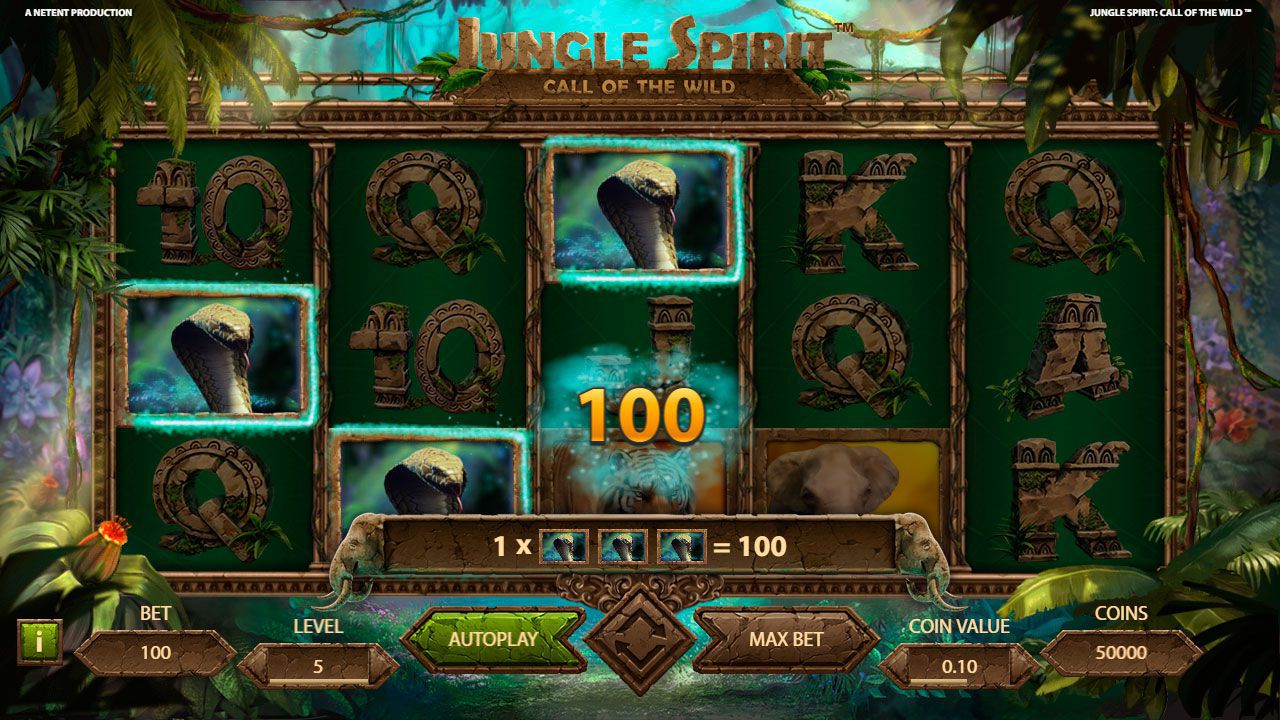 When reviewing the game, we surely cannot but mention the ambient sound of Jungle Spirit: Call of the Wild video slot, since NetEnt creation definitely wouldn't be so realistic without it.
You'll hear a sheer cacophony of animal sounds, which is another proof that you're surrounded by all kinds of tropical fauna representatives. If speaking about the background music, it seems to be borrowed from an adventure movie and keeps players on their toes, while sending an adrenaline rush to their veins.
All in all, the atmosphere of Jungle Spirit: Call of the Wild video slot is very close to be called "signature", so all the online gambling geeks should definitely try the game in practice.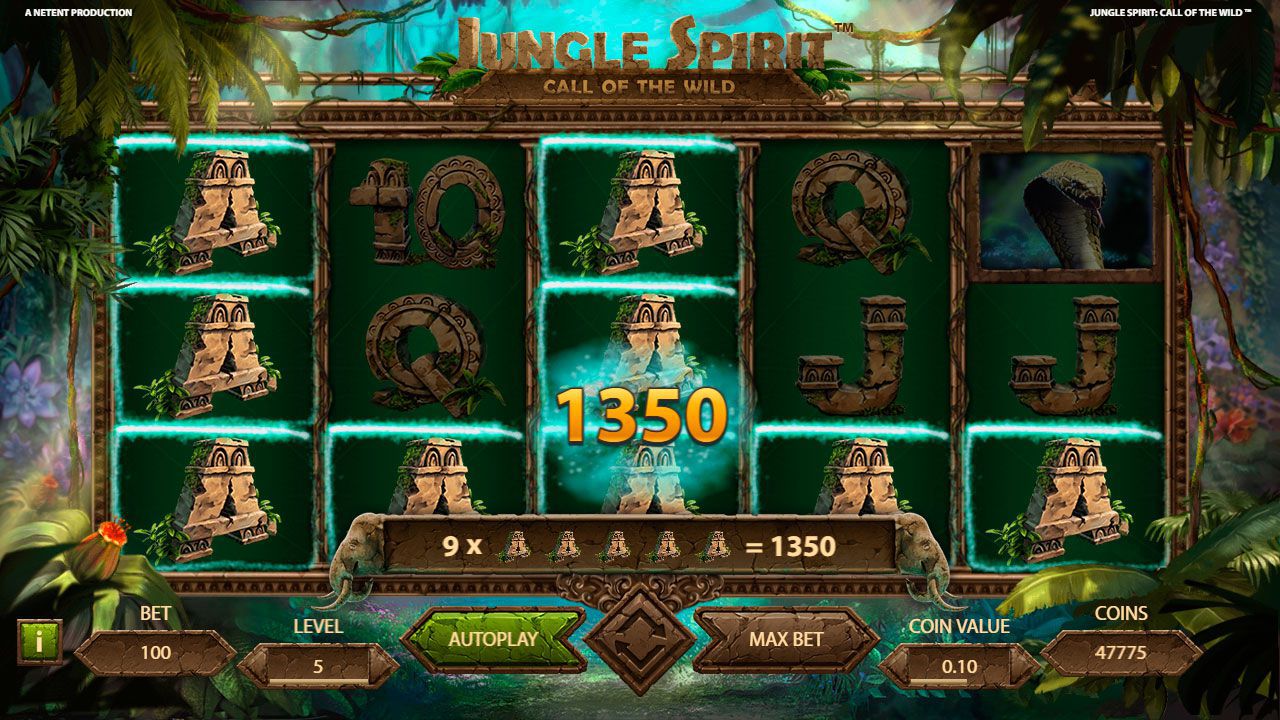 Jungle Spirit: Call of the Wild video slot - mobile version
Many online casino users are already used to playing their favorite video slots on smartphones and tablets. When it comes to cutting edge mobile versions of the games, the first thing that pop up in mind is video slots from NenEnt Touch series. Yes, you've read it right: NetEnt has launched a separate brand for their mobile versions of titles. It seems to be that each new mobile video slot advances in terms of touchscreen performance.
Jungle Spirit: Call of the Wild video slot mobile version is 100% adapted for the smaller screen sizes of smartphones and tablets. Moreover, developers have also given consideration to the peculiarities of iOS and Android devices and made the game on them just perfectly convenient. Regarding graphics, sound and animation effects, there've been no alterations made: everything is just as perfect, as in desktop version. NetEnt Touch developers introduces some changes to the control panel to make the game on mobile devices easier: the Spin button together with Quick Spin and Autospin were relocated to the edge of the screen, and all the settings and command buttons were hidden in the menu.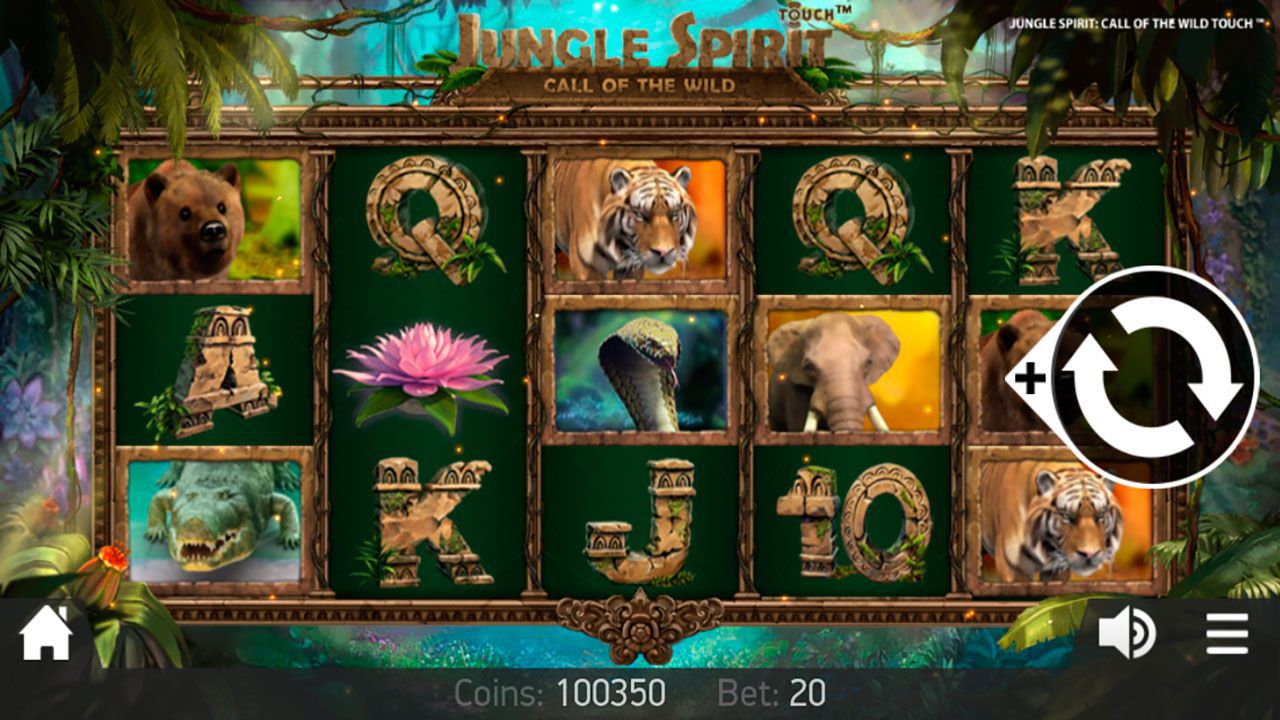 Jungle Spirit: Call of the Wild video slot - the collection of symbols
As it usually is for NetEnt video slots, the collection of symbols deserves separate credit. The jungle theme was reflected in the symbols of the game. Of course, this time "the floor was given" to wild animals, which will help you to find treasures, hidden in the jungle by ancient civilizations.
On your way to coveted wins, you'll run into the following animal symbols: grinning crocodile, venomous cobra, a saber-toothed tiger, black bear and massive elephant. Combinations made of these symbols will reward players with wins from 20 to 150 coins. Apart from themed symbols featuring different fauna forms, the collection also includes card symbols from 10 to A. These symbols also have a very distinctive design - stone figures, covered with plants, which fits perfectly into the game field. Each combination made from card symbols will be paid 10 to 30 coins.
Special symbols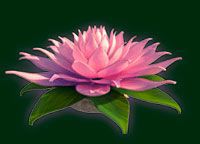 There's only one special symbol in Jungle Spirit: Call of the Wild video slot - Scatter. As you've might already guessed, this is the most desired symbols of all, since it's the only "extra" symbol in the game. so, the Scatter symbol looks like a beautiful lily. What is so special about it? Well, three or more Scatter symbols landed on the reels will trigger Free Spins bonus round.
Jungle Spirit: Call of the Wild - bonus games and bonus features
Of course, such adventurous video slot just couldn't go without entertaining bonus features, which can help players get solid wins. Apart from the fact, that bonus features are very frequent in the following video slot, they will definitely appeal to any player with the generous wins they offer.
Symbols Expansion
This bonus feature is triggered by butterflies, which can land on the symbols randomly. If the symbols, marked with a butterfly is actually a part of winning combination, it automatically expands to cover the entire reel and form new winning combinations. Butterflies can mark any symbols apart from Scatter symbols. This feature is both available in the main and in Free Spins games.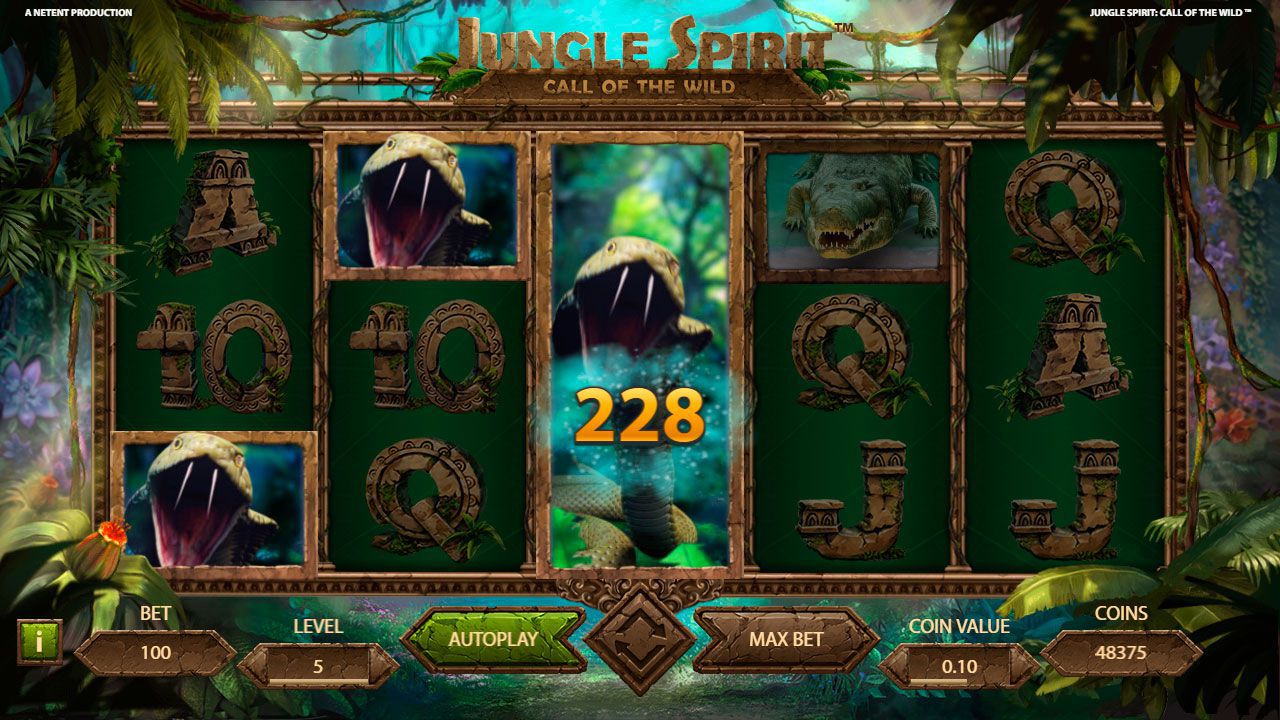 Butterfly Boost random bonus feature
Fundamentally, this bonus feature reminds of Symbol Expansion a lot, since they're both activated by butterflies and have expanded symbols.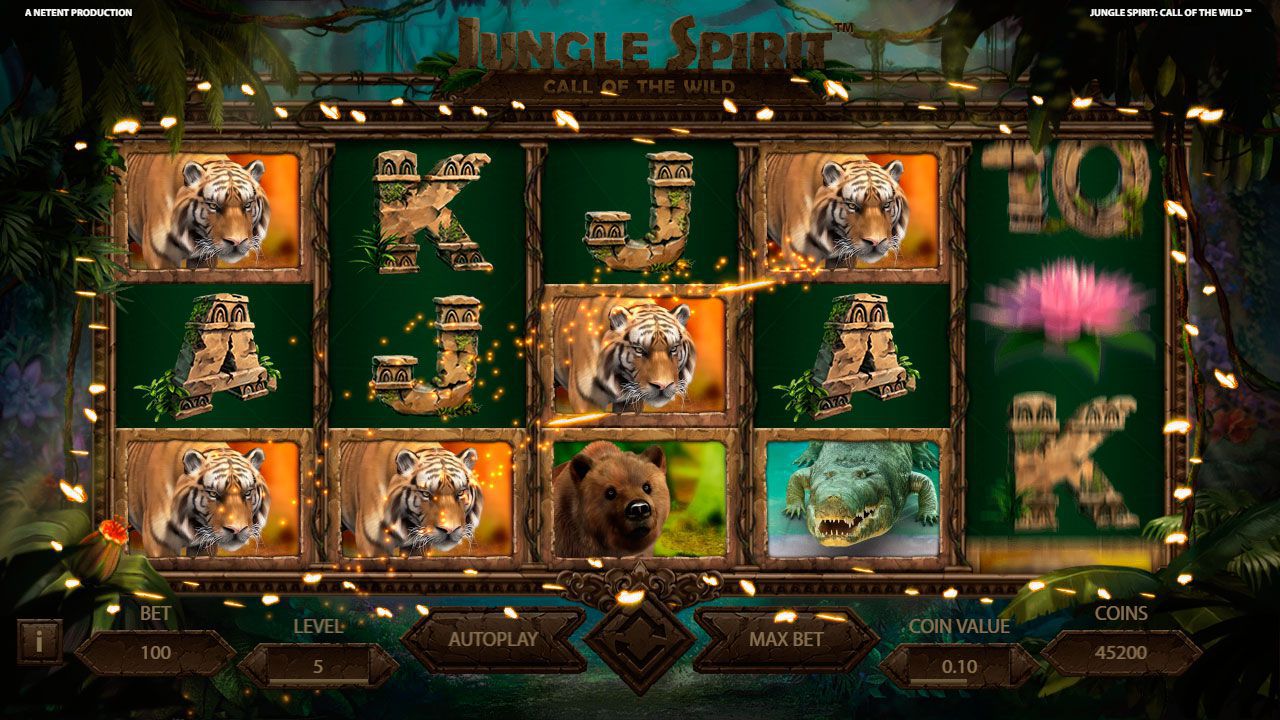 Butterfly Boost is activated randomly during a win situation the main game, when there are no Scatter symbols or symbols marked by butterflies on the reels. Once you see a flock of butterflies hovering round the reeland - the feature is activated. Some butterflies will expand 1 to 3 symbols from the reel that take part in guaranteed winning situations.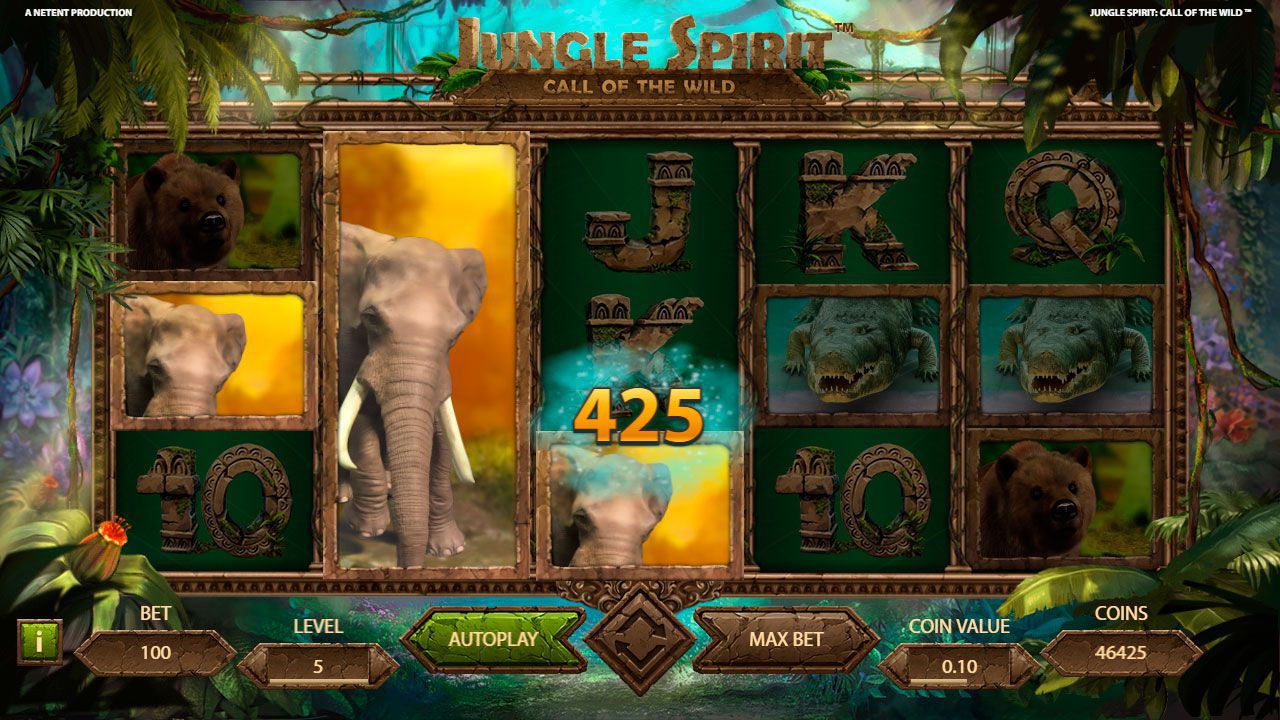 Free Spins
As we've already mentioned Free Spins round can be triggered by at least 3 Scatter Symbols on the reels. But don't hurry: there're more "goodies" offered by the bonus game.
If 4 Scatter symbols appear on the reels, your win will be multiplied by 15;
5 Scatter symbols will activate a x50 multiplier.
The game field will expand by 1 more row before the start of the spins, which will increase the number of bet ways to 1024.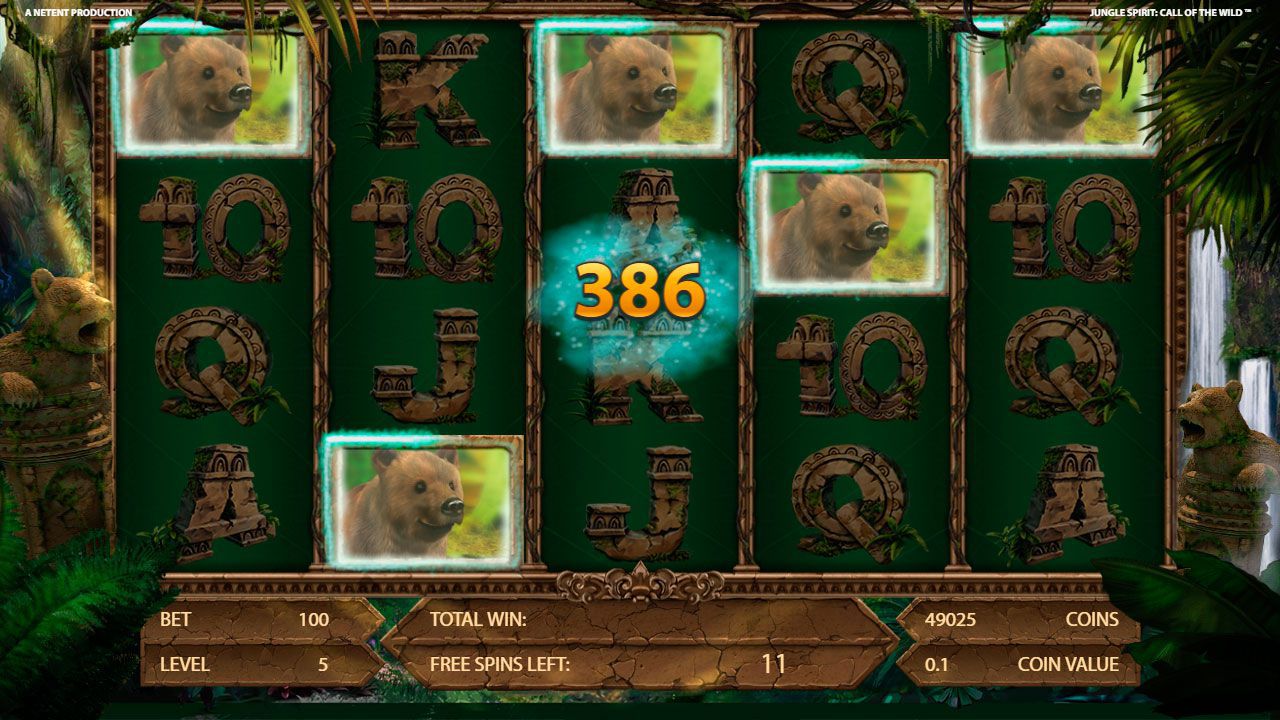 The number of Free Spins directly depends on the animal you choose:
the least Free Spins are given by Tiger - 4;
Elephant - 8;
Bear will award players 12 Free Spins;
Crocodile will trigger 16 free spins;
And Cobra will give you 20 free spins.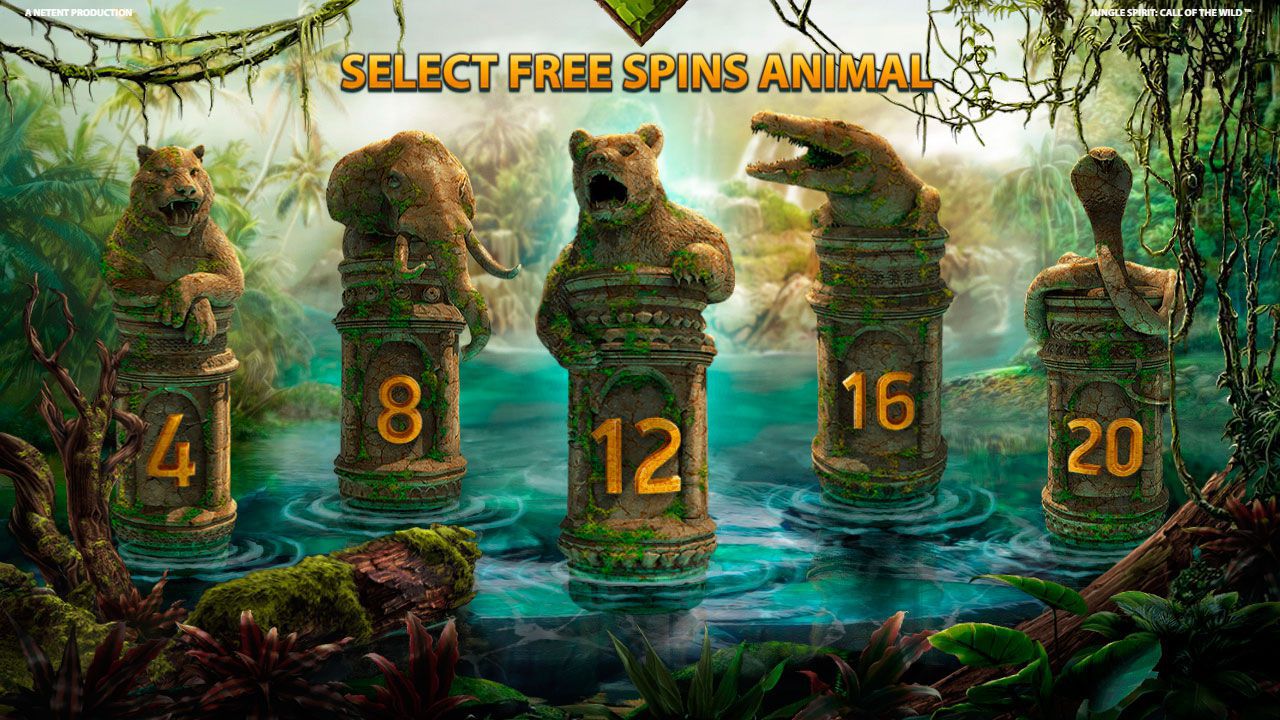 However, the choice is not that simple. Options with fewer Free Spins have higher risk, but come with a higher win potential.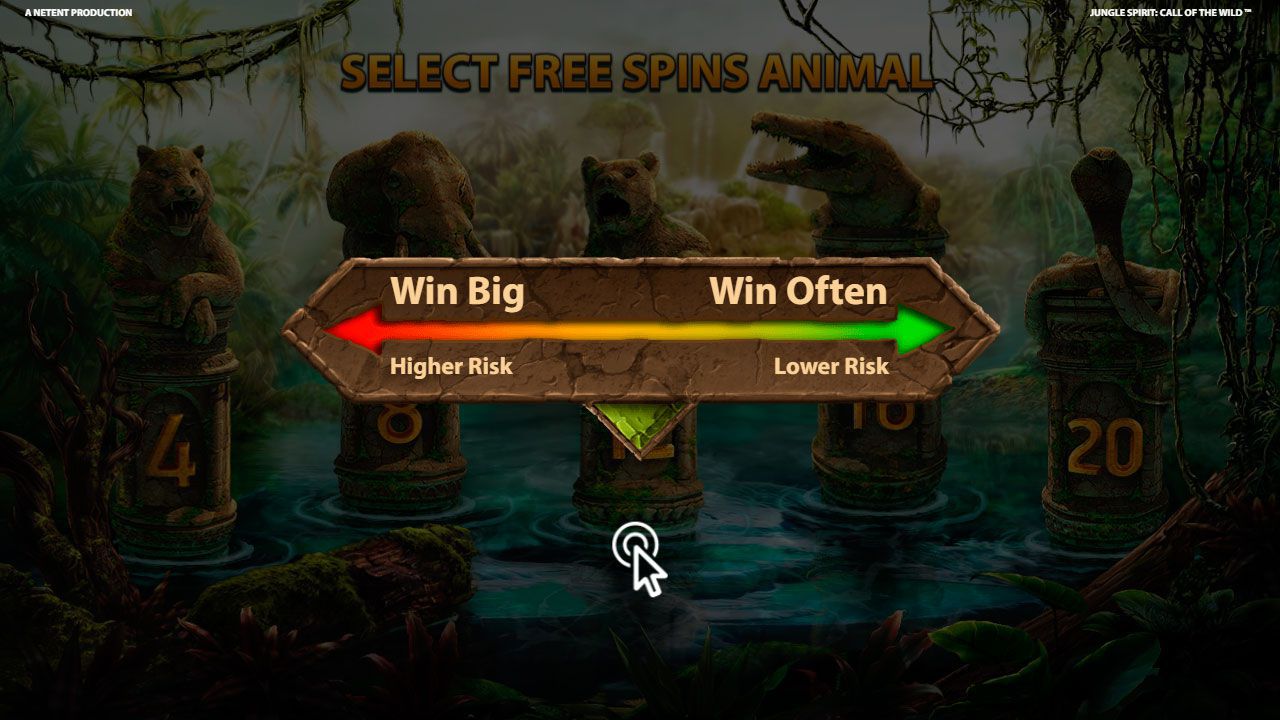 After Free Spins round is activated, you'll have to choose one of the totems, which correspond to the wild animal symbols in the game and define the number of spins.
When the bonus game is on, you cannot get any additional free spins. Free Spins are played at the same bet level and coin value as the round that activated bonus game.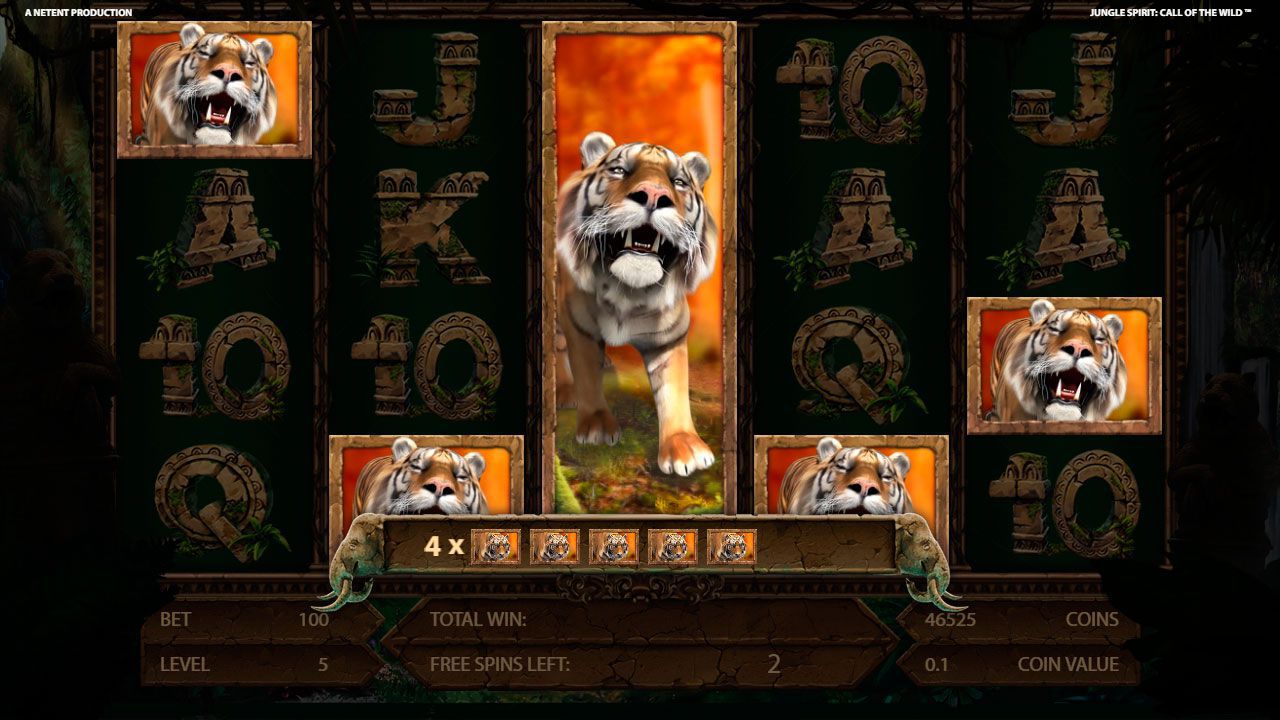 Conclusion
Wild Nature theme in the video slots is no way falling from grace among online casino fans. Keeping this in mind, NetEnt released another masterpiece creation for the admirers of this genre. Jungle Spirit: Call of the Wild video slot received many favorable reviews and can rightly be considered one of the high-rating online slots. If Nature is calling for you, go ahead and launch the game to go on an adventure in baking-hot tropics to find great wins. Apart from top-notch graphics and immaculate animation effects, the following video slot is famous for its bonus features, which result in frequent, and what's more important, generous combinations.
If you're interested in playing Jungle Spirit: Call of the Wild video slot for real money and for free, you can find the game in one of the online casinos from the list below.