Available on
Features of the game
| | | |
| --- | --- | --- |
| | Free spins | Yes |
| | Re-spin feature | Yes |
| | Bonus game | No |
| | Risk game | No |
| | Scatter symbol | Yes |
| | Wild symbol | Yes |
| | Progressive jackpot | No |
| | Autoplay option | Yes |
| | Cascading reels feature | No |
Motörhead video slot by NetEnt - review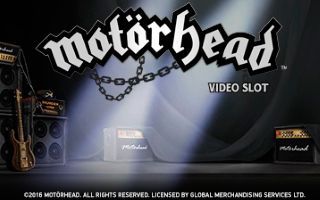 You cannot but agree, that it's extremely hard to find a person, who would be totally indifferent towards music. There're so many different genres and subgenres, that everyone can find something to his taste, something that would match his state of mind. Some people compare the process of listening to their favorite songs to euphoric, no matter whether your most beloved musical piece is The Symphony No. 5 by Beethoven or a hardcore song.
Guns N' Roses and Jimi Hendrix video slots, released in January and April 2016 correspondingly, made it quite plain, that there're many fans of the good old rock'n'roll among Net Entertainment. And several months later, in September 2016, the company announced the release of one more newly-designed product - Motörhead video slot, which is known to have become equally celebrated among old-school genre devotees if comparing to previous releases. The game itself expresses the desire of its developers to show admiration and rapture of British hardcore musicians; apart from that this video slot commemorates the founder of this legendary band - Ian Fraser Kilmister, nicknamed Lemmy. Back to this sad story, let's recall, that 2015 was a hard year for the band, as Motörhead and its fans suffered a severe loss - Lemmy Kilmister, the band leader and frontman, passed away. The death of Lemmy - the most attentions-engrossing member of the band - unfortunately affected badly the whole creative initiative of Motörhead and made it senseless.
Most probably, there're Lemmy fans among Net Entertainment developers, who decided to commemorate his talent by producing the following video slot. If you're the type of players who keep track on NetEnt releases and visits online casino web site quite often, you probably already know about the Rocks series video slot, dedicated to the greatest virtuoso of the guitar - Jimmy Hendrix - and to the legendary glam-metal group - Guns N' Roses. But this is not the end of the rock stars parade by the famous Swedish developer! Here's Motörhead to hit the stage! Bold guitar riffs, highly-skilled solo and unforgettable Lemmy's vocals will immerse you into the atmosphere of a real rock concert.
The official trailer of Motörhead video slot
Are you ready to feel the mind-blowing gambling passion and enjoy top-notch hard-rock? Then Motörhead video slot is just meant for people like you! In this game you'll find incredible drive, win anticipation and huge money wins - this is what NetEnt team prepared for their users.
Right after the loading, you'll rush into the Motörhead concert. The emotions are running high and you just can't resist temptation to burst into dancing and so you only have to jump with other fans in front of the fan-zone and sing along with your favorite band in overdrive. And the stage will be featuring no longer young but very energetic Lemmy. Together with his fellows, Lemmy will be singing his great song «The Ace Of Spades». The lyrics of this amazing song contain the lines, which describe gambling passionate people very accurately: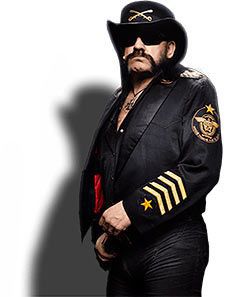 If you like to gamble, I tell you I'm your man,
You win some, lose some, all the same to me,
The pleasure is to play, makes no difference what you say,
Themed design and same-named title of the game express the groovy style of the famous band. The game process will be followed by disco lights, which will accompany the ripping chords of bass-guitars and drumming together with unmatched Lemmy's vocals. You can imagine, that your mad-driving impressions can be well compared to the explosive emotions' charge from the live-concert of old-school rock stars. The game developers took its characteristics and structure very seriously and thus, the video slot combines traditional features and exclusive options. Separate credits should be given to the bonus round and random features, which will award you with positive emotions and generous wins, not only in coins, but in real money as well.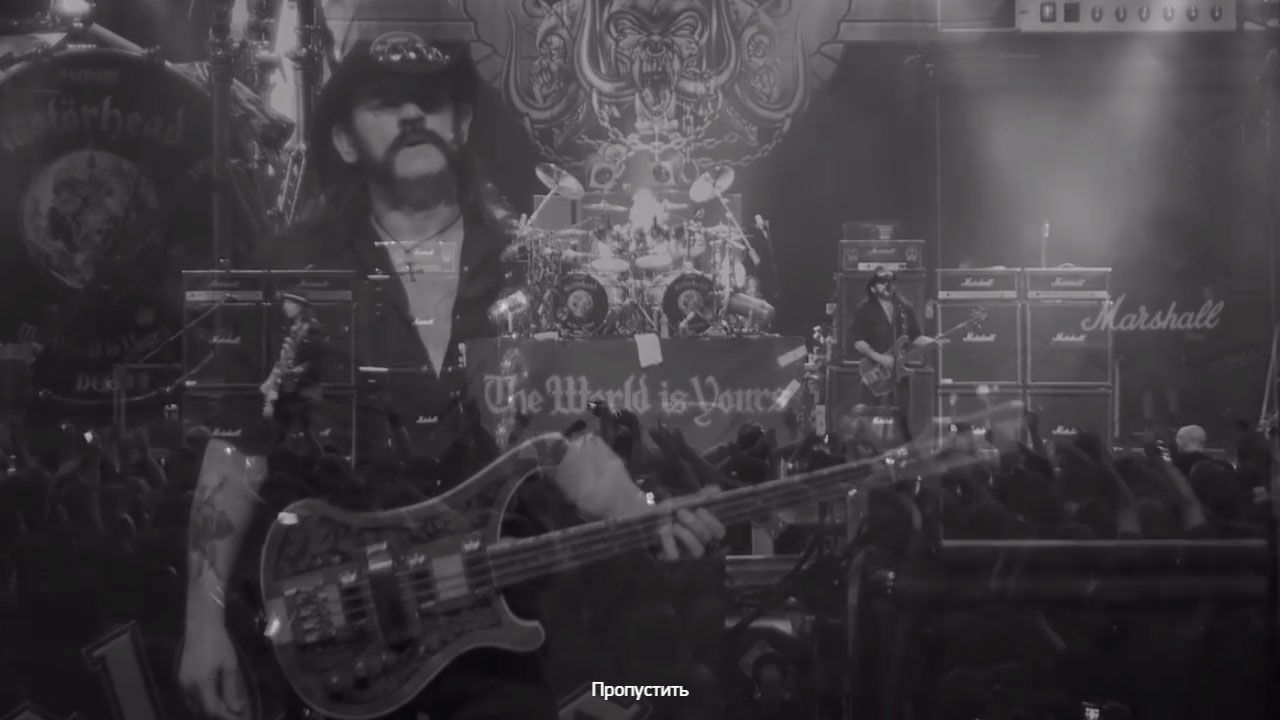 Motörhead video slot - general features
Despite the fact, that the game interface is designed quite traditionally, the developers equipped their video slot with unconventional features. Now, the first thing you'll probably pay attention to, is the game field. It includes 5 reels with increasing rows. The first and the third reel have 3 symbol rows, whereas the 3d and the 4th reel are divided in 4 "cells"; the last. 5th reel includes 5 rows!
Additional features include Free Spins, Wild Substitute Symbols and features like Bomber Feature and Mystery Reel feature.
There're 76 fixed paylines to form winning combinations. The number of the lines remains the same throughout the game. As for the bets in Motörhead video slot, players are allowed to make their own choice from 0,20 to 200 currency units per one spin.
Each spin can trigger a winning combination, if 3 similar symbols land on the reels simultaneously. According to the game's terms and conditions, combinations should form from left to right direction on the active line. Simultaneous wins on different bet lines are added.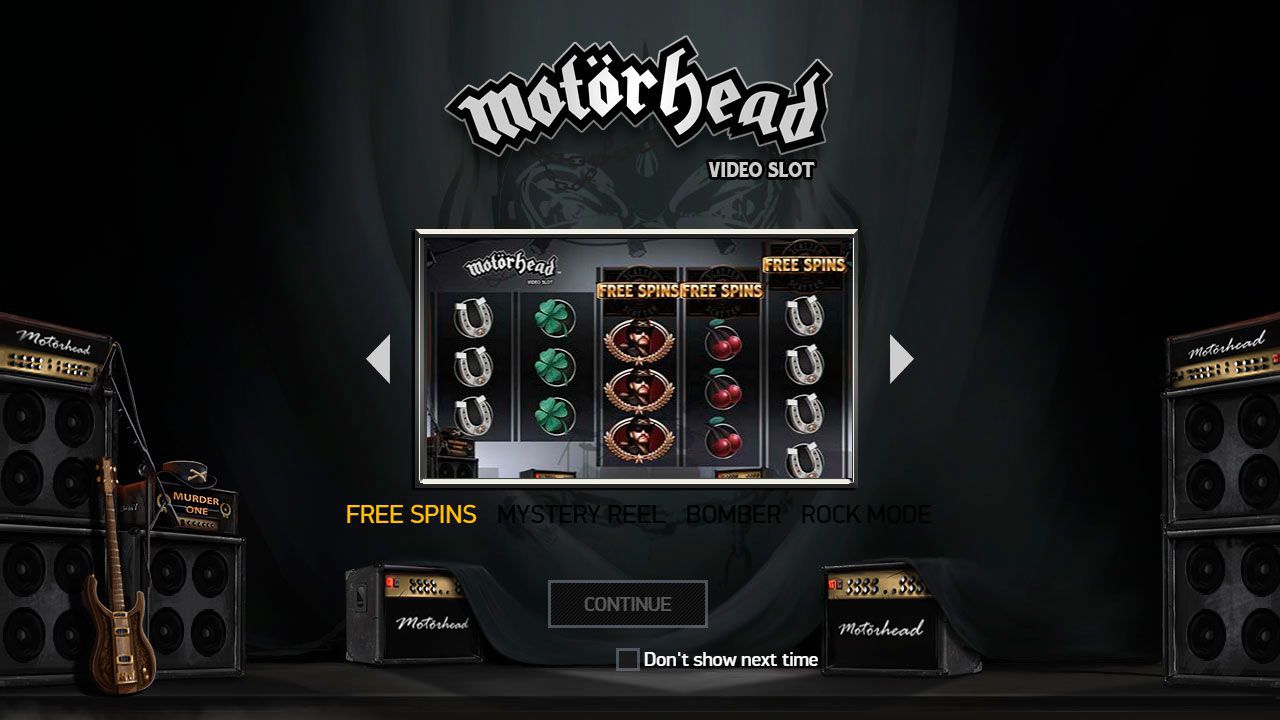 The size of your win per each round will be defined by the individual value of each symbol in combination. The maximum multiplier for your wins is x150 (it will depend on your bet level and coin value).
Theoretical Return-to-Player rate in Motörhead video slot can reach 96,98% in long game sessions
Motörhead video slot - play for free
Anyone, who considers himself a true fan of Motörhead rock band, should try his luck in the same-named video slot, dedicated to legendary musicians. But first, it will be wise, to test the game in the demo-mode. Today, games' demo-versions are available practically for every video slot, so any player can get acquainted with interface special features. After you launch demo-version for game, you'll be credited coins to your account; even if their number will reach 0, you can always restart the page and get a new virtual "Bankroll".
Normally, those, who have already tried the video slot for play money, want to play the same game for real money. Thanks to no deposit bonuses provided by many online casinos, you can always play your favorite video slot for real money without risking your own.
Motörhead video slot - design
After reaching an agreement with copyright holders, NetEnt developers got an official go-ahead to use themed images of band members, their tracks and snippets of their performances in their video slot.
Visual effects, featuring Motörhead video slot, are really impressive and they will especially appeal to those players, who are fond of rock bands live sessions. The game field is mainly designed in dark shades. These colors perfectly fit the style, which is called hardrock, and also the sense in the Motörhead lyrics.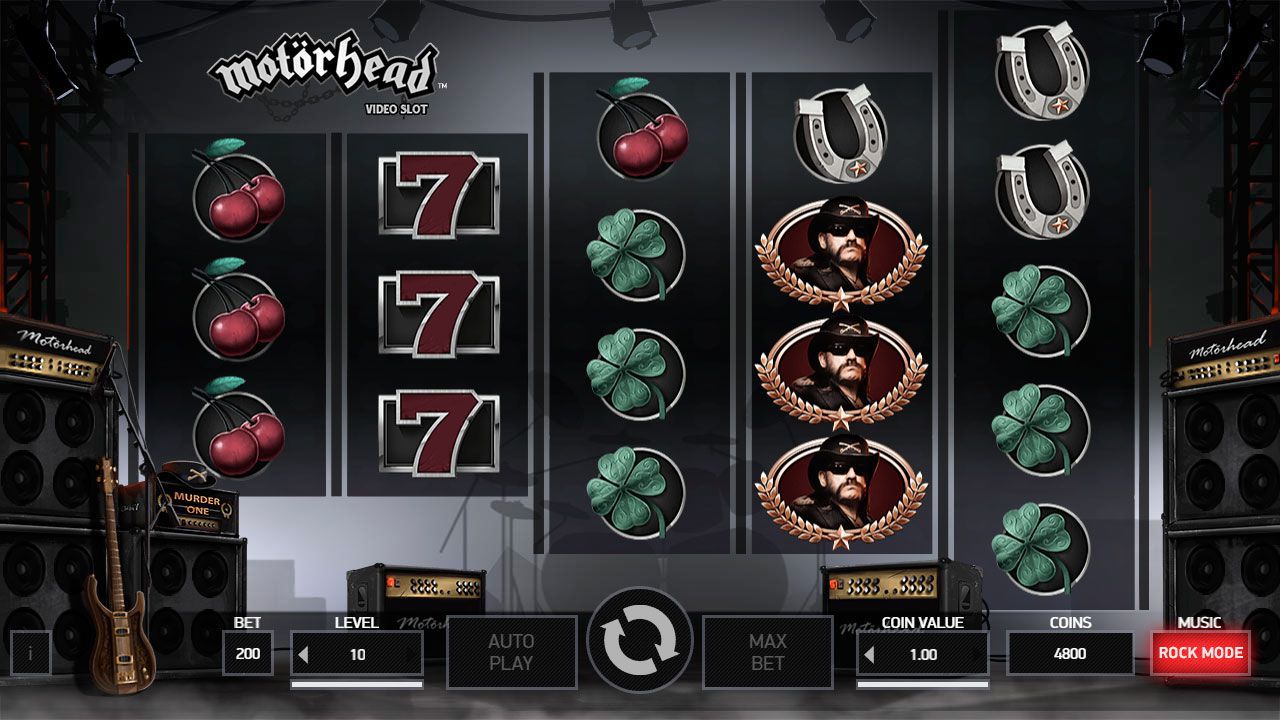 After the intro video, players will be moved to the empty scene, where thousands of fans will be waiting transfixed for their favorite music band to start performing. Together with other people in front of the stage you will be anticipating the live concert of the legendary group and the unmatched euphoria from your favorite band playing. The whole seen is very atmospheric thanks to the great job of NetEnt illustrators. You will get the sense of real presence in the center of the concert hall: here's the concert smoke slowly filling in the space, you pick up the specific smell and the shadow figure of the timeless frontman is about to appear on stage. Lemmy will put on his signature hat, take the base-guitar and call out with his husky voice "Are you ready for the best ever show in your lives?". If you take a look at the impressive devices and musical instruments, you'll definitely have the desire to come out on the stage, run an eye over the crowd and experience the role of Lemmy - the idol of millions of people. The sense of presence on the stage will be reinforced by the bright footlights, musical instruments and sound systems.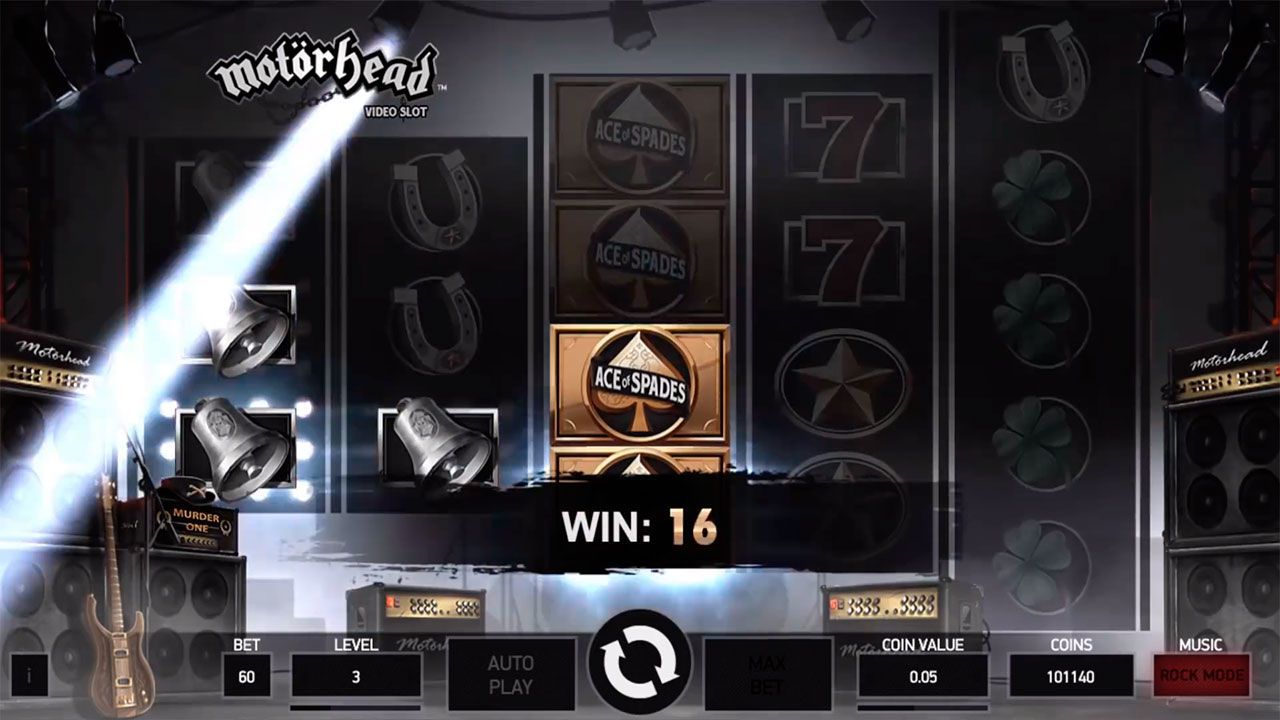 Rock Mode
Those players, who are fond Motörhead talent, will definitely appreciate the background sounds and exclusive Rock Mode option, which will trigger official Motörhead tracks play back. Each win on any payline will be followed by a fascinating light show and will commemorate and enhance your emotions from victories. Before saturating in the gaming process, you need to study the control panel tools carefully and set your preferable bet level and coin value.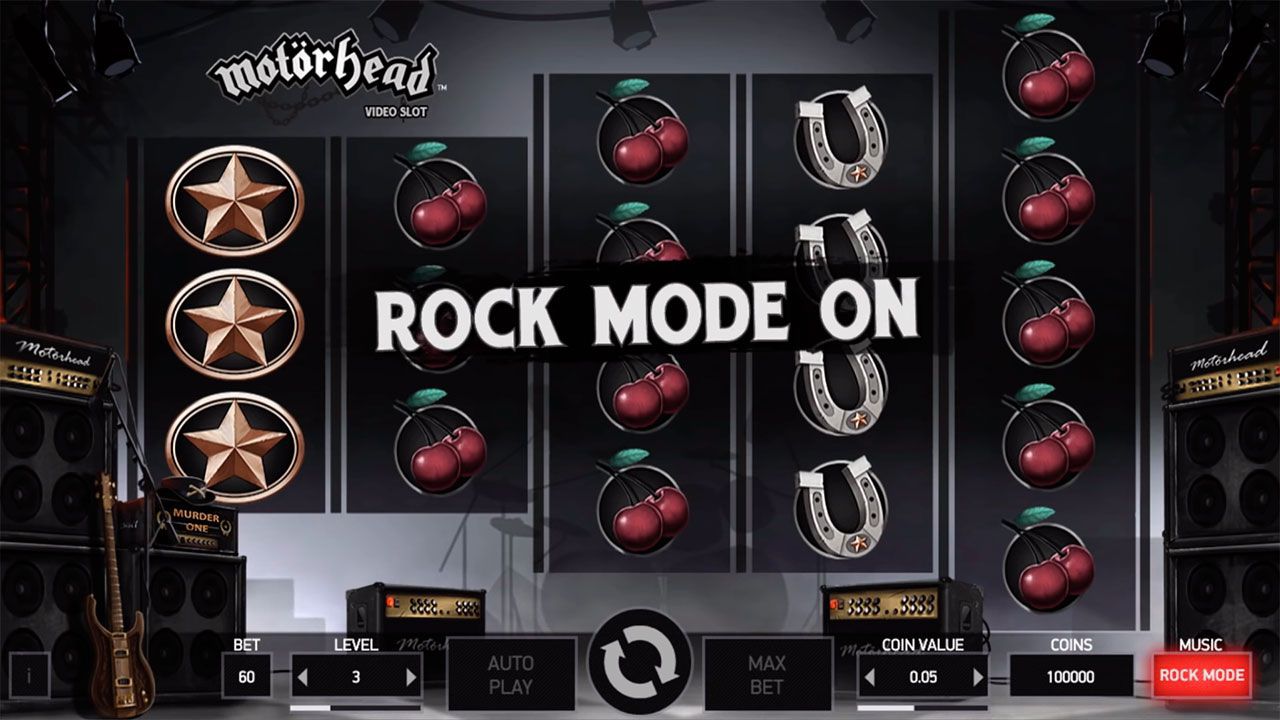 Motörhead video slot mobile version
The mobile application market is considered one of the most fast-evolving directions not in the IT sphere only, but on the whole as well. Of course, this is due consequence of the fact, that fewer and fewer people around the world use PCs or laptops to solve different tasks, but prefer their mobile gadgets. The increase in online apps' popularity has led to the situation, when most famous game providers for online casino start developing mobile game versions. Net Entertainment was one of the first companies, which started working towards this dimension. In 2011, NetEnt started the release of mobile versions for its video slots, under the brand name NetEnt Touch.
The official trailer of Motörhead video slot mobile version
If speaking about the Motörhead video slot mobile version in particular, you won't find any differences in comparison with desktop version. If you prefer game on mobile devices, you'll be offered the same set of characteristics and features, the same sound and visual effects. And of course, it's highly recommended to play the game in your headphones, as the gaming process will become a lot more entertaining and fascinating when you hear the legendary voice of Lemmy.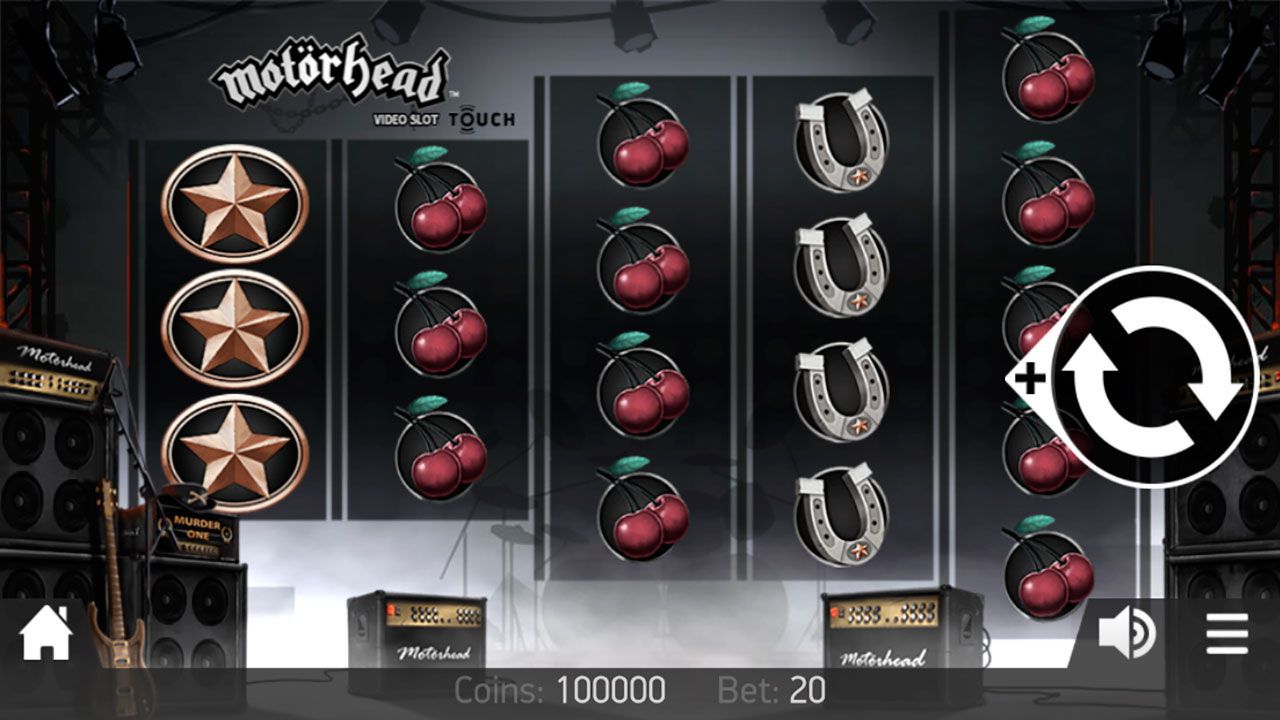 Symbols set
Well, we have to admit, that there're not many symbols in the game, but each of them fits harmoniously in the video slot atmosphere, which is very important. The low paying symbols include traditional slots' symbols from 80s: horse shoe, four-leave clover, cherries, 7's, bells and stars. And, it's quite logical, that the top symbol is Lemmy himself.
All the low- and high-paying symbols are meant to form winning combinations. Below the review you can find information about wins awarded for each combination.
The next category of symbols has special features, and so they're called special symbols. Below, we'll give some detailed information about each type: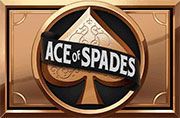 Wild - a Wild symbol is designed in a form of the most popular Motörhead album - a chart-topping golden status album throughout Britain. The function of Wild Symbols is to substitute for other symbols to form winning combinations. Wild symbols can replace all symbols except for Scatter.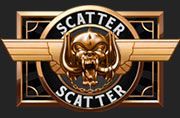 Scatter - Scatter symbol is designed in the form of the band's emblem - «Snaggletooth» (an iron skull with tusks). This symbol triggers Free Spins feature. Scatter symbols can appear on the reels during the main game only. Scatter symbols do not have their own value; however, if a group of 3 Scatter symbols lands on the reels, players will be awarded high chance of win in bonus round.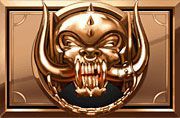 Mystery - Mystery symbols can appear only when reels are spinning. These symbols can activate Mystery Reel Feature or Bomber Feature. Mystery Symbols can be any symbol except for Scatter symbols. Mystery Symbols can also appear during Free Spins round.
Motörhead video slot - bonus round and features
Net Entertainment video slots have always been famous for their sophisticated selection of bonus features. This game entitled Motörhead - the main theme of our review today - is no exception to this trend. The video slot developers decided to complement standard features with lucrative features and entertaining bonus round.
Free Spins
3 Scatter symbols appearing anywhere on reels 3, 4, and 5, in the main game activates 10 Free Spins.
Free Spins are played at the same bet level and coin value as the round that activated bonus game.
During Free Spins round players have more chances to activate one of bonus features, but additional Free Spins cannot be won during bonus game. Throughout Free Spins round, Mystery Reels consist of both Mystery symbols and Wild symbols.
However, today you can hardly impress anyone with Free Spins in video slots, so Net Entertainment decided to go further and added some more features to Motorhead Video Slot. Detailed information about the features can be found below.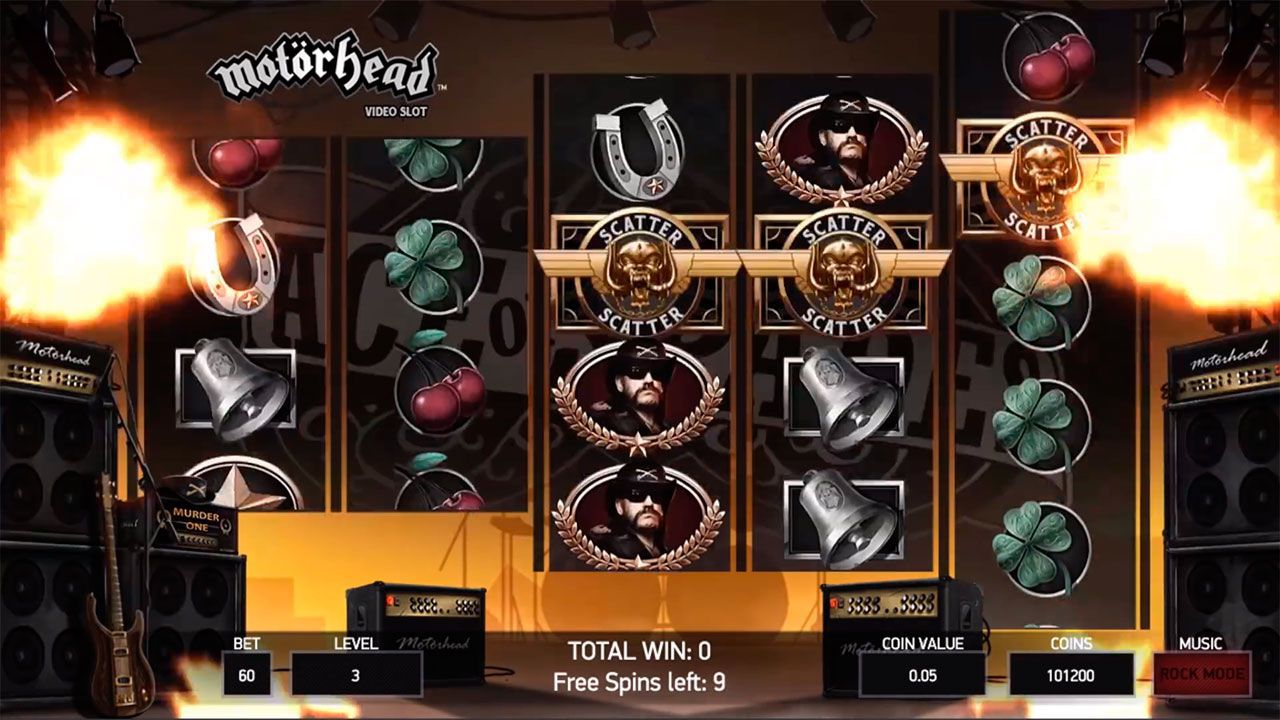 Mystery Reel Feature
This feature can be activated randomly, e.g. players cannot influence it, in any round of the main game or during Free Spins bonus round under the condition, that Bomber Feature is deactivated. If you see a timeless «War-Pig» logo on the game field, be ready for huge wins, as this Mystery Symbol can turn into any symbol, except for Scatter Symbol, and cover the whole Mystery reel (or even several Mystery reels).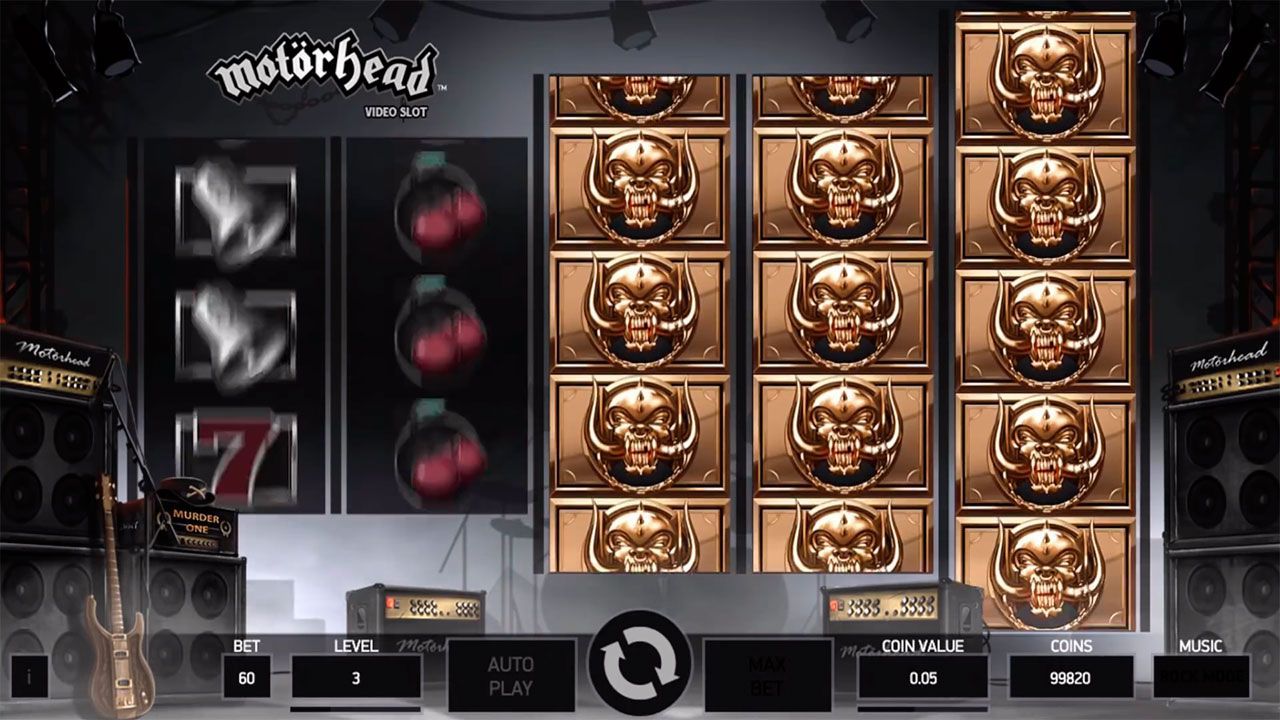 Bomber Feature
Another bonus feature in the video slot is entitled Bomber Feature. The title of the feature excellently describes its peculiarity: when the feature is active, the reels are literally exploding revealing mysterious symbols.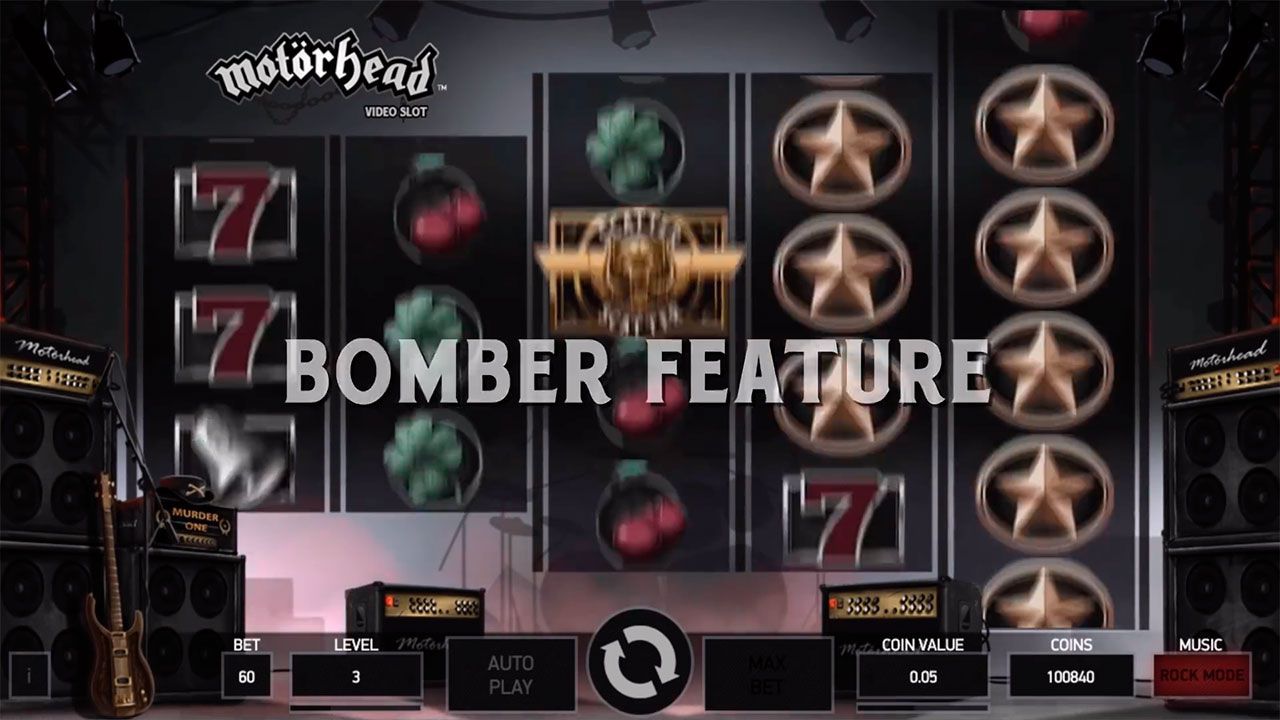 Bomber Feature can be triggered randomly before the next spin in the main game only.
A number of bombs will appear on the reels (maximum 5), which will create at least 10 overlay mystery symbols. The number of overlay symbols cannot exceed 15. Bombs on the field will generate a cluster of overlay Mystery symbols same like in Mystery Reel Feature. During the Bomber Feature, no Free Spins can be won.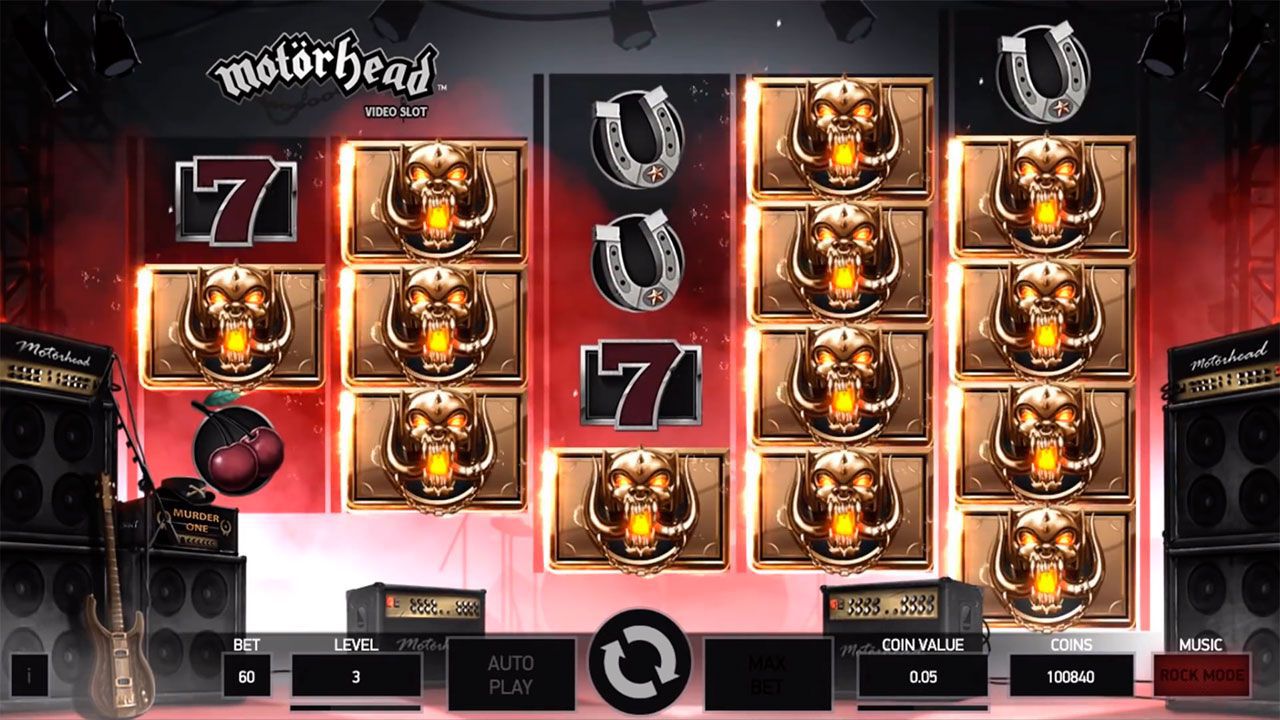 Conclusion
Swedish software developers managed to create a video slot, which can attract any player, who finds "rock music" something more than just a combination of letters. The video slot will live out the dream of millions Motörhead fans - to see live concert of Lemmy and his band. The video slot dedicated to legendary band is graphically superb and can be distinguished for its high win ratio, which will definitely appeal to gambling games fans and the admires of the talent of Lemmy and his legendary music band - Motorhead.
Random features will make your heart beat faster in anticipation of great wins. and timeless Motörhead hits will put you in the rave mood for the rest of the game. Mystery symbols will regularly appear on the reels to help players increase their bankroll/balance. You can be sure of decent wins judging by the RTP of 96,98% in the long game sessions.
If you're ready to feel the incredible drive and duly appreciate all the advantages of real money game on Motörhead video slot, choose one of the online casino web sites below and start playing!