Available on
Features of the game
| | | |
| --- | --- | --- |
| | Free spins | Yes |
| | Re-spin feature | Yes |
| | Bonus game | No |
| | Risk game | No |
| | Scatter symbol | Yes |
| | Wild symbol | Yes |
| | Progressive jackpot | No |
| | Autoplay option | Yes |
| | Cascading reels feature | No |
Aloha! Cluster Pays video slot by NetEnt - review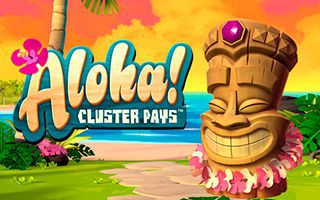 What should you do if it's gloomy and cold outside as always, but vacation is still miles away? Of course, we would not recommend you taking drastic action: quitting your job, sending everything to the dogs, booking the nearest flight to the seaside… There're other options to have a rest; they will cause less damage and costs and at the same time no less positive emotions. Legend has it that Hawaiian Islands, full of savages, conceal countless treasures. These treasures are very easy to find - you simply need to make a deal with ancient idols. And this is possible thanks to Aloha! Cluster Pays video slot by NetEnt.
NetEnt studio team are constantly surprising their players with unique developings; and again, Swedish software suppliers released Aloha! Cluster Pays slot machine, which will immediately take you to the azure beaches of Hawaiian Islands. The slot was released on February 1, 2016; starting from March 22, 2016, players could play this game for real money.
The following video slot, featuring exclusive and unique gameplay and new original mechanic, will definitely give pleasure to every player with its warm sunbeams on luxurious beaches, dip gamblers in the very orifice of the Hawaiian volcanos and also reward them with an unscheduled getaway to the shores of the Pacific Ocean. Aloha! Cluster Pays can be rightly considered an exceptional opportunity for devotees of playing at online casinos for real money or for free to get a late minute deal to the Hawaiian Islands without leaving their chairs.
The official Aloha! Cluster Pays video slot by NetEnt trailer
Aloha! Cluster Pays video slot main features
From the very start of the game you'll notice what's so special about this video slot. So, first and foremost, the game field structure is a little bit off standard: it consists of 6 (six) reels and 5 (five) rows.
What's more, the game also has Substitution Symbol, Sticky Win Re-Spins and Free Spins with Symbol Drop.
But probably, the main feature of Aloha! Cluster Pays video slot is the absolute missing of traditional fixed bet lines. Instead of them you'll find Cluster Pays mechanic. Let's take a closer look: Hawaiian holiday-makers will be rewarded for clusters of minimum 9 adjacent symbols landing together on the reel in vertical or horizontal directions. Symbols laying diagonally are not taken into account. Additional rewards will be credited for multiple clusters, which do not touch upon each other, but are made of similar symbols. All the wins for simultaneous multiple clusters will be added. This feature of wins resembles office games very much: you're to make combinations out of similar symbols. The difference is that the symbols occurs when the reels are spinning, but not at the top of the game field.
The maximum multiplier for the initial bet can reach x10 000. Despite the fact that Aloha! Cluster Pays video slot doesn't support NetEnt progressive jackpot system, the maximum win size still can reach a whopping 100 000 coins. The maximum win can be obtained if 30 (thirty) TIKI symbols land on the reels (e.g. when all the reels are covered with this symbol).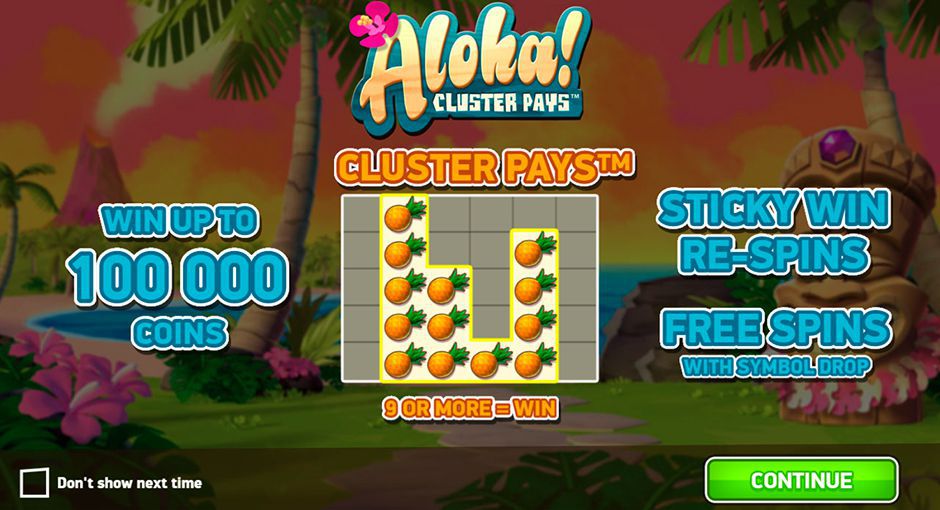 The Return-To-Player rate in Aloha! Cluster Pays video slot powered by NetEnt equals to 96,42%. This indicator can well compete with popular
Starburst slot machine
(96,1%) and
Dracula video slot
(96,58%). Significantly, the volatility of Aloha! Cluster Pays video slot is a little bit higher
Aloha! Cluster Pays: play for free
Those, who wish to try the following video slot, have an excellent opportunity, provided by the game developers: you can play Aloha! Cluster Pays video slot for free with no need to register or download software/applications on your mobile or desktop devices with the help of the demo-version of the game. With its help you can study all the features of the game, take a closer look at its rules and discover all the peculiarities.
Alternatively, you use one of the no deposit casino bonuses (in the form of free spins for registration or free money chips credited to your account) and start playing on the following slot machine for real money absolutely for free without making any deposits. The list of such bonus offers can be found on the right side of the demo-version of the slot on the following page of our web site.
Aloha! Cluster Pays - design and control panel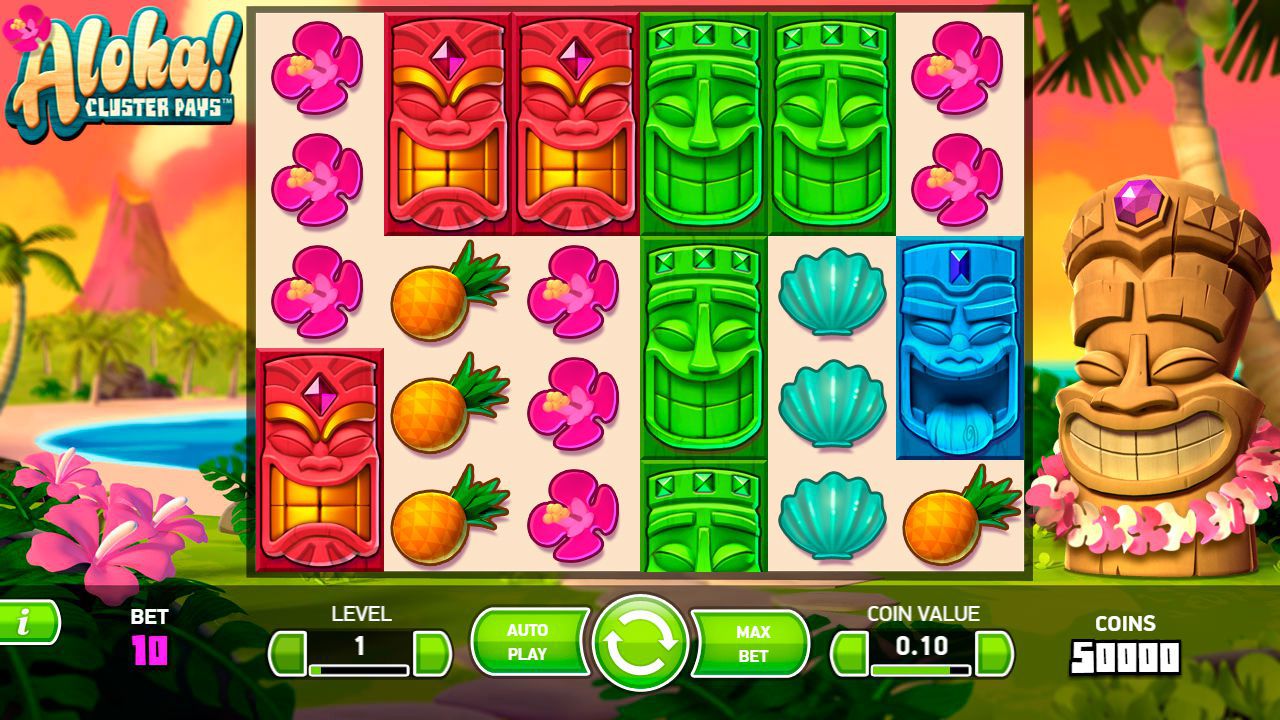 The team standing behind the slot payed extra attention to the graphics of the game and did such great success, that you might probably lose the sense of reality. Colorful design will definitely appeal to the majority of users and cheer them up during the gaming process. Unique symbols and animation effects led by the mythic TIKI figures will turn the whole gaming process into a fascinating and dynamic adventure.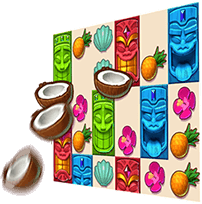 The word "Aloha" from Hawaiian means "Hello" and, of course, the slot machine logo reminds of warm countries, welcoming seaside and unforgettable vacation experience on the other side of the planet.
As soon as you see Aloha intro screen, you might have the feeling that only all-time holidays in tropical heat full of numerous adventures and vivid impressions are ahead. Once you start spinning the reels of Aloha! Cluster Pays video slot, you'll feel as if you're in heaven - on fabulous Hawaiian Islands: you can pick up the scent of flowers everywhere, sounds of guitar, trees dressed in exotic fruit and the Pacific Ocean beckon whispering alluringly with its waves… Friendly locals are no way treating their guests as preys, but vice versa are ready to welcome them with traditional floral garlands, cheerful music and festively decorated idols standing everywhere.
The game background is featuring beautiful landscapes of Hanauma Bay and Diamond Head beaches - both tourists who happened to visit Hawaiian Islands, and those who're dreaming of spending their vocation there, will most probably recognize these places. Sky high palms, fuming volcanos, tropical flowers and, of course, sea caressing the ears with its sweet sounds of landwash against the declining sun - this is only the smallest part of what awaits you during the gaming process.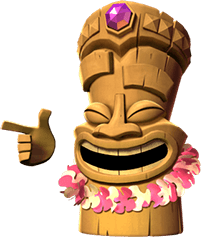 The animated friendly TIKI totem will be located in the right part of the screen during the whole game. This totem will be your major cheerleader throughout all the gaming process. Apart from outcries and emotions of support during winning combinations, the totem will be donning up sunglasses from time to time and play the guitar. And the erupting volcano on the background will only contribute to everything happening on the screen. All the special effects in the game are extremely relevant and fit the scene very naturally.
Colorful TIKI totems of blue, green and red colors and symbols in the form of pineapples, coco nuts, seashells, flowers, Hawaiian post marks and Wild symbols are spinned on the reels.
Harmonious music, combining traditional Hawaiian rhythms, the wash and singing of exotic birds will only contribute to the satisfaction you get from the game. The background sound will give you the feeling of joy and endless holiday. See, you're already hopping to the aboriginal music vibes while sitting in front of your computer, like a local!
The original design, subtle sound effects and anticipation of great wins will guarantee you positive mood and will only facilitate your success.
Aloha! Cluster Pays mobile version
Due to the fact, that mobile gadgets have become an integral part of the lives of many users all over the world, software and casino developers simply cannot afford ignoring this notion, when releasing new products, because this would be a development dead end. Therefore, Net Entertainmetnt adjusted Aloha! Cluster Pays slot machine completely to the mobile devices (based on iOS, Android, Windows Mobile and etc.). Aloha! Cluster Pays perfectly fit the NetEnt Touch™ portfolio. The slot mobile version is virtually no different from the desktop version, which enables mobile gambling fans use all the game functions to the maximum on their smart phones and tablets and enjoy top-notch graphics and sound effects.
There're slight differences like the location of the buttons on the control panel: there're fewer of them in the mobile version, however, their sizes were increased to fit the diagonals of mobile phones and tablets. It should be mentioned, that these measures were introduced for sake users comfort only.
The gaming process in Aloha! Cluster Pays mobile version
Aloha! Cluster Pays video slot: symbols
The set of symbols in Aloha! Cluster Pays video slot is definitely off standard, but in any case, it fits the general theme 100%. Thus, while spinning the reels of the video slot, you'll face tropical fruits - coco nuts and pineapples; flowers, which local garlands are made of; pearly seashells, wooden idols of three types - things people on islands have been worshiping for ages.
Stacked Symbols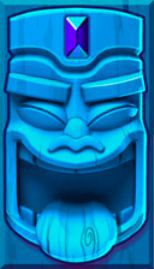 As we've already mentioned before, the peculiar feature of Aloha! Cluster Pays video slot are Stacked Symbols. In both the Main Game and Free Spins feature, Mask symbols of blue, green and red colors appear as stacked symbols - they land and occupy two positions on the game field and thus, increase win chances. Depending on the reel position, these symbols may be displayed completely or partly. These stacked symbols can help players get a reward for having them in similar clusters. Large stacked symbols count as 2 symbols and small (they can appear only during Sticky Win Re-Spin and Substitution Symbol) count as 1 symbol.
Basic symbols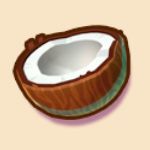 The next category includes symbols, which consist of pink flowers, blue seashell, coconut and pineapple. Basic symbols cannot occupy more than 1 position on the game field, but, like Stacked Symbols, they have the same functions.
Special Symbols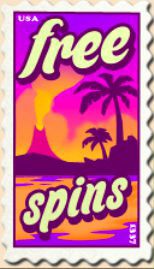 The last and the most important category is made up of special Substitution (a mysterious wooden chest with a question sign) and Scatter (a post mark with "Free Spin" inscription) symbols.
Free Spins (Scatter) symbol
Free Spins symbols are represented by a post mark, which illustrates tropic palms against the dawn. The post mark symbols can reward players with free spins. To trigger Free Spins function, you'll need to have at least 3 Scatter Symbols on the reels.
Substitution symbol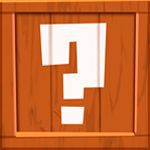 Apart from all the other features, Aloha! Cluster Pays video slot features Substitution Symbols - a kind of Wild Symbols. You'll easily recognize them by the question sign on the wooden chest. Substitute Symbols, like any Wild Symbols, can land anywhere on the reels and complete cluster with a missing adjacent symbol to create the highest winning combination possible. In other words, Substitute Symbols can replace any symbol (apart from Free Spin symbols) to form the best combination within the cluster. The process of substitution is followed by flame explosions, which is really eye-catching.
Paytable
The size of your win is decided by special multipliers, which can be found in the paytable. The minimum multiplier will be x5, thus, at best (if red Masks occupy all the positions on the field) your bet will be multiplied by 10000. The paytable can be found in slot machine info, by pressing "I" button in the bottom of the screen, or in the end of this review.
Random feature and bonus game
Well, to be honest, Aloha! Cluster Pays is not the game, which offers great variety and largesse of bonuses. At the same time, you'll be surprised by how frequent winning clusters occur and land on all the reels.
All in all, Net Entertainment specialists succeeded in finding a great combination of interesting features and bonuses and made it their key instrument for money rewards. So, let's highlight each of them:
Sticky Win Re-Spins
Sticky Win Re-Spins feature can be randomly activated when you hit a winning cluster.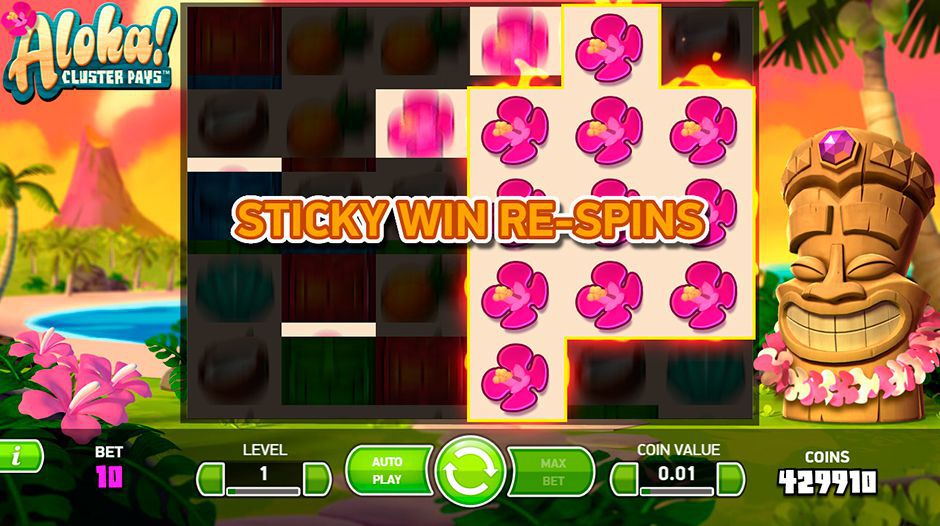 During Sticky Win Re-Spins feature, the winning symbols are held still and all other symbols re-spin. If the winning cluster increases during Sticky Win Re-Spins session, the symbols increasing the size also stick and the remaining symbols re-spin again. This continues, until there's a spin that doesn't increase the size of the whole cluster. In other words, the feature goes on until the cluster increases or until the winning symbol occupies all the positions on the field, rewarding players with further wins.
Free Spins
This bonus will reward players with 9 to 12 free spin rounds. During Free Spin rounds no multiplier is activated: they are played at the same bet level and coin value as the round that activated them. The number of bonus free spins will directly depend on the number of Scatter symbols appear on the reels. The start of the bonus round will be followed by a multi-color sign "Free Spins" with their number in the upcoming round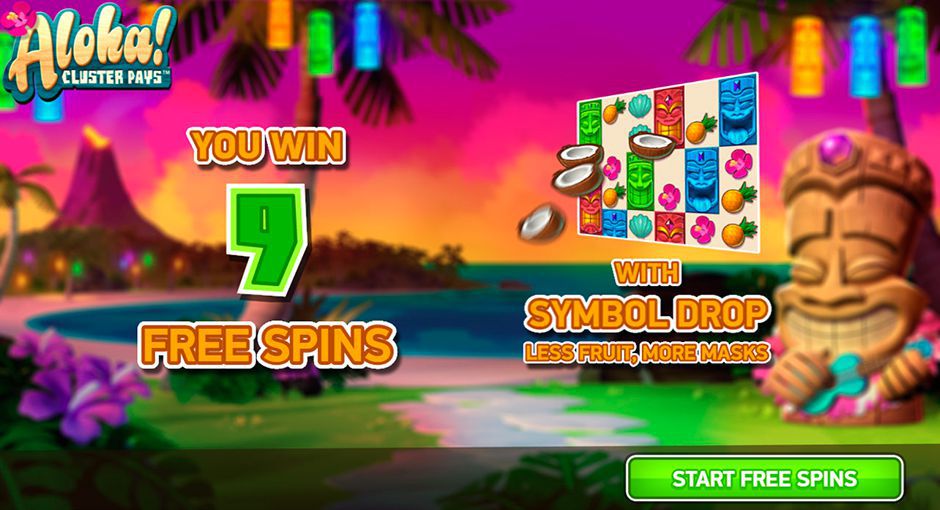 .
The number of free spins in the bonus round directly depends on the number of Scatter symbols fully or partially appearing anywhere on the reels in the Main game:
3 (three) Scatter symbols will reward player with 9 (nine) free spins;
4 (four) Scatter symbols will activate 10 free spins;
5 (five) Scatter symbols will guarantee 11 free spins;
and finally, 6 (six) symbols featuring post stamps will trigger 12 (twelve) free spins.
But wait, this is not quite all: during Free Spins feature you have an opportunity to get additional free spins in case another 3 or more Scatter symbols appear on the reels:
3 (three) Scatter symbols in the Free Spin round will reward you with 1 (one) additional free spins;
4 (four) Scatter symbols add another 2 (two) free spins;
5 (five) Scatter symbols will give you another 3 (three) free spins;
and 6 (six) Scatter Symbols will reward you with 4 (four) free spins.
A hallmark of Aloha! Cluster Pays video slot lies in the fact that it also have a Symbol Drop mechanic activated for Free Spins (where low win symbols are removed - this increases the chance of a bigger win on the remaining spins). The symbols are removed in the following sequence:
After the second free spin, all pink flower symbols will disappear;
After the fourth spin, all "seashells" will disappear;
After the sixth spin, you won't see any coconut symbols anymore;
and the eighth spin will remove all the pineapple symbols.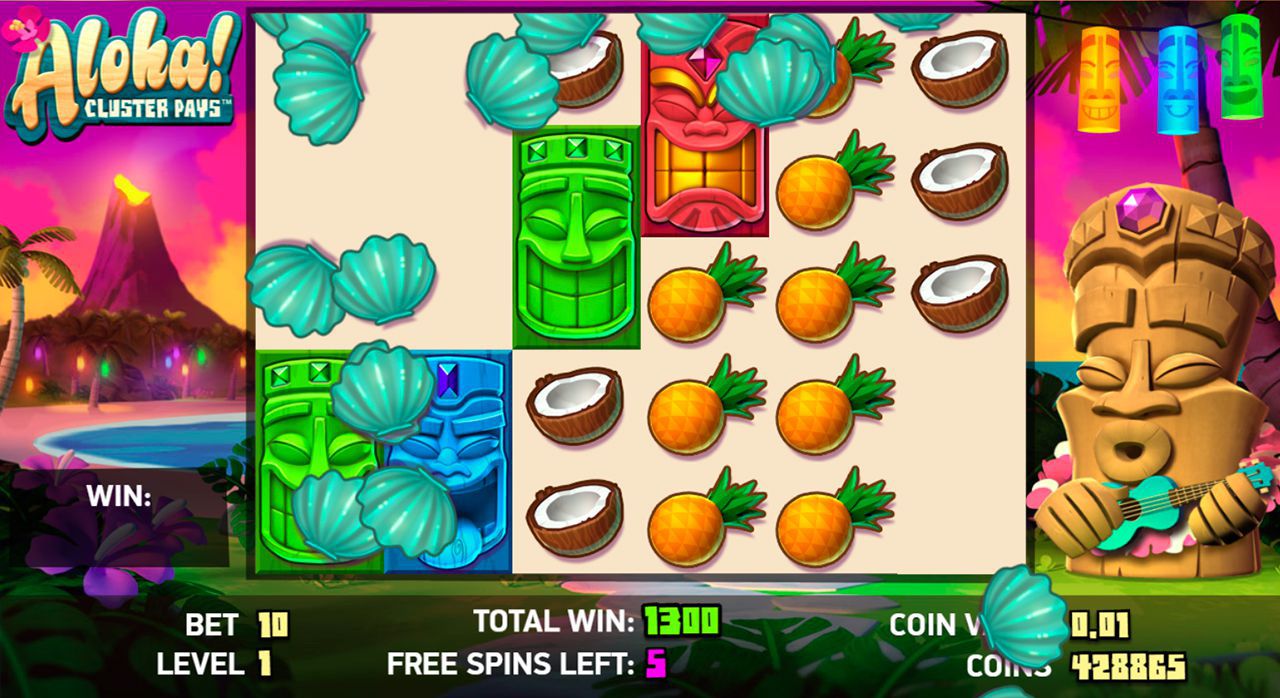 If there's no on the Last Free Spin (no winning cluster), you'll be given an extra spin, until win occurs.
Also, do not forget, that Free Spins round can activate Sticky Win Re-Spins feature.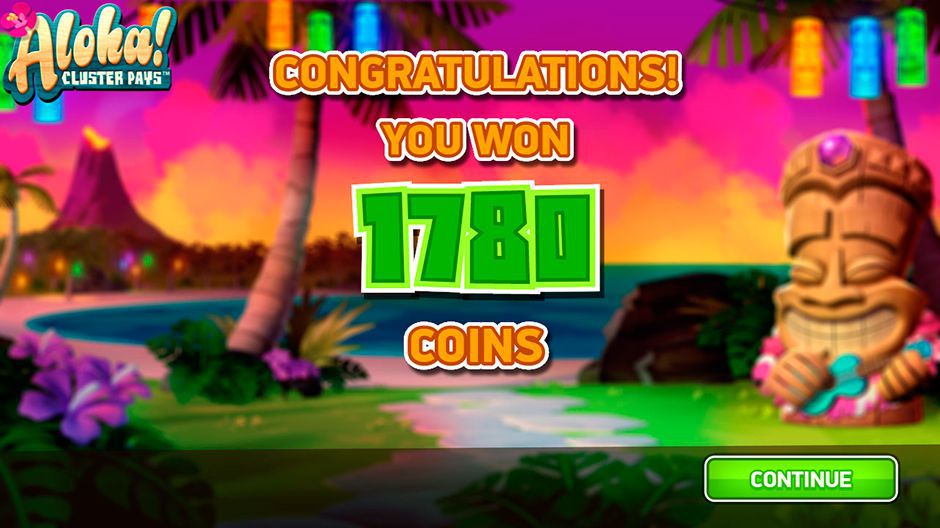 Overall impression
Aloha! Cluster Pays video slot can be rightly called one of the best Net Entertainment powered products.
The suppliers managed to create a fantastic combination of vibrant music, colorful design and top-notch graphics together with high RTP rate - 96,42%. Aloha! Cluster Pays slot will take player to the Hawaiian Islands vibe and finish his vacation with great wins!
The list of online casinos, which feature Aloha! Cluster Pays video slot by NetEnt for real money, can be found below.